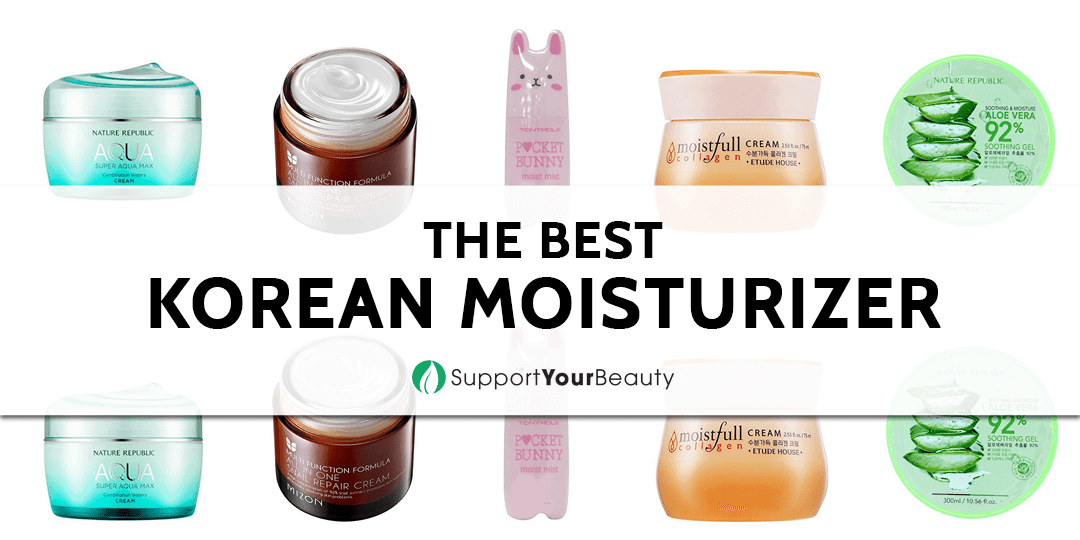 The Best Korean Moisturizer – 2018 Reviews & Top Picks
Praise the advanced technologies for the unique opportunities! See for yourself the miracle touch of the best Korean moisturizer products.
When it comes to skincare, beauty aficionados around the world know that nobody does it better than the Koreans.
Korean women have been in the spotlight for having some of the most flawless skin in the world, and this is due to the products they use and their 10-step Korean beauty routine.
As a result, the whole world has fallen in love with Korean skincare and beauty products, and millions of dollars are spent each year in the U.S. alone as Westerners try to get that same glowing look as their Korean counterparts.
K-beauty brands have outdone themselves by releasing different moisturizers with specific benefits, and it's not unusual for one brand to have 12 or more moisturizers in its product line.
Because of the variety of products on the market, as well as Korean women's glowing and radiant skin, more people all over the world are more curious than ever to try out the Koreans ways and ripe all the benefits.
In order to guide you on the product which may suit your skin and lifestyle, let's have a look at our best Korean moisturizer review.
More...
Check Out Our Korean Moisturizer Favorites
At First Glance: Our Top Picks For The Best Korean Moisturizer
For this roundup, we decided to select a variety of Korean moisturizers that come in different textures, and they contain various ingredients to suit certain skin types.
OUR TOP #1 PICK - Our number one pick for the best Korean face moisturizer is Nature Republic Super Aqua Max Combination Watery Cream. We love this moisturizer because it's made for combination skin—one of the most common skin types—and it hydrates skin without a greasy feel. It may also work for slightly oily or slightly dry skin.
OUR TOP #2 PICK - The next product on our roundup contains an unusual ingredient—snail mucus extract. MIZON All in One Snail Repair Cream not only has anti-aging and anti-wrinkle benefits, but it also heals and prevents acne.
OUR TOP #3 PICK - The third product on our list of the best Korean brand moisturizer hydrates combination to dry skin with its super collagen water. Etude House Moistfull Collagen Cream enhances the skin to make it more firm and resilient.
OUR TOP #4 PICK - If you're looking for an everyday moisturizer for combination to oily skin that can be used as a body moisturizer as well, then our fourth pick, Nature Republic Soothing & Moisture Aloe Vera Soothing Gel, may be just the thing. It contains 92% Aloe Vera extract to moisturize and soothe the skin.
OUR TOP #5 PICK - Our roundup ends with a good Korean moisturizer product, having a multitasking approach and hypoallergenic formulation, suitable for all skin types, and even in the under-eye area. We also like how the Best Anti Aging Moisturizer Face Cream has a little pump, which limits the chances of contamination when dipping our fingers inside like with most products.
Do You Want to Find Out the Secrets of Moisturizers?
Regardless of your skin type, it's important to moisturize after cleansing to keep it healthy and young-looking.
A moisturizer can help prevent wrinkles and improve fine lines. Dehydrated skin shows all the lines on your face, and a good moisturizer can also prevent those lines from becoming more prominent.
It may sound counterintuitive, but using a moisturizer will benefit those who have oily or acne prone skin.
Most people try to solve their oily skin problems by using alcohol-rich products to dry up their complexion.
However, when facial skin gets parched, this results to the oil glands overcompensating by producing more oil, which leads to more breakouts and a greasy complexion.
Moreover, dry skin can look downright unappealing and unhealthy as it can get flaky and dull. Having dry skin can also be uncomfortable as it can feel tight and itchy.
Beauty bloggers are raving about the Korean dry skin care routine, and it's catching more and more people as if by storm.
Korean skin care starter kits are also gaining increasing popularity, so whether you are looking for the best Korean moisturizing serum, or randomly checking the Korean skin care brands ranking, there are must-have Korean beauty products out there for just about any concern.
Our Best Tips on How to Make the Most of Your Moisturizing Regimen
If you already have a favorite moisturizer as part of your usual skincare regimen, then all you'll need to do with its Korean brother is to smooth it on twice a day after cleansing and toning your skin.
Make sure to massage the moisturizer into your skin to get the full effect of its active ingredients.
Don't forget to moisturize the skin under your chin, as well as your neck. The delicate skin on your neck needs some TLC too.
If you're about to use a moisturizer as part of your daily or nighttime Korean skin care routine, then this will be the last step of your regimen.
All You Need to Know About the 10-step Korean Beauty Routine
Use an oil-based cleanser to take off makeup and dirt. Massage it all over your face to loosen makeup, then rinse with lukewarm water.
Use a water-based cleanser, also known as a facial wash or foaming wash to clear away any oil residue.
Once or twice a week, exfoliate your face with a gentle face scrub.
Apply toner or a skin refresher to your face with your hands. You can also use a cotton pad for this step.
Smooth on liquid essence to encourage cell turnover.
Now is the time to use ampoules and serums to spot-treat skin issues such as acne, wrinkles, or dark spots. A drop is usually enough to treat problem areas.
Use a sheet mask once a week to give your skin a treat. Simply lay the damp mask over your face and relax for about 20 minutes. Take off the mask and massage the liquid that's left on your face into your skin.
Tap an eye cream around your eye area to hydrate the delicate skin there and to prevent fine lines and crow's feet from marring your complexion. Click here to check out our favorite eye creams on the market.
Hydrate your skin by massaging a moisturizer into your face and neck.
Make sure that you're protected from the harsh rays of the sun if you're going outdoors. Use a lightweight lotion with SPF every morning, even if you'll be out for only a few minutes.
The Best Korean Moisturizer For a Healthy and Youthful Complexion
The #1 spot on our roundup goes to Nature Republic Super Aqua Combination Watery Cream.
This cream won us over for its ability to quench thirsty skin while leaving no trace of oiliness.
It has over 60 ingredients, but its main ingredient is seawater sourced from the depths of 914 meters under the ocean around Kona, Hawaii.
This element provides deep hydration and nourishment which may improve dry and dull skin.
It also contains Glycerin, which draws moisture from the air and into the skin. Meanwhile, Cyclopentasiloxane, a lightweight silicone, softens the skin and gives it a smooth feel by keeping moisture locked in.
We love how this moisturizer was quickly absorbed by our skin, and it didn't feel greasy at all. We also like how it made our skin feel soft and smooth.
We tried this one as a part of a Korean skin care routine for dry, sensitive skin, and it deserved all out thumbs up.
The only thing we didn't like about this product is its scent.
It has a strong smell that can be a bit overwhelming, so if you're not a fan of highly scented skincare products, this moisturizer may not work for you.
---
The next product on our list contains an exotic ingredient that may raise a few eyebrows—snail mucus extract.
But it won our hearts due to its ability to moisturize skin and address acne problems.
MIZON All in One Snail Repair Cream has 92% snail extract which helps skin regenerate.
Experts say that the Hyaluronic Acid and peptides found in snail mucus can stimulate the skin's production of elastin and collagen, which may make skin look younger than it really is.
It also contains Cetearyl Olivate, an emulsifier derived from olive oil. It has a potent moisturizing effect and reduces the skin's water loss.
This moisturizer also has Arnica Montana Flower Extract, also known as wolf's bane extract. It improves the appearance of dry and damaged skin by restoring suppleness and reducing flaking.
This milky-white cream has a texture that's almost gel-like, and initially, it has a somewhat tacky feeling on our skin. However, the stickiness was gone after a few minutes.
We have been bothered by the flaky skin on our chin due to our acne treatment, and we smoothed this moisturizer over our entire faces to see its effects.
After a week, our skin looked hydrated, and our acne also seemed to have improved.
However, this may cause irritation on sensitive skin, so use with caution.
---
The third product on our list comes from Etude, a K-beauty brand famous for its cute packaging.
This moisturizer is one of the brand's most popular products, and there are a lot of reasons why it's said to be on par with some of the more expensive moisturizers on the market.
Etude House Moistfull Collagen Cream contains super collagen water or hydrolyzed collagen. It contains 19 amino acids that may stimulate the skin's collagen production.
With this ingredient, the skin may retain its dewy look 12 hours after application of this moisturizer. Moreover, the skin's hydration level may be improved in as little as five days.
It also contains Glycerin, which is a powerful humectant that keeps skin moist.
Meanwhile, Baobab fruit extract contains antioxidants that neutralize free radicals, and the addition of this ingredient may result in fewer lines and wrinkles on the skin.
This moisturizer has a pleasant citrus scent, and we love its gel-cream texture which made it easily absorbed by the skin.
It left our skin hydrated for hours, but it may take a few more applications before we can see a difference in our fine lines.
When we tried it in combination with a Korean sheet mask for sensitive skin, the anti-aging benefits seemed to reveal faster, though.
---
The fourth spot on our list belongs to another moisturizer from Nature Republic, and this one contains 92% Aloe Vera extract to soothe and hydrate your skin.
Our team agrees that this product can get the crown for the best Korean day moisturizer.
The aloe vera extract in this moisturizer moisturizes and calms red, irritated skin.
As mentioned above, this may work as an everyday moisturizer for all skin types, but especially if you have combination to oily skin, as aloe vera hydrates without the greasiness.
It also contains Glycerin, a humectant which pulls water from the air and draws it into your skin, resulting in long-lasting moisture.
We love that this can be used as a body moisturizer and as an after-sun product to cool the skin after a day at the pool or the beach.
It didn't make our skin feel greasy, and we like the natural aloe scent of this product.
The gel is also prone to contamination since it comes in a plastic tub you have to scoop it out with your fingers.
If this is a concern, you can transfer the moisturizer to an airless pump bottle, or use a tiny spatula to scoop out the product.
---
Last but not least on our list is a product that differs from all the rest with its pump-dispenser technology.
First off, we highly approve the abundance of precious natural oils, such as Macadamia, Jojoba, and Olive Oil.
What's significant about all of these oils is that their comedogenic rating is very low. That means they are less likely to cause clogging of the pores.
Experts confirm that clogged pores lead to many skin issues and it's often too hard to notice something's wrong until we already have to fight with a problem.
When we put a small drop on our fingertips, we loved how smoothly the moisturizer glides and sinks into the skin almost instantly.
Its texture is more gel-like, so we were afraid it could leave a slight residue. Fortunately, there was not even a trace.
After testing it out with our makeup, it did pass and even surpass our expectations.
There was no greasiness and no excessive shine to fight with, and the dry zones were nourished just as well.
However, we do feel that this is probably not the best cream for the cold, winter months when we need some extra deep hydration.
The Bottom Line
For its ability to moisturize skin without a hint of greasiness, our top pick on this roundup of the best Korean moisturizers is Nature Republic Super Aqua Max Combination Watery Cream.
We're fans of this moisturizer because it leaves skin soft and feeling silky, and it contains ingredients that may nourish skin to improve its overall appearance and texture.
We also love its lightweight feel and how it makes our skin feeling super hydrated. Apart from combination skin, this product may also work for slightly oily or slightly dry skin.
This one of a kind moisturizer, along with the other products on this list, may give you that healthy, luminous complexion that's close to that of our favorite K-drama star.