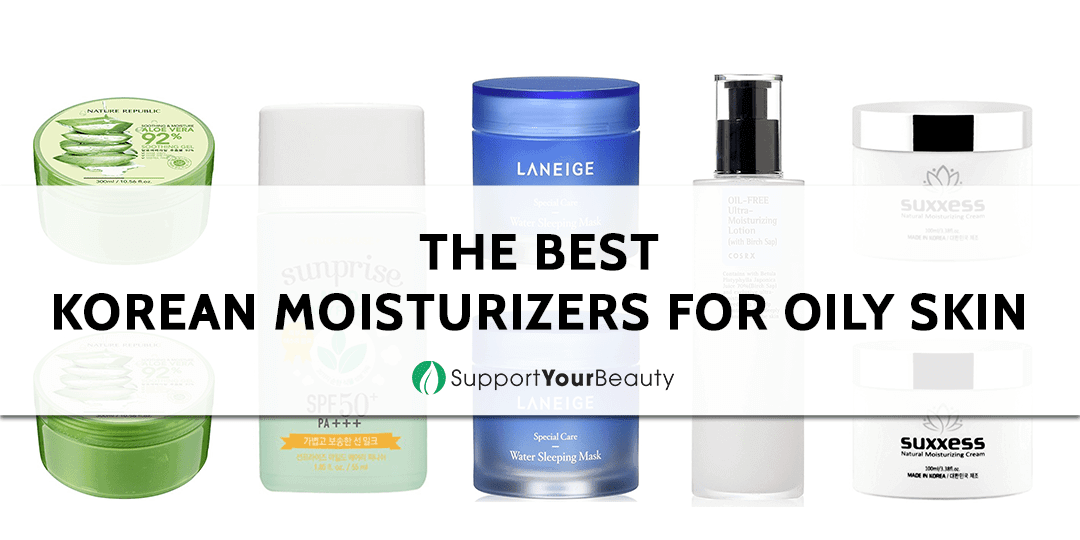 What is the Best Korean Moisturizer for Oily Skin in 2018?
You can find out how to treat and prevent overproduction of sebum. Revealing the secrets of the best Korean moisturizer for oily skin!

Koreans beauty has spiced up the world of cosmetic trends. We get to look at their dollish, pore-less faces, and think how is this even possible?
It is not a secret that Koreans can make themselves appear years younger than their original age. But that is not a trick.
They attain an almost religious beauty regimen that differs much more from our Western style.
Even in high humidity climate, Koreans achieve that fresh, dewy skin without looking greasy.
More...
Check Out Our Korean Moisturizer Favorites
A Quick Overview: Our Top Picks of the Best Korean Moisturizers for Oily Skin
OUR TOP #1 PICK - The Nature Republic Aloe Vera Gel tops our selection. We appreciate the inclusion of Butylene Glycol to enhance the penetration of Aloe Vera and Glycerin. We also like that it can help to heal and condition the skin with a consistent application, rather than just masking the problems with oiliness.
OUR TOP #2 PICK - The next product that made it to our list is the [Laneige] 2015 Renewal - Water Sleeping Mask. We appreciate that it utilizes Trehalose to help stabilize the action of Vitamins C and E. Thus, the antioxidant properties of the product can be fully revealed to prevent cellular damage.
OUR TOP #3 PICK - Coming in at number three is the Etude House Sunprise Mild Airy Finish Sun Milk SPF50+. Apart from its ability to stop UVA/UVB rays, we love the inclusion of Cyclopentasiloxane and Cyclohexasiloxane. These silicones are known to seal moisture and prevent it from evaporating to keep greasy shine at bay.
OUR TOP #4 PICK - The [Cosrx] Oil-Free Ultra-Moisturizing Lotion has become our fourth favorite pick. We were impressed with the smart formulation, combining Birch Sap with Betaine and Dimethicone. Betaine is a surfactant that helps to decrease the water tension so that oils don't cling to the surface of the skin.
OUR TOP #5 PICK - And so the Korean Natural Facial Anti-Aging Moisturizer by SUXXESS has become our last best-loved pick. We approve the inclusion of Sodium Chloride, which is also known as common table salt. But apart from simplicity, that compound can be excellent in reducing excessive moisture.
External Causes for Oily Skin
1. The Genes we Inherit
Yes, genetics are often related to oily skin. But you shouldn't think there's nothing to do about it.
The genes respond to changes on the cellular level. You can develop relaxing rituals to free yourself from stress and create a healthy environment for the cells.
2. Lack of Moisturization
Do not get fooled into thinking that oily skin type doesn't require sustainable levels of hydration. It needs moisture no less than any other of the skin types.
It even needs it more, as the only way to stop the overproduction of sebum is to deliver the skin with balanced water proportions.
3. Misuse of Cleansers
Lots of people fall into the trap of wanting to cure oily skin with cosmetics that serve to dry out the skin. These include products, containing powerful acids, alcohols or harsh chemicals.
Even though using such every once in a while shouldn't be a problem, the trouble comes with overuse.
Indeed, some cleansers can provide a temporary relief and keep the excessive shine at bay for a while.
But their regular application can lead to disrupting the water balance of the skin even more.
Internal Causes for Oily Skin
4. Ups and Downs in Insulin Levels
The body needs the hormone insulin to turn carbohydrates into energy. Every time we eat something high in simple sugars, the pancreas needs to secrete this hormone.
All these carbohydrates are usually much more than what we need for energy. So the body stores these in the form of fat.
Sudden and often changes in the insulin levels create a stressful environment for the cells.
Imagine it much like something that makes the cells behave strangely and lose track over the secretion of sebum.
How to Treat Oily Skin?
Improve Your Diet
Our best advice includes trying to consume small but regular meals. You can eat a healthy portion every three hours which can keep you away from sugar cravings.
Moreover, that can minimize the sudden ups and downs in the insulin levels so the skin can regain control over the oils secretion.
Alcohol and cigarettes also disrupt the normal functioning of the skin.
Exercise Regularly
Physical activity helps the body get rid of toxins and stimulates the blood circulation (source).
The cells get oxygen, and accumulated impurities gradually melt away making a place for new healthy tissues.
Even thirty minutes of average pace walking every day can release enough energy to improve the blood flow and speed up cell regeneration.
Benefits From Adopting the Korean Skincare Routine and Treating Oily Skin
Korean beauty methods are becoming world-wide favorites. That's because they are truly dedicated to taking utmost care of the skin. We sometimes even forget to clean our makeup!
Meanwhile, Koreans would have removed any trace of left-overs, and apply a night sleep mask.
Then wake up, and follow religious washing, double cleansing, sunscreen, moisturizer, bb or cc cream, and foundation.
They also include on a regular base the extra help of an ampoule, essence, toner, sheet mask, and serum.
Most of their products are full of natural oils and botanical and fruit extracts. They have an innovative approach towards everything in nature that can benefit the skin.
That includes using snail's slime or bee venom for reparation of the protective barrier.
And understanding the ways of nature makes Korean skin care exceed the beauty staples of everything we have been used to so far.
So we decided to do a thorough investigation on the topic and see for ourselves whether using some of the best Korean moisturizers can help to treat and heal oily skin.
The Best Korean Moisturizers for Oily Skin
Our best-loved choice of the best Korean moisturizers for oily skin is the Nature Republic Aloe Vera Gel.
Science keeps revealing more healthy properties of Aloe Vera. "The plant of immortality" has been long used by the ancient folks for treating wounds and cuts.
Aloe Vera is found to treat acne-prone skin due to its antiseptic and antibacterial powers. It helps to hydrate without leaving a glossy film.
Meanwhile, it can be used for providing relief to dry skin as it aids in the regeneration of healthy tissues to stop flaking.
These features make it a possible remedy for all skin types, including combination and sensitive. When it comes to oily skin, Aloe Vera can help with the control over sebum production.
Apart from its anti-aging abilities, it can also aid in the diminishing of stretch marks. We were delighted with the refreshing cool sensation after application.
Its texture is more gel-like, rather than anything greasy. We were more than pleased to find a moisturizer that dries fast and makes a sustainable base for the setting of the foundation.
---
Our next best Korean moisturizer for oily skin is the [Laneige] 2015 Renewal - Water Sleeping Mask.
At first, it might feel a bit strange to sleep with a layer of thick moisturizing mask on the face.
However, we believe this type of deep hydration carries surprising benefits, especially when it comes to treating oily skin.
That's because all the healthy ingredients can get suck by the skin at night and serve to nurture it completely.
The compounds don't get to interact with the free radicals, pollution, and other cosmetics we use during the day.
Thus, they can help to cure and heal the condition of the skin in the long run, rather than just providing temporary moisturization.
Apricot Extract can treat a variety of skin conditions, without making the skin oily. It is also high in Vitamin C to promote cell renewal and repair.
Chestnut Extract may not be seen on many labels, but it is about to gain more popularity.
Research shows that it can prevent DNA damage being high in antioxidant and anti-photoaging elements.
---
The Etude House Sunprise Mild Airy Finish Sun Milk SPF50+ spots our position number three.
One of my best friends is Korean, and I remember his mother never let him go out before applying sunscreen.
That often made me laugh, especially when I saw her slapping cream over his face when he refused to do it himself.
Years later, I understand there was a reason for that. Koreans treat their skin by preventing any future damage.
We love this approach and found it can be great to cure oily skin conditions. That particular moisturizer contains only physical sunscreens to stop UVA\UVB radiation.
Both Zinc Oxide and Titanium Oxide are derived from natural minerals. Some of their best features when it comes to oily skin is the ability to suck the excessive sebum.
Meanwhile, Citrus Extracts are well-known for their ability to brighten the skin and prevent overproduction of oils.
Mind that if you are a fan of tanned looks, this might not be the best match for you, as it can leave a bit of a white residue.
---
The [Cosrx] Oil-Free Ultra-Moisturizing Lotion is our fourth best-loved choice for this category.
Birch Sap contains amino acids, minerals, vitamins, enzymes, antioxidants, and proteins. It can help to purify and hydrate the skin while combatting inflammation.
It is derived from the roots of the Birch tree where it has been collected throughout the winter to support the growth of new leaves.
By aiding to increase the blood flow, it can also be beneficial for decreasing the sebum production to make the skin appear less oily.
Tea Tree Oil and Lemon Peel Oil also make a good team for combatting and preventing oiliness.
These can serve to prevent acne formation due to their high antioxidant and antibacterial properties.
We were pleased with the gel-like consistency, and we find it effortless to layer up our makeup.
Anyway, we do think it might be better-suited for the cold months.When we tested it in high temperatures and humidity, we notice that the foundation may not hold on well.
---
And lastly, we have the Korean Natural Facial Anti-Aging Moisturizer by SUXXESS. Sodium Hyaluronate is a concentrated version of Hyaluronic Acid.
The Galactomyces Ferment Filtrate is a component that enhances the action of Hyaluronic acid by increasing its natural production in the epidermal cells.
It is also able of activating some significant genes in the cells, related to antioxidant activity. The strengthening of the protective barrier can help to combat oiliness in the long run.
Meanwhile, Witch Hazel, Aloe Vera, and Ginseng root can help to keep the skin moisturized and supply essential vitamins to block epidermal deterioration.
Bifida Ferment Lysate is a probiotic that can aid in preventing the accumulation of bad bacteria on the skin. Thus, we think this product can be beneficial for acne-prone conditions, as well.
One of the main downsides to this cream is that it might be best to apply it at night. Due to the moisture-retaining properties, it might lead to unwanted greasiness if worn under heavy makeup.
The Bottom Line
We believe that the condition of the skin is the answer of the ways we choose to treat it.
Oily skin types require an adequate approach towards the problems, related with overproduction of sebum.
It is significant not to deprive the epidermis of essential moisture, but to help it replenish and restore the normal pH levels.
The Nature Republic Aloe Vera Gel becomes our top choice for the best Korean moisturizers for oily skin.
We love that it aims at soothing the epidermal layer to rejuvenate the complexion with consistent use.
It has an unusual gel-like consistency, which makes it easy to absorb without leaving a residue.
Anyway, we do believe each of the five products that made it to our list can work to treat and protect oily skin types.
All it takes is consistent and diligent care to overcome the issues, related to this particular condition.
If you are looking to adopt the Korean everyday beauty routines, read our full guide here.