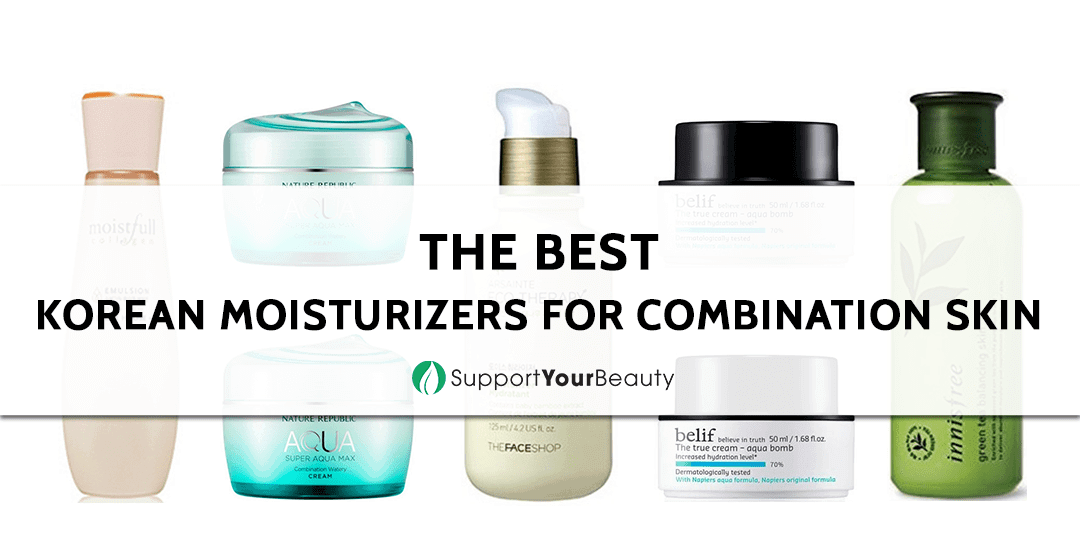 Top 5 Korean Moisturizers For Combination Skin (For 2018 & Beyond)
Find all you need to know on how to get control over the sebum production. Announcing the best Korean moisturizer for combination skin!

People with combination skin type often experience difficulties to find the most suitable approach for this particular condition.
It is advisable to apply emollient-rich cosmetics to hydrate dry zones, but is it possible to lessen the grease of the oily areas simultaneously?
We believe the roots of combination skin type hides in the very ways we choose to take care of the skin.
Koreans are already a step ahead of the rest of the world.
Their meticulous beauty programmes aim at restoring the skin's natural ability to regenerate itself and replace damaged tissues with new, healthy ones.
More...
A Quick Overview: Our Top Picks of the Best Korean Moisturizers for Combination Skin
OUR TOP #1 PICK - The Nature Republic Super Aqua Max Combination Watery Cream is our top choice. We highly approve the inclusion of Glycerin as an active ingredient. It possesses both conditioning and healing properties to remedy combination skin type.
OUR TOP #2 PICK - The Etude House Moistfull Collagen Lotion is the next product in this roundup. We love the innovative approach of implementing Baobab Extract. Apart from being a functional food, it can refresh and hydrate the skin while helping in the battle with wrinkles.
OUR TOP #3 PICK - Our third top spot goes to The Face Shop Arsainte Eco-Therapy Moisturizer. We were impressed with this one because we like the combination of Olive Oil Extracts and Lecithin. Both of these can moisturize and soothe the skin to make it soft and healthy.
OUR TOP #4 PICK - The next product of this roundup is the Innisfree Green Tea Balancing. It can simultaneously tone and moisturize the skin. That's possible with natural ingredients such as Green Tea, and Green Tea Seeds, which make up more than 80% of the formulation.
OUR TOP #5 PICK - Last on our list is the Belif The True Cream Aqua Bomb. We put it in our fifth position just because of the rich, herbal consistency, which might overload oily zones. However, we fell in love with its soothing and skin repairing properties. We find this one a suitable choice for night skin treatment.
What Are The Causes Behind Combination Skin?
1. Incomplete Beauty Routine
Some products claim to be suited especially for combination type. However, we believe that we need a more complex approach if we want to remedy this condition.
Cleansing, toning, and moisturizing are just the basics. The secret hides in the diligence we put into following our skincare routine.
If you want to learn about the most effective skin care routine in the world, look no further than the famous K-Beauty routine. We have made a detailed guide on that, you can read the full version here.
2. Combination Skin and the Genes
Above all, we can inherit combination skin type from parents.
But we must not blame the genes. These are capable of responding to changes in our lifestyle and the methods we choose to treat the skin.
3. Inappropriate products
Another cause is using products that have skin-aggravating ingredients. These can dry some areas of the face and generate oils in others through time.
On the other hand, we can counteract this process once we get to use the right cosmetics.
We can enhance the skin improvement by making use of an extended home-made treatment. DIY facial masks and scrubs are a fantastic way to feed and nourish the skin.
How to Take Care of Combination Skin?
1. Avoid Astringents
As mentioned above, we must also avoid skin-aggravating products which include soaps.
These can worsen the skin problems due to the over-drying elements in the saponifying agents. Alcohols and high concentration of acids are also on the no-list.
2. Milk and Honey
Natural alternatives to treating the combination skin type are milk and honey.
We can choose to mix these and massage gently the whole face. We can also use these separately as part of your daily cleansing routine.
Milk contains a unique fat-soluble enzyme, called lipase. It can aid in removing oil-soluble impurities.
The Lactic acid that we find in milk can shed dead skin cells and even out the skin tone. Meanwhile, the enzyme protease can bind to protein-based pollutants.
Historically, Cleopatra is the one who used to treat the skin with milk baths (source).
But mind that it is not advisable to use it in case of acne-prone skin. That's unless you implement goat's milk, instead of cow's (source).
Meanwhile, honey has anti-inflammatory properties. More importantly, it can speed up the healing process of tissue regeneration.
That can clear out the skin. Nonetheless, it can help in achieving a sustainable balance in pH levels to prevent skin problems from further developing.
3. Apply suitable moisturizers for the oily, and the dry areas
Don't skip on applying a moisturizer on the oily zones, as these need moisture no less than the dry ones.
For best results, you can opt for products that have a lightweight formulation. These should include more herbal extracts and oils that are less likely to clog the pores.
Next, hydrate well the dry areas. Look for products with rich, creamy and thick consistency.
Benefits of Aloe Vera and Glycerin
Aloe Vera is an excellent moisturizer for all skin types.
It can lessen the grease of the oily zones and hydrate the dry patches. Furthermore, it has antimicrobial properties that can treat acne and pimples.
Likewise, we can also take advantage of Glycerin. It is broadly used to treat oily skin conditions.
For dry areas on the face, we may apply a moisturizer with Glycerin to augment and lock in moisture on the skin to treat dryness.
If we get to look at the Korean ways to treat the skin, we notice that they keep supplying the epidermis with moisture throughout the whole day.
The Best Korean Moisturizers for Combination Skin
Our top choice of the best Korean moisturizers for combination skin is the Nature Republic Super Aqua Combination Watery Cream.
We like the gel-like consistency that can make it suitable to apply on the oily areas, without leading to a greasy shine.
We also love that it makes use of Ocean water, which contains no chloride. Moreover, salty water can help to strengthen the outer layer of the skin.
It can contribute to improving the hydration naturally to balance the ph levels. Apart from Glycerin, we approve the inclusion of different types of marine plant extracts.
Algae ferment extract can benefit combination skin type in more than one way. It can help to revitalize the skin, as it is high in minerals, essential fatty acids, and antioxidants.
The fermentation process aids in producing amino acids and peptides that can assist skin cell renewal.
However, in case your skin is prone to acne, we do not recommend you a regular implementation of Algae derivatives.
These have a high comedogenic rating, so we have to be very careful not to cause clogging of the pores.
---
Etude House Moistfull Collagen Lotion is the next product on our list. We like that it absorbs quickly after application. Thus, it can hydrate the skin without making it shiny.
Cyclopentasiloxane can be suitable to condition and lubricate both dry and oily patches.
It also serves to create a thin protective layer, so that moisture doesn't evaporate during the day.
That particular compound, along with Dimethicone, helps to provide an effortless glide on the skin. It can also assist to fill in fine lines and wrinkles.
We notice the product can work well with makeup coverage due to its thin consistency.
Baobab Extract can aid in encouraging cell regeneration. The Baobab tree itself can survive long periods of drought.
It has a massive, sponge-like trunk that accumulates gallons of water.
Bushmen call it "The Tree of Life," and indeed, its fibrous body is full with amino acids, proteins, vitamins, and minerals.
However, one of the main downsides we find with this product is that you may need to follow it up with another moisturizer.
It resembles much more an emulsion or serum, so it might not be sufficient enough on its own.
---
Our third choice for this roundup is The Face Shop Arsainte Eco-Therapy Moisturizer.
We love that it combines Olive Extracts, Ceramide, and Lecithin, which can work simultaneously in three directions.
The olive extract has linoleic acid that could help in moisturizing the skin without clogging the pores.
It is also high in antioxidants and Vitamins A and E. These elements can protect the skin from environmental stressors to prevent overdrying.
Lecithin is a phospholipid. That type of molecule is in charge of making up cell membranes in the body. It is a natural source, derived from soybeans.
It can help to soothe the skin and make its surface smooth. Meanwhile, Ceramide acts as "cement" to bind the protective cells in the outer layer of the skin.
That can help to promote firmness, but more importantly, aid in balancing the sebum production.
We find that this product can work well to reduce redness and irritation with sensitive skin.
Anyway, for best results, you may need to apply another product on the dry zones. Also, it might be better suited for the hot, summer months.
We didn't find it moisturizing enough for cold, winter season.
---
The next product of this roundup is the Innisfree Green Tea Balancing. We adore that we can use it both as a toner and a moisturizer.
While experimenting with this one, we notice it helps to prep the skin well for makeup.
We only put a sustainable amount on a clean cotton pad and wipe the whole face. We let it dry just for a few minutes.
Afterward, we follow up with foundation and enjoy the day without bothering with greasy residue.
If we want extra hydration, we can just switch the cotton pad with our fingers and disperse the lotion like cream.
Betaine is a humectant and anti-irritant. It contains tiny polar molecules which help to retain moisture.
Tangerine Extract can aid in maintaining the pores. It can serve to tighten and purify these tiny gaps.
Moreover, it helps in brightening the skin for a more radiant complexion. However, one of the setbacks is that it requires pairing up with another moisturizer for the dry zones.
---
Finally, the Belif The True Cream Aqua Bomb is the last that made it to our list of the best Korean moisturizers for combination skin.
At first, we didn't like it because of the sticky feeling. However, we discover it only takes some diligent massaging into the skin.
Then it can absorb entirely without making the skin oily.
Anyway, we don't think this the best moisturizer to use under makeup when it comes to combination skin.
But as a night therapy, we highly approve its excellent skin recovery properties. It is full of unusual compounds, which are more like medicinal herbs than just botanical extracts.
The Chickweed Herb is high in saponins. These can help to treat even severe conditions such as ulceration.
Ulceration refers to sloughing out of inflamed necrotic tissue on the skin. To put it simply, this is a break or discontinuity of the skin.
Nettle Leaf Extract is full of proteins and amino acids. It has remarkable anti-inflammatory potency and is helpful in cases of acne.
For combination skin, Nettle Extracts can help to improve the balance between oily and dry patches.
The Bottom Line
Combination skin type is not a curse. We believe it only requires a bit more patience and a keen follow to a suitable skin care regimen.
After thorough evaluation and experimenting with some of the best Korean methods to treat the skin, we have come up with this compilation.
Our top choice of the best Korean moisturizers for combination skin is the Nature Republic Super Aqua Max Combination Watery Cream.
We love that it makes use of moisturizing ingredients such as Glycerin and Ocean Water. These can help to cure dryness as well as treat acne and pimples.
It also contains marine plant extracts to revitalize and renew the skin. Each of the products on our list can help to cure and nurture combination skin.
But the choice is always in our hands. Just remember that the skin always pays off for our attention. After all, it is not only about beauty, but self-respect and confidence.
If you want to learn more about the Korean beauty regimen, you can read our full guide here.