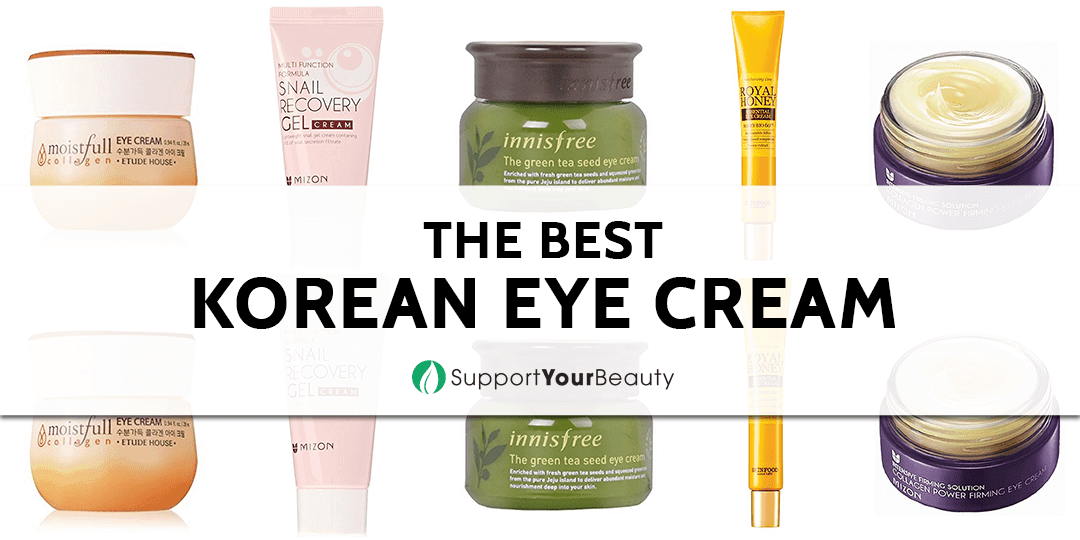 The Best Korean Eye Cream – 2018 Reviews & Top Picks
How to make the eyes speak before you say a word? Learn how to support the tender skin and utilize the best Korean eye cream now!

When it comes to innovations in beauty and skin care, the whole world looks to a trendy Asian nation that is the birthplace of K-pop and K-beauty -- Korea.
It's no wonder that many of the most efficient products have come from this country, including the best Korean eye creams and serums.
A good under eye cream and a Korean eye serum may not be considered as a necessity by some people.
However, it's an essential part of the well-known 10-step Korean skincare routine that Koreans have been adopting for years to achieve their flawless skin.
For those who are serious about their skincare, it is an integral part of a daily regimen to keep skin looking fresh and youthful.
Now let's have a quick look at our top Korean eye cream reviews.
More...
At First Glance: Our Top Picks For The Best Korean Eye Creams
OUR TOP #1 PICK - The number one spot on our list goes to Etude House Moistfull Collagen Eye Cream. This ultra moisturizing formula improves and prevents fine lines from forming around the eyes. Collagen makes more than 70 percent of all the protein in the skin. As we age, its levels rapidly decline. But we shouldn't miss to ripe the benefits by using it topically. We also love that the company is firmly against animal testing.
OUR TOP #2 PICK - Second on our list is Innisfree The Green Tea Seed Eye Cream. Enriched with green tea seed oil, we like how it helps lock in moisture to nourish the delicate eye area. Since we find it a bit heavy, we believe it's best to apply it before going to bed. We notice this enhances the power of the cream, as it has more time to seep through the skin. All we need was a very tiny amount, so we are glad it can last long enough.
OUR TOP #3 PICK - Making the list at number three is MIZON Snail Recovery Gel Cream. Lightweight, easy to apply, and fortified with a snail secretion. These are the top three characteristics which immediately hit our attention. After testing it out, we notice this snail repair cream assists with skin damage repair which helps to improve the under eye appearance. It also doesn't contain any parabens or artificial coloring or fragrance, which reduces the likelihood of irritation.
OUR TOP #4 PICK - Another Mizon product takes the fourth spot in our roundup. The MIZON Collagen Power Firming Eye Cream contains marine collagen. That compound aids to reduce the appearance of eye wrinkles by increasing the elasticity of the skin. It also contains a multitude of natural substances such as mango seed oil, olive oil, shea butter, raspberry seed extract, and cacao extract. It's hypoallergenic and free of artificial colors and fragrances, making it a suitable choice for sensitive skin.
OUR TOP #5 PICK - Rounding out the list at number five is Skinfood Royal Honey Essential Eye Cream because of its use of all-natural 60-day aged, fermented honey. That one of a kind method helps to leave the eye area moisturized without irritation. Plus, there is no sticky residue behind when using this eye cream.
HOW ABOUT OUR #6 PICK? - As a bonus, the Dermal Korea Collagen Essence Full Face Facial Mask Sheet is included in this list because of its unique eye coverage. Unlike most masks, this one does not have eye cutouts which allow you to place it over the entire eye zone to receive optimal benefits.
Why the Product Composition Is So Important and How to Choose the Best One for You?
Do you know that Korean cosmetic lines utilize some of the most efficient methods?
But how to recognize good Korean eye creams from all the rest to pick out the best of the bunch?
Look for unique ingredients that offer various cosmetic altering results. Let's dig into the composition of the products now.
Do You Want to See How to Boost Your Skin Regardless of Its Type?
If you have sensitive skin, you can benefit from the best kbeauty creams that are full of robust, yet gentle resources with a natural origin.
You can look for honey, shea butter, as well as essential and natural oils such as argan and sunflower oil.
There are also many brands that pride themselves with hypoallergenic eye creams free of chemicals and other additives that can irritate people with sensitive skin.
However, it doesn't really matter what your skin type is, as it is always a good idea to feed it with healthy ingredients.
Everything You Need to Know About Collagen and Adenosine
If you notice adenosine or collagen on the label of your Korean anti-aging eye cream cosmetics, know that these are great rejuvenating ingredients.
Best of all, they can be suitable for all skin types.
Collagen makes the skin more supple and plump while also reducing the wrinkles and fine lines.
If you are trapped into fighting with crow's feet and sagging skin under the eyes, choosing a collagen-enriched cream can be just what you need.
Adenosine is well-known for its anti-wrinkle properties. It is a substance that is naturally occurring in the organism.
However, as we age, the amount of adenosine in our body decreases.
Using products that contain adenosine can assist with reducing and in some cases reversing signs of aging because it helps to increase production of collagen and elastin (source).
Adenosine can also combat the effects of harmful ultraviolet rays from the sun.
Mind that not all Asian eye creams are created equal. You should also check for their consistency and specific purpose.
Need More Answers to Be Revealed?
Here's a simple list that can come handy.
Do you want to find the best Korean eye cream to use under makeup? You need to check its suitability according to your foundation.
Or you can go with the product alone if you give your skin some makeup free days? You have a wide choice on this one!
If you want to help your Korean eye cream for dark circles work better, then it's always a good idea to wear it alone.
Doing so allows the ingredients to seep in the skin without having to interact with the rest of your cosmetics.
Some compounds simply don't get along with others!
And when it comes to dark circles, we need to be extra cautious with every move.
Or maybe you want to use some magic while you're getting your beauty sleep?
Then you should check how to apply your cream correctly so that you don't wake up more puffy instead!
Do You Want to Go Behind the Scenes of Korean Eye Creams?
Just get your hands on a good eye cream and take a look at the ingredient list.
You will be amazed to see an assortment of different oils that moisturize the skin naturally.
Exotic compounds and precious elements that are traditional to the Korean skin care are just the beginning!
These natural ingredients are yet another benefit, regardless of the skin type!
That's because these unusual compounds can help to improve our complexion without increasing sensitivity or allergic reactions.
Some of our teams' favorite ingredients that set Korean skincare apart from all the rest include snail slime.
Snail secretions also known as mucin are capable of repairing skin damage.
But if you're a restless beauty addict as we are, you probably already know much about that topic!
Most importantly, this element can assist with cellular regeneration to boost the delicate skin in the eye area.
So we get the moisturizing benefits of various oils and the hydrating effects of the collagen.
Then we combine these with ingredients that reduce the appearance of dark circles, fine lines, wrinkles, and puffiness.
And the outcome is that we have a suitable choice for anyone seeking ways to improve the appearance of their eye area!
The Best Korean Eye Cream For Dark Circles, Wrinkles and Fine Lines
Our winner impressed us with a rich formula that takes care of puffiness and fine lines around the eye area.
Etude House Moistfull Collagen Eye Cream contains super collagen water to rejuvenate the sensitive perimeter around the eyes, where the skin is thinner than other parts of the face.
It's not only the best Korean eye cream for 20s, but it also works amazingly well for you if you have mature skin as it contains many natural and anti-aging ingredients.
Baobab oil provides added moisture and has anti-inflammatory properties due to the presence of omega fatty acids.
We delicately patted and smoothed the cream, and the thick texture took a while to sink in. After several days of using it, the area under our eyes looked bright and fresh.
It may take a few weeks of use before you start seeing any significant changes in the dark circles.
Another thing we like is that it comes with a tiny spatula to scoop up the product, which lessens the chances of contamination.
This is also our favorite best Korean eye cream for wrinkles and fine lines out of all on this roundup.
---
Taking second place on our list is Innisfree The Green Tea Seed Eye Cream, and it made the cut for its firming, smoothing, and hydrating properties.
Green tea seed oil is the star of this product, and it nourishes and moisturizes the skin. Moreover, it is also a wonderful antioxidant.
This Asian eye cream also contains plant and fruit extracts, such as prickly pear, grapefruit, orchid, tangerine peel, and orange.
We're fans of this particular product because it does not contain parabens, synthetic colorants, or mineral oil, which can clog pores and cause irritation to the sensitive eye area.
We notice it feels very moisturizing, but it a bit thick, as well. Our final conclusion is that it may or may not work for sensitive skin as it is spiked with citrus fruit extract.
---
The MIZON Snail Recovery Gel Cream offers under-eye and facial treatment in a convenient gel form. The product comes in a tube that makes on-the-go application very easy.
This snail repair eye cream has adenosine for wrinkle prevention, snail secretion filtrate for skin regeneration, and panthenol to improve skin elasticity.
Centella Asiatica extract and Camellia Sinensis leaf extract help to soothe the skin, while olive fruit oil and sunflower seed oil help to moisturize well.
There are no artificial colors, fragrances or parabens, which can make it suitable for those with sensitive skin.
We found that it has a very cooling effect on the skin especially when it is used after refrigeration.
The texture is gel-like but not greasy, so it provides an adequate balance of moisture-- something that people with combination skin would like.
Despite the snail secretion, the gel doesn't have a weird smell, and it's very lightweight.
---
Hypoallergenic and free of parabens, fragrances, artificial colors and ethanol, this firming cream may work for those who have sensitive skin or allergies.
The addition of various natural ingredients such as argan oil, olive oil, sunflower seed oil, raspberry extract, cacao extract and shea butter make a rich, gel-like cream that is easy to apply to the eye area.
We found that the product is somewhat thick and does tend to sit on the surface of the skin, though.
---
Skinfood Royal Honey Essential Eye Cream rounds out our top five list of the best Asian eye cream because of its unique fermented honey composition.
As part of the most famous Skinfood line, this honey eye cream utilizes 60-day-old fermented honey to provide moisture and nourishment to the sensitive skin around the eyes.
The product comes in a convenient tube making the application almost effortless.
Despite the honey content, we found that the cream itself is not sticky or greasy but rather lightweight. It also absorbs rather easily and doesn't sit on the skin.
However, it may not be suitable for use under some concealers as there may be an issue with creasing or sliding.
---
The Dermal Korea Collagen Essence Full Face Facial Mask Sheet is our bonus pick for this list, and though it's not an eye cream, we decided to include it here due to its various benefits for the delicate eye area.
You can choose what type of eye treatment you want via the various masks that are included in this mask combo pack.
This combo pack includes 16 different masks all made with skin firming and rejuvenating collagen and vitamin E.
Each mask also contains healing aloe and pearl powder for added moisture adding benefits.
What makes this particular Korean eye patch kit different from others is that there are no eye cutouts.
And so we don't exclude the eyes from being treated with the skin-friendly properties, saturating the mask.
However, this combo allows the user to either remove the parts covering the eye area or let it remain to allow the sensitive eye area to receive all the benefits that the rest of the face gets.
The pack includes the following masks for your personal eye skincare and overall facial care regimen: Aloe, Herb, Pearl, SYN-AKE, Green Tea, Gold, Vitamin C, Royal Jelly, Hyaluronate, Cucumber, Q10, White, Aqua, Charcoal, Platinum, and Snail Repair Content.
We found that these masks offer a significant amount of product. No overly wet or dripping masks, and no masks that were bone dry.
These are made of substantial fabric, not flimsy at all. Nearly all of the masks have a light pleasant scent.
It should be noted that perfume is an ingredient in some of the masks for those that may have some skin sensitivities.
The Bottom Line
For its moisturizing effect and its ability to improve the look of fine lines, our top pick on this list of the best Korean eye creams is Etude House Moistfull Collagen Eye Cream.
It wins our hearts because it nourishes and hydrates the eye area, and the thick cream works hard to improve the look of fine lines and fade eye bags.
We also love how it comes with a tiny spatula, which lessens the chances of product contamination.
Another benefit is that it is great under makeup during the day, and it also makes a fine addition to any nightly beauty ritual.
Though it's not a cream, the Dermal Korea Collagen Essence Full Face Facial Mask Sheet deserves a spot on our list as a bonus.​
From under-eye puffiness to wrinkles and fine lines, there's a mask to take care of eye area problems.
These masks are a cinch to apply and can be used any time of the day.
We hope this Korean eye cream review will help you find the right product for your skin care needs.
Any of the products on this list can be useful if you're looking for the best ways to expand and improve your beauty regimen.
We also hope to be a friendly shoulder to lie on when facing all the abundance of products on the market!
And if you don't know how to build an effective daily routine, check out our step-by-step guide here.