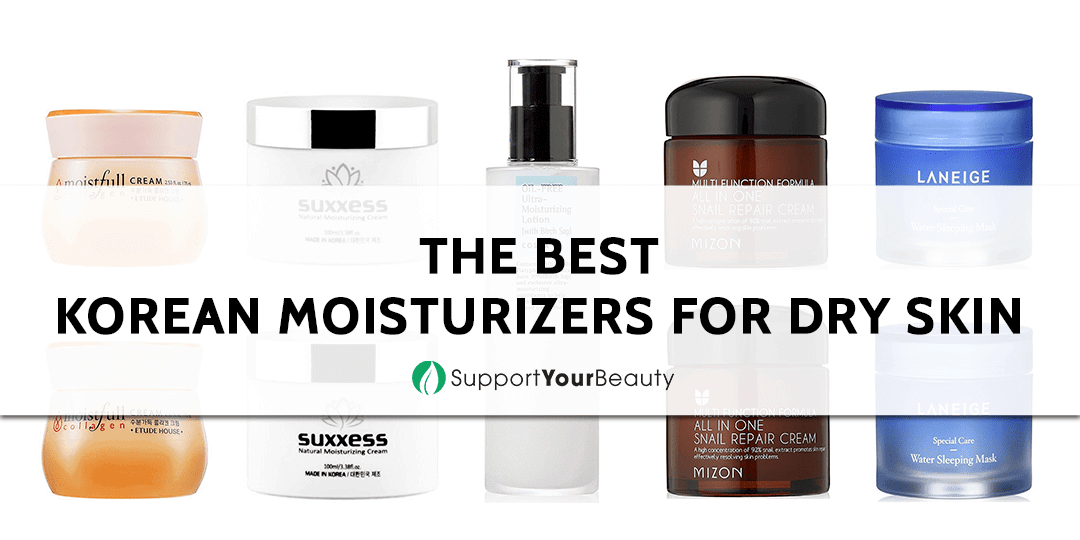 5 Drugstore Korean Moisturizers to Support Your Dry Skin in 2018
Find out our impressions after compiling some of the best Korean moisturizers for dry skin. Get our most valuable insights for free!

Everyone can possess a healthy skin. When it comes to the ones with dry skin, it is essential to deliver sustainable levels of hydration all the time.
With dry skin, the disadvantages include getting more prone to lack of elasticity and, subsequently, more visible signs of aging.
But we can prevent that with carrying out the right skin care regimen. Meanwhile, Koreans are prominent for their flawless and radiant skin.
Do you want to find out which Korean moisturizers out there can help to nourish the skin deeply? Meet them in our round-up article.
More...
Quick Overview: Our Top Picks of the Best Korean Moisturizers for Dry Skin
OUR TOP #1 PICK - The leader of our list is the MIZON All In One Snail Repair Cream. It makes use of a traditional for Koreans element, the slimy mucus of snail. We love the multifunctionality of this cream, and so we believe it is one of those little treasures that everyone can take advantage.
OUR TOP #2 PICK - Next in the list is the Laneige 2015 Renewal - Water Sleeping Mask. We are always happy to stumble across products that have their very own technologies, and this one is one of them. We also like the unusual consistency and the blend of natural ingredients.
OUR TOP #3 PICK - Another moisturizer on our roster is the Cosrx Oil-Free Ultra-Moisturizing Lotion. We fell in love with the slight therapeutic effect, which is mainly due to the herbal content. Furthermore, we appreciate it has a longer lifespan because of its consistency.
OUR TOP #4 PICK - Fourth in the list is the Etude House Moistfull Collagen Cream. With the selected ingredients of this cream, we can say that, indeed, it is a cream full of moisture. Our impression with the flowery smell is another plus we add to this particular product.
OUR TOP #5 PICK - Lastly on our roster is the Natural Facial Moisturizer By SUXXESS. We have to admit it is tough to rank this product in the fifth position. We adore the fusion of active compounds, and its suitability for any skin type.
Before we explore the best Korean moisturizers for dry skin, first, let's look into what causes dryness and how to overcome it.
What Causes Dry Skin?
Various reasons can bring about dry skin. It can result from genes, lifestyle, weather and wrong products.
The good news is, we can counteract and eliminate any of these factors to enjoy a soft and radiant skin.
What are Some Natural Remedies for Dry Skin?
Generally, dry skin happens because of a lack of moisture or oil. There are natural remedies we can adapt to fight dry skin.
Some of these include application of herbal masks, facial scrub and moisturizer. The components involve fruits, vegetables or oils.
Mix equal spoons of Olive Oil, Honey and Avocado and this can serve as a mask. Put it on the face and leave it there for about twenty minutes.
Rinse it with warm water, first, and then follow with cold water.
Another mixture that you can prepare is an equal quantity of Olive Oil, Honey, and Brown Sugar. For best results, throw the sugar in a blender first. That will make its particles more tiny to avoid flakiness or irritation.
For natural moisturization, the use of Coconut Oil, Almond Oil or Aloe Vera also helps.
Little-Known Ways to Care for Dry Skin
Aside from DIY treatments, you may also want to observe good habits and practices. Our lifestyle can also alleviate the occurrence of dry skin (source).
The American Academy of Dermatology, states that a careful routine will help in inhibiting dryness. For one, you have to be mindful of the way you bathe yourself.
Limit Exposure to High Temperatures in the Shower
Avoid taking long, hot showers or steam bath. Use mild body washes and soaps. Be gentle when you wipe your skin with a towel.
Know That What We Choose to Wear Also Affects the Skin
Additionally, when washing your clothes, use hypoallergenic powder. Avoid wearing clothes that are irritating. These include synthetic fabrics.
These tasks may seem simple, but, on a daily basis, we often tend to overlook or forget about them.
Can Exfoliation Become the Key to Cope With Dry Skin?
Another task to include in your daily routine is exfoliation. Shedding off the dead skin cells is necessary (source).
Some of the best scrubs for dry skin are the ones that possess an oil base. These are very typical for Koreans.
Also, look for products with gentle exfoliating particles. We have just to improve the blood circulation of the skin and not overdo this to cause flakiness.
How to Make the Most of the Moisturization for Dry Skin?
Moisturizing products will only take effect when the skin is thoroughly clean. Don't forget to moisturize in the morning and in the evening, too.
Be cautious of all the products that you apply. Harsh contents tend to dry out the skin and may cause further damages.
How to Limit the Impact of Environmental Pollutants to Support Dry Skin
Next, it is vital to look after your physical environment, too. Make sure that your room is free of dust.
Change your beddings and pillow cases as dirt and dust tend to accumulate in these materials. Protect yourself from climate changes.
Put on a sunscreen, eye wear, and hat during hot weather. Drink plenty of water to hydrate yourself.
We start from the habits, but regular moisturization tops the to-do-list in case of dry skin.
Product Reviews: Our Top 5 Choices of the Best Korean Moisturizers for Dry Skin
---
The MIZON All in One Snail Repair Cream conquers our top position. First, we notice Raspberry Fruit Extract which is laden with Vitamin C.
It can deliver sustainable levels of antioxidant protection to help in repairing the skin's texture and condition.
Arnica Flower Extracts can stimulate the growth of granulation tissue. That is the new connective tissue which forms when a wound is open. That is a significant trait regarding dry skin types since it can stimulate skin restoration.
That is a significant trait regarding dry skin types since it can stimulate skin restoration.
The flower extracts are also rich in unique compositions, such as flavonoids, coumarins, and helenalin to aid in healing tired skin.
Interestingly, this cream also contains slimy mucus from snails. Slime serves to help these creatures move around, while it protects and lubricates their fragile bodies.
It contains elements that help snails recover from injuries by speeding up the cell renewal. The same goes for this cream's action on the dry skin, as it helps to seal the flaky patches.
The major downside that we find is the consistency. It is very lightweight, and might not suit well those who have drier skin type than the average.
---
Second on our list of the best Korean moisturizers for dry skin is the Laneige 2015 Renewal - Water Sleeping Mask.
We like that it combines two benefits -- hydrating and calming the skin.
Evening Primrose can tone down pain and itchiness. It can speed up the healing of minor wounds and acne.
Apricot Fruit Extracts are rich in vitamins A and C. These can help to accelerate regeneration and gradually improve the skin's texture. Apricots can be useful for another reason, which is their suitability for sensitive skin.
Apricots can be useful for another reason, which is their suitability for sensitive skin.
Apart from being a superfood, Quinoa contains more than 15 percent proteins. And that is the highest one, compared to all the other grain foods in the world.
So we love the innovative approach of implementing Quinoa Seed Extract. It can aid in creating scar tissue, ligaments, and connective tissue to stimulate healthy skin recovery.
Since this gel is not the typical Western product, we need some time to adjust to its texture. It just looks thick, but then goes somehow runny, and feels sticky until it dries completely.
---
For our top three position, we have the Cosrx Oil-Free Ultra-Moisturizing Lotion. The first thing we like straight after opening it is the therapeutic fragrance.
We were even joking that only the scent is enough to relieve tired and dry skin.
We love it is easy to lather. The product can last for a longer time as we only need a short amount. Moreover, we think it is best suited for night use.
So this makes one more reason that a little goes a long way with this one. Meanwhile, Japonica Juice can facilitate elasticity and collagen growth.
Tea Tree Oil can exhibit the formation of pimples. That component is so robust that it is a popular treatment even in severe cases such as Psoriasis and acne.
Lemon Peel Oil has a mild exfoliating effect. It can help to clear the skin of scales and flakes.
However, Lemon Peel Oil can impart a tingling sensation. So be careful when applying it near the eyes.
Also, allow it some time to dry, or it can counteract some ingredients of the makeup and prevent it from sticking well.
---
The Etude House Moistfull Collagen Cream lands on our fourth spot of the best Korean moisturizers for dry skin.
Rich in hydrolyzed collagen, we find that this product is true to its label. It is indeed full of moist and collagen that are beneficial to dry skin.
While testing the cream, we like that the consistency is thin. We can feel that hydrating effect, and although it is a bit sticky, it quickly seeps in and spreads evenly.
Baobab Fruit Extracts are remarkable for dampening extremely dry skin. On the other side, Kaolin is a mild component, which can quell itchiness and flakes.
Most of us are familiar with Glycerin as a humectant. It draws moisture all the way up to the epidermis. Glycerin is world-known for healing dry and parched skin.
Due to the combination of different elements, the cream gives off a lovely floral fragrance. Plus it has a small spatula that is pretty convenient and hygienic.
So we have to admit we were a bit disappointed to have only a small amount packed in the container.
---
For our fifth spot, we choose the Natural Facial Moisturizer by SUXXESS because we love how we can use it both during the day, and night.
One of our favorite features is that it is not greasy or sticky. We appreciate we can apply it before putting on makeup.
While testing it out, it did not give us any slimy feeling. So we notice one application can be enough to soothe dryness, although layering up is not a problem.
Lavender Oil can seep through the skin easily and quickly. It is effective in healing and soothing extreme dryness and itchiness.
Another beneficial element is Witch Hazel Extract. It can soothe and prevent damage and swelling.
Meanwhile, Ginseng Root can rejuvenate the skin and inhibit dryness to result in a radiant complexion.
However, if you are a fan creams with rich and heavier texture, this one might not meet your expectations.
Anyway, we don't mind that, because we enjoy how the product is leaving the skin soft to the touch.
The Bottom Line
We believe that any skin type and condition is a result of our intimate relationship with the skin.
It is that same relationship that shows how we take care of ourselves. Do we respect the skin, do we search for ways to make it healthy?
Or maybe we fall into the busy pace and forget that all the best things come from our efforts and consistency?
That is one of the lessons we want to borrow from the Eastern society, where possessing beautiful skin is a virtue.
Overall, the MIZON All In One Snail Repair Cream is our top pick of the best Korean moisturizers for dry skin.
The traditional element that Koreans know how to utilize is snail mucus, which we find as one of the benefits of this cream.
But it is up to us to find the formula that works best, and most fundamentally, don't forget to cherish the skin, and it will inevitably pay back all efforts in time.
And if you would like to learn more about the Korean traditional routine, read our guide here: https://supportyourbeauty.com/korean-skin-care/