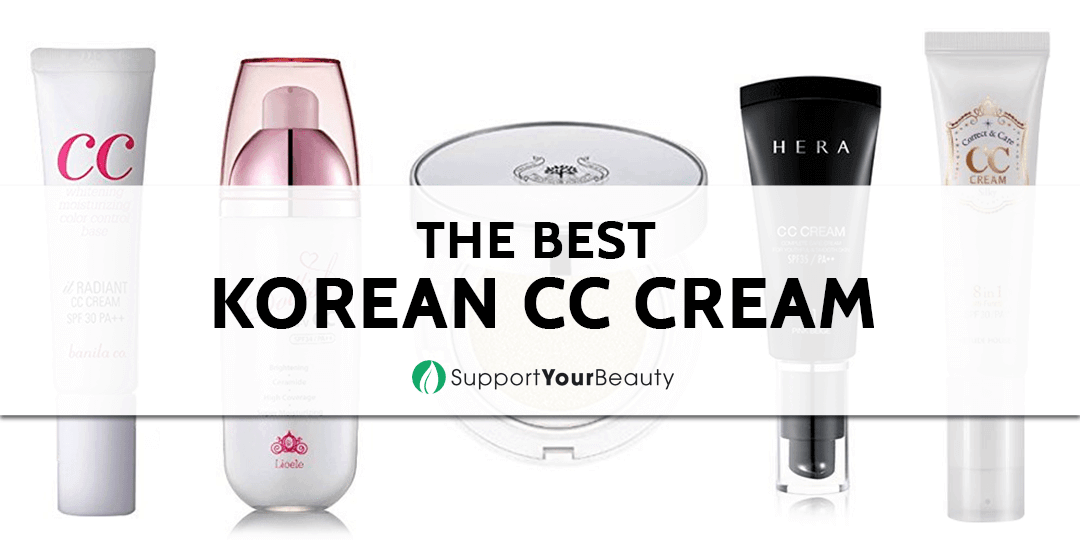 The Best Korean CC Cream – 2018 Reviews & Top Picks
Excited to find out expert ways to polish your face? Don't get disoriented in the abundance of products! Look for the best Korean CC cream.

CC Creams, also known as Color Correcting or Color Control creams, have been in the market for the past seven years, yet most people don't know what this skin care/cosmetic hybrid can do for the skin.
Very few know the difference between a BB and a CC cream, and what makes the latter a favorite among Koreans.
Moreover, choosing the right CC cream can be difficult, as there are hundreds of them crowding shelves in department stores, drug stores, cosmetic hubs, and online stores.
Korea is the birthplace of several revolutionary skincare and beauty products, so it's no wonder that beauty bloggers are raving about Korean import CC creams in websites and videos.
Here, we've made a list of the top CC creams, created in Korea, that can give you a nice glow while caring for your skin.
More...
At First Glance: Our Top Picks For The Best Korean CC Cream
OUR TOP #1 PICK - Banila Co It Radiant CC Cream is our top pick for the best Korean CC cream. It moisturizes while giving the skin a brightening effect.​
OUR TOP #2 PICK - Lioele Dollish CC Cera-V CC Cream has the triple benefits of whitening, anti-wrinkle, and UV protection. It leaves a fresh finish and keeps skin hydrated and supple, as well as gives skin a glowing look.
OUR TOP #3 PICK - If you're looking for a CC cream that comes in a handy cushion compact, then we recommend the Face Shop CC Cushion Ultra Moist. It gives a dewy finish, and it's formulated to hydrate skin.
OUR TOP #4 PICK - If you need a bit more coverage that comes close to that of a BB cream, Hera CC Cream can make spots and freckles look less visible while giving a natural finish.
OUR TOP #5 PICK - Last, but definitely not the least on our list, is Etude House Correct And Care CC Cream in Silky. It can be quite difficult to blend, but if you can get past it, it's a good CC cream to help even out your skin tone.
Do You Want to Know What Makes a CC Cream Unique?
First, let's start with an overview of an endless battle-- CC cream vs BB cream.
CC Creams are a spinoff of the popular BB creams or blemish balms. While the latter is formulated as a foundation to hide and treat blemishes, CC creams are made to provide sun protection and minimal coverage.
CC creams are also used to give sallow or red, chapped skin a more even-toned appearance.
Most CC creams give a brightening effect, and it's usually the base or foundation of choice for young Koreans with normal to dry skin.
In its liquid form, a CC cream is very similar in texture to a tinted moisturizer.
And so those who used to be fans of tinted moisturizers have made the switch, as the majority of CC creams on the market are formulated with skin-friendly ingredients.
CC creams are known to be multitaskers, as each one appears to have more than one benefit.
It's not uncommon to have a CC cream with UV protection, anti-agers, and radiance-enhancing properties all in one tube.
So if you're wondering if there's a way to find the best Korean CC cream for oily skin, or how to discern the best Korean CC cream for acne -- your mission is entirely possible, because the abundance of CC creams and their benefits is almost endless.
While it's likely that you won't see immediate results after one application, you'll see a difference in the way your skin looks after you've smoothed on any of the top 5 choices on this list.
How Do You Know if a CC Cream Is Good for You?
If you're looking for a daily base that offers minimum coverage, UV protection, and ingredients which are beneficial to your skin's health, then a CC cream may be just what you need.
Most CC creams tend to be on the moisturizing side, so if you have skin that tends to get oily, you may need to apply a mattifying primer under it to keep shine at bay.
Meanwhile, if you have normal, dry, sensitive skin, or acne-prone skin, a CC cream can become a great addition to your 10-step skincare routine, so you can imagine it much like a toning moisturizers you put as a base.
Keep in mind that BB creams and CC creams are very different from each other.
BB creams, or blemish balms, act like foundation with some skincare benefits mixed in it. CC creams, or color correcting creams, address issues such as sallowness or redness.
But can you wear CC cream by itself?
CC creams can be used on their own for a natural finish, though some hydrating formulas also work well under makeup.
What's the Best Way to Apply a CC Cream for Professional Results?
So how to use CC cream and extend its benefits to the maximum? Apart from watching a CC cream makeup tutorial, here are our easy-peasy little tricks.
Let's start with why and how to apply cc cream with fingers.
The best way to apply CC cream is to dot a small amount on your cheeks, nose, forehead, and chin, and as mentioned, use your fingers to blend.
Warming the cream between your fingers helps for the pigments and ingredients to mix very well.
Next, how to apply cc cream with a brush and what's the difference?
For a sheerer finish, you can also use a damp sponge or a foundation brush to apply the cream.
Doing so creates a more matte, and soft finish on the face, but it doesn't allow you to build up many layers, as with the finger technique.
However, it requires a precise and light hand. Even though this might be hard in the beginning, when you master this method, your CC cream can look in 2 different ways, depending on the dispensing style.
Make sure that your CC cream provides you with enough UV protection if you're going to use it in lieu of sunscreen.
Otherwise, a thin layer of facial sunscreen under your CC cream may still be needed to protect your skin against developing cancer and premature aging.
The Best Korean CC Creams For Healthier Skin
Banila Co It Radiant CC Cream tops our list because it's enriched with Niacinamide, an ingredient that brightens dull skin for a glowing finish.
Spiked with Eco Herb Water Complex, this water-based CC cream helps give the appearance of a radiant complexion.
One thing that makes us fans of this CC cream is that it has SPF 30, which blocks nearly 97 percent of UVB radiation.
We used this as a base, but it can also be worn under another foundation. Worn alone, it has a satin finish, and it hides minor imperfections.
However, we found that we need to apply a bit of concealer to cover spots.
Because of its hydrating effect, this one is among the best Korean CC creams for dry skin on our roundup.
If you have oily skin, you may need a bit of translucent powder to keep your face from getting too shiny.
If you don't know how to select the right Korean products for your skin, check out our Korean Beauty Regimen For All Skin Types here.
---
Enriched with SPF 34, this CC cream offers sun protection throughout the day. It contains Ceramides and Vitamin E, which nourish and hydrate skin.
Jojoba oil, Aloe Vera, and Seaweed coddles skin with moisturizing benefits, which may help make dull skin look healthier.
We like how this product comes in a pump, and though it has an odd, somewhat grainy texture, the soft and creamy formula blended out to match our skin tone.
However, it can appear a bit gray if you have a warm complexion, and it doesn't match darker skin tones.
Another thing we love is that the CC cream is very light and comfortable to use, and it doesn't feel smothering even in hot weather.
It does not have a matte finish, so if you're after that effect, you may want to carry a few sheets of blotting paper to control excess oil and shine.
---
This is the only CC cream that comes in a cushion compact on our list. This moisturizing CC cream revives dull and dry skin with the hydrating properties of Calendula, Rosemary Leaf, and Lavender Extract.
Formulated with Hyaluronic Acid and Collagen, this CC cream gives skin a supple texture, and helps reduce the look of fine lines to promote a more youthful glow.
We selected this CC cream because of its convenient packaging, which makes it easy to carry around for quick touch ups.
We applied this CC cushion on our face, and we love how lightweight and moist it felt on our skin. It has a sheer finish and makes our skin look more luminous.
It comes in three shades—Natural Beige, Apricot Beige, and Pure Beige. If you have a light to warm complexion, you can pick among any of the three shades to find a close match for your skin tone.
---
This CC cream is enriched with skin-loving ingredients such as Vitamin C for brightening and Grape Seed Oil, which strengthens cell membranes to help make skin appear younger.
This one makes the list, as it diminishes the appearance of freckles and dark spots.
We love that it offers a bit more coverage, so we only need a bit of concealer on top for the dark circles under our eyes.
A small amount goes a long way, and one pump was enough to dispense enough CC cream to cover our cheeks, forehead, nose, and chin.
There were two things that we didn't like about this CC cream. First, it felt a bit dry, despite its hydrating ingredients. Also, it had a somewhat strong smell, and it may take a little getting used to.
It comes in three shades, which are Natural Beige, True Beige, and Pink Beige.
If you have a warm complexion, the first two shades may be a close match for your skin tone, but if you have a rosy complexion or have a pink undertone, the Pink Beige may be a better pick.
---
This CC cream has Camellia Sinensis Leaf Extract, which is helpful in protecting skin from sun damage.
It also maintains skin's freshness and it is valued for its anti-aging properties.
This CC Cream is a multitasker as it primes, hydrates, and protects skin for a healthier complexion.
After smoothing this cream on our face, our skin appeared to have a more even tone, but our freckles and acne were still visible.
It has a subtle and fresh scent, so this may work for you if you're sensitive to strongly scented cosmetics.
One thing that we didn't like about this CC cream is that it may emphasize dry spots, so we had a bit of flaking on our cheeks, and caking at the corners of our eyes and nose after application.
The Bottom Line
A bit of CC cream can improve the look of skin that needs some color correction.
So if you're suffering from redness or sallowness, you can benefit from the use of a good formula that protects and nourishes your skin.
Most importantly, regardless of your skin type, if you are health-conscious about yourself, a good CC cream can be your step ahead.
For this roundup, we recommend Banila Co It Radiant CC Cream among the best Korean CC creams for its brightening effect, SPF 30, and satin finish.
It's also quite versatile as you can wear it alone for a natural finish or under foundation as a moisturizing primer.
Note: This article is all about CC creams, so if you are looking for a good BB cream to use, you can find our favorite list of the best Korean BB cream here.
And don't forget to click here if you don't know how to start an effective daily skin care routine that can bring you a glowing skin in no time!