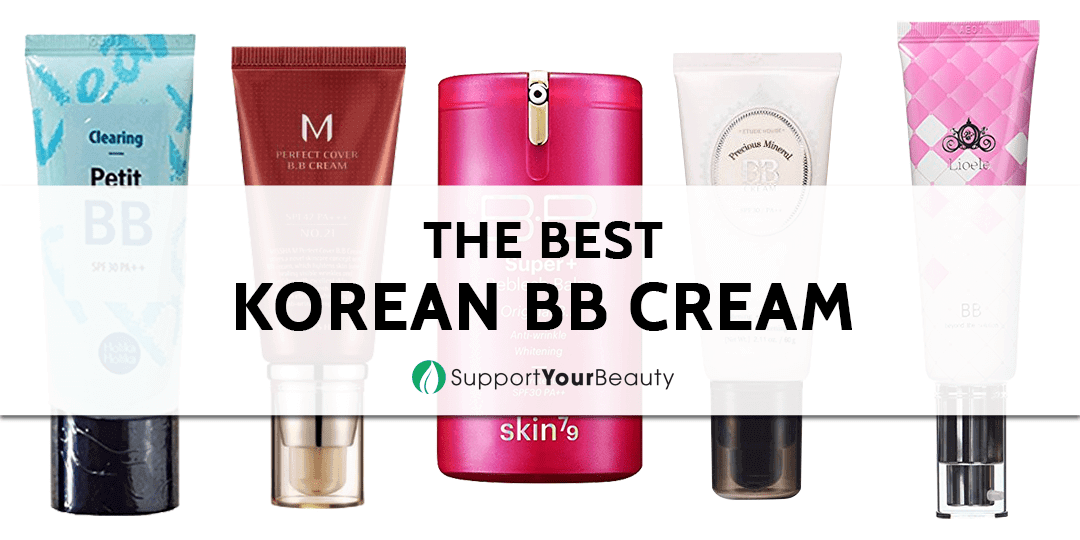 The Best Korean BB Cream – 2018 Reviews & Top Picks
What no one tells you about how to heal and conceal-- we share with you the hidden answers. Take a look at the best Korean BB creams!

A BB cream is a beauty product every girl needs to have. Over the years, BB creams have become extremely popular. Even the introduction of DD creams could not deter their popularity.
BB creams provide many properties in one. They can be your sunblock, primer, and moisturizer in one. Some come with added benefits and help prevent acne and signs of aging.
The formula was first invented in the 1960s by Dr.Christine Schrammek, a German dermatologist, who was looking for a way to protect her patients from skin issues.
It was mainly created for those who had undergone skin care treatment and had a risk of side effects.
The formula was introduced to the Korean market in the 1990s and quickly took the K-beauty industry by storm. It is now sold in international markets as well, with growing demand.
If you haven't had any BB cream product in your Korean beauty kit yet, now it's time to find one for your everyday skin care routine.
In this article, we'll be looking at top 5 Korean BB creams and picking one cream that is above the rest.​
More...
Quick Overview - Our Choices for The Best Korean BB Cream
What is the History of Korean BB Creams?
Beauty balms, mostly called BB creams, were first introduced in the Asian markets, but are now sold all around the world.
These creams are promoted as a one-stop solution for all your skin care needs. They promise to replace moisturizer, sunblock primer, serum and foundation as they contain properties of all these beauty products.
These creams come in different formulations. However, the choice of hues is limited as they were initially made for specific markets.
Nonetheless, now with Korean beauty products becoming famous all around the world, manufacturers are introducing more shades and skin colors.
Most BB creams oxidize to match your skin tone. BB creams make up around 13% of the Korean beauty care industry, but their share is now growing with increasing demand in different markets.
These creams were first made for women, however, now several BB creams for men are also available.
How Do Best Korean BB Creams Work?​
BB Creams offer protection against the sun, help prevent pimples, allow you to look young with antiaging properties and also help you cover skin imperfections.
They are also said to prevent shine and prime the skin. Many producers are making different shades to find success in international markets. In fact, Korean BB creams are sold in numbers in the US.
BB creams have some big fans in the US, including Fredric Brandt, M.D., a NYC and Miami-based dermatologist, who also took care of superstar Madonna's skin.
BB cream is right for anyone who wants to save time and money. When you use this cream, you will not have to resort to other options since this one product will take care of everything.
South Korean beauty industry is big, and a major chunk comes from exports. In fact, the country exported beauty products worth $2.64 billion last year alone, which is an increase when compared to previous year (source).
Korean products are different because they use different ingredients that are generally not found in the beauty products made in the US.
Rumors are that many US skin care producers are also looking at added these ingredients in their beauty products to enhance their effectiveness.
Korean products, specifically BB creams, hit the US market in 2011. They enjoy a huge market share in the country now, which according to reports was $164 million in 2014.
If these stats are enough to prove the effectiveness of Korean BB creams, you must now be looking for reviews on our top five pick.
Now let's check them out.
The Best Korean BB Creams For Flawless & Glowing Skin
This product from Holika Holika is our top pick for best Korean BB cream for its oil control and skin-clearing benefits.
Tea tree oil keeps skin looking fresh by absorbing excess oil for a matte finish.
This ingredient also helps calm down acne-prone skin and reduces the appearance of acne marks.
The BB cream also protects against the sun's harsh UV rays with its SPF 30, so instead of using a separate foundation and sunscreen, you can use this as an everyday base to protect your skin while giving it an even tone.
If you have acne-prone or oily skin, this BB cream may help you address those skin concerns. If you have dry skin, smooth a bit of moisturizer on before applying this BB cream.
If you still have no idea about how to choose the right product for your skin, you can read our guide here.
---
This cult favorite made it to our list of the best Korean BB cream because of its amazing coverage and skin-friendly ingredients, such as Chamomile Extract, which calms troubled skin and has a soothing effect.
Rosemary Extract helps prevent skin from showing signs of aging, while Hyaluronic Acid keeps skin moist while protecting it from irritants and bacteria.​
This BB cream also has SPF 42, which makes it great to wear if you live in regions that get a lot of sunlight. We applied this BB cream with our fingers, and because it dries quickly, we had to work fast to blend it before it sets.
It looked somewhat greyish during the first few minutes after application, but the BB cream soon adjusted to our complexion.
Another thing that we like about this BB cream is that it comes in six shades, while others come in only one or three shades, at the most.
You can choose from #13 (Bright Beige), which is the lightest shade, to the deepest shade, #29 (Caramel Beige).
It provides medium coverage, and we're fans of how it made our dark circles less noticeable.
It may get a bit oily by midday, but we think using a blotting sheet or a bit of pressed powder may fix that.
---
Skin79 Super+ Beblesh Balm BB Cream Triple Function is a rich BB cream that protects skin from premature aging with its SPF 30.
Loaded with Pink Blooming Complex and Acerola Extract, it transforms dull skin and leaves you with a bright, fresh complexion.​
The BB Cream's SPF 30 means that the formula blocks nearly 97 percent of UVB radiation, which is a plus especially if you live in a dry and sunny place.
Moreover, Acerola, which is a fruit rich in Vitamins A and C, helps brighten dull complexions.
The creamy formula effectively hides skin imperfections, such as acne scars and sun spots. It also gives a dewy finish for a youthful look.
This has become one of our favorites as it closely matches our skin tone, unlike other formulas which deliver a grayish cast on our warm complexion.
Another thing that we love about this BB cream is that it dries down to a dewy finish, but it doesn't become oily or shiny.
If you want a matte finish, a light dusting of translucent powder over the BB cream would help with the slight sheen.
Application is a cinch as you can use your fingers to blend. But you can also use a slightly damp sponge or a foundation brush for a sheer finish.
---
Etude House Precious Mineral BB Cream is formulated with Sunflower Seed Oil which makes skin softer with every use.
Spiked with Pearl Extract, this BB cream softens and firms skin for a more youthful glow and gives brightness to skin.
Another thing that makes us a fan of this BB cream is that it also has SPF 30 that gives protection from darkening and premature wrinkling.
Unlike other overly scented BB creams in the market, the Etude House Precious Mineral BB Cream has a light and clean scent.
One thing that we like about this product is that it comes in a pump, and a small amount goes a long way to cover redness, dark spots, and rough patches.
We dotted this BB cream on our face and blended it out with our fingers, and it made our skin appear more even and flawless.
To cover up red patches, we put on a bit more and used a foundation brush to blend it in, and it didn't appear cakey at all, though the formula is a bit thick.
The BB cream blends into a matte, almost powdery finish. However, if you have dark circles under your eyes, you may still need a thin application of concealer to give you that fresh and rested look.
---
This BB cream is enriched with moisturizing ingredients such as Jojoba oil and Macadamia oil, Hyaluronic acid and Marine Collagen, while Licorice root and Allantoin soothes reddened skin.
This multitasker controls oil, smooths skin, and gives a natural coverage. We used this on our dry skin, and it's slightly dewy finish made our dull skin look more radiant.
You can apply this with your fingers or with a foundation brush. A light dusting of translucent powder helps the formula from becoming oily.
One thing that we didn't like about this BB cream is that it has a scent that's very similar to that of sunscreen, but it fades after a while.
It also has a tendency to oxidize and appear darker on some complexions.