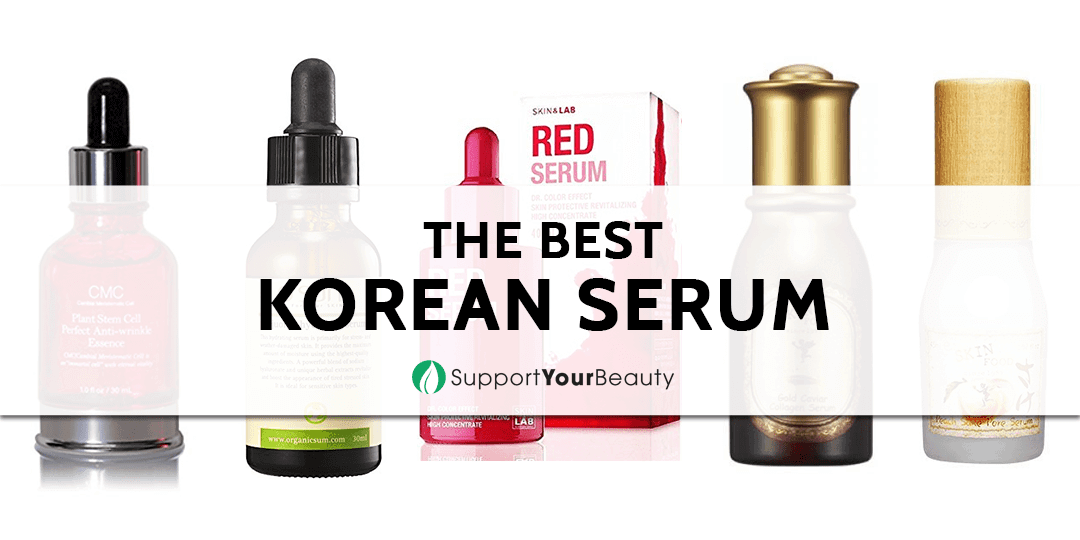 The Best Korean Serum – 2018 Reviews & Top Picks
Do you know how to take advantage of the elixir of beauty? Yes, we are talking about the best Korean serums and list all you need to know!

Serums are like a warm bubble bath for the skin, and Korean ones have earned the fame for the most luxurious.
They give your skin a youthful soft​​​​​ness that goes deeper than regular moisturizers.
Serums boast smaller molecules with higher levels of beneficial ingredients compared to moisturizers.
There are so many serums on the market today that Support Your Beauty chose to focus on the best that Korean lines can provide because they are the crème de la crème.
Here we take a look at five products and compare them. Reading this will help you make smart, informed choices about your unique skincare needs, especially if you seek that youthful, dewy glow popular in the Korean culture and fostered in its skincare lines.
More...
At First Glance: Our Top Picks For The Best Korean Serum
OUR TOP #1 PICK - At number one we chose The RED serum. This is Seoul, Korea's best-selling serum. We love this because it is multi-faceted as an anti-aging product, brightener, moisturizer and retinol serum all in one.
OUR TOP #2 PICK - Coming in at number two, definitely a top pick and a favorite among many, is a very unique and possibly groundbreaking serum. The Plant Stem Cell Beauty Anti-Aging & Anti-Wrinkle serum is the first of its kind to use real stem cells that create an instant restorative process when applied to your own skin.
OUR TOP #3 PICK - Number three arrives with all the hype and buzz that comes with celebrity status. We love O'Sum Korean Organic Hyaluronic Acid Serum for its 7 fresh organic ingredients, especially lemon balm extract. While it's not the first to feature a healthy dose of Hyaluronic acid as a main ingredient, it uses the acid to not only fight aging, but clear up blemishes too.
OUR TOP #4 PICK - Number four is known for its special glow. Skinfood Gold Caviar Collagen Serum literally brightens your skin with gold. We discovered that this will make your skin glow like never before
OUR TOP #5 PICK - Coming in at number five is Skinfood Peach Sake Pore Serum 45ml. If you love the idea of a yummy peach smell and fresh ingredients on your face, this may be the best serum for you. Be sure to order the 45ml if you want this one as there are several similar ones on the market with almost the same name.
Why Do You Need to Use a Serum?
Serums are the new "It" product of the moment. Everyone is cashing in.
Beauty blogs are devoting article after article to them, people are going bananas buying product after product, and companies all around the world are creating the latest, newest, and best serums to keep up with the demand.
But are they really worth it and do you need to spend your hard earned money just for another beauty trend?
The fact is that these serums can make a big difference in your skin.
​A few drops are all it takes. How much you need to add really is up to your unique skincare needs and complexion.​
Revealing the Hidden Secrets of the Beauty Elixirs
It's all about creating that lasting youthful glow.
​Serums are like food for your skin, like ripe vegetables, colorful fruit and fresh water to nourish and heal your skin of the damage you heap on it during the day.
Moisturizers and cleansers just don't do the trick. Moisturizers simply absorb on the surface, and cleansers remove the surface damage.
Serums replenish the nutrients. It's like a therapy session for your traumatized skin that needs an effective dose of counseling (source).
And just a couple of drops and your skin is ready to deal with another day of major issues, including sun damage, pollution, dirt, oil, stress, make-up and free radicals.
For people with oily skin, serums made from water can replace moisturizer and provide hydration without causing breakouts.
For dry skin, apply serums after cleansing and toner before using a moisturizer. Just a drop or two and your skin will again feel supple and restore its glow.
Our sum up?
Whether you're looking for the best Korean serum for combination skin, the best Korean serum for acne, or just the best Korean brightening serum-- there is a suitable one out there for you.
And the best thing is that it is only waiting to be discovered!
How to Become a Part of the Revolutionary Skin Care
Just love your skin and show it the respect it deserves. And so, we discovered there are serums for the many different skin types and needs.
We tried to identify serums for every issue and across all age ranges, from young to those young at heart.
We wanted to make your task easier, so you can enjoy more precious moments instead of facing all the trials and errrors.
We found serums for you if you have naturally oily skin to combination skin or if you suffer from dry skin.
We also found serums for you if you are concerned with early prevention or if you are looking for a serum that repairs fine and deep lines.
One Pro Tip: we are sharing is to check out some Korean anti aging tips on the Internet, as well. We simply couldn't put these all together in one single article!
What we did was to find several serums in various price ranges that offered all-in-one protection that serve to solve many problems at one time, including anti-aging, acne-prone skin, wrinkle fighting and youth revitalizing.
We have explained the action of every one of the serums we tried, and whether it is the best Korean serum for dry skin, the best Korean serum for oily skin, or the best Korean serum for sensitive skin.
We hope you find this article suitable in meeting your skincare needs. Hopefully, we can identify a serum in both the price range and skin-care solution you seek.
The Best Korean Serums For Boosting a Youthful Complexion
Our number one best Korean serum is also the most famous serum in Seoul, Korea. We went back and forth between the stem cell serum and this one, but the RED serum took the grand prize due to its affordability.
The RED serum is another all-in-one serum that will blow your mind with the amount of benefits you can achieve with this one serum.
Are you looking for an anti-aging serum or do you want to brighten up your skin and bring back that youthful glow?
Maybe you want to decrease red spots and heal scars while preventing acne? Or are you in search of something to repair texture, shrink pores, tighten and firm the quality of your skin?
No matter how you answered, this will do every one of those things while hydrating, moistening and creating that supple, smooth skin you have been dying for since you aged out of puberty.
You probably wonder how this product can do it all. What makes us fall in love with this serum is that it's made with anti-aging and retinol serums, Vitamin C, moisturizers, skin lighteners, and hyaluronic acid.
That means it will help plump your face with the wonderful benefits of Vitamin C and hydraulic acid to heal scars and leave a lasting glow.
And so we think this is a great Korean dark spot serum and also one of the best Korean serums for pores, as well.
It is enriched with niacinamide and adenosine that helps hydrate and smooth your skin. It also helps firm, tone, tighten and brighten both your face and neck.
This serum also contains anti-oxidants which reduce sun damage, shrink pores and leave a lasting, moist and supple complexion.
Like many serums, we suggest that you should consider using this serum with an additional moisturizer for better results.
---
The most high-end line serum on our list is the Plant Stem Cell Beauty's Anti-Aging Serum. Its secret starts with the cells it uses from the wild ginseng plant.
These cells are famous for their ability to self-renew. We love that when applying them to our skin, they become restorative and act as an immediate anti-aging force.
This serum was developed by Korean scientist and it comes with many benefits long-desired in anti-aging products.
This single serum improves not only your skin tone, texture, and elasticity; it also helps repair damaged collagen, brings back your skin's firmness and even helps repair wrinkles.
For many of you, repairing wrinkles is probably your top goal, especially if you are over 35. We have tried this serum and found that it helps fix not only those annoying thin lines, but also deep wrinkles that leaves your skin looking more youthful.
This product is different from other stem cell-like products because it is using actual stem cells rather than stem cell-like ingredients. Since using actual, active stem cells, this may be the reason why it provides better results.
---
O'Sum Korean Organic Hyaluronic Acid Serum for Face is our another top pick from the best serums on the market.
It's made with 7 different organic ingredients, including lemon balm extract. But that's not what all the talk is about.
We love that it uses the same ingredients as the high-end brands, namely hyaluronic acid.
Not only does this serum help firm skin to return it to its youthful glow, but it also replenishes and moisturizes at the same time.
Hyaluronic acid is known to help protect the skin from UVB rays from the sun, and produce collagen which supports skin texture and retains skin moisture, thereby bringing you a lot of anti-aging benefits.
With the help of hyaluronic acid, this serums helps reduce the damaging effects of sun damage and scars while also decreasing redness and clearing up acne.
---
Skinfood Gold Caviar Collagen Serum is ranked number four on our list thanks to its capacity to flight the effects of aging.
This serum is imported directly from Korea and comes from Skinfood​, which is a famous brand on the skincare market.
We fall in love with this product because its main ingredient is collagen, which is known to help improve your skin texture while smoothing and bringing back a healthy, fresh glow.
By providing your skin with more collagen, it helps decrease the noticeability of fine lines and wrinkles, thereby leaving you more youthful and flawless skin.
This serum is also made with adenosine, which acts as a skin-restoring agent that contains anti-inflammatory properties and helps boost the levels of collagen in your body.
---
We couldn't help it but include yet another Skinfood's product as number five on our list.
If you are looking for a delicious smelling serum to refine your oily skin, Skinfood Peach Sake Pore Serum may become your favorite from the list.
This product arrives in a lovely glass bottle which is great for decorating your dresser, make-up stand or perfume counter.
We loved the peach aroma and found the lightweight serum refreshing. A positive benefit to this serum is its ability to work well for sensitive and oily complexions.
It comes enriched with Vitamin A and C, and it uses both peach and sake extracts in combination. That's great because it will refine skin texture and bring back that youthful appearance in your skin.
We love that it also contains silica powder, which is known to help enhance the health of your skin and deal with the effects of aging. It also helps shrink pores and treat acne-prone and oily skin.
We particularly like this product for its ability to decrease sebum production, which is the waxy, oily substance that builds up in your skin and causes blemishes and uneven or dull skin tone.
However, if you have very dry skin, you may consider using this serum with a moisturizer for better results. That's because when we tried this product, we found that it was not providing any moisture benefit at all.
The Bottom Line
In conclusion, the top 2 serums will offer you a youthful glow that may be missing in your K-beauty regime.
Number 2 may be your best choice for replacing fillers or if you are considering more risky procedures: its amazing technology actually renews your skin and restores lines and wrinkles.
We recommend our number 1 product overall, the all-in-one RED serum. There is a reason it continues to be one of the best Korean serums on the market today.
This one becomes one of the holy grail skincare products that we are so glad we won't be missing out anymore.
It will refine your skin tone, moisturize and work as an anti-aging skin care treatment, all while preventing blemishes and promoting that ageless and popular, dewy complexion coming straight out of Seoul, Korea.
If you love this article, I'm sure you want to check out our Korean Skin Care Routine Day and Night here.