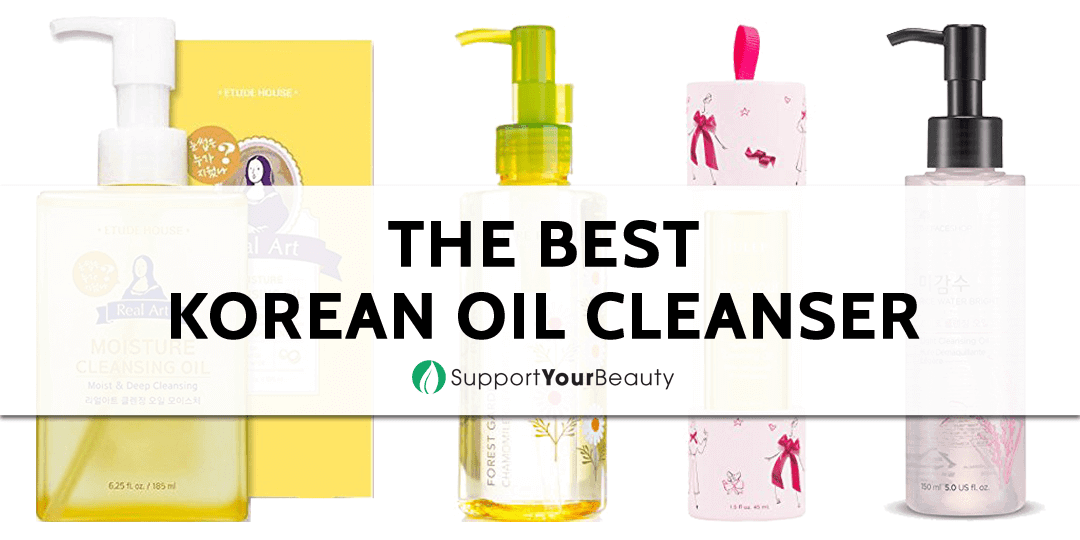 The Best Korean Oil Cleanser – 2018 Reviews & Top Picks
In order to help you maintain healthy skin, we've compiled 5 of the best Korean oil cleanser options. These products were carefully evaluated based on their active ingredients that cleanse the face thoroughly while supporting the natural protective barrier of the skin. We believe these products are the best on the market that will fit your skincare needs.
No one can discount the importance of cleansing the face after a long tiring day. It feels sticky and grubby not to clean our skin both before and after retiring from the night.
If you want to achieve a youthful, radiant and bright skin, the key is in the cleaning process. You have to be conscious of your routine and choice of facial products.
One unique skin care regimen that has piqued the interest of many is the double cleansing method of Koreans. As a practice, Koreans start off their notorious routine with washing the face.
What is interesting in this practice is that they use two types of cleansers, namely, an oil-based and a face wash. Both have distinct functions and formulations targeted explicitly for various skin types.
If you have oily skin, you might think it ill to wash your face with oil. While this is a typical reaction, oil-based cleansers eliminate further grease build up in the deeper pores of the skin.
Thus, finding and utilizing the best Korean oil cleanser for oily skin, can turn out a wise move to reap all the benefits of your beauty routine.
If you have dry skin, the oil base assures that your skin will still get the necessary moisture.
If you have sensitive skin, there are oil-based cleansers that are gentle and scent-free. You can also implement this approach to expand your Korean skin care routine for acne for best results.
Nevertheless, when it comes to combination, normal, and mature skin, oil-based cleansers remain one the little-known staples to achieve flawless face.
If you have taken a liking towards the Korean skin care regimen, you will probably be interested in this type of cleanser.
Most importantly, you will appreciate the benefits of the double cleansing method. (more related info)
We have culled information, and we have detailed up all our favorite choices of the good Korean oil cleansers in the market. Get to know them better and take your pick accordingly.
Before we dig deeper into the best products in this category, here is a glimpse of what makes each cleanser unique. Look forward to the possibility of using any of these.
More...
At First Glance: Our Top Picks for the Best Korean Oil Cleanser
OUR TOP #1 PICK - First on our roster is The Face Shop Facial Cleanser, Natural Rice Water Light Cleansing Oil. Although it is oil-based, this cleanser has a light consistency made up of Rice Extracts, Soapwort Root, and Limonene. Free from mineral oils, this delicate oil can deep cleanse, moisturize and help to even out the skin tone.
OUR TOP #2 PICK - Next in this category is Clean it Zero Purity by Banila Co. The uniqueness of this product is that it has the consistency of sorbet. To those who do not like liquid types, this might be a great alternative.
OUR TOP #3 PICK - Third on the list is Julep Love Your Bare Face Age-Defying Cleansing Oil. It boasts of its unique formulation called the Power Cell Complex. The special blend of ingredients helps strengthen the skin and inhibit skin aging.
OUR TOP #4 PICK - Etude House, being one of the most famous and trusted Korean skin care brands, also has its option for an oil-based cleanser, which is Real Art Cleansing Oil Moisture Advanced. It makes use of the favorite Coconut Oil to remove all accumulated impurities gently, yet efficiently.
OUR TOP #5 PICK - Last, but not the least, Nature Republic has designed a product that is good even for those with sensitive skin. The Forest Garden Cleansing Oil combines Macadamia and Jojoba Oils with soothing Chamomile. The result is a clean, soft, and radiant skin.
In this list, there are options for different types of skin. Thus, you can feel free to explore these and take maximum benefits from your choice.
The Importance of Keeping The Moisture on The Skin
Before we delve into the features of these cleansers, let's dive into the importance of keeping the moisture on the skin while doing other actions like cleansing and exfoliating. These are all true regardless of the skin type.
We get to hear and watch many sources advising on looking after for the skin well.
With the emphasis on personal care and beauty, it becomes both more comfortable, and simultaneously a bit confusing to choose which path to follow.
The typical advice is to pay attention to moisturizing the skin. Even in cleansing and makeup application, moisturizing should not be neglected.
The fruits of the labor in consistently moisturizing your face will eventually be seen in the passage of time. The more moisturized the skin is, the less likely you will look old.
With the double cleansing method, keeping moisture is considered in all the 10 steps. It starts with proper cleansing.
The primary aim of the Korean routine and namely the double cleansing method is to give way to proper skin moisturization. It is difficult to moisturize the face when there are dirt blockages.
And since only oils can bind to other oils, no matter how diligently we wash, this could never remove the oil-based impurities.
Here are some further guidelines for moisturizing our beloved skin.
How to Moisturize Dry Skin for Best Results?
Dry and itchy skin needs incredible nourishment. There is a multitude of adverse effects when a dry skin is left dehydrated.
It is vital to select a cleanser that will not strip your skin of its natural oils. Avoid products that contain Salicylic Acid, Eucalyptus, and Alcohol as these are incompatible elements for your skin type.
When choosing an oil-based cleanser, you can look for Jojoba Oil, Argan Oil, and Almond Oil as they can boost moisture into the skin. (more related info)
It also helps to gently exfoliate on a regular basis as this process helps to shed off the dead skin on the topmost layer of the skin. Honey, Oatmeal or Glycolic Acid are great ingredients for this purpose.
Avoid using rough towelettes or coarse cleansing brushes. Protect yourself from damaging weather.
All these ways will help you retain the moisture in your skin.
Myths About Oily Skin That Block Your Progress
Many have a conception that oily skin does not need moisturization. As such, people use harsh chemicals thinking they will help curb oiliness. Some even skip moisturizing.
Meanwhile, the truth is on the contrary of these beliefs. To cleanse oily skin, begin with an oil-based cleanser as this will attract oil-based dirt, too.
Makeup, sebum, and shine could all be eliminated by an oil-based wash, contrary to what a water-based cleanser can do.
Not all oil-based cleansers are formulated similarly. You just have to choose the ones with ingredients that are suitable for oily skin.
Avoid using astringent as they strip your natural oils. Stay away from products that are heavily laden with oils as they will clog your pores.
Search for cosmetics that have a lightweight consistency. Remember that even if you have oily skin, you should not fail to moisturize. An oil-based cleanser can become your secret weapon!
How to Make the Most of Cleansing Without Irritating Sensitive Skin
Continual rashes and flaky appearance are typical of sensitive skin. You have to be cautious of your choice in cosmetics, and you know this very well. (more related info)
When it comes to cleansers, don't use soaps as they often contain irritants. The saponifying elements are too drying. Go for liquid, creamy or gel forms, instead.
Select scent-free, color-free, acid-free and hypoallergenic products. Chamomile and Aloe Vera are some of the best to soothe sensitive skin.
Avoid being out in the sun for a long time. If you are outdoors, then ensure to use protection.
Healthy skin is something that everyone aspires to have. Keeping these pieces of information in mind, you will be careful in every step for supporting your skin type.
And now we can move to the round-up of the top oil-based cleansers that can enhance your skin care routine. The countdown for the best Korean oil cleanser begins now.
The Best Korean Oil Cleansers For a Naturally Glowing Complexion
First on our list is The Face Shop Facial Cleanser, Natural Rice Water Light Cleansing Oil. At first, we liked its thin texture.
Next, we were amazed how well it does clean the face thoroughly to eliminate oil-based impurities, hydrate and lighten up skin complexion.
Surprisingly, we managed to remove both the cream-based concealer and a matte-finish lipstick on our faces even with just light rub massage.
This cleanser boasts of its powerful content of Rice Water. Rice water has opulent elements like Vitamin B, Ferulic Acid, and Allantoin.
That combination helps to prevent bacteria, inflammation and other skin damage from occurring. Rice water has lightening and moisturizing properties, too.
An emollient, Jojoba Oil, is used in this cleansing oil because it helps rough out scaly skin. Aside from this, it can unclog pores easily and it has healing properties, too.
What we loved about this product is how apt the texture is for massaging the face during the cleansing time. We think that this is, indeed the best oil cleanser for dry skin.
Plus, one pump extract of it could go a long way.
---
Coming next on our list is a product, combining gentle exfoliation with an oil base to cleanse accumulated impurities.
To those who have sensitive skin, this cleanser might become a suitable option. That's why we believe it deserves the title for the best Korean oil cleanser for sensitive skin.
We love its aromatic scent and how the sorbet texture feels amazingly good on the skin while lathering.
We have tried it, and we liked that we did not have to wipe off our makeup arduously after cleaning. The balm mixture was enough.
Considering its viscous consistency, it's not even difficult to rinse off. You would think that because it is in sorbet form that it would be very oily. It does not yet yield to a grubby feeling.
It comes with a cute spatula so you can easily control the amount you would like to use for washing.
This product is equipped with essential oils like Argan, Evening Primrose, Rosemary, and Lavender. It has the herbal power of Licorice, Matricaria, Aloe Vera, and Orange.
This product stands by its name purity because it is indeed great for nourishing delicate skin.
---
For out third best pick is empowered by its one of a kind formulation called Power Cell Complex. This cleanser contains powerful elements of Rosehip Seed Oil, Green Coffee Bean Oil, and Malvaceae Lipid Extract.
The Rosehip Seed Oil is known to help inhibit the early signs of skin aging because of its antioxidant and fatty acids contents. It has impressive capabilities in the area of moisturizing the skin, too.
Another candidate for defying age is the Green Coffee Bean Oil. It can replenish Collagen and Elastin because of its high content of Vitamin E.
Malvaceae Lipid Extract can help in protecting the structure of the skin. All these three ingredients combined shield the skin from wrinkle formation and sagging.
Unlike regular cleansers, this product is applied while the face is dry using your hands.
We've tried it, and it was even easy to rinse. It is true to its name "bare face," being one of the top Korean oil cleansers.
It even comes with an accompanying sponge that solely matches its mixture. It can accommodate all skin types.
---
The product that spots our position number 4-- Real Art-- is a compendium of several cleansing oils presented by Etude House. This particular cleansing oil has also been conceptualized to meet the needs of those with normal to dry skin.
Made from the oils of Coconut, Apricot, Sesame Seed and Korean Nut Pine, this has a slightly striking fragrance.
What we liked, however, is that it has a few chemicals in its content and more organic elements. It follows a light consistency, and it is easy to rinse.
Korean Nut Pine is celebrated for its ability to balance free radicals and make the skin firmer. Koreans love to incorporate this into their daily masks because of its moisturizing capacity.
On the other hand, the Sesame Seed Oil content makes this cleanser an antibacterial and anti-inflammatory one. However, since Coconut Oil has a high comedogenic rating, we don't think this is the best Korean oil cleanser for acne prone skin. Anyway, one of its benefits is that while carefully cleansing the face, it is also imbuing moisture into the skin.
It was also easy to bring it as the screw top could be changed into a pump. We were assured that it wouldn't leak while traveling.
---
A skin cleanser exclusively made for the benefit of those with sensitive skin, our fifth best pick-- the Forest Garden cleansing oil-- has soothing Chamomile Oil in its content.
The Chamomile acts as protection from bacteria and inflammation. Because of this, it can diminish irritations.
We've tried it, and we were able to get rid of makeup. Even the slight scales on our face were removed.
After washing, our skin felt smooth and refined. Aside from Chamomile, it also has a Jojoba Oil element in the formulation.
Koreans like to use Jojoba oil because it provides sustainable care for chapped, dry and cracked skin. It can even heal sunburn by penetrating deep into the skin.
Because of its penetrability, it can dig and hook the impurities from all the way down to the pores. Jojoba is what makes the skin feel softer, more supple and clean to the core.
This cleansing oil is a total package with its capacity to clean, heal, moisturize and protect. Our team agrees that this is one of the best Korean oil cleansers for combination skin.
The Bottom Line
Cleansing the face seems to be a simple task. In these days, the needs of our skin are dynamically changing.
The surrounding environment is getting more polluted. As such, cleaning the skin has never been so significant.
With this round-up of oil cleansers, you get to meet alternatives and enjoy ingredients that are advantageous to your face routine.
There is a fantastic option for those with sensitive skin such as the Forest Garden Cleansing Oil by Nature Republic and Clean It Zero Purity from Banila Co.
There is a brilliant choice also for those who want to increase the moisture levels of the skin.
These include the Real Art collection of Etude House and our overall winner - The Face Shop Facial Cleanser, Natural Rice Water Light Cleansing Oil.