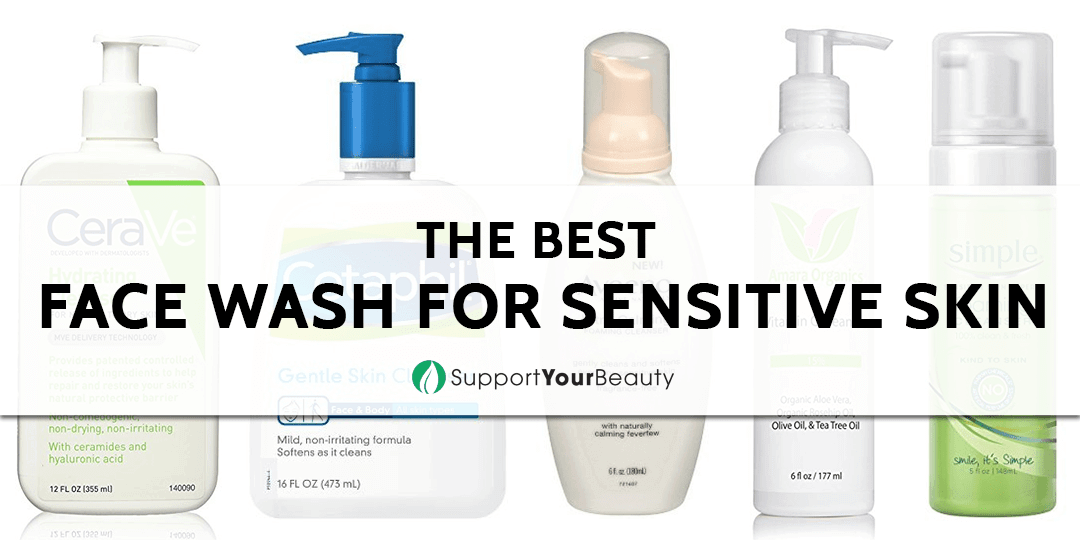 The Best Face Wash For Sensitive Skin – 2018 Reviews & Top Picks
How to make your face squeaky clean and prevent irritation? First time strengthening starts with the best face wash for sensitive skin.

Face washes are some of the most commonly purchased products on the skin care market.
These products can easily irritate skin, however. If you have sensitive skin, you will need a face wash that is made to clean your skin without causing issues.
Since face washes make direct contact with the sensitive skin on your face, you will want to find a gentle product that will still get your face clean.
Cleansing your skin will prevent acne and other skin issues, so face wash is very important.​
More...
Quick Overview of The Best Face Washes for Sensitive Skin
OUR TOP #1 PICK - Topping our list of best face washes for sensitive skin is CeraVe Hydrating Cleanser. This face wash is non-comedogenic and non-irritating, which makes it perfect for those with sensitive skin. Since this face wash hydrates your skin during the cleansing process, it is less likely to cause irritation.
OUR TOP #2 PICK - Number two on our list is Cetaphil Gentle Skin Cleanser because it was made for extreme skin conditions, such as acne, psoriasis, eczema and rosacea. It is gentle but still cleans deep down into pores.
OUR TOP #3 PICK - Third on our list is Aveeno Ultra-Calming Foaming Cleanser due to its ability to calm irritated skin, while cleansing and moisturizing skin. This face wash is fragrance-free and is specially made for dry, sensitive skin.
OUR TOP #4 PICK - Amara Organics Vitamin C Cleanser is number four on our list because it is completely natural and organic. We love that this face wash will leave skin feeling thoroughly clean, while some ingredients work to soothe irritation and hydrate skin.
OUR TOP #5 PICK - Our final choice for the best face wash for sensitive skin is Simple Foaming Facial Cleanser due to its ability to penetrate deep into pores to remove dirt and oil from the skin, while gently nourishing even the most delicate skin.
Ingredients That May Irritate Sensitive Skin
Many different ingredients that face washes may contain are known to aggravate sensitive skin.
These ingredients should be avoided to prevent skin irritations on sensitive skin. We will break down some of the worst products for sensitive skin in the following paragraphs.
Artificial fragrances are a huge no-no for people with problem skin. These are some of the most common skin irritants in beauty and skin care products.
Perfumes and fragrances are known to cause headaches, skin rashes, coughing and respiratory issues.
If a product says it is unscented, be cautious, because they may contain scents to mask the smell of fragrances already present. Look for products that are labeled as fragrance-free.
Artificial colorants are just like synthetic fragrances. They may be linked to cancer, and they are common irritants on the skin.​
Look for these ingredients with D&C or FD&C followed by a color and number.
Acids are other skin irritants. While most of them are meant to exfoliate skin or treat acne, they are typically very harsh.​
These acids can cause dryness, redness or burning of the skin on your face. If you use these products too often, you are more likely to experience these issues.
You may want to consider speaking to a dermatologist about how acids might affect your skin.
Alcohols are another cause of skin irritations.
These ingredients strip skin of its natural oils and can dry out your skin and cause irritation. Common problem ingredients include isopropyl alcohol and ethyl alcohol.​
Surprisingly, oils can cause problems for people with sensitive skin.
Petroleum or mineral oil-based ingredients are cheap ingredients used to hydrate skin. These oils can clog pores and cause breakouts.
Unless you have extremely parched skin, you may want to find an oil-free cleanser.
Parabens are common in face washes. They act as preservatives to prevent bacteria and fungi from growing in the product.
Parabens cause skin irritations and may even increase the risk of breast cancer. Look for anything that contains the word paraben on the ingredient list.
You can also look for some natural bathroom products which you can easily make at home. If interested, you can check it out here.
Benefits of Face Washes for Sensitive Skin​
If you are someone who has sensitive skin, you may need a face wash that won't cause any breakouts, irritation or allergic reactions.
A face wash that doesn't contain any of the ingredients mentioned above is less likely to be troublesome on your skin.
The ingredients listed above may cause rashes, irritation, redness and itchiness, as well as breakouts, which not only make skin look less desirable, but also can cause damage such as scarring.
Moreover, they are extremely uncomfortable.
If you already have skin conditions, such as psoriasis, acne or eczema, you are most likely to exacerbate the issues.
Plus, if you have oily or dry skin, you can actual make those problems worse, as well.
Your best bet is to avoid these trouble ingredients, so problems don't get any worse.
Those with oily skin may experience increased oil production when using products that contain irritating ingredients.
For those with dry skin, you may experience increased dryness when these ingredients are present.
Product Reviews: Our Top 5 Best Face Washes for Sensitive Skin​
---
CeraVe Hydrating Cleanser is number one on our list of the best face washes for sensitive skin due to its non-comedogenic formula.
This face wash contains hyaluronic acid, among other hydrating ingredients, to keep skin soft and moisturized for a full 24 hours.
This face wash contains a number of different ceramides that keep skin's natural protective barrier healthy and intact.
Plus, the hyaluronic acid will help make skin youthful, as well as keeping skin hydrated. We love that this ingredient is known to be incredibly moisturizing.
One negative thing about CeraVe's Hydrating Cleanser is that it contains a lot of chemicals. Luckily, these chemicals aren't from our previous list of skin irritants.
Since this formula was developed with the help of dermatologists, they created a face wash that was both non-irritating and non-comedogenic.
This hydrating cleanser is also fragrance-free, which makes it less likely to aggravate skin. This contributes to why it made our list.
---
The second product on our list of the best face wash for sensitive skin is Cetaphil's Gentle Skin Cleanser.
We selected this product due to its extremely gentle formula that is soap-free but still gets skin super clean.
This mild face wash won't irritate your skin or strip it of its natural oils. It also moisturizes skin without clogging pores.
We love this face wash's ability to hydrate and protect even the most sensitive skin.
Dermatologists created this cleanser, and it is made for people with rosacea, psoriasis, eczema, severely dry skin and difficult acne cases.
Like CeraVe's product, Cetaphil's face wash does contain a number of chemicals. Luckily, these chemicals aren't known to irritate sensitive skin.
Also, this product isn't a makeup remover, so if you don't remove your makeup before using this face wash, you may experience breakouts or irritations.
When used correctly, it's likely that you won't get any irritations or rashes from the cleanser.
---
Aveeno's Ultra-Calming Foaming Cleanser came in third on our list because it removes makeup, dirt, and oil from your skin, while still being gentle on sensitive skin.
It also contains calming ingredients that will soothe already irritated skin.
Sensitive skin may be nourished with this fragrance-free, soap-free, non-comedogenic and hypoallergenic facial wash.
It is made to be used every day, and it is gentle enough for even the most sensitive skin. With soothing ingredients, such as chamomile, redness and irritation may be visibly lightened and healed.
This cleanser also contains feverfew, which is actually related to chamomile.
Feverfew will help cleanse and moisturize dry skin, as well as reducing the appearance of problem skin irritations.
While this facial cleanser does contain natural ingredients, it isn't completely natural. It includes a number of acids and chemicals, but the face wash is less likely to irritate the skin.
---
Amara Organics Vitamin C Cleanser is number four on our list because it's organic formula is tough, yet gentle on skin. We selected this product because it does a lot for skin.
We love that this face wash contains vitamin C and aloe vera to hydrate and soothe damaged, irritated skin.
Rosehip and tea tree oils are great moisturizing ingredients that will make sure your skin stay nourished.
The best thing about this product is that it targets a number of skin issues without causing irritation.
This cleanser unclogs pores, cleanses skin, fades skin discolorations, brightens skin tone, refines texture and reduces the appearance of wrinkles and fine lines.
This organic face wash doesn't contain any harsh chemicals, parabens, sulfates or artificial colors, fragrances or dyes.
If you are worried about using chemicals on your skin, this product may deliver all the benefits you want without the chemicals.
---
Simple brand's Foaming Facial Cleanser rounds out our list because it gently removes makeup, oil, and dirt from deep down within pores using its foamy lather.
We love this face wash because it contains essential vitamins that will nourish skin and keep it healthy.
With pro-vitamin B5, your skin will feel softer and smoother. Geranium and glycerin are other excellent hydrating and refreshing nutrients for the skin.
This cleanser contains chamomile to soothe dry, red, irritation and acne-riddled skin. In fact, your skin will feel moisturized after using this product.
This cleanser is gentle enough to use every day, and it features a foamy lather to help it clean deep within the pores.
Don't let the name trick you, this product contains a number of different chemicals, which increases the risk of skin irritation. None of the ingredients in this product are common skin irritants, however.
There are also no artificial fragrances or dyes in this face wash that will cause skin problems.
The Bottom Line
In conclusion, our top pick for the best face wash for sensitive skin is CeraVe Hydrating Cleanser.
We picked this as the top cleanser for sensitive skin, because it gets skin super clean, without stripping all the natural oils from your skin. Plus, it is super gentle.
While we would easily recommend any of the products on this list, CeraVe Hydrating Cleanser is our favorite.
If you are looking for a natural cleanser, however, you may be interested in one of the other products on our list.
We are confident that you will find a face wash that works on your sensitive skin from this list. If you have any questions, please let us know.​