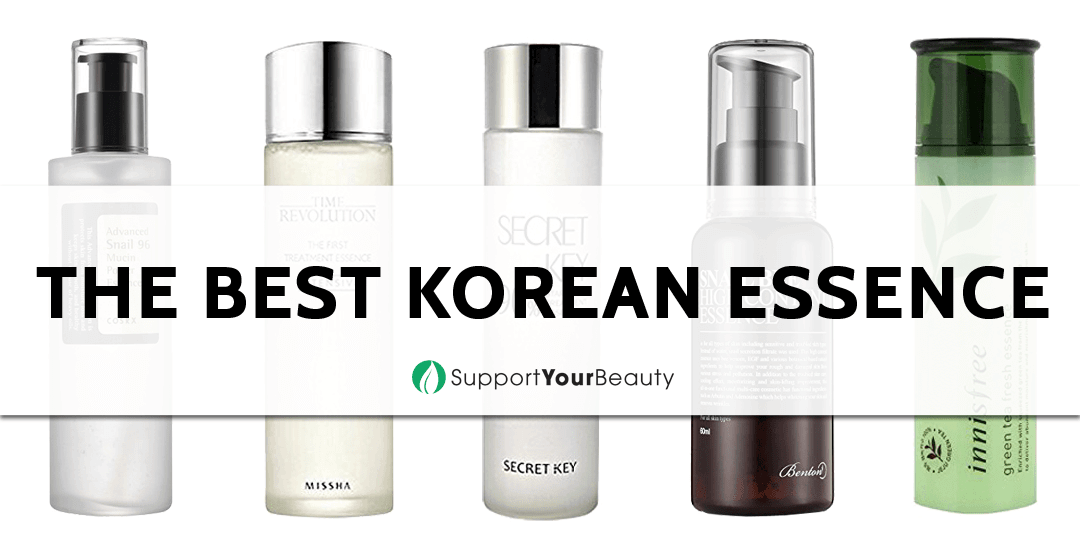 The Best Korean Essence – 2018 Reviews & Top Picks
In order to help you support your skin most beneficially, we're presenting our list of the best Korean essence products. These products made our list thanks to their ability to restore, refine, and smooth the skin, preparing it for the rest of your cosmetics. We believe these products will be secret weapons in your beauty arsenal.
The concept of an essence may sound new to those who are not familiar with the Korean skincare steps. However, this is a crucial component for achieving a porcelain-like skin.
If you are prone to sagging and wrinkled skin, you might want to include this in your routine.
Aside from that, you can rely on essences to do the work of superb hydration for just about every skin type.
An essence is designed to absorb the following products that you intend to use after in your K-beauty regimen.
In the Korean cleansing process, that means paving the way for ampoules, facial masks, moisturizers and eye creams.
Moreover, an essence is applied to the skin after cleansing and toning. Its consistency ranges as there are liquid, gel, and water types.
Another aspect that makes essences unique is that they have high dosages of active ingredients that are concentrated in a specific manner.
These do not clash with the subsequent skin care products because essences are less potent.
Nevertheless, these intricate beauty tools are meant to protect the skin from absorbing anything excessive, like some controversial ingredients in our makeup.
Although an essence primarily serves the function of hydration, there are products formulated to provide additional features, too.
In this review, we have chosen the best essences, imported from the heart of innovative skincare-- Korea.
Here is a quick glance to give you an idea of what to expect from the best selection in this category.
More...
At First Glance: Our Top Picks for the Best Korean Essence
OUR TOP #1 PICK - The primary product in this roster is Cosrx Advanced Snail Mucin Power Essence. Do you believe in the power of the snail secretion? That particular essence can nourish the skin deeply through the healthy properties of snail slime. We think this is a luxurious and vicious treatment for the face to help repair the skin and reveal a youthful glow.
OUR TOP #2 PICK - MISSHA Time Revolution The First Intensive Moist Treatment Essence is the second best Korean essence we have rounded up. It is indeed a time revolution essence because of its contents of fermented yeast extract from the Himalayan Purple Barley. That essence replenishes the skin with moisture and helps to improve elasticity.
OUR TOP #3 PICK - Enlisted third in this category is Secret Key Starting Treatment Essence. We fell in love with the inclusion of Galactomyces, a type of fungus, that is responsible for regulating sebum production and boosting skin's vitality. That's because it feeds the skin with antioxidants to block free radical damage.
OUR TOP #4 PICK - Benton comes up with an equally excellent alternative in the category of snail essences. Next on our list is Benton Snail Bee High Content Essence which also carries Bee Venom plus abundant plant extracts. The active compounds serve to renew skin cells. Nonetheless, we like the non-comedogenic and oil-free formulation.
OUR TOP #5 PICK - Do you prefer just a smooth, refreshing essence? Do you fancy herbal scent? Innisfree Green Tea Fresh Essence became our team's favorite to combine both moisturization and skin toning. The lightweight consistency makes this one easy to use and suitable even for sensitive skin.
You are probably getting thrilled upon taking a peek of these essences. In brief, let's learn how beauty products have emerged among Koreans and what goes in as part of the Treatment Stage of the Korean skincare.
The Status of Korean Skin Care in the World
In the recent years, the Korean skincare industry has hit it big globally. Research, conducted by Mintel, a renowned market intelligence agency, shows mind-blowing facts about Korean beauty lines.
It points out that South Korea is one of the most influential markets that has impacted customers all over the world, with a value of over US $13 billion in 2017.
The way Koreans develop their products and offer new customer experiences, alongside with millions happy users, made them succeed in the recent years.
Meanwhile, Google search is booming with questions like How to find the best Korean toner? What's the best Korean ampoule?
More and more people get to look at the best Korean serums reviews, as well as Korean products that fade away acne scars, and it doesn't end here.
Bloggers and vloggers are raving about the benefits of Korean skincare routine, and the fever seems only to keep growing.
What Secrets Are Hiding in the Korean Skin Care History?
Before its current status, let's take a look at the history of Korean beauty enhancements.
In the past, Korean women traditionally applied cosmetics as part of self-care and as a representation of one's placement in the society.
For instance, people identified a person's social status based on her makeup appearance. Gisaengs, artists or entertainers, were notable for heavier makeup application because of the nature of their job.
Historically, the culture of enhancing beauty among Koreans began during the Kingdom of Goryeo.
It was during this time that even the teaching of makeup application was widely practiced and accepted.
The trusted element for cleansing was the ground Mung Bean. The known moisturizer was Safflower Oil.
The cosmetics consisted of hair oils, blush, white face powder, lotion, and facial mask. This trend subsided, and the makeup appearance became natural-looking.
During the Joseon era, the focus of beauty was inclined towards simplicity. Instead of exterior beauty, the interior beauty became the core.
Even though there was a shift, this did not diminish the choices of Koreans when it comes to beautifying themselves. Even containers and makeup tools were invented.
Industrialization has changed the landscape, and foreign trade was allowed. Koreans got exposed to different alternatives, and various products were launched.
In the contemporary times, particularly in the 1960s, the shift got redirected to Korean products once again. Foreign products were banned from being sold in the country.
What About the Benefits of the Double Cleansing Method?
Another cultural practice that has existed all throughout Korean history is the Double Cleansing Method. It pertains to cleansing the face in succession.
It is because of the science that we can eliminate oil-based impurities only by an oil-based cleanser. Subsequently, we can remove water-based dirt by using a water-based wash.
This Double Cleansing method is also observed to give way to moisturization. And nonetheless, the flawless skin of Koreans speaks for the results better than any words.
All You Need to Know About The Treatment Method, Explained
Korean skin care entails 10 steps. After double cleansing, the next several steps involves exfoliating, toning, and moisturizing.
After toning, the treatment stage begins with the application of an essence. An essence is a mixture that you allow your skin to be soaked in entirely.
This opening stage paves the way for the power of ampoules, serums, facial masks, eye cream, moisturizer and night cream to befall the skin.
Essences are formulated with a high dosage of active ingredients but with low potency. These are designed as such to give in to the more senior influence of the subsequent products.
The Best Korean Essences for Youthful and Plump Skin
If you are curious about Snail Mucin just as we were, then this product might strike your interest, just like it did with our team.
Our best choice-- the Cosrx Advanced Snail Mucin Power contains 96% snail mucin which yields to a vigorous impact on hydration.
If you are suffering from any irritation, the snail secretion can help soothe and heal it. Snail Mucus is opulent with Glycolic Acid and this aids in facilitating Collagen and Elastin growth.
Furthermore, boosting those elements helps in the prevention of wrinkles. Another fantastic ingredient in this essence is the Hyaluronate.
Hyaluronate can provide abundant moisture to the skin without leaving traces of residue. Surprisingly, this particular compound can substitute lost natural Hyaluronic Acid found in the skin.
We've tested this essence, and it was calming, soothing and hydrating to the tired skin. Although the texture is quite sticky, it is not irritating.
In the beginning, it was a bit slimy, but it seeped through the skin quickly.
Nonetheless, we think this is one of the best Korean essences for dry skin, as it immediately helped us to notice sealing of small flakes and scales.
---
The leading star in our second best pick is the fermented yeast extract from the Himalayan Purple Barley. Because of its Amino Acids contents, it can boost the overall quality of the skin.
Fermented Yeast Extracts are more concentrated, more cogent and more absorbent than many other compounds.
The fermentation process adopted in the manufacturing of this product helps in providing superb moisturization and inhibition of skin aging.
As beauty addicts, always on the search for ways to boost our youthful looks, this particular essence became one of our favorites. Moreover, we like that it can suit all skin types.
It also has the power of added natural exotic elements such as Beet Root Extract, Father David Elm, Cassia Alata Leaf Extract and Amur Cork Bark.
Beetroot juice is such a brilliant source of iron and essential vitamins. It can help you achieve a radiant and clear skin because of its detoxification properties.
On the other hand, both Cassia Alata Leaf Extract and Amur Cork Bark have antibacterial attributes.
We've used this product, and we liked its consistency, and it has no overwhelming scent. We felt nourished in a very natural way.
---
The Secret Key Starting Treatment Essence comes third on our list. What is unique about this essence is its use of Galactomyces.
That particular ingredient can help control sebum and prevent quick skin aging just as well. That's why we crowned this product for one of the best Korean essences for combination skin.
Without a strong fragrance, this product carries ingredients that can relieve the skin from minor irritations. These include Aloe Vera gel and Chamomile Flower Extract.
Because of its content of Acemannan, Aloe Vera is celebrated for its capacity to moisturize even the deeper parts of the skin and restore dermal layers.
On the other hand, Chamomile Flower Extract is a hypoallergenic, antioxidant and antibacterial element.
The product is laden with more than enough emollients like Ginseng Root, Dimethicone, and Green Tea. Emollients are responsible for removing flakes on the topmost layer of the skin.
We've tried this on our very dry skin, and this essence was relaxing. It yielded to a more dewy and plump look after use.
It is indeed a great starting treatment essence.
---
For the next product in this category, we have Benton Snail Bee High Content Essence. We appreciate the cogency of Snail Mucus and Bee Venom.
In a nutshell, this essence can provide with sufficient moisture, protection from irritations and bacteria, as well as whitening and skin aging prevention.
All these benefits turn this product into one of our favorite Korean essences for acne.
Free from any synthetic fragrance and artificial colors, this essence is very mild to the delicate skin. We've tested it, and we did not feel any stinging upon application.
Our skin showed a more refined look. There was no feeling of dry patches on the skin surface.
Because of its gel consistency, it was a bit globby upon application, but it gets absorbed almost instantly by the skin.
Bee Venom is remarkable for boosting blood circulation, thereby, encouraging the growth of Collagen. That, in turn, gives a suppleness to skin texture.
With this essence, we get to enjoy firming and vibrant-looking skin.
---
Our last best pick is Innisfree Green Tea Fresh Essence. We like it for its delicate plant fragrance. Moreover, we were impressed with the combination of herbal and fruit extracts which are brilliant in treating oily skin.
It is one of the best essences for face due to the presence of Green Tea and Clove Flower. Green Tea contains antioxidant properties that combat free radicals.
On the other hand, Clove Flower can cure infections because of its antiseptic qualities. Also, it has the capacities of fruit compounds like Tangerine Peel, Grapefruit, and Orange.
Tangerine Peel can regulate sebum production and fight bacteria. Grapefruit is a known skin lightener and exfoliator.
Orange peels are suitable for clearing, softening and preventing skin aging. The essence has a thick consistency, but it is not annoying at all when we put it on our faces.
We felt hydrated after application, and we were glad not experience any residue left behind.
The Bottom Line
With this round-up of the best Korean essences, we hope we have inspired you to include the most suitable one in your daily routine.
Without a doubt, an essence is a healthy skin powerhouse.
We understand your doubts for having oily skin and that adding anything extra to your beauty regimen might only make things worse.
Innisfree Green Tea Fresh Essence contains ingredients that could help moisturize your skin and at the same time control oil production.
It's an excellent opportunity to take advantage of the power of Snail Mucin, regardless of your skin type. That's why we selected Cosrx Advanced Snail Mucin Power Essence as our top choice.
With a high concentration of Snail Mucin at 96%, it helps to prevent wrinkles, dryness, and blemishes.
Take your best pick off the shelf and lavish yourself with any of these essences but don't forget to share here any other inspirational products you have tried.
Together we can help thousands of people make the most suitable choice to support their beauty!