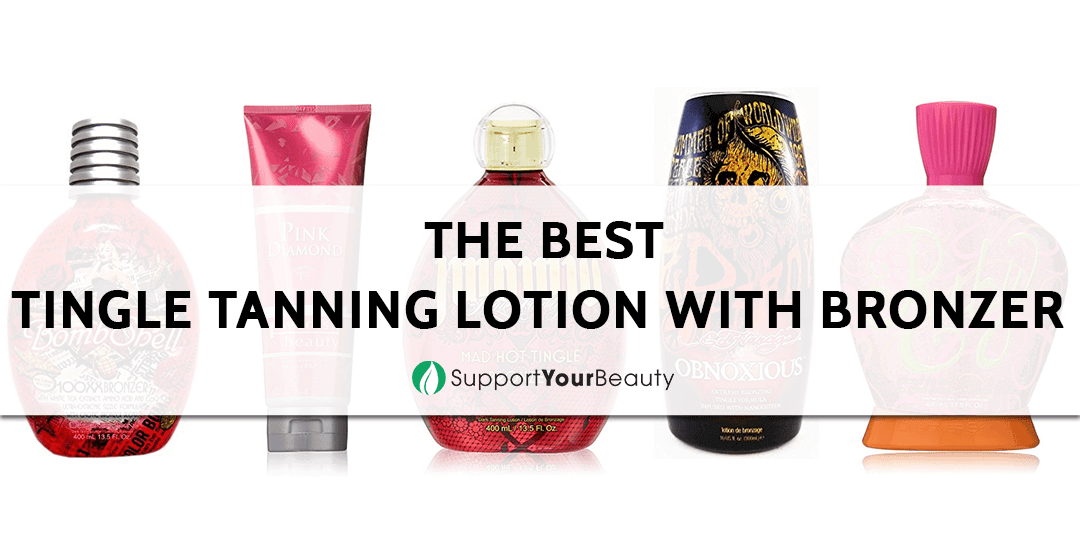 The Best Tingle Tanning Lotion With Bronzer – 2018 Reviews & Top Picks
In order to help you attain a radiant glowing complexion, we've reviewed 5 of the best tingle tanning lotion with bronzer. These products were carefully selected because they contain great ingredients that can make you achieve an extra shade of bronze-kissed skin. We believe these products are the best on the market that you should consider adding to your beauty arsenal.
There are many skin care products which are created to help you achieve a sunless tan.
But there is one particular group of them that is really hard working and contributes attaining the desired results faster.
These are the products formulated to produce a tingle effect.
They are created to accelerate the body's natural production of melanin. This process can be reached by teasing the receptors of the skin to boost the circulation of blood.
Below is our list of the five best tingle tanning lotions with bronzer.
More...
A Quick Overview: Our Top Picks for the Best Tingle Tanning Lotion with Bronzer
OUR TOP #1 PICK - Number one in our list is the Designer Skin Bombshell, 10XX Bronzer. We choose this one to be our top pick because it has left the most unforgettable feeling after testing it. A blend of bronzing Walnut, Amino acids and DHA can add for a light sparkle and a powerful sensation.
OUR TOP #2 PICK - We have ranked the Designer Skin Body Bronze, Ruby on our second position. The combination of icy thrills with heat waves maximized its effect. We also liked the trio composed of hemp, aloe, and nut.
OUR TOP #3 PICK - As to our third place, it goes to the Jwoww, Mad Hot Tingle Bronzer. We liked this product as it contains Vitamin E and Shea butter to provide us with a smooth and flawless complexion. The Blackcurrant and pear extracts used in its formulation have anti-inflammatory properties to assist the skin in getting the most of the tingle effect with less possible irritations.
OUR TOP #4 PICK - The Pink Diamond T2 Tingle Bronzer Swedish Beauty is ranked fourth in our list. Our favorite thing about this tanning lotion is the combination of natural oils and Algae extract. The added Caffeine and Allantoin can assist the soothing content with their powerful antioxidant properties.
OUR TOP #5 PICK - The last product on our list is the Ed Hardy Obnoxious Extreme Bronzer. We approved the inclusion of Vitamin C and E. They can work together to fight off free radical damage while supporting new cells growth.
Why Choose a Tingle Tanning Lotion with Bronzer?
The products in this category are a special kind of cosmetics. What differs them is that they have the ability to raise the level of Melanin.
The active ingredients that serve to the production of their effect are Methyl Nicotinate and Benzyl Nicotinate.
The more increased the circulation of the blood, the bigger percentage of oxygen reaches skin's surface (source).
Thus, the effect we are trying to reach can be attained much faster.
Are Tingle Tanning Lotions with Bronzer Suitable for Your Skin?
If you have sensitive skin, these might not be the most appropriate products. The tingling sensation which is produced opens up the capillaries to deliver fast tanning results (source).
If you are suffering from conditions such as rosacea, acne or rashes we do not recommend you to use these tanning lotions.
For people with freckles, spots or overall fairer complexion, we suggest you to get started with a simple tanning lotion instead.
The bronzer included in the formulation is also implied to further assist the appearance of a visible island vibe skin. If you have not already achieved a darker shade, unpleasant streaks can appear.
Tips for Applying Tingle Tanning Lotion with Bronzer
So provided you fit the requirements and want to get a really intense sun-kissed looks, using a tingle tanning lotion can give your color the boost you want like no other.
1. Always start with good exfoliation
​If you have decided to put on a tingle tanning lotion with bronzer, you have to prepare your skin very well. Start with proper exfoliation of your whole body at least a week earlier.
Thus you can make sure that you have taken away all the dead skin cells to minimize the eventual strikes or blotchiness.
Bear in mind that the added bronzers serve to intensify your tan to a whole new extent. So in order to look naturally, you must not hurry.
2. Do not apply a tingle tanning lotion at least a week after your wax session
Waxes can create an artificial layer on your skin. So if we decide to use a product containing bronzer afterward, it might not absorb well enough.
It may not be able to penetrate through the top layer created by the wax (source).
3. Do not use any rich body butters at least a day before applying a tingle tanning lotion with bronzer
Your skin has to be prepared to suck all the bronzing product in to the maximum. Our advice is to apply a non-sticky and lightweight moisturizer the night before.
Thus, your skin is less likely to be dry, but more importantly, it might be less greasy. Oils can stop the infiltration of your bronzer.
4. Always wash your hands thoroughly
We have to be extra diligent when it comes to products with added bronzers. The products are created to escalate your tan while adding a shade that is usually very hard to achieve.
But the last place you want to leave traces of your little beauty secret is the palm of your hands (source).
5. Be extremely alert if you decide to use this type of lotion on your face
Our personal guideline when it comes to applying a bronzer on the face area is to always try the effect on the body first.
The best place to put some is on the cheeks. This may exclude the need of powders and highlighters while bringing your complexion an exotic charm.
Product Reviews: Our Top 5 Picks for The Best Tingle Tanning Lotion with Bronzer
The product to win our contest impressed us with its content. DHA stands for dihydroxyacetone. This is a natural alternative to chemical compounds in order to achieve a nice tan.
Walnut oil is not only a great emollient. It is high in omega-3 fatty acids, vitamins B1, B2, B3, manganese, copper, and phytonutrients.
This exceptional oil is known for being able to fight the harmful UV rays while enhancing tanning.
We find the Coenzyme Q-10 a superb addition to the formula. It can help us to gain skin elasticity.
By being able to prevent photo-ageing, this coenzyme can be of extreme importance to keep us rejuvenated and energized on cellular level.
The White Tea extract further contributes to replenish firmness with its antioxidant and anti-aging properties.
Apart from the positive side, the fragrance is really strong and tends to linger. Also, this product absolutely requires a base tan.
The product on our second position is full of great ingredients which we truly liked. For a start, it also makes use of DHA for providing a bronze tan.
We loved the innovative approach of adding hemp to this product. It can calm the skin with nutrients.
Moreover, it can be suitable for oily skin as the fatty acids in its content do not clog the pores. It can be also good to treat sensitive skin without causing irritations.
Together with Aloe vera, the combination becomes a potent anti-acne treatment.
The Erythrulose content suggests that you can get an even and nice skin tone even if you are still not that dark.
Erythrulose is different than DHA in its effect because it takes longer to develop, but it can last much more.
Be careful because if you happen to put some more lotion on a certain area of your body, but you do not notice, it might turn into an unpleasant surprise on the other day.
The third product that got to our list possesses a wonderful yogurt base. The effect of the lactic acid can contribute to the diminishing of lines and wrinkles.
It can also act moisturizing to the skin and help the bronzers to dissolve better.
Meanwhile, Vitamin E and Shea butter serve to penetrate deeply and provide a thorough hydration to soothe inflammations.
Tyrosine is an amino acid rich in insulin and the enzyme papain. The main feature of Tyrosine is that it can aid in the production of Melanin.
Blackcurrant oil and pear are the fruity compounds of this lotion that charmed us.
Blackcurrants possess significant anti-cancerogenic properties, while pear can nourish and moisturize, providing a whole bunch of Vitamins and minerals.
These include Vitamins A, B, E, and minerals such as Manganese, Magnesium, Iron, Potassium, and Copper.
We do, however, strongly encourage you not to throw all your attention away, swept by the positive sides of the product.
It has, indeed, a truly intense effect and may lead to redness. If you are prone to allergies and are not sure how your skin will react, you'd better start with a patch test.
The product that reached our fourth place caught our eyes with exotic ingredients. We found Sunflower seed oil and Almond oil that have the ability to hydrate the skin.
Almond oil is the closest one in content to our skin. It is also one of the most ancient oils known to have been used by people.
Together with Shea butter, this lotion can create an amazing moisturizing effect.
Caffeine and Allantoin can deliver stress relief with their anti-inflammatory properties. They can boost the antioxidant potency of our organism to help in fighting with oxidative stress.
The Algae extract in this formula can diminish the signs of aging. It is loaded with essential amino acids, proteins, and vitamins.
We have to warn you about Sodium Hydroxide and Sodium Benzoate though.
They are both FDA approved but they do hold the risk of irritating the skin or even burn very delicate areas if you are prone to allergy or rashes.
This is the last product on our list only because it has the highest chemical content compared to the others.
It has a tropical blend of Banana Peel extract, Coconut fruit extract, and Mangosteen peel extract.
The Bananas and Coconut can supply the skin with essential nourishment while the Mangosteen can address acne, eczema and oily skin very well.
In addition to that, the hemp seed oil can repair and rejuvenate from deep within through its potent compound.
We also like the Dimethicone used in this formula as it can create a nice over-layer to help seal the tan.
It is a type of silicone, that can trap the moisture and lock it, so the DHA pigments can do their work and color the skin.
The Vitamin C and E add to the antioxidant and replenishing properties of the lotion.
We did, however, had a little argument on whether Vitamin C is suitable for such a lotion since it contains acid which can raise the chance of irritation.
The Bottom Line
Our first choice for the best tingle tanning lotion with bronzer is Designer Skin Bombshell, 10XX Bronzer. This product seemed to us as the one with the most well-combined ingredients.
We like to feel our skin clean, nourished, tender and bronzy.
It was easy to apply and absorbed quickly, which we consider a great trait as it can deliver us with better evenness.
We have tried to find something that can be suitable for a wide range of different conditions and purposes.
All the lotions on our list have made their way to our hearts with the carefully selected compounds in their formulation.
They can deliver us with an exotic deep and most importantly natural looking tan with a twist of bronze that we have to admit we are all crazy about.
If you like this roundup, you may also want to read our review on the best indoor tanning lotion with bronzer.