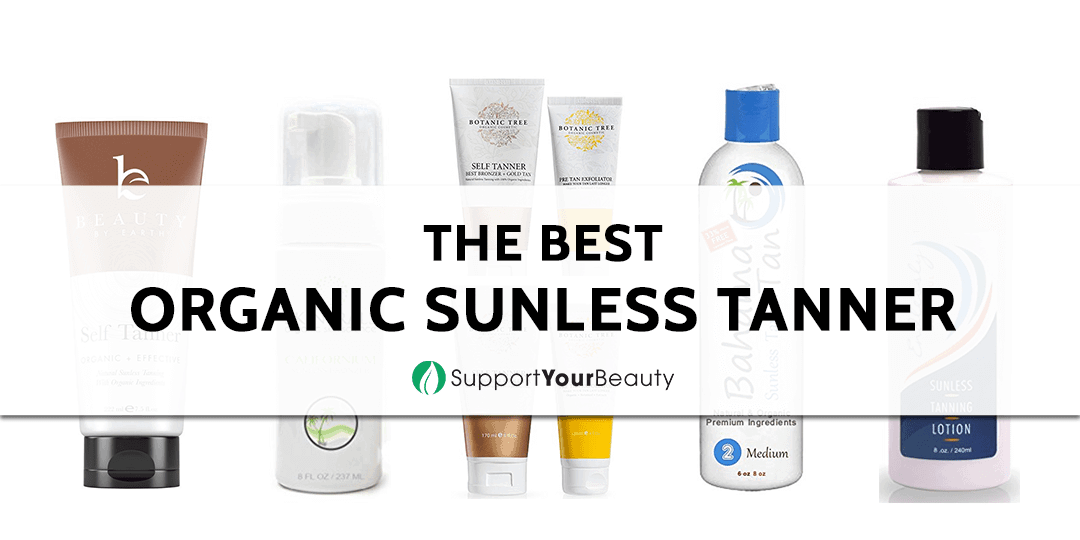 The Best Organic Sunless Tanner – 2018 Reviews & Top Picks
In order to help you indulge in gorgeous tanned looks with no sun exposure, we're rounding up the best organic sunless tanner. The products on this list were carefully picked based on their ability to promote a healthy and nourished skin, while delivering a flawless dark complexion. We believe these products deserve a permanent place in your beauty arsenal.
Tanning or baking yourself in the sun may cause harm and damage to the skin. This may lead to various problems, including cancer.
Meanwhile, you could still have that stunning golden bronze color without exposure to the harsh rays.
Organic sunless tanners could provide the natural tan look that we long for without basking under the sun.
They are formulated with certified ingredients that could promote a dark coloring effect on the skin.
Besides that, most of their natural compounds can contribute to a healthy skin glow.
To guide you choose the most suitable type for your needs, we present you our top 5 choices for the best organic sunless tanners.
We believe that these products can effectively deliver the natural tan look we desire.
Furthermore, they can provide proper nourishment to help us achieve a fresh and youthful appearance.
More...
Quick Overview: Our Top Picks for Best Organic Sunless Tanners
OUR TOP #1 PICK - Our top choice is the Self Tanner Beauty by Earth. We appreciate the combination of Aloe Vera, Coconut Seed Oil and Jojoba Seed Oil. They can help to soothe and smooth the skin while contributing for a natural glow.
OUR TOP #2 PICK - The second product on our list is the Skinerals Californium Sunless Bronzer Organic Self Tanner. We liked that is formulated with plant-based oils, essential oils, fruit and herbal extracts. Furthermore, we were fascinated how it could provide a stunning tan in just a few hours.
OUR TOP #3 PICK - Coming in third on our list is the Bahama Tan Sunless Tanner. It contains a natural tanning ingredient called Dihydroxyacetone DHA. This particular compound can deliver a darkening effect without harming the skin.
OUR TOP #4 PICK - The next product on our list is the Natural Sunless Tanning Lotion by Endlessly Beautiful. It is also designed with Dihydroxyacetone (DHA). We loved how it is combined with Vitamin E that can help to hydrate the skin.
OUR TOP #5 PICK - Finally, we have chosen the Botanic Tree Self-Tanner as the fifth product on our list. We appreciate it can provide that bronzing look while being suitable for vegans. It also contains Shea Butter, which is known as a potent skin superfood.
Why Choose an Organic Sunless Tanner?
Organic sunless tanners are also referred to as natural since they contain plant-based ingredients.
They can deliver a sun-kissed glow without subjecting yourself to the damaging effect of the sun's rays. Thus, you can avoid related problems such as cancer.
Some of these organic self-tanners are formulated with different natural oils and sugar beets that can slowly darken the outer layer of the skin.
Most of them are free from parabens, synthetics, and harsh chemicals. That can make them suitable for all skin types, including sensitive cases or acne prone conditions.
The oils are mostly derived from coconut, jojoba, sunflower, sweet almond, sugar beets and Shea butter, among others.
These oils can help to moisturize the skin while their comedogenic rating is low. That is important as clogged pores are amongst the main reasons for outbreaks.
There are also organic ingredients such as coffee, green tea, vanilla, and cocoa. They serve to pamper the skin and leave it looking gorgeous.
For example, Green tea is known for its antioxidant effect. Free radicals are damaging to the skin and can cause premature aging.
Another benefit of organic products is that they don't need any added artificial fragrances since the ingredients can deliver an aromatic effect on their own.
We highly appreciate that natural ingredients have components that can reduce the visible signs of aging.
Some of them can assist in moisturizing and nourishing as well. As a result, this can promote a healthy skin glow.
What to Consider in Choosing the Right Organic Sunless Tanners?
Currently, the organic sunless tanner products are not so widely spread. On the other hand, this will definitely expand in the coming years.
According to Los Angeles-based research firm IBISWorld, the self-tanning industry is one of the fastest growing in the United States.
It has 22.7% yearly growth rate for self-tanners from 2006 to 2011. It also has over $516 million in sales last year and growth rate projections from 2011 to 2016 by 12.8 %.
To choose the right organic sunless tanner, it is advisable that you look at the ingredients.
These natural products contain mostly plant-derived ingredients such as Dihydroxyacetone (DHA) and Erythrulose.
The DHA is naturally derived from the sugar beets. Meanwhile, the Erythrulose could be found in raspberries.
They can generate a tan effect when sugar reacts with the amino acids in the top layer of the skin.
There are also other natural ingredients that can help to create a dark shade. It is also best to consider choosing a tanner that could nourish and moisturize your skin.
Shea Butter, Aloe Vera, Indian Gooseberry, Jojoba Oil, Coconut Oil and other fruit and herbal extracts can be of assistance.
It is also recommended to use a product that is eco-friendly and not tested on animals.
Fragrance must also be considered. There are millions of people who experience allergic reactions due to some artificial scents.
However, most of the plant based tanners possess a wonderful smell that comes entirely from natural origin.Enter your text here...
Product Reviews: Our Top 5 Choices for Best Organic Sunless Tanners
---
Our top choice for this roundup is Self Tanner by Earth. We loved that it is made organic with a blast of natural ingredients.
We were impressed with the combination of Aloe Vera, Coconut Oil, Shea Butter, Jojoba Oil, Argan Oil, Green Tea Leaf Extract, and Pomegranate Extract.
What's more, we detected the presence of Witch Hazel Extract and Cranberry Fruit Extract, among others.
These can benefit the skin by helping it fight oxidative stress caused by environmental pollutants.
The Aloe Vera gel like substance has components that can stimulate the fibroblasts in the skin, which are cells that create collagen.
As people age, the collagen, which advocates firmness and elasticity, naturally declines. This process could lead to sagging, wrinkles and fine lines.
Aloe Vera can generate the collagen production that could help to diminish the signs of aging.
After testing this product we were impressed with the radiant glow. We enjoyed that it was easy to apply and left a pleasant smell after use.
---
Our second choice is the Skinerals Californium Sunless Bronzer Organic Self Tanner.
We find this product an effective alternative to sun tanning with the combination of plant-based oils and fruit extracts.
For toning and tightening the skin, an organic Indian Gooseberry is supplemented. It can also aid in balancing redness and removing the dead skin cells.
This Ayurvedic herb known as Amla can promote a radiant glow while helping to clear pimples and acne.
Other chief organic ingredients are Fruit Extracts from Acai Berry, Fig, and Goji Berry, among others.
We liked that Skinerals Californium is recommended by famous dermatologists.
It can be suitable for people who lead a vegan lifestyle, as well as for those who strive to avoid gluten.
We have carefully chosen this tanner in our list because it could make you achieve the darker skin in a few hours.
And all of this while being gentle and caring by supplying our epidermis with essential elements to promote health and balance.
---
Our next product on this roundup is the Bahama Tan Sunless Tanner. It can provide a natural tan that comes in light, medium, and dark for suiting various skin complexions.
It is formulated with natural and organic ingredients such as Dihydroxyacetone (DHA), Aloe Vera Gel, Shea Butter, Jojoba Oil, Coconut Oil, Argan Oil, Monoi De Tahiti Oil, Vegetable glycerin, and Calendula extract, among others.
The Dihydroxyacetone (DHA) is added to help us gain that tan-like appearance without sun exposure.
DHA is a colorless 3-carbon sugar that causes the chemical reaction with amino acids once applied on the skin.
Thus it can generate the darkening effect without the risks of UVA/UVB damage.
Aloe Vera Gel is supplemented to this product to assist us in maintaining a proper level of moisturization.
Hydration may not only provide a healthy glow on your skin, but it may also serve to prevent your tan from streaking.
We have tried this tanner, and it lasted for about five days. We liked that it can blend well with different skin tones and has a pleasant smell.
---
The Natural Sunless Tanning Lotion by Endlessly Beautiful is our fourth choice.
It has naturally derived ingredients such as Sunflower Seed Oil, Shea Butter, Soya Bean Oil, Aloe Leaf Juice, Cocoa Seed Butter, and Japanese Green Tea Leaf, among others.
The robust formulation is infused with Vitamin E that can hydrate the skin and reduce the visible signs of aging such as wrinkles and fine lines.
It also contains Dihydroxyacetone (DHA) that can provide that natural tan look. It is chemical free, and we were impressed by the short period for darkening our skin.
We were able to enjoy a nice tint in less than 4 hours. Another feature that caught our attention is that the product can be applied all over the body.
It can be suitable for face, back, legs and feet to deliver us with an even overall tanning effect.
Another reason we included it on our list is that it could help us achieve the desired results fairly quickly and stay on for an extended period of time.
We consider its non-comedogenic property a great option for people who deal with acne or sensitive skin conditions, which require extra care and diligence.
---
Last but not the least in our list of the best organic sunless tanners is the Self Tanner by Botanic Tree.
One of its main ingredients is Shea Butter, which is known as skin superfood.
It is rich in vitamins A and E, both possessing antioxidant properties that could help to remove the visible signs of aging.
It may also provide the skin with essential fatty acids and nutrients needed for the generation of collagen.
Other active ingredients of this tanner are Aloe Vera Leaf Juice, Dihydroxyacetone (Sugar Cane Derived), Coconut Oil, Moringa Oil, Jojoba Seed Oil, Rosemary Leaf Oil, Linseed Oil and Grapeseed Oil.
We find Moringa oil a very interesting compound which has been used by the Ancient Romans and Egyptians.
Both of these two powerful civilizations recognized the effectiveness of this ingredient for protecting from harsh environmental conditions.
It can be extremely beneficial for dry skin, as the high percentage of oleic acid can help for the deep penetration and quick absorption.
---
The Bottom Line
The winner of this roundup is the Self Tanner by Earth. It is a great alternative to conventional tanning products since it is made entirely organic.
However, we did not experience any compromise with the beautiful dark color that we achieved.
This became our favorite product because it may not only help to make us tanned but may also keep the water balance of the epidermis.
Through this strong feature, the skin may not only look appealing but what's more important - it can be healthy as well.
We do, however, believe that each of the products that made it to our top five can target different needs and issues, so you can be able to pick the one that suits you best.
Also, the organic ingredients serve to promote natural skin glow and nourishment.