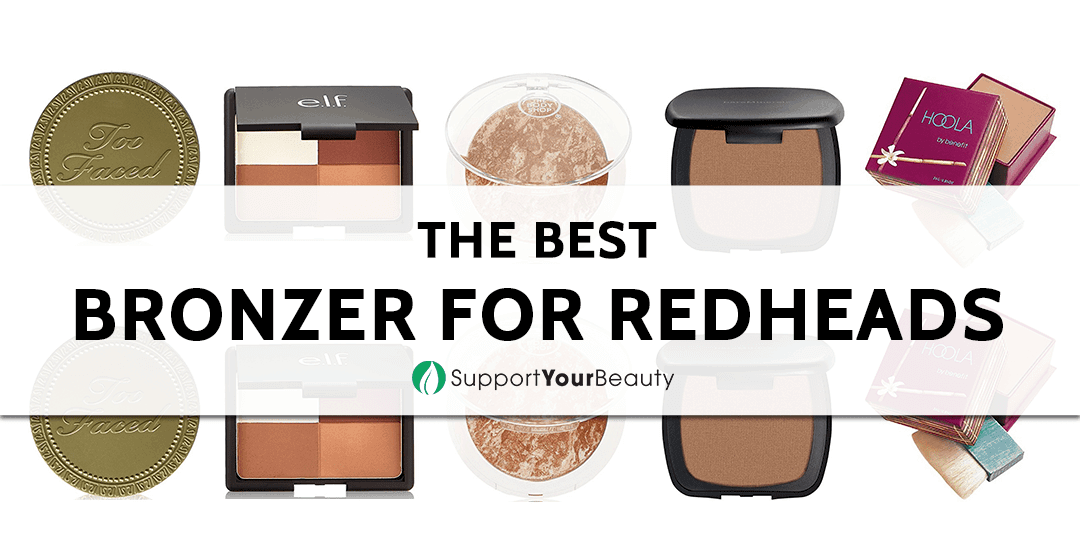 The Best Bronzer for Redheads – 2018 Reviews & Top Picks
In order to help you enhance your fresh and gorgeous looks, we've rounded up 5 of the best bronzer for redheads. The products presented in this list were carefully chosen based on their compatibility with the unique complexion of strawberry-locked individuals. We believe these products deserve a place in your beauty collection.
Redheaded women may have a hard time finding beauty products that work with their skin tones.
That's mainly because there is a big chance for makeup to seem too dramatic on the fair skin.
Instead of looking overly made up, redheads need to find something that can accentuate their unique complexion.
You have to be extremely careful as many products tend to impart a washed out look on pale appearance.
We are here to help! Learn about the best bronzers for redheads below.
More...
Quick Overview: Our Top Picks for the Best Bronzers for Redheads
OUR TOP #1 PICK - Our top choice is the Benefit Cosmetics Hoola Bronzing Powder. We selected this bronzer due to its matte formula and peachy shade. We find that it is lightweight but can build to a great tone for those with pale skin.
OUR TOP #2 PICK - Second on our list is the BareMinerals The Skinny Dip Bronzer. We like this one as it has a light shade that won't overwhelm fair-skinned ladies. It is made out of mineral powder, which can give it a more natural finish. And what's more, mineral powder can protect the skin from the harmful rays.
OUR TOP #3 PICK - Number three on our list is the Too Faced Snow Bunny Luminous Bronzer due to its blendable range of shades. They can add a subtle sun-kissed look to the light-colored skin. This bronzer is actually four different colors that can be blend to provide a subtle, bronzed glow.
OUR TOP #4 PICK - Fourth on our list is the e.l.f.'s Bronzer in "Cool." We chose this bronzer because when we mix the four nuances, we can have an amazing tone for fair skin. With shades of peach, we find it well-suited for the complexion of most redheads.
OUR TOP #5 PICK - Last on the list is the Baked-to-Last Bronzer from The Body Shop. We liked that this product has a subtle shimmer that we didn't find to be too bright for pale skin. Furthermore, the color is an exotic dark peach tone that is complementary to fair complexion.
Advice for Finding a Bronzer for Redheads
Since finding a good bronzer for fair skin can be difficult, redheads typically have a hard time choosing a product that is appropriate for their skin tone.
For redheads or other people with a pale complexion, you will want to select a bronzer that has a sheer peachy tone with a light hint of pink.
That will make for a more natural look compared to options with red or brown undertones.
Also, matte bronzers tend to look the best on redheads.
You may also want to avoid a product with a much shimmer. Glitter can make pores look enlarged, and it isn't suitable for oily skin types.
However, if you don't struggle with these issues, selecting a shimmery bronzer might be okay.
If you are still struggling to find a bronzer that can compliment your skin tone, try a medium shade of powder.
It will work similarly, but won't have all the glitter and harsh shades that are typically used in many products.
While many redheads may fear bronzer, a little bit of it can calm down the redness in the skin. It can act in such a manner, that a minor imperfection can turn into a glamorous plus.
Tips for Redheads Using Bronzer
There is one big common mistake that many women tend to make when applying a bronzer. They often use the wrong brush. For redheads, this can be catastrophic (source).
First, selecting the right shade is the most important part of using a bronzer. You don't want it to be too dark. Keep it only a shade darker than your natural skin tone.
Remember that the bronzer will warm up on your natural color, so a shade that is too coppery can make your skin look orange or even dirty.
Second, selecting the correct brush is very important. To apply a bronzer the right way, use a large, fluffy brush. The fluffier the brush, the subtler the application (source).
Choosing the appropriate tool to disperse the powder can save you the inconvenience of struggling with the product, rather than enjoying it.
The bronzer should always be put on after all your other makeup. Tap excess powder off the brush before application and then create a thin layer (source).
You can always build up the color to get your desired look. Applying too much can make your face look dirty, but not putting enough can make it look more like you are using a highlighter.
If you don't manage to disperse the bronzer correctly, you may end up streaky. And this is exactly why it is so important not to apply it heavy-handed.
To get the perfect sun-kissed look that bronzer is made for, sweep it on the bridge of your nose, your temples, and the center of your chin.
Don't forget to include the tops of your cheekbones and the upper part of your forehead.
These are the areas that would most likely get naturally bronzed from the sun. You may also want to add a little of the product to your neck and collarbone, as well.
Product Reviews: Our Top 5 Best Bronzers for Redheads
---
The top product on our list is the Benefit Cosmetics Hoola Bronzing Powder. We chose this one due to its peachy shade and matte finish.
When testing it, we liked the natural look it provided. While this bronzer gave us a sun-kissed glow, it doesn't contain any shimmer or shine.
So there is less chance for our skin to appear oily or the pores to look enlarged.
We also find it a gorgeous product to use when contouring. It isn't too dark, but it provides a subtle depth to the skin that highlighting aims to achieve.
We also liked that this bronzer came with a brush. Since the brush was made especially for it, this can allow you to apply the product properly.
The combination of Talc and Dimethicone can work in two directions. Talc is known for its ability to smooth the skin's texture and prevent oiliness.
On another note, Dimethicone can create a thin protective barrier that can keep free radicals away, while keeping the moisture intact.
---
Second on our list is the BareMinerals The Skinny Dip Bronzer. We liked that the lightweight formula can be great for contouring, yet it isn't too dark for fair skin.
We also like that BareMinerals uses mineral powders instead of harsh chemicals to create healthy makeup for women.
This product contains antioxidants that may help to heal the skin. It also doesn't clog the pores, so it can be suitable to use for people who struggle with acne.
This bronzer contains natural oils that can aid to keep the levels of hydration high. It even has anti-aging benefits to help us look youthful.
We find that this formula is easy to build-up to the color we need on the skin. So regardless of your skin tone, you can use this bronzer to get a sun-kissed look.
Since the color lasts up to eight hours, we didn't have to constantly reapply it to maintain our flawless appearance.
---
We selected the Too Faced Snow Bunny Luminous Bronzer as number three on our list due to its mix of four different shades.
They can blend perfectly to create a sun-kissed look on fair skin tones.
During our testing, we liked that this product had a subtle shimmer that didn't seem to make the pores stand out. We also loved that it has a slightly peachy tone.
And once all the shades are mixed well, you can create the perfect color for yourself.
This bronzer can provide the skin with a slightly glowing look. While this is a standard feature for bronzers, this one didn't seem to make the skin look oily or shiny.
The peachy tones of the product can also make it a great blush for women who want a natural look.
That's why we can recommend it for daily use, which is not only limited to special occasions.
---
Number four on our list is the e.l.f. Bronzer in "Cool." We selected this one because it is actually four different shades that can be used separately or blended together.
When mixed, the final nuance is a well-balanced peach tone.
While testing out this product, we enjoyed that the color is buildable. Unfortunately, we found great difficulty in blending it on the skin.
We believe that can be due to the presence of Mineral oil to the formulation. That type of oil has no odor or scent and helps to reduce water loss.
Anyway, we think that it might not be the great choice for people with oily skin. Nevertheless, all the other types can benefit from using it.
However, we loved that it can do amazing on its own or when used as part of a contouring regimen. Either way, it can provide a natural look for women with red hair and fair skin.
In the case that you want more out of this bronzer, you can use the pinkest shade as a blush and the other three colors for eyeshadow.
---
Last on our list is The Body Shop Baked-to-Last Bronzer. Upon testing it, we concluded that the dark peach shade could be great for redheads who want a pop of color in their routine.
We also like that it has a little bit of shimmer that doesn't seem to overwhelm fair skin.
Anyway, we still encourage you to be careful if you are extremely fair. The darker color may be too much for you.
We liked that this bronzer blended into the skin well, and didn't provide too much shimmer that can make pores look large.
It is really easy to build coverage, so be on the watch and don't apply too much. Otherwise, it can become too dark in the blink of an eye.
The Bottom Line
While we like all the products on this list, our favorite is the Benefits Cosmetics Hoola Bronzing Powder.
We selected this one because we like that it is a nice color for women with fair skin, and it has a matte finish. Upon trying it out, we were delighted that it so it did not make the pores look large.
Furthermore, we highly approve the combination of Titanium Dioxide, Dimethicone, and Talc. These can serve to protect us from UV damage while soothing and smoothing the skin.
We have judged and evaluated all the products according to their texture, skin compatibility, shade and active ingredients.
Each of these bronzers is slightly different, so you may feel free to choose the one that implies most to your personal preferences.
We recommend any of these bronzers for redheaded women with fair skin.
If you have dark skin, this roundup can help you select the right product that works for your skin tone.