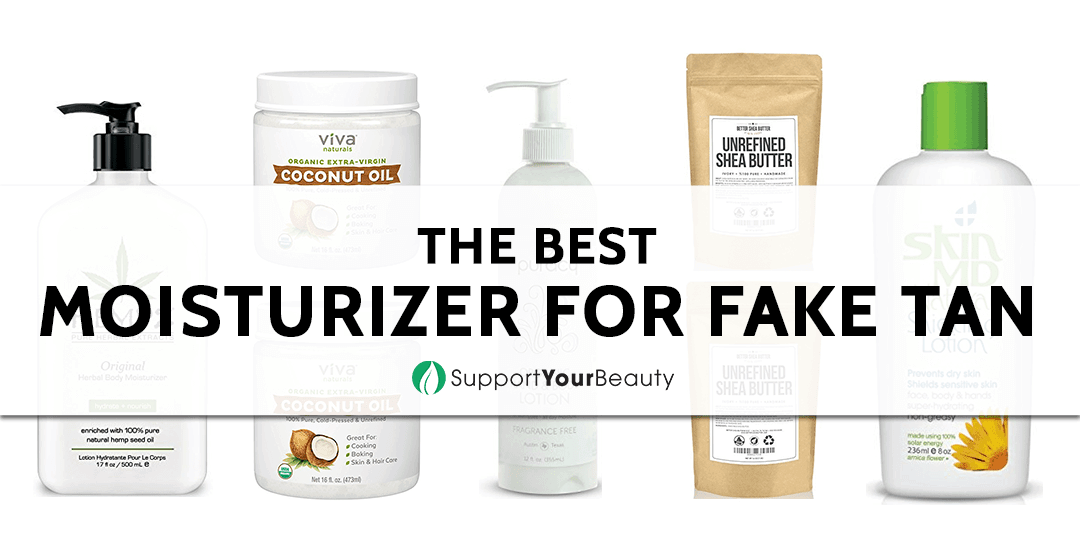 The Best Moisturizer For Fake Tan – 2018 Reviews & Top Picks
In order to help you enhance and preserve the looks of a bronzed skin, we're presenting our list of the best moisturizers for fake tan. These products made our list because of their effectiveness in keeping the color fresh and vibrant for longer by contributing to a radiant appearance. We believe these products will be your skin's new best friends.
For everybody who loves a beautiful tan, Hooray! We are on the same side. It is always the trickiest part when it comes to maintenance.
If you have already succeeded in following all the pre-instructions, then our congratulations. But we would highly recommend you to stay focused on the new mission.
And that is keeping and protecting the tan. We know how complicated it gets when in search of the most suitable product.
So we can't wait to share with you our list of the best moisturizers for fake tan.
More...
Quick Overview: Our Top Picks of the Best Moisturizer For Fake Tan
OUR TOP #1 PICK - The Viva Naturals Organic Extra Virgin Coconut Oil conquers our top spot. We have chosen this product since it is free of anything that can harm a tan. The numerous benefits of coconut oil for the skin's health and replenishment have gained extreme popularity. But there is a reason for that, and we are going to dig deep into that further on our article.
OUR TOP #2 PICK - In line with our search for the most suitable product to address a fresh tan, the Unrefined Shea Butter by Better Shea Butter is next on our list. We debated a lot before putting it in the second position. That's because it is very tough to evaluate between Coconut Oil and Shea Butter when it comes to skin nourishment and moisturizing.
OUR TOP #3 PICK - For our third best pick, we have selected the HempZ Original Herbal Body Moisturizer. It grabbed our attention with the combination of Glycerin, Shea Butter, Cannabis Sativa Seed Oil, and Sunflower Oil. Apart from the botanical extracts, it also contains Dimethicone which can help to seal the moisture in the skin.
OUR TOP #4 PICK - The Puracy Organic Hand and Body Lotion has gained the fourth place. We were delighted with its lightweight, yet hydrating consistency. That's possible with the help of Jojoba Seed Oil, Caprylic/Capric Triglyceride, and Glycerin.
OUR TOP #5 PICK - And for the last best pick for our selection, we have the Skin MD Natural Shielding Lotion. Above all, we were fascinated with its formulation that is more than 90 percent organic. We like that it helps to create a thin layer over the surface of the skin. Thus, it can stop both water and sweat from ruining the tan.
But before we proceed, there is much valuable information that we want to share with you.
How to Choose the Suitable Products to Use After Getting a Tan?
Tanned skin is very vulnerable.
We have to protect it, or otherwise, we can be prone to black spots or dark spots, as well as the unwanted zebra-looks.
As we continue our quest on evaluating the ocean of products, we checked the suitability of each and every ingredient thoroughly. Here are our best tips on the label-watch out.
Harmful and Beneficial Ingredients For Fake Tan
First, avoid any skin care cosmetics containing acids. Well, that may sound too much undefined and common. But it is a simple rule to remember and follow.
Acids
Just imagine an acid. The things that come to your mind would most probably involve around sour, tingly, and degrading. Or at least something close to that.
Acids possess astringent powers, which we don't need in the case of tanning. Check for these on your washing gel label as these might be hiding there just as well.
The list of acids includes Alpha Hydroxy Acids such as Lactic Acid, Tartaric Acid, Glycolic Acid, Citric Acid, Malic Acid, and Mandelic Acid.
The same goes for Beta Hydroxy Acids, Ferulic Acid, and even Hyaluronic Acid. Most of the anti-aging ingredients are harmful to the tan.
That's because these predominantly help to either retain moisture or stimulate collagen synthesis. And both of these processes are counter-productive to maintain the color.
Silicones
One the one hand, retaining moisture sounds fine, but it is easy to slip on the mere sound of this. It is actually the opposite.
On the contrary, compounds that serve to trap in moisture can help to enhance and prolong the life of a bronzed skin.
Most of the silicones such as Dimethicone, Cyclopentasiloxane, and Cyclopentasiloxane have this ability.
Synthetics, Chemicals, and Artificials
If you happen to notice the presence of Mineral Oil or petroleum, we encourage you to stay away. That also refers to alcohols, dyes, and artificial fragrances.
Nevertheless, most of the natural oils can benefit the looks of a fresh tan.
Natural Compounds
Thus, Shea Butter, Olive Oil, Macadamia Oil, Coconut Oil, Avocado Oil, Jojoba Oil, Hemp Seed Oil, and Soybean Oil, among others, are color-friendly moisturizers.
Though if you notice the presence of citrus oils, remember these contain fruit acids, so it would be better to avoid them.
Popular ingredients for treating acne such as Witch hazel are also tan enemies due to their astringent properties.
Can you name one thing that connects Carrot Root Extract, Apricot Extract, Mango Fruit Extract, Passiflora Extract?
Research shows that foods colored in orange or red shades can enhance the radiance of the skin by accumulating and mimicking a tan below the surface of the epidermis.
Thus, the oils derived from such plants can contribute to a glowing golden nuance.
Vitamin A and Glycerin
And what about Vitamin A since it also contains carotenoids ( these are the pigments that give the shade of sweet potatoes, carrots and more )?
Well, if it comes in the form of retinoids, then it is on the no-no shelf. Examples for these are Retinyl Palmitate, Retinol, and Tretinoin, among others.
They can exfoliate and stimulate collagen production. Still, we don't need that during the period of maintaining a tan.
As for the popular Glycerin, it indeed deserves its fame. It combines healing and conditioning.
Though it possesses some lightening properties, these are mostly unlocked when in combination with other active whitening ingredients.
On the other hand, it makes a great team with moisturizing compounds.
Well, now we believe we have got you informed on some of the guidelines to follow to enhance the intensity and brightness of the tan.
And we can't wait to share with you our list of the best moisturizers for fake tan.
Product Reviews: Our Top Five Choices of the Best Moisturizer For Fake Tan
---
The top spot for the best moisturizer to use after spray tan goes to the Viva Naturals Organic Extra Virgin Coconut Oil.
Coconut trees grow in a perfect balance of salt water, tropical climate, and more often than not, volcanic ash ground which is rich in essential nutrients.
Their fruit gets the most from the abundant sun and soil to become a vitamin powerhouse.
Research shows that Coconut Oil possesses anti-inflammatory, conditioning, and healing properties.
It is packed with good fats. These are treasured for their easy penetration, absorption, and excellent moisturization.
While we were looking for the best one out of the bunch, we thoroughly checked for the extraction method.
If the Coconut Oil is not cold-pressed, then many of its powerful elements lose their potency. Upon trying it, we love how gently it melts and gets absorbed almost instantly.
Bear in mind that Coconut Oil penetrates and dissolves very quickly. Thus, it might require reapplication to keep a fresh tan intact.
---
For our second top pick, we have chosen the Unrefined Shea Butter by Better Shea Butter. It boasts of essential vitamins and fatty acids.
Shea Butter can both help to remedy and protect the skin's natural oils. It can smooth the texture of the skin as it is abundant in Oleic, Stearic, Linoleic, and Palmitic Acids.
Don't get misguided by the word "acid," though. These are the type of acids that can contribute to regaining the skin's water balance to prevent flaking and uneven patches.
Thus, all skin types can benefit from the application of Shea Butter. Then again, the extraction method is of great significance.
Raw Shea Butter is loaded with all the nutritious elements that make it a skin superfood. Furthermore, it has a low melting point, so you don't have to preheat it before each use.
Apart from delivering high levels of hydration, it can help to improve skin's elasticity and firmness. That can be achieved with consistent use.
---
Hitting our number three position is the HempZ Original Herbal Body Moisturizer. The primary reason that made this lotion leaves behind a bit is that it does contain some fragrance.
Instead, we were impressed with the combination of active ingredients. For a start, Glycerin adds up to the conditioning and healing properties of the product.
We also notice the presence of Isopropyl Palmitate which is a potent emollient. It works in two directions to both increase moisture and make the surface smooth to the touch.
When supplemented in a formulation, it helps to thicken and bind the compounds to create a concentrated consistency.
Nevertheless, we find Cetyl Alcohol and Stearic Acid which may sound anti-tan-friendly.
Anyway, these have nothing to do with the adverse effects contributed to alcohols and acids. Imagine them much like good bacteria that lives in the body.
Stearic Acid helps oil and water to mix, and that is its primary purpose, rather than being an active ingredient.
As to Cetyl Alcohol, it is derived from natural oils and functions as a skin softening agent.
---
Our list of the best moisturizers for fake tan continues with the inclusion of our number four choice, the Puracy Organic Hand and Body Lotion.
The first thing we took note of after testing it out, was that it didn't feel sticky and it dried very quickly.
Sunflower Seed Oil is often associated with fried food, which lacks behind the amazing properties of this natural compound.
Iit is full of essential fatty acids and is one of the oils that possess a relatively low comedogenic rating.
Thus, it can be suitable for acne-prone and sensitive skin, among others. It can also help to prevent the tan from losing its color and texture due to environmental stressors.
Jojoba Seed Oil is yet another intriguing compound. It has a unique fatty balance that is one of a kind for the whole botanical world.
It serves to create an invisible film over the skin to keep it protected from damage.
Nonetheless, it penetrates almost instantly and contributes to making the skin supple and soft without any residue.
---
The Skin MD Natural Shielding Lotion is the last top pick that made it to our list. We did fall in love with this product after testing it out.
What deserved our admiration is how it did not rinse off easily. That's because it forms a protective barrier that doesn't allow water loss.
And vice versa, it can be exceptionally beneficial if you intend to go swimming or take the initiative in any outdoor activity.
We like that the lotion did not feel oily, or slippery, even though it aids in providing deep moisturization.
Deionized water is closely related to that particular effect. It is up to 1000 times more soluble compared to conventional.
That allows little or no residue to be left after applying.
Moreover, both Dimethicone and Cyclopentasiloxane serve to lubricate and remedy the skin by preventing water loss.
Meanwhile, Vitamin E protects cell membranes and treats dry skin. However, we do not like that this lotion contains Citric acid. It is in small quantity, though.
---
The Bottom Line
For those who are currently on the tan side, we have strived to share with you all our expert knowledge on how to prevent the color from fading.
And so the Viva Naturals Organic Extra Virgin Coconut Oil has become our ultimate top pick for the best moisturizer for fake tan.
We were invigorated to find a product that lacks anything potentially harmful for a tan.
For best results, you can choose to mix it with some Carrot Seed or Apricot Oil. These can further contribute to imparting a golden glow.
It is also possible to add some essential oil like Monoi de Tahiti and enjoy a natural tropical fragrance.
All the products that made it through our selection process can provide deep moisturization while lacking potential irritants.
Thus, we hope we saved you some precious time. After all, who has even a minute to waste when this gorgeous tan needs some walking around?