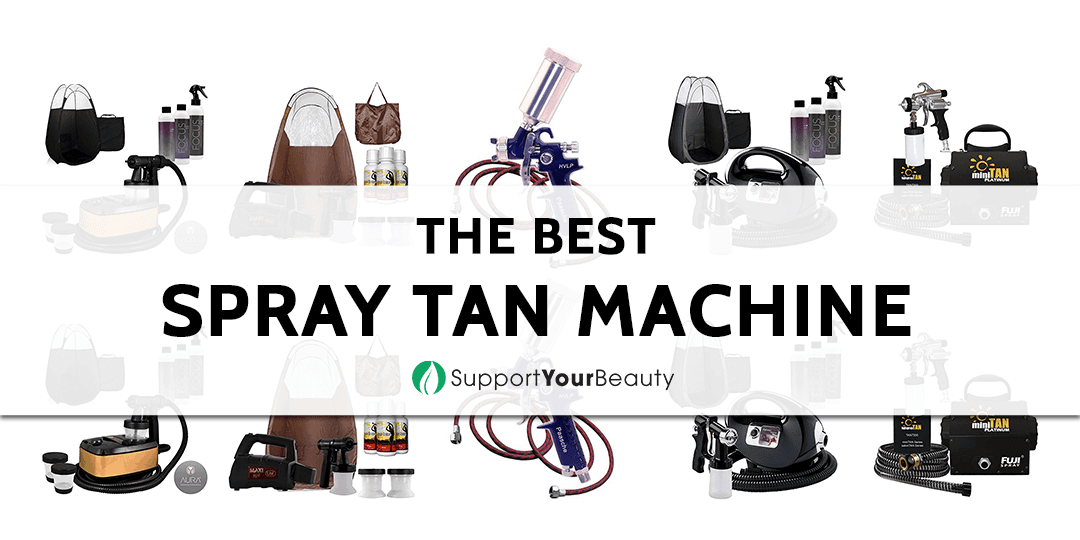 The Best Spray Tan Machine – 2018 Reviews & Top Picks
In order to help you choose the most appropriate equipment that can provide you with fabulous sunless tan, we're rounding up the best spray tan machine on this list. We've carefully tested and selected these products based on their effectiveness in delivering us high quality and even dark complexion without the possible side effects of the harmful UVA/UVB rays. We believe these products can help you support your beauty.
With the continuing enthusiasm on tanning, more people are finding ways to do this conveniently and safely.
If you're keen on trying a spray tan equipment, you've got to select one based on a few factors to be able to take advantage of its efficacy.
Having a quality tan appearance would also depend on the quality of the equipment that you will use.
To help ease your burden in choosing the right kit, we have prepared a round-up of the best spray tan machine in the market. Here it goes.
More...
A Quick Overview: Our Top Picks for the Best Spray Tan Machine
OUR TOP #1 PICK - Foremost in our catalog is a package called the Maxi-Mist Lite Plus HVLP Sunless Spray Tanning KIT Tent Machine Airbrush Tan Maximist BRWN. We highly appreciate that it uses a German engineering technology, and the spray gun has a nice contour to make it handy. Plus, there is an adjustable air cap and flow control.
OUR TOP #2 PICK - Another kit in our selection is the Black Fascination FX Spray Tanning Kit with Tanning Solution Pack & Black Tent. This product boasts of a noiseless motor turbine and a convenient 8-foot long hose. We enjoyed the added Caffeine in the formulation which can help us achieve a firm and toned skin while getting tanned.
OUR TOP #3 PICK - The Aura Allure Spray Tan Machine Kit with Tanning Solution and Black Tent is third on our list. It allows you to dock the spray gun when not in use. We considered a great feature that the spray could be adjusted in order to provide us with the exact intensity of the tan that we want.
OUR TOP #4 PICK - Down further in this catalog is the Paasche Airbrush 500T Airbrush Tanning Spray Gun. Those of you who wish for a fast drying tan can find this item particularly helpful. We also appreciated the fact that we were able to clean the gun fairly quick.
OUR TOP #5 PICK - Last on our list is the Fuji Mini Tan M Model System Spray Tan hvlp. Among the great features of this product is the long-lasting proven technology. We became very fond of the portable size as well and the convenience of being able to choose between a full spray or body contouring.
Before we head to the round-up of the best spray tan machine, first, let's discuss what you can get from opting for it and the factors to consider when choosing one.
How Do You Benefit from Using a Spray Tan Machine?
If you want to be able to tan yourself or enjoy tanning with your friends, then you have probably considered getting a spray tan machine.
The first benefit that you can get is, of course, convenience. We don't always have the time, neither the right mood to attend tanning booths or salons.
Exposing the skin to the harmful UVA/UVB rays can lead to many issues.
However, if you are a tan freak like us, then the opportunity of tanning yourself with the help of spray tan can be a great alternative.
The second benefit that you can gain is you could always choose to have some fun with your peers or relatives.
As every woman knows, there is no better therapy than spending time with our friends. Thus, the tanning procedures can be both pleasant and healthy.
The third advantage of using a spray tan machine is that you could create a sun-kissed look without having to worry about sunburn, or worse, skin cancer.
What Are the Factors to Consider in Choosing a Spray Tan Machine?
There are aspects to look into when selecting the most suitable spray tan machine. It would depend on mostly on your personality, and primary concerns.
Having a gorgeous tan can enhance your appearance. But before you get started, you have to know how to pick the right kits.
The first component to mull over is the convenience. Think of the time that you can save when the machine gives you ease of use.
Check if the machine is light enough for you to bring and carry it around. Also, check if the cord is long enough.
You don't want to get annoyed by a hose that will either get in your way or get disentangled from the spray gun.
The second element to ponder on is the durability. Choose a High Volume Low Pressure (hvlp) Spray tan system. One clue to know is that its wattage ranges between 400W to 700W.
This kind of system is not that noisy, and it limits the amount of spray emission. It has the ability to diffuse fine mist, and thus the excessive wastage is prevented.
An HPLV type usually has a function that inhibits overheating, such as an automatic shut-off ability.
Durability is frequently associated with the reputation of the manufacturer. That's why we recommend you to select something that has already been tested by a majority.
You can also probe into the warranty provision and customer service support of the company can.
The third aspect to consider is the flexibility. In this area, check if you have access to adjustable air caps, fluid controls, and nozzle.
A regulating air cap can give you options of horizontal, vertical, round and side spray patterns.
The nozzle could direct you in the choice of the size and thickness of the tanning solution that you want to spray.
Now that you've had a general idea of the spray tan machine advantages and the factors to consider when choosing one, we can head on to our round-up of the best spray tan machine.
Product Reviews: Our Top Five Choices of the Best Spray Tan Machine
The first product that spots our list is equipped with a German engineering technology.
We love that it is furnished with a fabric tent, mobility bag, solution cups, spray gun, and accessories. There is a 1-year warranty given on turbine motor failure.
Should you tire out the small parts, there is a surplus of air filter, cup gasket, and nozzle gasket.
The shape of the spray gun makes it trouble-free to operate. It is designed with an air cap, solution container, solution flow control dial and a nozzle.
With the air cap control, we were able to select the spray pattern we wanted, either a horizontal or vertical way.
If you want more or less solution flow, there's a control dial that allows you to do so.
Moreover, there's a Teflon needle that can prevent the solution from an overfill, thereby, hindering the solution from crumbling.
We were delighted that the kit comes with samples of Tampa Bay Tan Premium Solution in three shades that are ample for three to four tans.
The second best product for our list became our favorite since it possesses a soundless turbine motor. It has its own machinery that dampens sound echo.
We have tried, and it was indeed a quiet motor. It was also convenient to use its 8-foot long hose.
Moreover, air intake happens at the end of the kit, thereby, preventing accumulation of solution which can damage the motor.
Devised with two wash-friendly filters, we can enjoy a hassle-free cleaning.
The spray gun has an air cap that allows us to choose between horizontal, vertical and round gush.
Also, it has a fluid control knob that can let us switch from thick to thin amounts of application.
The gun is designed with a fine 0.8 mm needle that paves the way for precise disperse of the spray.
For the product on our third place, we liked that this tanning kit includes a turbine unit, spray gun, tent, carry bag, and extra parts.
And since it is built with its own nozzle and solution dial, we appreciate that there is less possibility of wasting.
The nozzle facilitates a low overspray. What we loved about this machine are the hose and gun holder. We have tested, and the cord just coiled up conveniently at the bottom.
It makes use of an 11.5-foot size hose that is connected underneath, thereby, making it easy to move around. In order to avoid spillage, there is a spot where we can just dock the gun.
It was also simple enough to detach the union knot, air cap, and nozzle from the gun. This feature can contribute to a stress-free clean of the 3-part nozzle.
Another trait that we approve in this spray gun is the red rubber band inside the nozzle. The rubber band covers the needle and thus helps to prevent possible leaking.
There is also a spare one in case of loss.
The fourth top pick for the best spray tan machine lacked a bit behind from the rest, as the gun necessitates being hooked up to a compressor.
However, it has a thin and long hose which makes it easy to move around. The spray could be prattled horizontally or vertically and lets out a nice gush.
Upon testing this product, we were amazed by the short amount of time it took for our tan to become dry.
We also enjoyed a color that was smooth and even. When using this gun, you just have to be careful with the distance that you allocate.
If you hold it too near, you might over spray. If you hold it quite far from you, you might not achieve full coverage.
You might want to adjust to the pressure of the spray gun every time you use it. So we concluded that once we get the hang of it, there will be fewer drops or spills.
We liked that it was trouble-free to clean as the knobs were easy to remove.
Our fifth best pick is the Fuji Mini Tan M Model System Spray Tan hvlp. We like that this model has a pattern control which can allow us to regulate the speed and size of the stream.
In doing so, we have options for small or big patterns, according to our personal needs.
After evaluating it, we concluded that it was easy to grip on the spray gun as the control is placed on the side.
Plus, the system has a gun holder where you can let it just sit there when not in use. Another important trait is the one year warranty which we consider very practical.
What's beautiful about this kit is that it only disperses an amount of 30 – 50mls of the tanning solution. Because of this, wastage can be avoided.
It is always good to know that leakage or overspray is prevented from happening.
The turbine uses a technology that inhibits overheating, and thus your kit could last a long time. Anyway, as its primary downside, we find that the noise is a bit loud.
The Bottom Line
We have presented to you a roster of the best spray tan machine judged according to their durability, features, and convenience.
Overall, the Maxi-Mist Lite Plus HVLP Sunless Spray Tanning KIT Tent Machine Airbrush Tan Maximist BRWN remains to be our top selection for the best spray tan machine.
Apart from its nice packaging and contents, its lightweight gun can make it trouble-free to operate.
We liked that the fabric tent comes in three different colors and is water-resistant as well.
With this roundup, we hope that we have shared with you valuable information on which spray tan machine to choose.
All the top five items that made it to our list can become a great addition to your beauty secret storage and provide you with professional results in the comfort of your own home.