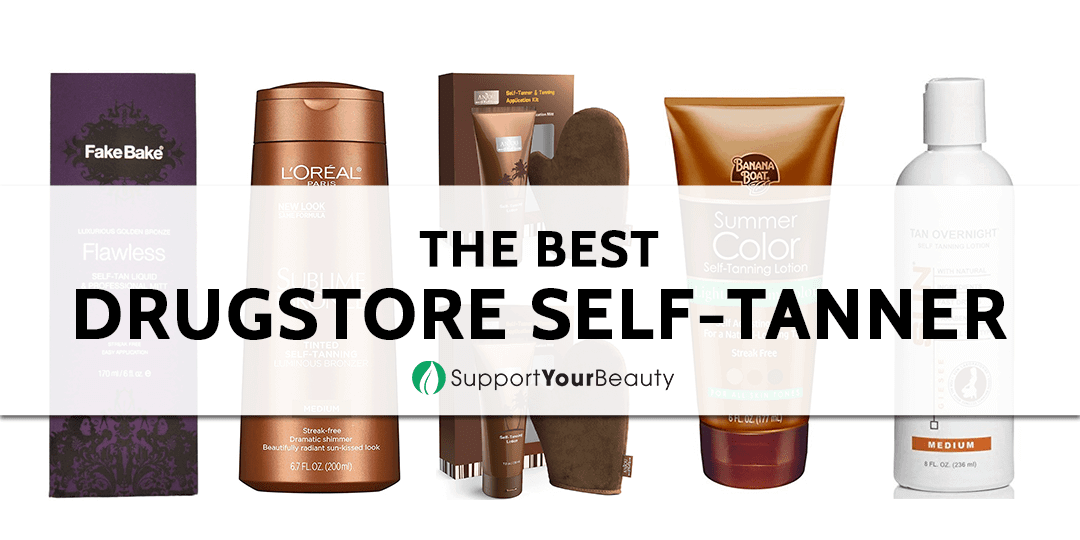 The Best Drugstore Self-Tanner – 2018 Reviews & Top Picks
In order to help you get the desired tan without being exposed to the harmful sun rays, we're giving you our take on the best drugstore self-tanners. These products made our list thanks to their ability to provide us with a natural color while nourishing and moisturizing the skin. We believe these products will be secret weapons in your beauty arsenal.
One of the best ways to boost up your appearance is to get a tan. That's right, add color and definition to your look by getting bronzed all over.
Tanning takes some time, especially if you want it done right. But if everything is just too busy around the office or at home, the best way to get that tan is to do it yourself.
We have gathered the five of the best drugstore self-tanning lotions that you can squeeze into your overloaded schedule.
More...
Quick Overview: Our Top 5 Best Drugstore Self-Tanner
OUR TOP #1 PICK - Our top pick for the best drugstore self-tanning lotion is the Fake Bake Flawless. We love that it was easy to use since it possesses a fast absorbing formula and dries quickly. It can give the skin that natural, sun-kissed glow.
OUR TOP #2 PICK - The second product on our list is the Self-Tanning Lotion Tan Overnight. We like the combination of natural ingredients that can help to keep the moisture. Thus, the skin can look supple, hydrated, and glowing. We also enjoyed the smooth application and an intense color.
OUR TOP #3 PICK - Our third-best pick is the Banana Boat Self-Tanning Lotion. This product can help to nourish the skin with the assistance of Aloe Vera extract and Vitamin E. It can be suitable for fair complexions and contribute to a nice base tan.
OUR TOP #4 PICK - Our fourth pick is the L'Oreal Paris Sublime Bronze Luminous Bronzer Self-Tanning Lotion. Upon testing it, we concluded that it could give a natural-looking finish for that summer glow. It contains Vitamin E to help keep skin's elasticity and suppleness.
OUR TOP #5 PICK - The fifth self-tanning lotion is the Anjou Self Tanner & Tanning Application Kit. We appreciate that this kit comes with a mitt that can help for an even distribution of the product. We liked that it slides easily onto the skin and left us moisturized with its natural ingredients.
Tips for Self-Tanning
Self-tanning, although easier to do and convenient, can be tricky especially when you have to put it on yourself. If you are new to the experience, then read on as we show you how to tan.
Exfoliate
Exfoliate your skin the night or day before. Thus you can avoid getting your tan all patchy or uneven in some areas.
Make sure not to exfoliate an hour or two before your self-tan. Give your skin time to breathe and settle in before the application.
Shave and protect
Despite this part being optional, we recommend to shave the hair out for an even application.
We also advise you to put Vaseline or Petroleum Jelly on the areas where you do not want the color to transfer.
As their consistency is quite thick and waxy, it can prevent the penetration of the tanning lotion.
Dry Your Skin
Before the applying, pat dry your skin with a towel.
Some recommend applying a light layer of moisturizer or lotion before the tanning, as this can help you spread evenly and smoothly.
Make sure that the skin around your knuckles, knees, and elbows is moisturized as these tend to be the driest.
That can result in some darker patches where the lotion couldn't succeed penetrating.
Start From the Bottom
We recommend starting from the bottom and work your way up to the head. Doing so can make it easier and more convenient for you to move and apply.
It is up to your best judgment on how you wish to layer the product.
You may start with a thin layer and cover your whole body with it, and you can just reapply if you want a darker shade.
Be sure to get the back of your lower part as well.
Get Your Center
Next is your torso. If you have figured out how thinly or thickly, you are to apply a product, lather it gently on your skin.
Make sure to go over your neck down: start with the neck, down to your chest, and belly. Then, apply to your sides, your arms, elbows, and to your hands.
Some kits provide application mitts, or you can use plastic gloves. Others make use of their hands as it is more comfortable when trying to reach areas.
Just don't forget to wash as soon as you are done with the procedure, as the product can suck in deeply and leave you stained.
Head and Back
Not all self-tanners are safe to use for the face. If it is non-comedogenic and if you have done a patch test first, then you may apply it.
Otherwise, you can use a different face tanner.
We recommend applying it as thin as possible onto your face and build it up as you go. If you wish for a more dramatic look, you can even contour your face with the tanner.
If you do not have anyone to assist you in tanning your back area, you can get crafty and devise your own back applicator.
You can use a ladle where you put the application mitt on the spoon end and apply the product on it before you slather it on your back.
Let Dry After Application
After you have applied the product thoroughly on your body, you can leave it to dry out.
At times, self-tanning products will need about 2-3 hours to dry completely. This way there could be less chance for transfer on the fabric.
Crafty enough, the use of a hair dryer can quicken the process. Avoid getting a shower and even when you do, beware that the warmer the water, the greater the possibility of streaking.
It's best to leave everything on overnight to ensure that it really sticks.
Product Reviews: Our Top Five of the Best Drugstore Self-tanning Lotions
---
The Fake Bake Flawless is the absolute winner that heads our list. It contains bronzers that can contribute to guide you where the product has been spread.
What's more, bronzers can provide an intense and radiant tanning result. Among our favorite features is that it can quickly dry while being easily absorbed into the skin.
The added Glycerin can help to lock in the moisture and protect to distribute the color deeply. We also like that we can use it on the face as well.
But if you do have sensitive or acne-prone skin, we advise you to restrict the appliance on the facial zone.
We were glad not to notice orange tints to our color. What we did not like about the product is that the application mitt tends to break easily.
Another feature we did not like is that the product itself does not last very long. Just after a few days, we had to reapply it in order to maintain the color.
As a comparison, most self-tanners would take a week before they fade.
---
Our second top pick is the Self-Tanning Lotion Tan Overnight. We were delighted that it dried quickly.
However, as the name suggests, it is best to apply it before bed to make sure the beautiful tan stays on well.
This product did not seem to stain or transfer onto clothes.
Despite that fact, it is good to let it dry thoroughly as jumping right into bed can cause your sheets to become tinted.
What we do not like about the product is that when the lotion is applied to the skin, it does not spread evenly right away.
It tends to be muddy at first, but once you get the hang of it, the rest goes in smoothly. It has little to no smell at all, which can be a plus to those who are sensitive to scents.
We find this product can be suitable to use on the face. However, it should be applied sparingly. Anyway, we do not encourage you to try this on acne-prone skin.
---
The third product that made it to our list is the Banana Boat Self-Tanning Lotion. We liked how it dried relatively fast after application, and it spread easily.
It has a thick consistency, so we recommend blending the product well.
This lotion is enriched with Aloe Vera leaf juice and Vitamin E to help soothe and moisturize the skin while maintaining its elasticity.
We consider a great plus that it is available in different shades, depending on your skin tone. It is lightly scented, although the smell disappears after a while.
We also recommend you to exfoliate your skin before application as there is a tendency that it might look patchy and have a slightly orange tint.
One of the downsides we found with this product is it only lasted us for a few days.
Another adverse feature is that it is not sweat-resistant which may be an issue if you are out too much or if you do a lot of activities.
We also do not recommend using this tanner on the face as it might cause breakouts.
---
Our fourth position is spotted by the L'Oreal Paris Sublime Bronze Luminous Bronzer Self-Tanning Lotion.
It can be suitable for almost all skin types, and it is very buildable, so you have total control on the application.
We liked how we could enjoy the tan as it lasts for a long time before it starts to fade.
We noticed that the lotion glides evenly on the skin and it spreads easily as well. It can be applied on the face, but we still recommend avoiding this if you have sensitive skin.
What we did not like about the product it has a strong scent to it. It might be a bit bothersome, although it will fade in a few hours or after the first wash.
Another feature that we did not like about the lotion is that it has a bit of shimmer on it.
That could be a great effect for some special occasions, but not everybody wants the twinkle on a regular basis.
---
And finally, the Anjou Self Tanner & Tanning Application Kit is the fifth best drugstore self-tanner. It contains natural ingredients that can help your skin stay moisturized and supple.
It gives that golden olive tan finish we all admired. This product also contains natural ingredients such as Jojoba Oil, Argan Oil, Vitamin C, and Aloe Vera.
With their assistance skin's elasticity can be improved. And what's more, the product can soak faster.
Even though it may be long-lasting, regular reapplication is still required for that consistent tan look.
This process can be an easy one, as the lotion comes with an application mitt that did not shred so quickly.
What we did not like that is a bit sticky to work with, so we highly recommend using the application mitt.
Another feature that we did not like is that it might not be suitable to use on the face. Some people may experience breakouts.
It also doesn't dry very fast, so you might try using a hair dryer on cool to expedite the process.
The Bottom Line
We know that it takes a lot of time and patience to get the right tan that suits your skin.
After testing and evaluating various products, we recommend the Fake Bake Flawless as our ultimate pick for the best drugstore self-tanner.
It became our top choice as it can help to provide us with an even and sun-kissed glow tan. We admired how easy it was to apply and moreover, we fell in love with the golden finish.
Our overall conclusion is that this lotion was the one that provided us with the most satisfying results when it comes to hydration, efficacy, saturation and natural appearance of the color.
However, we have put our time and efforts to gather all the products that made it to our list accordingly to their ability to suit various needs.
The choice is yours, as we have only tried to select our roundups in the best way possible to address a variety of issues and conditions.