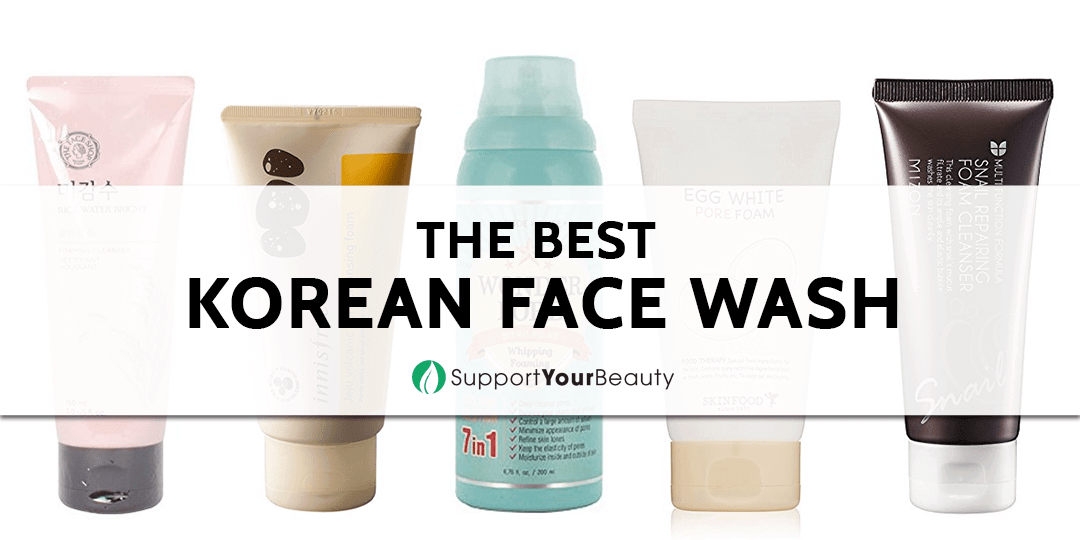 The Best Korean Face Wash – 2018 Reviews & Top Picks
How to combine the benefits of cleansing and nourishing? Seize the moment with superior skin care. Boost it with the best Korean face wash.

An effective skin care regimen often starts with the most important step—cleansing.
While most people go with a bare bones routine that involves plain soap and water, men and women who want to get more out of this seemingly normal activity are looking to explore new and improved ways to get the deepest clean with added benefits.
Korean skin care products are becoming more and more popular as many have become enamored with Korean stars' glowing and virtually poreless skin.
Thanks to an intensive, 10-step skin care routine, most K-drama stars and K-pop singers have achieved impeccable skin, and Westerners and the rest of the world are now borrowing beauty tips from the Koreans to get that same flawless visage.
Whether you're determined to follow as many steps as possible to get clean, healthy skin, or if you're just looking for a good facial cleanser to add to your skin care regimen, here's our rundown of the top 5 best Korean face wash.
More...
At First Glance: Our Top Picks For The Best Korean Face Wash
OUR TOP #1 PICK - Our top pick on this list is The Face Shop Rice Water Bright Cleansing Foam. It moisturizes and brightens skin and leaves it feeling supple and refreshed.
OUR TOP #2 PICK - The second product on our list is Innisfree Jeju Volcanic Pore Cleansing Foam. This one effectively removes accumulated impurities from the skin. We choose this product as our favorite Korean face wash for oily skin.
OUR TOP #3 PICK - Skinfood Egg White Pore Foam got the third spot on our list for its pore-clearing and tightening properties, which may aslo help to make skin look younger.
OUR TOP #4 PICK - Next is Etude House Wonder Pore Whipping Foam. This creamy facial cleanser deep cleanses, balances skin's pH level, and refines skin tone, among other benefits.
OUR TOP #5 PICK - Last on our list is MIZON Snail Repairing Foam Cleanser. Snail mucus might seem like an odd ingredient in a face wash, but it thoroughly cleanses the skin and may even help improve skin texture over time.
What Makes Korean Cosmetics Unique From All The Rest?
If you're new to Korean skin care, you may notice that some of the best Korean brands carry more than one face wash in their respective product lines.
For instance, Etude House, which has several physical stores all over Asia, has 13 face washes and foaming cleansers, while Skinfood has a selection of 20 facial washes.
The Face Shop has more than 10 face washes, while Innisfree has 12, and MIZON has 8.
These are just typical face washes, or what these brands call foaming cleansers. Furthermore, they also have cleansing waters, cleansing oils, and cleansing wipes in their extensive skincare lines.
So what's the deal with this tremendous variety of foaming cleansers in Korean skincare brands?
It's important to note that these brands don't just churn out products containing different ingredients for no reason at all.
These foaming cleansers—and other skincare products for that matter—are enriched with different ingredients, each tailored to work with a particular skin type or address a skin problem.

Below is our list of tips on how to find the most suitable face wash for you.
How to Choose the Best Product for Your Skin Type?
Oily skin may benefit from a face wash with fruit extracts, and since it's prone to blackheads and breakouts, choosing a pore-clearing wash may also help improve your skin if it has a tendency to get greasy.
Dry skin needs a facial wash that has hydrating properties, so anything that says "moisturizing" on the label would be suitable. This type of face wash may also work for aging or mature skin.
Some of the best Korean cleansers for dry skin lack exfoliating granules or beads. That's because over-exfoliation may exacerbate the problem with your particular skin type.
If you have an oily T-zone (forehead, nose, and chin) but your cheeks are dry and flaking, then you have combination skin.
Pick a cleanser specially made for your skin type, and if it does its job properly, then the face wash should balance your skin.
We're also raving fans of a suitable skin care set for combination skin. First of all, you need to find out the cosmetical products that work great for you, and implement these, following your regimen religiously.
Nonetheless, it's essential to start with utilizing the best Korean cleanser for combination skin, because often what causes your issues, is the misunderstanding of proper cleansing and adopting a good routine.
However, sensitive skin is probably the most difficult skin type to shop for, as the wrong ingredient can cause allergic reactions or burning.
If you're sensitive or allergic to any ingredient, make sure that your face wash doesn't contain any traces of it.
The next thing that you should do is to pick a product that you'll actually use. What good are all those active and beneficial ingredients in that tube if you won't use it all?
To make face washing a more pleasant experience for you, pick one with a great scent.
If you're a fan of a cleanser that produces a lot of lather, get one that says "foaming" on the packaging.
Some face washes produce a cooling or warming effect, so choose one that would feel pleasant on your skin.
In the end, picking a face wash, or any other product, may depend on preference, but it's essential to consider your skin type before taking that ​spin.
Do You Know How to Maximize the Benfits of Your Face Wash?
If you're going to use your face wash as part of the very famous 10-step skincare routine, then this would be the second step in your daily regimen.
You would need to use an oil-based cleanser first to pull out oils and dirt from your face, then follow with a foaming cleanser or face wash to get rid of residue.
If you'll be using the face wash as part of your regular skincare routine, then all you need to do is pour or squirt a bit of product on your hand and add a bit of water to produce a rich lather.
Apply this foam to your wet face, taking care to cleanse the sides of your nose, where blackheads generally appear.
Make sure to avoid the eye area, as some cleansers can cause a stinging or burning sensation if they get into the eyes.
Rinse completely and pat your face dry with a clean, soft towel. Follow with toner and moisturizer for best results.
The Best Korean Face Washes For Boosting Your Skin
This foaming cleanser, which is our top pick, gives you the same cleansing and skin-brightening properties without going to the trouble of boiling rice.
Washing with rice water is one of the best-kept beauty secrets of Korean women. For centuries, rice water was used as a natural acne healer, toner, and skin brightener.
This foaming cleanser's main ingredient is rice water, which may leave your skin looking clearer and more luminous.
Moringa oil nourishes skin, while soapwort naturally cleanses and leaves skin smooth and refreshed.
This cleansing foam has a milky consistency, and we love its clean and fresh scent. We like how it made our faces a bit brighter after a week of using it, and our pores looked smaller, too.
The only thing that we didn't love about this face wash is that it can be a little drying, and our cheeks were a wee bit flaky after a week's use.

In conclusion, if you're looking for the most suitable cleanser to utilize as a part of a Korean dry skin care routine, this one can only be a supporter for up to thrice a week, and not the leading character of your revitalizing journey.
---
Getting the number two spot on our list is Innisfree Jeju Volcanic Pore Cleansing Foam, which gets rid of excess oil and sebum, making it a good cleanser for oily skin.
This face wash contains Jeju volcanic scoria, an ingredient formed from lava as it cools after a volcanic eruption.
It is an alkaline substance that clears skin of impurities while leaving it hydrated and clearer than before.
Orchid oil moisturizes and may help reverse the signs of aging, while citrus unshiu peel extract contains brighteners that even out skin tone and control hyperpigmentation.
This face wash has a thick texture, and it did help control our oily skin after only three days of using it twice a day.
Normally, our skin would get greasy minutes after washing, but after using this face wash, it took a full two hours before we saw a hint of oil.
Regular and consistent use may yield even better results. It seems like this one can become an amazing part of the best daily skin care routine for oily skin.
It does have a soapy, almost medicinal smell, so cleansing foam may not work for those who love highly scented skin care products.
---
Next on our list is Skinfood Egg White Pore Foam, a pore-refining cleanser that may help to minimize large pores and even firm skin.
It contains albumen extract, or egg white extract, which removes dead skin cells and sebum, so you're left with fresh skin.
Egg whites are also known to promote a tightening effect on skin, so this foaming cleanser may work for aging or mature skin.
This face wash also contains licorice root extract, which helps balance oil and improves the appearance of dark spots and discoloration.
Meanwhile, antioxidant-rich sesame seed oil nourishes the skin, making it look healthier and softer.
We used this face wash after using an oil-based cleanser, and it did get rid of all the residue and makeup on our face.
This may not work for extremely dry skin, and it did leave a slight film on our face.

But just as the good old saying states "There are two sides to every coin," we got much better results when following this one up with a good Korean mattiffying moisturizer.

This method helped us reduce the traces of the thin film left-over.
---
This whipped cream-like facial wash made it to the number four spot on our list for its wonderfully thick texture and its fresh scent.
This lusciously creamy facial wash contains Achillea millefolium extract, also known as yarrow extract. It improves dry and damaged skin by moisturizing it and restoring suppleness.
It also contains the celebrity-favorite ingredient arnica montana extract, also referred to as wolf's bane or leopard's bane, which prevents inflammation and helps clear up acne and other skin problems.
Meanwhile, ginkgo biloba leaf extract helps protect and regenerate the skin to prevent premature aging.
For us, this facial cleanser was probably the most fun to use out of all the products on this list as it comes with a pump similar to those found in shaving cream bottles.
Upon pressing the pump, it releases a blob of very thick foam that feels incredibly refreshing on our face.
It left our skin feeling very clean and is gentle enough to be used twice a day.
You may or may not feel some tightness after cleansing, so follow up with a moisturizer after use.
---
If you're cringing at the thought of applying snail secretion to your face, you might change your mind once you learn about its skin-friendly properties.
Snail mucus, or snail secretion filtrate, is rich in hyaluronic acid, which attracts moisture to the skin.​
It may also help reduce fine lines, deep wrinkles, and restore skin's elasticity. It may even help improve acne-prone skin.
We even gave this one the title for the best Korean cleanser for acne, because we were so happy to see the redness disappear almost instantly.
This foaming cleanser also contains camellia sinensis, which has antioxidant properties that protect the skin from free radicals.
Moreover, this face wash's ivy extract may help to tone and whiten skin. We love how this cleanser produces a creamy and dense foam, and it did improve our combination skin after five days of using it.
Somehow, our T-zone looked less oily, while our cheeks looked soft and smooth. We still had to use a moisturizer as it can leave skin feeling a bit tight.
One thing that we didn't like about this face wash is that there's very little of the product in the tube, so it's easy to go through the whole thing in just two weeks.
The Bottom Line
For its skin-brightening properties and clean and fresh scent, our number pick for the best Korean face washes is The Face Shop Rice Water Bright Cleansing Foam.
We loved how this face wash made our skin look radiant, and its pleasant scent made the daily task of washing our face more luxurious somehow.
We also liked how it deep cleans our skin and may even help those who suffer from acne.
All of the Korean face washes on this list may work to give you clean and clear skin, while nourishing it with beneficial ingredients.

Whether you're just beginning to assemble your Korean skincare starter kit, or looking for brilliant new additions, we believe our list has all you need.