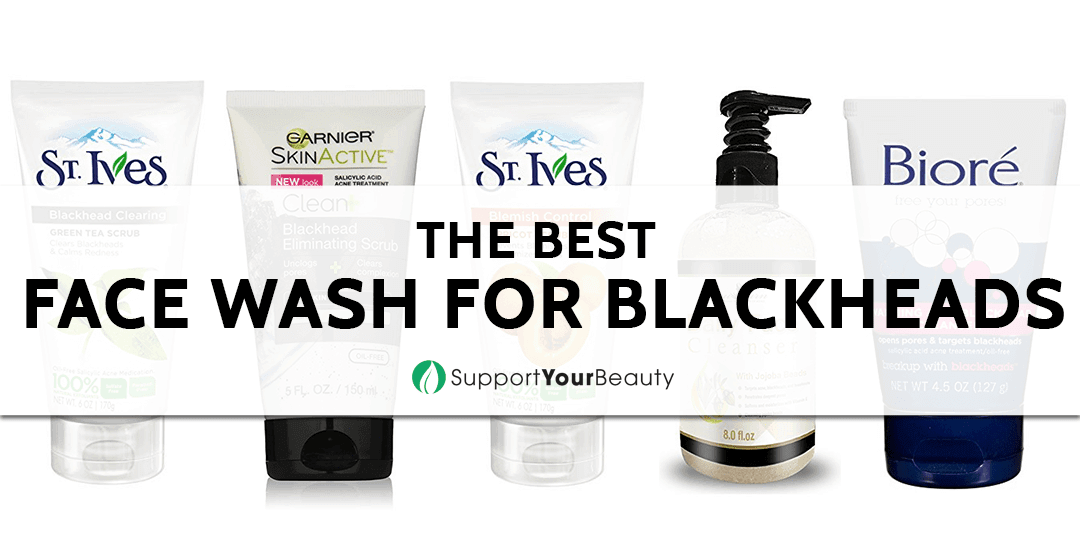 The Best Face Wash For Blackheads – 2018 Reviews & Top Picks
In line with our goal to be your top source for all things beauty related, we've rounded up the best face wash for blackheads. These products were carefully evaluated based on their active ingredients that are effective in fighting blackhead-causing oil and bacteria. We believe these products are the best on the market that can help you treat and prevent blackheads from ever coming back.
Blackheads, acne, dark spots and uneven skin tone are the most common skin problems of people of all ages, especially blackheads.
Is it just us or does anyone feel incredibly annoyed by blackheads popping here and there?
Not only are blackheads experienced by women but by men as well..
Acne, dark spots and uneven skin tone aren't that easy and quick to treat, but blackheads are the exception.
There is a wide array of creams, masks, face washes, and pore strips on the market claiming to diminish the appearance of blackheads in a jiffy.
Perhaps one of the most efficient of all blackhead-removing products is a face wash.
By using the best face wash for blackheads on a daily basis, you may drastically reduce the clogging of pores and prevent them from coming back.​
More...
Quick Overview: Our Top Picks for The Best Face Wash for Blackheads
OUR TOP #1 PICK - Placing first on our top picks for the best face wash for blackheads is the St. Ives Blackhead Clearing Face Scrub. It's the most raved about blackhead cleanser due to its all-natural ingredients including green tea and natural exfoliants.
OUR TOP #2 PICK - Not only does the Garnier SkinActive Clean + Blackhead Eliminating Scrub diminish blackheads, but it also tightens the pores and draws out dead skin cells through the powerful infusion of charcoal and salicylic acid.
OUR TOP #3 PICK - Apricot extract and natural exfoliants are the top ingredients of the St. Ives Naturally Clear Blemish and Blackhead Control Scrub. Apricot extract is loaded with antioxidants that heal, nourish, and smooth the skin.
OUR TOP #4 PICK - Boasting organic and biodegradable jojoba microbeads, YouTurn Daily Face Cleanser's soft and minute beads gently exfoliate the skin, brighten the complexion, and never leave an oily film after rinse.
OUR TOP #5 PICK - Last on our list is Biore Warming Anti-Blackhead Cleanser. It warms up to open up the pores, while the zeolite particles attract oils and dead skin cells like a magnet, flushing them away as you rinse.
Should You Squeeze Or Pick Your Blackheads?
Let's all admit it – blackheads aren't pretty.
It's irritating to look closely in the mirror and see tiny little black dots scattered across the nose, chin, cheeks and forehead.
That's why squeezing and picking blackheads seems like a natural thing to do. Oils, dead skin cells and bacteria naturally clog and oxidize in the open pores on the nose, and all that gunk turns into blackheads.
Blackheads cannot be simply removed by washing the face. Thus, we tend to squeeze them to get rid of them faster.
However, squeezing and picking won't help matters at all.
Dermatologists and other skin experts do not recommend other physical ways of clearing blackheads. No matter how tempting it is to squeeze them out, don't do it.
The facial skin is delicate. You don't want to do things that will cause unwanted breakouts.
Want to know how thin the skin is? The epidermis or the surface layer is more or less as thin as a sheet of paper.
Imagine how much damage you'll cause with even the tiniest pressure applied!
That being said, squeezing and picking blackheads disrupt the pore walls of the skin, causing bacteria to invade adjacent tissues.
The spread of bacteria may clog other pores which will ultimately cause acne and pimples to form, aggravating the problem even more.
So the next time you get the urge to pick at your blackheads, think again. It's wiser to use the best face wash for blackheads to clear it all up.
How to Choose The Best Face Wash For Blackheads​
There isn't a particular highly potent ingredient or compound used to banish blackheads.
With a ton of skin care brands promising to do all sorts of things from reducing acne to eliminating the pores, the process of choosing the best face wash for acne may be confusing.
Most facial washes claim to improve the overall skin condition, which includes the removal of blackheads.
But there are far more advanced face washes that are specially formulated to eliminate blackheads and their recurrence.
Products like those are what we're looking for to add to our beauty arsenal. Thus, we scouted for the best face wash for blackheads using the criteria below.
1. Non-drying​
Some face washes designed to remove acne, including blackheads, can be harsh. They contain synthetic chemicals that deliver good results at the expense of wiping out essential oils on the skin's surface.
The best face wash for blackheads should effectively remove blackheads while keeping the skin hydrated.
2. Oil-free​
A good face wash doesn't leave a greasy film on the face after rinsing. Oils are the primary culprit in clogging the pores which lead to blackheads.
3. Provides gentle exfoliation​
Blackhead cleansers should have exfoliating properties. Exfoliation is simply the removal of dead skin cells sitting on the surface.
As you may notice, typical exfoliating cleansers feature micro beads or granules that gently scrub dirt and grime away.
Likewise, these microbeads scrub away dead skin cells that cause stubborn blackheads which cannot be removed by regular soaps.
4. Should not irritate the skin​
Sure, your cleanser proved useful in clearing your blackheads, but did it cause you to breakout? If it did, it's high time you scout for another product.
Blackhead cleansers should not, in any way, aggravate the skin's condition. They should contain natural ingredients (if possible) that are soothing and gentle to any skin type.
Product Reviews: Our Top 5 Best Face Wash for Blackheads​
---
We picked the St. Ives Blackhead Clearing Face Scrub as one of the best face washes for blackheads because people have been raving about this product from a much-loved skin care brand.
This face scrub is loaded with natural exfoliants, green tea, salicylic acid, and other natural compounds.
It also offers moderate exfoliation to reduce the clogging of pores which results in blackheads.
The cleanser's green color comes from one of its main ingredients -- green tea.
A lot of studies support the anti-aging and antioxidant properties of green tea, making it a perfect additive to this product.
The natural exfoliants of this scrub gently remove blackheads and oil films without leaving a greasy feeling after.
When we tried this scrub, we were amazed by its mildly grainy texture.
It felt soothing when we used it on our nose, and we noticed a considerable reduction in our blackheads after a week's use.
The presence of salicylic acid also reduces acne, skin inflammation and redness – proving that this scrub isn't only meant to eliminate blackheads but also reduce other common skin problems.
Another great thing about this scrub is that it is paraben and sulphate-free, so this may work for sensitive skin. Also, a small pinch of this scrub goes a long way.
---
We all want a product that solves a lot of skin problems, not just one.
The Garnier SkinActive eliminates blackheads while simultaneously giving a deep cleanse, tightening pores, and smoothing the skin.
It is infused with two powerful ingredients - charcoal and salicylic acid, which works together to draw out dirt, dead skin cells, and oils that lie under the pores.
As women who apply makeup on a daily basis, we were thrilled to know that the activated charcoal ingredient of this scrub can clean pores of bacteria and chemicals from makeup.
Activated charcoal pulls impurities out like a magnet and helps fight acne and avoid blackheads for a smooth and flawless complexion.
Moreover, the microbeads of this wonderful scrub effectively tighten the pores and make the skin smoother. It's great that the beads aren't too big nor too small to get in the eyes.
What's awesome about this product is that it doesn't dry the skin. In fact, it's designed for people with oily skin.
We've tested this scrub and found that the combined abrasiveness of microbeads plus charcoal effectively draws out blackheads without causing any irritation.
---
Also containing natural exfoliants and salicylic acid like our first entry from the same popular skin care brand, the St. Ives Naturally Clear Blemish and Blackhead Control Scrub promises an achievable blackhead-free face.
We chose this scrub because it contains 100% natural extracts from fruits and other organic substances which makes it ideal for use on all skin types because it has zero allergens or possible irritants from synthetic compounds.
Apricot extract is the highlight of this cleanser. It actually does wonders! Apricots contain antioxidants and high levels of carotenoids, giving it its distinct orange color.
Apricot extract, when properly used, clears blackheads by removing dead skin cells on the skin's surface. Also, it heals damaged skin, maintains elasticity, and nourishes the skin.
A big difference between this scrub and the St. Ives Blackhead Clearing Face Scrub is this one's a deep exfoliant, meaning, it has a more robust formula for the ultimate exfoliation.
True enough, this product did diminish blackheads in over two weeks of use. It also made our skin supple and rejuvenated.
Most importantly, it doesn't leave an oily film after rinsing which may clog the pores.
---
There's a recent initiative to ban face scrub microbeads because it's wreaking havoc on the environment.
These plastic beads, when flushed down the drain, make their way into the water where fish mistake it for planktons and inevitably eat it. As a result, skin care lines have begun using organic face scrub beads.
We love the YouTurn Daily Face Cleanser because it's all-natural and organic, making it one of the best face washes for blackheads.
As a daily cleanser, this scrub refreshes the skin, brightens skin tone, and may help repair and improve the overall skin condition.
The greatest asset of this product is its organic jojoba beads. These beads are biodegradable and environment-friendly.
Jojoba beads ensure gentle exfoliation that effectively draws out oil and blackheads. Additionally, jojoba beads have the potency to treat acne.
You can scrub all you want and feel not one tiny scratch because jojoba beads are so minute and soft that they almost feel velvety on the skin. It's the thing that made us fall in love with this cleanser.
Aside from the velvety feeling this scrub imparts, it also hydrates the skin quite intensely without the oily film. This is great news for those suffering from oily or acne-prone skin.
---
Quite uniquely, the Biore Warming Anti-Blackhead Cleanser contains a soothing and self-heating formula, salicylic acid, microbeads, and zeolite.
We've tried this cleanser, and we're quite pleased with the warming sensation it gives.
When the skin comes into contact with the warm foam, the pores will open up, thus exposing and removing even blackhead-causing oil and bacteria situated deep beneath the epidermis.
Salicylic acid is another major ingredient in this scrub. This acid relieves redness and skin inflammation while providing a thorough cleanse.
Zeolite works like a magnet to attract skin contaminants and replace them with beneficial minerals from the scrub.
All these active ingredients work together to remove skin pollutants from deep within the pores.
The Bottom Line
Choosing the best face wash for blackheads among five top-rated cleansers on the market is difficult.
All of them almost have the same ingredients, so the only way to know their effectivity is to put them to a week-long test.
After consistently trying out each product, we decided to pick the St. Ives Blackhead Clearing Face Scrub as our top choice for the best face wash for blackheads.​
It's loaded with natural exfoliants, green tea, salicylic acid, and other natural compounds that team up to effectively diminish blackheads when used religiously.
Not only does it eliminate blackheads, but the scrub's green tea ingredient also has anti-aging and antioxidant properties to boost the skin's immunity against pollutants further.
We also loved its mildly grainy texture which is so soft and provides gentle exfoliation.
Lastly, the salicylic acid in the scrub proved to reduce acne formation, skin inflammation, and redness.​