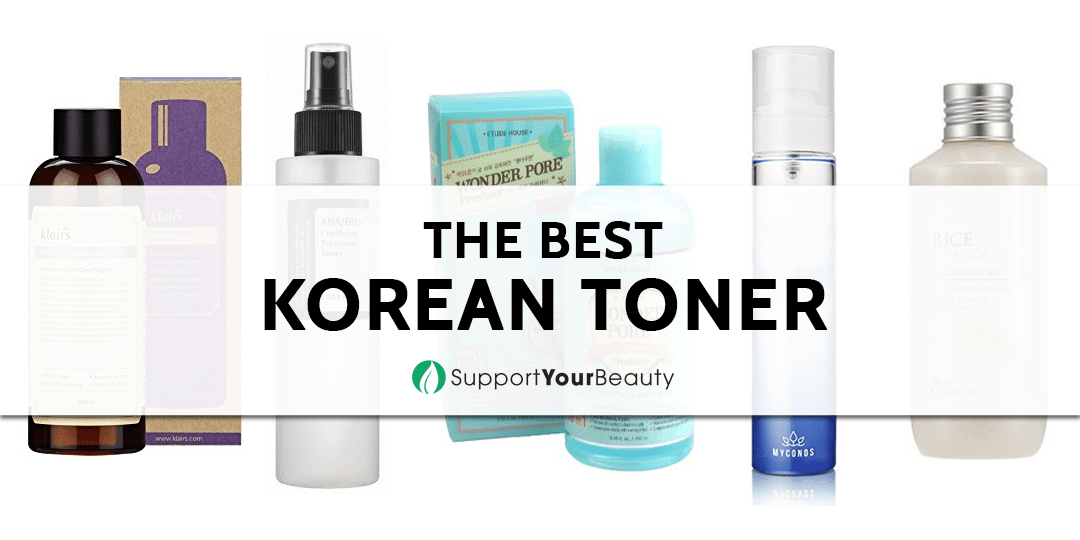 The Best Korean Toner – 2018 Reviews & Top Picks
Are you missing out on the benefits of using a superb toner? Try out some of the best Korean toners to get the glowing skin of your dreams!

Most people think that using a cleanser and a moisturizer is enough to get healthy, glowing skin.
But to get the most out of a beauty regimen, you need to use a toner to freshen the complexion and to tighten pores. This results in a radiant, toned, and younger looking skin.
In Korea, using a toner or a freshener is the fourth step in their famous 10-step skincare routine.
The use of this product has become so popular that K-beauty stores are churning out at least 10 different variants that are tailored to particular skin types and conditions.
Whether you're looking for a toner to add to your basic beauty routine, or you're daring to go hardcore and completely Korean with your approach to skincare, there's a toner that may help give the results you want.
Here's our rundown of the best toners Korea has to share with the world.
More...
At First Glance: Our Top Picks for the Best Korean Toner
OUR TOP #1 PICK - Etude House's Wonder Pore Freshener is our top pick for the best Korean toner. This product cleans pores both inside and outside, balances pH levels and tightens pores, which makes it ultra useful for you if you have skin problems.
OUR TOP #2 PICK - Our number two option is Klairs Supple Preparation Facial Toner, because it removes dirt and sebum from pore, but is still gentle. This product is suitable for all skin types, because it hydrates while helping clean your skin.
OUR TOP #3 PICK - The third option on our list is Cosrx's AHA/BHA Clarifying Treatment Toner. This particular toner exfoliates, controls excess oil and hydrates skin. Not only does this toner nourish skin, but it also prevents both whiteheads and blackheads.
OUR TOP #4 PICK - Number four on our list is Myconos Toner and Face Refresh Mist. Myconos's toner contains oils that help balance the sebum in your skin. This product will clean skin while also moisturizing with deep sea water minerals.
OUR TOP #5 PICK - The Face Shop's Rice Ceramide Moisturizing Toner is the final selection in our list. The rice-based ingredients in this toner moisturize skin, as well as give it a healthy glow. This is a great product to prepare skin for the day or night, and can be used twice daily without drying out the skin.
How to Know Your Toner Is Different From All the Rest?
Toner is an astringent liquid that is common in skin care regimens around the world. Toners are generally applied to reduce skin's oiliness, which can lead to acne healing and prevention.
Some toners make skin sting and lead to your face feeling tight and dry, which has given toners a bad rep.
The Korean brothers of Western toners, often called refreshers, are known for hydrating skin instead of drying them out and are not an astringent.
In Korean skincare regimens, a toner is often the lightest product you will use on your face, so you have to apply it immediately after your cleanser.
Do You Know What Makes Korean Products Stand Out to Be So Special?

After using a cleanser, you will apply a toner to help reset the pH balance of your skin. This will help your skin get back into a healthy pH range.
Toners are also perfect for removing dirt and oil from the skin, which means it is an additional step in cleaning out your pores.
Although toners in America often get a bad reputation for being overly drying, the Korean ones are very gentle.
To sum it up, almost every toner will be better than no toner at all, but what will make the most significant difference, is knowing how to find and utilize the best one for your needs.
When Is the Best Time to Use a Toner?
You use a toner after cleansing, because your skin will be in a fragile state. That's the perfect time to give your skin a good dose of antioxidants and amino acids.
Dehydrated skin really benefits from the use of a good toner, because, contrary to popular belief, dehydrated skin lacks water, not oil.
A moisturizing toner gives your skin the water it needs to be healthy, instead of drying it out like an American-style toner or astringent.
The best Korean style cosmetics will leave your skin feeling well-hydrated.
How to Make Your Skin Healthier Using the Most Suitable Toner
The main goal of Korean beauty regimens is to keep your skin healthy.
​Hydrated skin is healthy skin, which is why many products have come out recently that emphasize hydration.
The second step of Korean skincare is toner, which sets the hydration bar high in preparation for the rest of the routine.
Remember that you will want to avoid any toner with harsh alcohols or synthetic fragrances as they can be harsh and irritating.
Toners should be moisturizing, and harsh alcohols tend to be drying. Synthetic fragrances can lead to rashes and breakouts, which defeats the purpose of the toner and isn't healthy for the skin.
And so our best advice would be to find a good Korean toner without alcohol and make it part of your daily beauty routine.
For any particular issues, you can look for the best Korean toner for troubled skin or the best Korean toner for mature skin.
But the list can go on like this because you can also find the best Korean toner for blackheads or the best Korean toner for large pores.
You can alternate any of these to help both prevent and treat future or existing skin concerns. As to us-- we follow our mission on making your choice easier by submitting our expert tips and impressions after a thorough investigation.
How to Use Toners in a Korean Skincare Regimen to Get Ultimate Benefits

Korean skincare routines are intensive, but many people believe that they are worth all the effort.

So, what makes Korean skincare special? The seven-step method will leave your skin clean, hydrated and refreshed.
The seven-step method focuses on toner-layering, which lets all of the products you use properly absorb into your skin.
Each layer of product will give your skin a lot of nutrients that leads to great hydration.
Think of how your face feels post facial. Don't you want to feel like that all the time?
The first step of the seven-step Korean skincare method is to cleanse your skin.

Next, you will want to either allow your face to air dry or you can pat it dry. Leave your face slightly damp, and apply the first layer of toner with a cotton pad.
For the next layer of toner, you will want to pour a little bit of toner into your palms and gently pat it into your skin. Allow this layer of toner to mostly dry and apply more toner with your hands. Do this five more times.
After the seventh layer of toner, you can add your serums and moisturizer as you see fit.
Not all people will see the need to use other products, however. Even though we are already raving fans of the best Korean essences as well, you can adjust the regimen to suit your needs.
The seven-layer technique isn't necessary every day. Some people do it every other day or once a week and use a shorter method on other days.
The Best Korean Toners For Treating Your Skin Right
Wonder Pore Freshener by Etude House tops our list thanks to its effective 7-in-1 solution.
We have carefully tested and picked this toner because it helps solve a lot of skincare problems.
It helps deep cleanse, control sebum, balance pH levels, tighten pores, clear skin, moisturize and give it elasticity.
Since this formula is fragrance-, mineral oil-, coloring-, talc- and silicone oil-free, you may not worry about harmful, damaging ingredients.
Using peppermint extract, this toner cleans deep instead pores, as well as delivers a cooling sensation to the skin on your face.
We have also found that peppermint extract can help reduce the amount of oil that is produced in the skin, which often leads to fewer acne breakouts.

And that's precisely why we give this product the title for one of the best Korean toners for acne skin.
The toner's Astringentlex formula, which includes the peppermint extract, gently cleans and tightens pores without drying out the skin.
It's our favorite out of the bunch because of its soft mint smell. The smell is relaxing instead of overwhelming. The natural scent doesn't cause skin irritations like some of the perfumes in toners can do.
It is still important not to overuse products with alcohol, which is an ingredient in Wonder Pore Freshener. That means you may not want to apply this toner every day, but it's a great idea to alternate it with a milder one.
---
One of the main reasons for Klairs Supple Preparation Facial Toner to be our top pick is that it's eco-friendly and cruelty-free.
Not all beauty products on the market can tout that they don't test on animals, so that is something that sets Klairs' product apart.
We love that this toner lacks alcohol, which means it is less likely to irritate the skin like some other toners available on the market.
The absence of alcohol also means that this product is less likely to dry out the skin, which is important in Korean beauty regimens.
It does have a strange texture, however. It is slightly gel-like, with some solid and some liquid parts.
We think not everyone will enjoy the odd consistency, but it doesn't affect the way that the product is applied to the skin.
This toner does have a strong medicinal smell that may bother you if you are sensitive to smell. If you don't like the smell of witch hazel, you may want to skip this toner.
---
Cosrx AHA/BHA Clarifying Treatment Toner is the only product on this list that can boast both AHA (Alpha Hydroxy Acid) and BHA (Beta Hydroxy Acid) ingredients.
We have found that AHA ingredients, such as glycolic acid, help loosen dead skin, which primes skin for the BHA ingredients.
BHAs help cleanse deep within the pores and remove the dirt and oil that is found deep under the skin.
BHAs are oil soluble, which makes them great for unclogging the dirt and oil in the pores. The bad news about BHAs is that they are not something that pregnant women should be using.
White willow extract and apple water contain a large number of nutrients, so these ingredients not only make the product smell better, but they also help deliver important vitamins and minerals to your skin.
Although it doesn't contain oils, this product may make your skin shiny, which isn't ideal if you prefer a more matte look or if you already battle an oily sheen.
However, if you have extremely sensitive skin, you may want to skip this product, because it may cause rashes or breakouts.

Anyway, it remains one of our favorite choices for the best Korean toners for dry skin.
---
Myconos Toner and Face Refresher Mist is ranked number three on our list. It also got the spot for one of the best Korean toners for normal skin because of its ease of use and its effectiveness in providing needed hydration to your skin.
While oils are generally frowned upon in beauty products, this toner uses oil to restore the water and sebum balance in the skin.
These oils are meant to balance and refresh skin, but if you have very oily skin, you may want to refrain from using this product as the additional oils make the problem worse.
The high number of extracts, including violet, oregano leaf, grape and plankton extract, as well as others, makes this product smell highly medicinal. If you are highly sensitive to smell, this product may also bother you.
It's our most favorite toner on the list because it's the most versatile products from all the rest. It can be used as a toner immediately after cleansing and both before and after makeup application to keep skin properly moisturized all day.
Another reason why we love this product is that it also contains deep sea water minerals, which are essential for hydration.
This product is a mist, so it comes with a spray pump. The spray pump makes for a super easy application. Mists, however, are known for wasting a little product with each use.
---
The Face Shop's Rice Ceramide Moisturizing Toner is known for giving skin a radiant brightness and texture. The moisturizing ingredients add to this glowing effect.
We carefully selected this toner because its formula is so powerful that it brings you a nice looking skin and helps lighten the appearance of scars.
The 150 ml bottle will last long enough, especially when you only use a few drops at a time, which is all you need.
While this toner smells nice, it does have a very strong smell, which could turn you off of the product.
Even though the manufacturer says that it works for all skin types, we think it would work better if you have dry or normal skin.
Also, the perfume used in this product isn't from natural products, which can be troublesome if you have sensitive skin.
Even though the manufacturer says that it works for all skin types, we think it would work better if you have dry or normal skin.
Also, the perfume used in this product isn't from natural products, which can be troublesome if you have sensitive skin.
The Bottom Line
Our top choice out of the best Korean toners is Etude House Wonder Pore Freshener, because of its pH balancing and moisturizing properties.
If you want a toner that leaves your skin feeling hydrated instead of dried out, we recommend using this product.
With refreshing peppermint extract, it not only makes your skin look good, but also feel good. Peppermint extract also helps calm irritated skin and tighten pores.
Since Korean skincare is all about keeping your skin hydrated and clean, this product is in line with what is expected in order to ripe all the benefits of your toner.