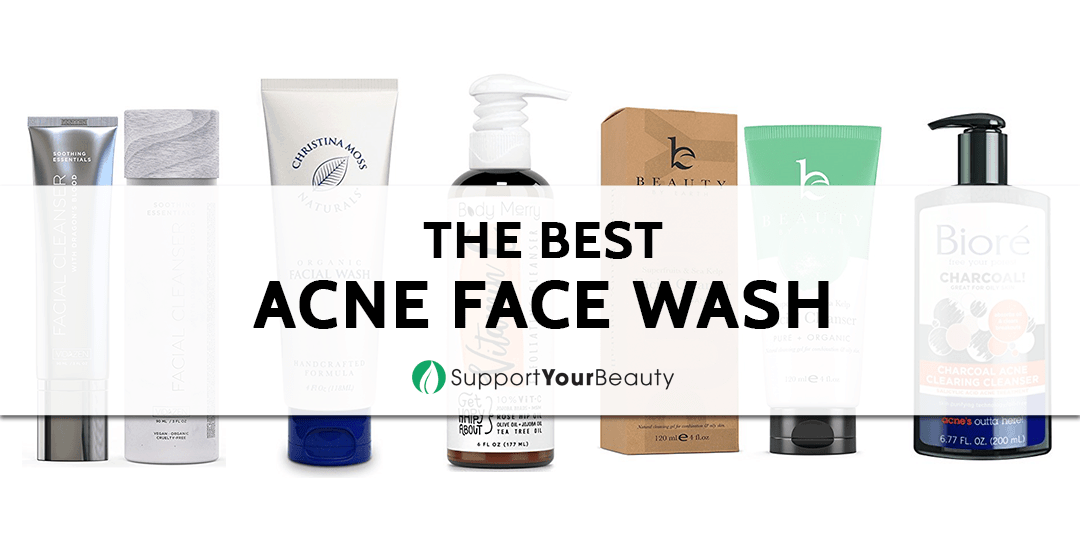 The Best Acne Face Wash – 2018 Reviews & Top Picks
You know that a clean skin is a healthy skin. Learn how to cure and prevent acne with our top picks of the best acne face wash now!

Acne is something that plagues millions of people around the world. Why suffer with acne when there is something you can do about it?
We've made a complete list of the top five best acne face wash products to help you find the product that will help you end your battle.
Clearer skin is just a face wash away. If you can find a face wash that works at clearing your acne, you may feel more confident, so don't waste any more time.​
More...
Quick Overview: Our Top Picks for the Best Acne Face Wash
OUR TOP #1 PICK - Vidazen Facial Cleanser with Dragon's Blood is our top selection of best acne face wash products, due to its gentle but effective cleansing power. This product uses salicylic acid with cucumber extract and willow bark extract to exfoliate and cleanse the skin.
OUR TOP #2 PICK - Coming in at number two on our list is Christina Moss Naturals Organic Facial Wash. This acne-fighting face wash does more than just cleans skin. It also exfoliates and nourishes skin, all the while using no harmful ingredients.
OUR TOP #3 PICK - The third product on our list is Body Merry's Vitamin C Cleanser, because of its usefulness on all skin types, including combination skin. It also uses jojoba beads instead of plastic beads to exfoliate skin and deliver Vitamin C to the skin.
OUR TOP #4 PICK - The number four product on our list is Beauty by Earth's Organic Superfruits & Sea Kelp Face Wash. This organic face wash is full of nourishing fruit oils and extracts that help cleanse your skin gently. It also helps clear acne, blackheads, and blemishes.
OUR TOP #5 PICK - Bioré Charcoal Acne Clearing Cleanser rounds out our list at number five, due to the combination of salicylic acid and charcoal. This cleanser cleans deep down in pores and absorbs excess oil in the skin. It helps prevent future acne, as well as clear up existing acne.
How to Choose the Best Acne Face Wash?
There are many different ingredients that claim to rid your skin of acne, but what products work the best?
What ingredients should you look for in the best acne face wash? Learn more about popular acne fighting ingredients below.
Salicylic acid is one of the most popular ingredients in products that are recommended for acne prone skin.​
It is good for exfoliating skin and getting deep into pores to unclog them. Remember that if you have really dry skin or are pregnant, salicylic acid isn't a good option for you.
Tea tree oil is one of the best natural ingredients to fight off acne. Tea tree oil is both antibacterial and an anti-inflammatory.
This ingredient will help clean and soothe acne breakouts. Unfortunately, those with sensitive skin may find products with tea tree oil to be too harsh.
Benzoyl peroxide is a well-known ingredient in a lot of different acne medications. Benzoyl peroxide is the best over-the-counter ingredient for treating existing acne, because it gets rid of excess oil, bacteria, and dead skin cells.​
Another great ingredient for treating acne is charcoal. Charcoal draws out bacteria, oils, chemicals and dirt and brings them to the surface of the skin. Charcoal's main benefit is just unclogging pores.
You should also look for aloe vera. Aloe is good at treating acne, because of its antibacterial properties. It also reduces redness and itchiness that acne causes on the skin. Removing excess oil is another great benefit of aloe vera.
We recommend that you choose a product with at least one of these different ingredients. If possible, it may be beneficial to choose a product that has two or more of these ingredients, as they may be even more effective.
Moisturizing is also important when you have acne.
You may want to consider getting a product that either helps moisturize, or you might need to purchase a moisturizer that works well on acne prone skin.
One of the worst things that you can do when you have acne is let your skin get dried out.
What Are the Benefits of Using Acne Face Wash?​
If you have problems with acne, considering an acne face wash may be your best bet. Not all face washes are designed to help treat and prevent acne.
It is key to treat acne from deep inside pores, and some cleansers don't get down deep enough to clean out the bacteria, oils, dirt and other gunk deep in your pores.
Most of the best acne face washes also have some sort of exfoliating power. Exfoliation clears dead skin out of the way and allows the wash to get deep into pores to thoroughly clean out all the gunk.
The key to exfoliation is to do it gently to avoid over-exfoliation. When you scrub too harshly at the skin, you can actually cause breakouts and dry, rough skin.​
Many acne-focused products also contain a least one ingredient that soothes the redness and irritation caused by acne.
Soothing the problem areas gives you a little relief from the pain and irritation that is caused by acne.
Also, many of these soothing ingredients, like tea tree oil and aloe vera also help cleanse skin.
Product Reviews: Our Top 5 Best Acne Face Washes​
Vidazen's Facial Cleanser with Dragon's Blood made the number one spot on our list of best acne face washes, because it does as much as a face wash can possibly do.
This face wash gently exfoliates skin, hydrates skin, fights acne and soothes and softens skin.
Salicylic acid gently exfoliates dead skin, which makes way for the amino acids and Vitamin E to penetrate deep into pores to clear out dirt, oils, and bacteria, while also treating acne.
Silica will also help reduce the appearance of fine lines. The fatty acids in this cleanser help hydrate and moisturize skin.
It also contains a number of these fatty acids, including Vitamins A, C, E, and K. All of these fatty acids are vital to keeping skin healthy, clear and younger looking.
After lots of testing, we believe that Vidazen Facial Cleanser with Dragon's Blood is the most well-rounded product on our list. If you struggle with acne, aging skin, and dry skin, this may be the best option for you.
---
The second product on our list is Christina Moss' Naturals Organic Facial Wash, because it is organic, ideal for all skin types and full of essential oils.
We appreciate that Christina Moss Naturals has worked on perfecting their formulas for the last 15 years.
As an organic, natural face wash, you won't find any harmful chemicals or synthetic dyes, fragrances or preservatives in this formula.
We love that this product is environmentally friendly, and that the bottle is made with biodegradable labels and plastic from recycled bottles.
This acne face wash has a gentle lather that will cleanse skin, but won't leave any product build-up.
Another thing that we like about this wash is that it also doesn't strip your skin of the natural oils it needs or clogs pores. It is even mild enough to be used twice a day.
If you have sensitive skin, you may or may not find success with this wash.
While it was made for sensitive skin, it may cause dryness, itchiness, irritation, or breakout, so make sure you use it with caution.
---
Our third selection is Body Merry's Vitamin C Cleanser, which is specially formulated for those with combination skin.
Suitable for all skin types, this product will leave skin feeling clean and refreshed. To do this, the cleanser gently exfoliates your skin, while deeply cleaning out pores with Vitamin C.
We love that the jojoba beads work to gently and naturally exfoliate skin without harming the environment, unlike some of the microbeads found in other cleansers and exfoliators on the market.
Natural and organic oils, like olive, jojoba, rosehip and tea tree oils, nourish and moisturize skin.
Using powerful antioxidants, this cleanser can fight the signs of aging and sun damage, as well as hydrate and cleanse.
We have found that this cleanser may leave you with clearer, softer and younger looking skin.
While this is a good acne fighting product, the packaging can cause issues. The pump often doesn't work, which makes it hard to use.
It may require you to remove the pump every time you need to use the cleanser, which we think can be a pain.
---
The fourth cleanser on our list of the best acne face wash is Beauty by Earth's Organic Superfruits & Sea Kelp Facial Cleanser.
We've carefully selected this cleanser because it is organic and packed with ingredients that deliver superior nutrition to the skin.
This product was formulated for oily and combination skin, which means that it won't add additional oils to your skin that will gunk it up.
If you have dry skin, you may want to consider a different product, however. The fact that it isn't made for all skin types put it at number four on our list.
Made to be used both in the morning and the evening, this product will get your face ready to start the day or remove makeup, oil, dirt, bacteria and sweat from your skin at the end of the day.
We have noticed that the green tea and peppermint essential oils will help shrink pores, so not only does this product clean out the skin, but it also hydrates skin and makes pores less visible.
---
Bioré is known as one of the most popular skincare brands on the market. The brand's Charcoal Acne Clearing Cleanser rounds out our list due to its formula for clearing acne prone skin.
The charcoal in this cleanser will bring toxins, dirt, and oil to the skin's surface, while the salicylic acid penetrates deep into pores to clean them out.
Charcoal also helps absorb the excess oil in the skin. All of these things in combination will help prevent future breakouts.
This product doesn't contain any oil, which means that it doesn't clean your skin and just put oil right back on your face to reclog pores. The downside to this is that it may dry out your skin.
This product also works great for getting rid of blackheads. We have found that this cleanser may start working quickly, but results may vary.
The Bottom Line
Our number one pick for the best acne face wash is Vidazen's Facial Cleanser with Dragon's Blood. This product won our hearts with its gentle, yet effective formula that does just about everything you can imagine for your skin.
If you need to clear acne, but also exfoliate, hydrate, soft and soothe your skin, this is the best product out there.
Your skin will be visibly clearer and younger looking, which is the best of both worlds for those who are battling aging and acne.
We recommend this product for anyone who struggles with acne, as it doesn't dry out the skin or cause additional acne due to additional oils. Instead, healthy youthful skin takes the place of problem skin.​