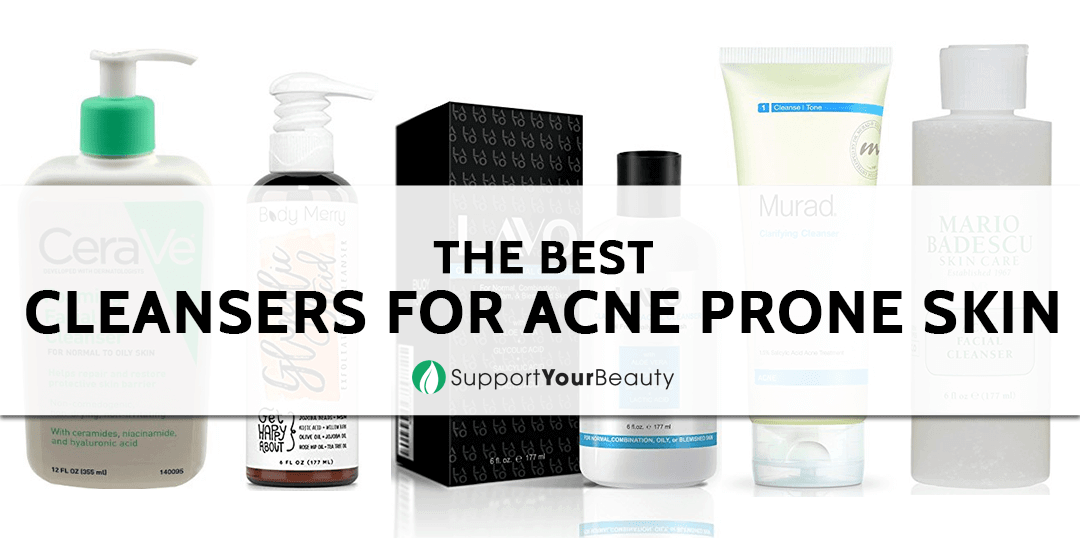 The Best Cleansers For Acne Prone Skin – 2018 Reviews & Top Picks
Hungry for new knowledge on how to improve your looks? We have the top advice and the best cleansers for acne prone skin!

Beauty is often associated with genetics.
One important determinant of beauty is the condition of a person's skin, and different skin types are genetically determined.
If you're among the less fortunate ones who did not win the genetic lottery -- in that you inherited your parents' acne-prone skin -- do not lose hope.
Here, we list our top picks for the best cleansers for acne-prone skin that can aid you in treating your breakouts and keeping your acne at bay.​
More...
Quick Overview: Our Top Picks for the Best Cleansers For Acne-Prone Skin
OUR TOP #1 PICK - On the top of our list of the best cleansers for acne prone skin is CeraVe Foaming Facial Cleanser that has a non-comedogenic and non-irritating formula, which eliminates oil and dirt while maintaining a healthy moisture balance on the skin.
OUR TOP #2 PICK - Not to be outdone is Body Merry Glycolic Acid Exfoliating Cleanser that gently breaks down oil build-up and sloughs off dead skin cells with its 2.5% glycolic acid to prevent pores from clogging.
OUR TOP #3 PICK - Then there's the Murad Acne Clarifying Cleanser that effectively clears acne and prevents future skin breakouts by killing acne-causing bacteria while penetrating the deeper layer of the skin with 1.5% salicylic acid and green tree extract.
OUR TOP #4 PICK - We also love Mario Badescu Acne Facial Cleanser's gentle exfoliating and cleansing prowess that combines salicylic acid with aloe vera and chamomile to soothe and heal acne-inflamed skin and prevent acne from coming back.
OUR TOP #5 PICK - Finally, we love LAVO Clarifying Facial Cleanser that comes in an all new advanced gel cleansing formula. It boasts of alpha and beta hydroxy acids that shed off dead skin cells to avoid the growth of blackheads, whiteheads, and pimples. It also helps heal acne lesions with its vitamin B and botanical extract components.
The Lowdown On Acne-Prone Skin
There are two possible major reasons for your acne prone skin.
If you have acne-prone skin, it's probably because your sebaceous glands produce more sebum or oil than usual.
The oil that it produces mixes with dead skin cells, dirt, and bacteria. This clogs the pores on your skin and results in acne.
However, your skin type can be dry, normal, or a combination and still be acne-prone.
This is because sometimes the products you use strip your skin off of its natural moisturizers.
When cosmetic products damage your skin's acidity level and moisture production, your sebaceous glands are forced to produce more oil in an effort to hydrate themselves. This increases your chances for clogged pores and, eventually, acne.
While having acne-prone skin is mainly determined by your genes, there are also external factors by which you can acquire it. Therefore, there are also superficial means with which you can control it.
For starters, a good skin care regimen is necessary to remove excess oil, dirt, and sweat, which provide sustenance for acne-causing bacteria.
The foundation of every effective skin care regimen is thorough cleansing.
Acne-prone skin especially requires a deeper cleanse to clear out the build up in your follicles.
But cleansing of acne-prone skin requires more than just soap and water. It is important that you also choose only the best cleanser for your acne-prone skin.
How To Choose The Best Cleanser For Acne-Prone Skin​
Avoiding the surge of zits can be quite an ordeal if you have acne-prone skin, but with the right cleanser, you can manage your breakouts and prevent them from coming back.
When choosing a cleanser for acne-prone skin, ask yourself these questions:
1. Is It Too Aggressive?​
Although washing your skin with strong cleansing solutions may sound like a good idea, you must understand that it can strip your skin of its top layer and lipids. This makes the skin susceptible to acne-causing bacteria.
It can also dry your skin and bring it to an overproduction of sebum, which only worsens the condition of acne.
A good cleanser must be powerful enough to remove deep-seated oil and dirt from your skin, but gentle enough not to cause further damage to it.
We recommend that you pick a cleanser that is alcohol-free and is not too alkaline and contains an acid mantle at a 5.5 pH balance.
2. Is It Abrasive?​
While exfoliating the skin is recommended to slough off dead skin cells, it is not recommended if you have acne-prone skin.
Some cleansers contain microbeads---microplastics that can be too harsh on your skin. They can create miniscule tears that can introduce acne-causing bacteria into your skin.
We recommend that you opt instead for chemical exfoliants that can get deeper within the layers of the skin and even promote healthy cell regeneration.
The two most popular chemical exfoliants are alpha-hydroxy acids (AHA) and beta-hydroxy acids (BHA).
Chemical exfoliants, such as glycolic acid, lactic acid, and salicylic acid, penetrate the upper layer of your skin and get rid of dead skin cells that are trapped in your pores while helping the skin repair faster.
3. Does It Contain Harmful Ingredients?​
Research shows that two out of 10 ingredients in skin cleansers are industrial chemicals, meaning they are not intended for use on your skin.
Ingredients such as sodium lauryl sulfate and sodium laureth sulfate are sometimes added to cleansers because they act as emulsifiers, a thickening agent, that help remove oil.
However, these are synthetic detergents that can harm your skin barrier, especially if you are acne-prone
Most cleansers also contain parabens, a widely used preservative in cosmetic products. Parabens has been linked to the skin's premature ageing and increased sensitivity to ultraviolet rays.
We suggest that you choose cleansers that are sulfate-free and parabens-free. They do not lather as much but may be gentler and safer to use on your skin.
What Are the Benefits Of Using Cleanser For Acne-Prone Skin?​
Cleansers are especially formulated to gently remove dirt, excess sebum, and dead skin cells. This is especially beneficial to acne-prone skin.
Using high-grade cleansers on acne-prone skin will help decrease your chances of an allergic reaction that can aggravate your acne, because they do not contain ingredients that may irritate your skin.
Cleansers also work in restoring the acidity (pH) balance of your skin. This helps keep acne at bay by maintaining your skin's natural moisture and protective barrier that ward off bacteria.
A balance in the pH level of the skin also decreases its risk of sun damage and premature ageing.
How To Maximise The Benefits of Cleanser For Acne-Prone Skin​
It is important to choose only the best cleanser for acne-prone skin. However, there is much more to do than just wash your face with the right cleanser.
Therefore, it is necessary for you to also know how to properly use cleansers to maximise their benefits on your acne-prone skin.
1. Allocate Time​
How often you wash your face really depends on your lifestyle, but the cardinal rule is to wash to cleanse your face on three occasions: morning, evening, and every time you expose your skin to sweat and pollutants.
A deep cleanse in the morning removes dead skin cells and oil that have been lying on your skin the entire night while you were sleeping.
Washing in the morning also prepares a clean canvas that will properly absorb products that you apply on your skin.
You also have to wash your face in the evening to remove the dirt, grime, and particulate matter that accumulated in your pores during the day.
It is also important that you remove traces of sweat after strenuous activity such as working out.
Sweat carries along the buildup of dirt in your pores, which is a good thing. However, if it settles back into your skin, it results in acne.
2. Alternate the Use Of Products​
While most facial cleansers promise to address more than a single skin condition, it is better to alternate between two products: a regular gentle cleanser and a formulated one.
Your regular gentle cleanser will stabilize your skin and condition it for a more intense treatment using your formulated cleanser.
Meanwhile, your other cleanser must be especially formulated to target specific problems of your acne-prone skin.
Alternating between the two will also help avoid allergic reactions to the more potent cleanser as the milder solution will help soothe your skin.
Try cleansing your skin with a formulated cleanser three times a week in the evening and your regular cleanser on the remaining days of the week.​
3. Avoid Friction​
One of the common mistakes that we often commit when cleansing the skin is using a washcloth.
While using a washcloth can help exfoliate your skin, it can also cause your skin's natural mechanism into overdrive, thus speeding up oil production.
Avoid too much friction; instead, massage your face with your bare fingers while washing with your favorite cleanser.
Product Reviews: Top 5 Best Cleansers for Acne-Prone Skin​
---
Contained in a sturdy white plastic pump dispenser, CeraVe Foaming Facial Cleanser is a gentle, non-irritating formula that removes dirt, excess oil, and dead skin cells, which makes it number one on our list of best cleansers for acne prone skin.
With the consistency of a transparent runny liquid, a dollop of this cleanser produces a light lather that removes makeup and other impurities from your face without a hint of residue.
It contains niacinamide, a skin-restoring agent that visibly improves the appearance of enlarged pores and a weakened skin surface.
It also contains vital ceramides that promote the healthy function of your skin barrier and helps it retain moisture.
Your acne-prone skin will benefit from its hyaluronic acid component which acts as a filler that fills in acne scars, making it less noticeable.
Hyaluronic acid also hydrates your skin, making it less prone to excessive oil production and breakouts.
Its drawback, however, is that it contains parabens, which are said to spur the growth of breast cancer cells.
---
Packed in a biodegradable pump bottle, Body Merry Glycolic Acid Exfoliating Cleanser has alpha hydroxy acid that cleanses your pores and exfoliates your skin.
It contains jojoba beads that naturally and gently sloughs off dead skin cells along with other deep-seated dirt from your follicles and avoids the growth of pimple-causing bacteria.
This cleanser also promotes a healthy glowing complexion by combining the nourishing properties of different plant extracts: cucumber extract soothes your skin; olive oil moisturizes your skin; and tea tree oil aids the regeneration of skin cells and their healing.
The kojic acid ingredient brightens dark acne scars and evens out skin tone, however, it may cause an allergic reaction.
---
A formulated gel cleanser that comes in a plastic pump container, Murad Acne Clarifying Cleanser has a special time-released medication that remains active for several hours, even after rinsing.
Aside from washing away pore-clogging grime, oil, and other irritants, it has encapsulated salicylic acid that helps reduce acne and prevents future breakouts.
It also has green tea extract that enhances the power of this cleanser's other active ingredients to calm and soothe your inflamed skin.
Its menthol scent is refreshing but may also be a bit off-putting depending on your preference.
---
Mario Badescu Acne Facial Cleanser made our list of the best cleansers for acne-prone skin because it's especially formulated for acne-prone and acne-erupted skin.
We love that it contains salicylic acid that helps deeply cleanse the pores and prevent acne from setting in.
It also has a blend of botanical extracts, including chamomile and thyme, to help improve the condition of your inflamed skin and restore its moisture.​
Another thing we like about this product is that it contains Aloe Vera, which is famous for its effectiveness in treating acne, fighting the signs of aging, and reducing the visibility of stretch marks.
We've tested this cleanser and discovered that depending on the severity of your acne, it may sting a little.
---
LAVO Clarifying Facial Cleanser is an advanced gel cleansing formula that comes in a sleek 6 oz clear white bottle.
It contains glycolic acid, salicylic acid, and lactic acid that work for the total prevention and treatment of acne.
Its active ingredients are alpha and beta hydroxy acids, which exfoliate dead skin cells to prevent your pores from clogging.
It also has vitamin B and botanical extracts that regulate the production of oil to reduce breakouts.
Finally, it contains watercress extract that is rich in antioxidants and vitamins A, C, and K, which promote cell renewal and repair skin damage.
While its minty fragrance may be soothing, it may also be repelling, depending on your personal preference.
The Bottom Line
CeraVe Foaming Facial Cleanser is your best cleanser for acne-prone skin. From prevention to cure, this cleanser works double time in removing impurities from your face and in restoring the vital nutrients that your skin needs.
It also helps minimize pores, diminish scars, and promote cell renewal to improve the appearance of your skin.
More importantly, it improves your skin's barrier to help avoid future breakouts from exposure to free radicals and other pollutants.
Best of all, you can use CeraVe Foaming Facial Cleanser both on your face and your entire body for an overall cleanse that will balance out your skin tone and and skin texture.​