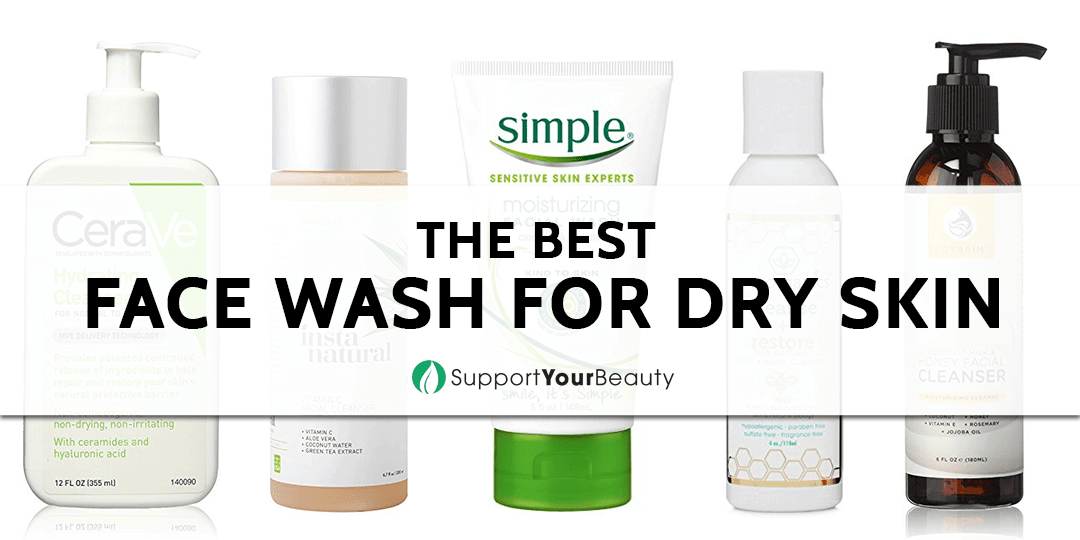 The Best Face Wash For Dry Skin – 2018 Reviews & Top Picks
Frustrated with products that just don't work the way you want? You need to catch up with our advice and the best face wash for dry skin.

Having dry skin is a common condition that plagues many adults, especially those who live in colder regions.
While many people with dry skin are now using great creams and moisturizers to soothe their skin, very few have found the right face wash that will clean their skin but won't leave it feeling stripped of its natural oils.
Finding a good face wash for dry skin may take a lot of trial and error, as some ingredients that claim to be moisturizing may cause skin irritation or redness for some.
Moreover, some face washes that are labeled "moisturizing" or "hydrating" fail to deliver. This is why we've done the work to give you the top 5 best face washes for dry skin.​
More...
Quick Overview: Our Top 5 Best Face Washes for Dry Skin
OUR TOP #1 PICK - CeraVe Hydrating Cleanser gets the top spot on our list of the best face washes for dry skin as its special ingredients penetrate the skin and keep it moisturized throughout the day.
OUR TOP #2 PICK - The second spot on our list belongs to InstaNatural Vitamin C Facial Cleanser. This face wash is made with organic and natural ingredients to hydrate thirsty skin effectively.
OUR TOP #3 PICK - Number three on our list is Simple Kind to Skin Face Wash. It helps maintain the skin's natural barrier layer, so skin is kept supple and moisturized.
OUR TOP #4 PICK - Next is Era Organics Natural Face Wash. This natural facial wash gently cleanses dry skin and may even work for sensitive skin.
OUR TOP #5 PICK - Last, but not least, is Foxbrim Coconut Milk & Honey Face Cleanser. This face wash thoroughly cleanses skin while nourishing it with natural and organic ingredients.
What Causes Dry Skin?
Dry skin is a skin problem that may not cause as much anxiety as cystic acne or psoriasis, but it can be uncomfortable when not treated properly.
Anyone with dry skin knows that skin in dire need of moisture means having itchy, flaking, rough, and tight skin that looks red or gray.
In some extreme cases, dryness leads to cracked skin, which may even bleed.
While diet and weather conditions may play a huge part in a person's skin condition, having the right products on hand may also help to alleviate the problem.
But what causes dry skin in the first place?
Some of the most common causes of dry skin include cold weather. As the temperature drops, skin can get dry and itchy.
Heat from artificial sources of warmth, such as space heaters and central heating, can also result to dry skin.
Moreover, taking long, hot showers or baths can sap the moisture out of your skin.
Swimmers are also prone to this skin condition as the chlorine in swimming pools can be very harsh and drying.
The products that you use to clean your skin can also contribute to dryness. It has been proven that harsh soaps and shampoos can strip your skin's natural oils, leaving it dry, tight, and itchy.
How To Tell If You Have Dry Skin​
If you suspect that you have dry skin but aren't sure about it as your skin doesn't feel tight, other indications tell you that you may need to moisturize your skin.
If your skin looks dull, then it's likely that you have dry skin. A well-moisturized skin has a slight sheen to it and looks as though it's glowing.
Another way to tell that you have dry skin is to check your makeup. If it's cracking or caking, this could be a sign that your skin needs moisture.
Having small pores that feel tight or visible lines on your face are also one signs that you have dry skin.
How To Care For Dry Skin​
When it comes to caring for dry skin, the main thing to remember is not to overdo certain activities.
For instance, if you love taking long hot showers or baths, keep in mind that while being relaxing, these can strip your skin of its natural oils.
Opt for shorter showers, and use bath products that are specially designed to add moisture to skin.
Don't over exfoliate or over cleanse your face. While you may love that squeaky clean feeling, over cleansing can lead to moisture loss.
Keep the air in your home moist. Use a humidifier and set it at 45% to 55%. Keep the temperature at 68 degrees Fahrenheit.​
Lock in moisture with creams or lotions. These are particularly effective when used right after cleansing or after a shower.
Finally, pick a face wash that will not only clean your skin but will nourish it with moisturizing ingredients.
Hydrating cleansers that contain natural plant oils are incredibly soothing to parched skin.
Anything with Hyaluronic acid or any other humectant will also work, as it draws moisture to the skin and locks it in.
To use, just create a creamy foam and massage into wet skin with your hands.
If you're not wearing makeup, you can use your hands or a soft washcloth to massage the cleanser into your face before rinsing it off.
To take off stubborn foundation and mascara residue, you can use an oil-based cleanser before using your face wash to get rid of any trace of makeup.
Doing a double cleanse means that you won't have to scrub too hard to get dirt and makeup off your face. Keep in mind that too much scrubbing can irritate dry skin.
Product Reviews: Our Top 5 Best Face Washes for Dry Skin​
---
This cleanser got the top spot on our list of the best face washes for dry skin as it provides all day hydration to soothe dry, itchy skin.
The CeraVe Hydrating Cleanser has a pH level of 5.5, which means that it's less likely to dry out skin.
Ceramides prevent moisture loss and keep skin hydrated and supple, while hyaluronic acid attracts moisture into the skin and locks it in.
This cleanser also contains glycerin, which may help improve wrinkles and fine lines over time.
We love that this face wash comes in a no-frills bottle and that it has a pump.
The texture of this cleanser is very similar to that of a very runny face lotion, and it didn't lather when we mixed it with a bit of water and rubbed it between our hands.
This face wash is more of a milky cleanser than a foaming wash, so this may not work for you if you want something that produces a thick foam.
It did make our face feel clean and hydrated, but the one thing that we didn't like about this product is that it didn't do a great job in taking our makeup off.
We didn't use a moisturizer after cleansing to see its full effect, and to our surprise, our skin felt supple even without a drop of our favorite facial lotion.
---
Next on our list of the best face washes for dry skin is InstaNatural Vitamin C Facial Cleanser.
We love products that don't have parabens, sulfates, mineral oil, or synthetic dyes, and this face wash gets points for not having any of those potentially harmful ingredients.
What it does have is vitamin C, which protects skin from free radical damage. It also contains coconut water and aloe vera, which deeply hydrate skin.
Meanwhile, green tea extract has antioxidant properties that may help improve signs of aging. Sugar cane extract has lactic acid that can leave skin feeling soft and smooth.
Cucumber fruit extract has astringent properties, but it's also very moisturizing to the skin.
We loved this facial wash's fresh citrus scent, and it's also very gentle on our skin. The translucent formula lathered up well, and we love how a little goes a long way.
The only thing that we didn't like about this face wash is that it caused a slight stinging sensation, but it went away minutes after we rinsed it off.
---
A great face wash can be used once or twice daily without irritating skin; this is what made Simple Kind to Skin Moisturizing Facial Wash our number three pick on our list.
Enriched with bisabolol that has anti-inflammatory and moisturizing properties, this face wash helps to keep skin clean and hydrated.
Pro-vitamin B5, which belongs to the B-complex vitamin family, acts as a skin moisturizer and helps to keep skin soft and smooth.
It also deeply hydrates and helps skin stay moist by absorbing moisture from the air.
Meanwhile, the vitamin E in this facial wash helps improve skin texture and keeps it soft while fighting the premature signs of aging.
We used our hands to work a small amount into a lather, and we applied the soft foam to our face.
After using this for a few days, our skin felt cleaner and smoother than before.
However, despite its moisturizing ingredients, our skin still felt a trifle dry after cleansing, so we remedied that with a thin layer of moisturizing cream.
---
This organic face wash made it to the number four spot on our list because it's perfectly balanced to our skin's 5.5 pH level.
The pH level of the skin refers to how alkaline or acidic it is. Our skin's acid mantle, which is made of sebum and lactic and amino acids create the skin's pH level, which is at 5.5 pH.
To keep skin healthy, anything that comes in regular contact with the acid mantle of our skin should be balanced to our pH level, and this is true for Era Organics Face Wash.
Apart from being perfectly balanced to our skin's pH level, this face wash is not only ideal for dry or damaged skin, but it may also work for those with acne, eczema, psoriasis, and dermatitis.
It contains Manuka Honey to help heal wounds and infections, as well as organic aloe vera gel, which may soothe irritated skin.
This face wash is laced with vegetable-derived glycerine, which is a natural humectant that can seal in moisture on the top layer of the skin.
We love how this cleanser calms our reddened skin, and it also moisturized our face. It didn't create a lot of suds like other conventional face washes, but it did take off our makeup.
---
Last on our list of the best face washes for dry skin is Foxbrim Coconut Milk & Honey Face Cleanser.
Made with organic and natural ingredients, this face wash contains coconut milk which has vitamin C to help maintain the elasticity and flexibility of the skin. It also keeps skin firm.
Meanwhile, honey acts as an antibacterial agent, which makes it an excellent ingredient for fighting acne.
Jojoba oil heals and moisturizes the skin, keeping it soft and supple.
We love that this face wash is cruelty-free and that it uses sustainably sourced ingredients.
It has a potent honey and coconut scent, which may not work for you if you're not a fan of strong smells. It left our skin refreshed and hydrated, but it also left a slight film on our face.
The Bottom Line
For its no-frills approach to skincare, 5.5 pH level, and its ability to cleanse skin without drying it, CeraVe Hydrating Cleanser is our top choice for the best face wash for dry skin.
It's trio of ceramides, hyaluronic acid, and glycerin work together to keep skin hydrated, and leaves skin fresh and clean.
We're also fans of how this face wash keeps skin moisturized throughout the day.
Apart from our top pick on this roundup, all the face washes on this list may help you get clean skin while nourishing it with moisturizing ingredients.​