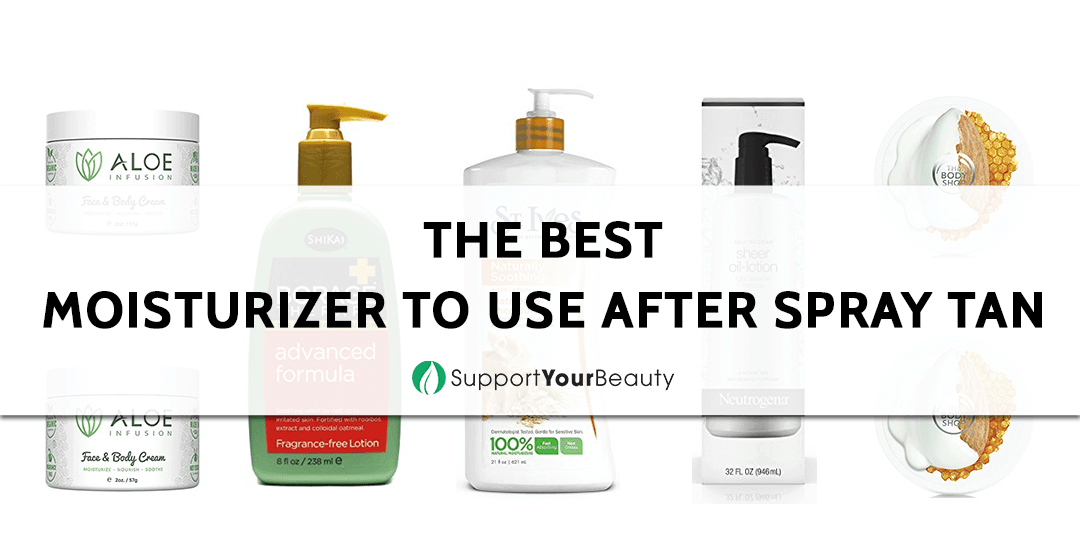 The Best Moisturizer To Use After Spray Tan – 2018 Reviews & Top Picks
In order to help you enhance and preserve the looks of your bronzed skin, we're presenting our list of the best moisturizers to use after a spray tan. These products were carefully evaluated based on their active ingredients that can help to provide softness and smoothness, all while prolonging the life of a fresh tan. We believe these products are the best on the market that will fit your skincare needs.
We can choose whether we want to achieve a spray tan by doing it ourselves, or trust the professionals.
Regardless of the method, the trickiest part comes with maintenance.
Further on this article, we are going to reveal our precious tips on before and aftercare. But before we proceed, we can't wait to share with you our top picks for this category.
More...
Quick Overview: Our Top Picks of the Best Moisturizer to Use After Spray Tan
OUR TOP #1 PICK - The St.Ives Nourish & Soothe Body Lotion, Oatmeal and Shea Butter spots our first place. Among our favorite features is that it combines Glycerin, Soybean Oil and Dimethicone. All of these can penetrate through a different level of the skin. Soybean Oil can absorb deeply to nourish, while Glycerin draws moisture to the surface, where Dimethicone traps it in.
OUR TOP #2 PICK - Our list continues with The Body Shop Almond Milk and Honey Body Butter. This product deserved our attention with the inclusion of Glycerin, Soybean Oil, and Shea Butter. Their action is similar to the compounds of our best choice. In this formulation, though, the moisture-trapper is Shea Butter.
OUR TOP #3 PICK - Next, we have selected the Neutrogena Body Sheer-Oil Lotion for Dry Skin. We enjoyed its subtle and clean scent a lot. We were also impressed with the quick soaking into the skin. We believe that is possible with the help of Glycerin and Sesame Seed Oil.
OUR TOP #4 PICK - Our fourth best pick is the ShiKai - Borage Therapy Advanced Formula Lotion. We like this lotion because it is free of any compounds that can be harmful to the appearance of a fresh tan. We also like that it makes use of some not so widely spread natural ingredients, such as Rooibos Extract and Borage Seed Oil.
OUR TOP #5 PICK - And finally, the last product that made it to our list is the Aloe Infusion Face & Body Moisturizing Cream. Even though it ended up last on our roundup, it is the lotion which has the highest antioxidant properties. We also find it as the potentially most beneficial one to address the signs of aging.
Every Beautiful Tan Starts With Exfoliation
The skin needs more time to become even and clean of all the dead cells.
It takes approximately a week after a whole month of constant scrubbing, so that the skin can be calmed. It has to be relieved, and ready to suck up all the pigment.
About a month prior, you can begin exfoliating up to three times a week. Overdoing this can make the skin too vulnerable, and even lead to inflammation or redness.
And since that process is going to be repeatable, you may want to look for products that are free of possible irritants. Opting for natural and botanical enriched exfoliants can be beneficial.
Benefits of Hydration for Tanning
Next, don't you dare skip on hydration. And when we say hydration, we mean it in every way. Drink plenty of water to help your body recover new healthy skin cells fast.
The absolute minimum is eight glasses per day. For best results, try to limit the water intake for about half an hour before, and at least one hour after your meals.
If you drink liquids prior to consuming food, that dilutes the acids our body uses for digesting.
Seemingly, if you drench your thirst right after munching on something, that weakens the action of those same acids.
So the food we have just swallowed remains undissolved and gradually starts to release toxins due to its fermentation.
You can also limit the intake of processed sugars, fried food, and salt. The first two are related to spiking high levels of insulin, while the latter is connected to holding in excessive liquids.
On the one hand, you need to stay hydrated, while on the other hand, you have to prevent overaccumulation of water. To put this simple, imagine it much like going to the gym.
There, we strive to sweat off as much as possible to throw away toxins. Though simultaneously, we keep drinking plenty of water to fill in the gaps and restore the balance.
If you have too much water trapped in your body, it keeps looking for a way to go out, as it is full of unnecessary elements.
Provided your body is free of stagnant water, and freshly daily hydrated, that can help to both prolong the life of a spray tan and enhance its radiant and natural look.
However, if you forget to hydrate well, that will make the skin more prone to flaking and drying out, regardless of all the suitable cosmetics you might be using. So what about moisturization?
Ingredients To Look For When Choosing The Best Moisturizer To Use After Spray Tan
Just like exfoliation, it is an absolute must for achieving a sun-kissed glow. Then again, it has to be performed regularly, and not prior to the tanning session.
During this period, we recommend you to avoid products containing alcohols and acids.
Natural alternatives, such as Coconut Oil, Avocado Oil, Shea Butter, Macadamia Oil, Glycerin, and Aloe Vera are on the yes list.
Silicones can be good for maintaining the looks of a tan but not for the preparation period. Exercising and sweating off are highly not recommended for the after-tan period.
On the contrary, physical activity before your session can help to work wonders for the excess liquids and free your body from toxins.
Then, skin moisturizing cosmetics is the ultimate staple in accelerating and preserving the color. We are eager to meet you with our list of the best moisturizers to use after a spray tan.
Product Reviews: Our Top Five Choices of the Best Moisturizer to Use After Spray Tan
---
The St. Ives Nourish & Soothe Body Lotion, Oatmeal and Shea Butter heads our roundup for the best moisturizers to use after spray tan.
We love how it soaks right away to nourish both dry and oily areas.
Glycerin is an active ingredient which is known for its skin-moisturizing and blemish-treating abilities.
Oatmeal Extract contains beta-glucan which can help to form a fine film over the skin. It penetrates deep to provide moisture and then seals it inside to prevent dryness.
Though acids and alcohols are on the prohibited-tan-ingredients list, that doesn't refer to the Stearic Acid and Cetyl Alcohol.
Stearic Acid is used to provide a smooth application, as it is an odorless, wax-like compound. Cetyl Alcohol is helps to condition and soften the skin, being abundant in fatty acids.
We concluded that this lotion might be better suited for humid climate or summertime, though.
---
The Body Shop Almond Milk and Honey Body Butter is the lotion that grants the second position for this roster.
We were impressed with the thick and creamy consistency. Anyway, we love that it soaks in entirely rather than leaving some unpleasant residue.
Due to the rich texture, we believe it might be better suited for the cold, winter months. Shea Butter is a unique composition of natural vitamins and fatty acids.
It can nourish and remedy the skin by protecting its natural oils.
Meanwhile, Sweet Almond Oil is one of the compounds that are most similar to the oils in human skin.
It can immediately absorb, while providing smoothness and relief to all skin types. We were delighted by its combination with Honey.
It serves to increase tissue regeneration, being a humectant and an anti-oxidant element. Due to the thick texture of the body butter, it might not be the best moisturizer for the facial area.
Upon testing it out, we notice that our makeup did not stick well after application.
---
Our third position for the best moisturizers to use after spray tan is spotted by the Neutrogena Body Sheer-Oil Lotion for Dry Skin.
We fell in love with the rapid absorption and the non-sticky feeling after use. We also like the scent, which is almost barely-there.
Glycerin is the star ingredient, similarly to our first choice. But instead of Soybean Oil, we distinguished Sesame Seed Oil.
Sesame Seed Oil is amongst the natural moisturizers that soak in very quickly and don't tend to leave a residue behind.
Isopropyl Myristate is referred to as skin-enhancer. It is an emollient which is often used in formulations for providing proper absorption.
As to Magnesium Aluminium Silicate, though it sounds straight out of a chemistry class, it is derived from pure clay.
That naturally occurring mineral is implied as a thickening agent that prevents the consistency from becoming runny.
We think this product might not work fine for regions with extremely dry or windy weather. We highly appreciate that it did not turn us out sweaty when preheated, though.
---
Now for our next best pick, our team went through long debating before we put it on this position.

Rooibos Extract is packed with Vitamin D and Zinc. It has high antioxidant properties and helps to protect the skin.
Then, Borage Oil is yet another intriguing compound that may not be found on many labels.
It can provide high levels of the so-called gamma-linolenic acid which can trigger anti-aging mechanisms.
That acid can also aid in treating various skin disorders, as it can correct the deficiencies of skin lipids.
Both Safflower Oil and Jojoba Seed Oil have very low comedogenic ratings. That means they can help to smooth the skin while preventing the appearance of blemishes.
Due to the natural compounds, the liquid can easily become thin or runny. We encourage you not to leave it exposed to sunlight or high temperatures.
---
And as the curtain falls, the last product that made it through our selection is the Aloe Infusion Face & Body Moisturizing Cream.
The first things we notice upon trying it out was that it doesn't leave a greasy residue. Moreover, we were glad that it did not require reapplication.
It helps to create a subtle, invisible barrier over the surface of the epidermis. Rosehip Seed Oil consists of over 70 percent fatty acids.
It is also rich in Vitamins C and E which can help to combat environmental stressors.
Kukui Nut Oil is yet another source of fatty acids. It is often used in massage therapy due to its superior moisturizing properties.
As to Aloe Vera, it is utilized for its healing, calming and soothing abilities. It is also anti-inflammatory due to the presence of two hormones, namely Gibberellins and Auxin.
One of the main downsides we experienced with this product, is that its moisturizing effect is not long-lasting.
The Bottom Line
Attaining a beautiful, even, and natural tan can be challenging.

While on our quest to be your beauty guides in the vast ocean of products, we have evaluated the best moisturizer to use after a spray tan.

Our top choice has become the St.Ives Nourish & Soothe Body Lotion, Oatmeal and Shea Butter.

We like that it can suit all skin types and help to soothe the skin by making its texture velvety smooth. Most importantly, we did not find a trace of any elements that can harm our tan.

That refers to all the products that made their way to our selection. But these are different, and we believe that's the best part.

Because so are we, and hope to be of your assistance while choosing the most appropriate product to enhance the radiant skin glow.