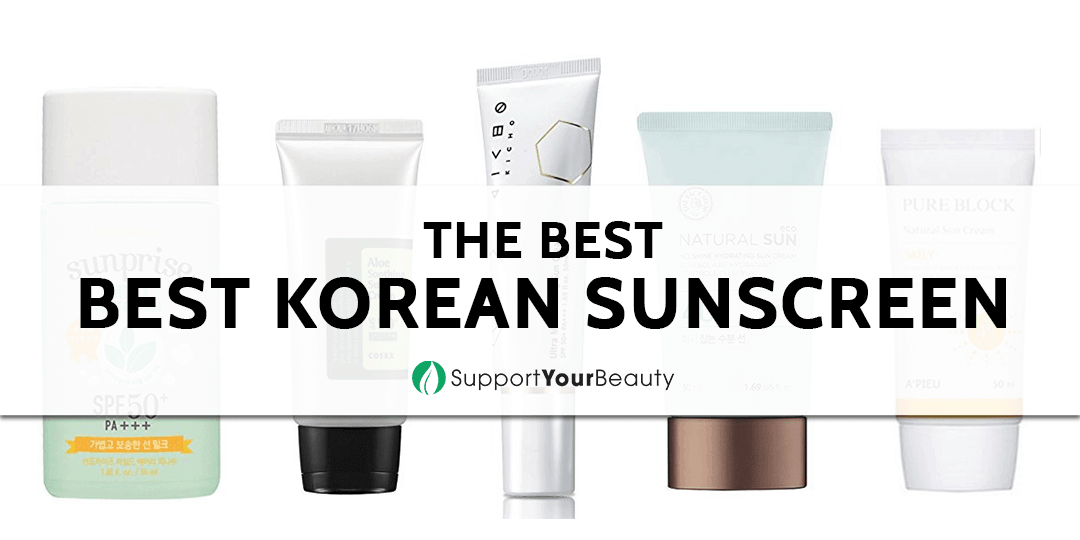 The Best Korean Sunscreen – 2018 Reviews & Top Picks
To continue with our mission to help you find the best products on the market, we're rounding up the best Korean sunscreen in this list. We've tested these products and found that they work great for sun protection. We believe these products can be a good addition to your beauty collection.
There are a lot of skin products today that are being developed to further cater to our needs. This depends on the kind of trend we follow.
Korean makeup has always been one of the crowd's favorites with their soft and dewy look and products with ingredients that tend to lean more on the natural end.
One thing that they do use often is sunscreen which they also use as a base for prepping their makeup. Sunscreens serve as moisturizer and protection from the sun.
This will help in keeping your makeup together and keep your face's skin from turning a shade darker than from your neck down.
Sun exposure can be very harmful to our health; it may seem like it's not a big deal since we can barely feel it but it can lead to dangerous health issues.
We may not feel it now, but these harmful effects go deep down than sunburn and inflammation. It can lead to premature aging, discoloration, and in extreme cases, even skin cancer.
We have carefully researched the best Korean Sunscreen that offers the best in terms of effectivity, longevity, and results.
Keep in mind that adding sunscreen to your daily beauty routine and not relying solely on moisturizers is a big plus to keep your face healthy and sunspot free.
More...
Quick Overview: Our Top Pick for the Best Korean Sunscreen
OUR TOP #1 PICK - Our top pick for the best Korean Sunscreen would be the Etude House Sunprise Mild Airy Finish Sun Milk. This product also has SPF 50+ and a higher protection rating. It is rather gentle on skin and non-drying.
OUR TOP #2 PICK - The second pick for the best sunscreen is the Aloe Soothing Sunscreen. It has an SPF of 50 and still with a high protection efficiency. One of its top ingredients is Aloe Vera.
OUR TOP #3 PICK - The third product on our list is the A'PIEU Pure Block Natural Sun Cream. It also comes with a creamy texture that applies weightlessly onto the skin. This sunscreen has an SPF of 45 and medium UV protection. Not only does this product shield your skin from the sun but it also serves as a good primer for makeup. It blends really well into the skin, so it does not make your makeup look cakey.
OUR TOP #4 PICK - The fourth-best sunscreen is the The Face Shop Natural Sun Eco Sebum Control Moisture Sun. With an SPF 40 and still with medium UV protection, this product moisturizes the skin well. It absorbs into the skin easily and smells great.
OUR TOP #5 PICK - The last but certainly not the least on our top pick is KICHO Ultra Moisturizing Suncream. This sunscreen has SPF 50+ and the highest protection rating. It can easily protect you from harmful UV rays. It contains Hyaluronic Marine Collagen that keeps your skin supple and hydrated.
What To Consider When Looking for the Ideal Korean Sunscreen?
It can be rather difficult to pick the right sunscreen especially when they are all laid out on a shelf with cute packaging.
Usually, we tend to just check the SPF of the product and whatever is the highest is enough.
Remember that Korean sunscreens are different from Western ones as Korean sunscreens focus on high SPF and in keeping the skin as moisturized as possible.
Some Western sunscreens have a tanning ingredient in them to help them achieve that desired tan.
Though both cater to different cultural demands, you will be able to know what to look for in a Korean Sunscreen.
We have to consider the benefits that each product has to offer, but first, we have to understand what the main concept of sunscreen is. Below is a short list of what to look out for when buying sunscreen.
Always check the SPF and the protection efficiency rating
SPF or Sun Protection Factor is the measure of how long the effectivity lasts. Usually, the higher the SPF, the longer it stays effective on the skin.
PA or the Protection Grade of the UV rays measure the SPF it comes with. There are three grades to an SPF which is PA+, PA++, and PA+++.
Remember that the main reason you have to check for the SPF is that the longer you stand under the sun, the more exposed you are to harmful UV rays. The Protection Guard rates on how much it can protect.
Say, for PA+, it offers the lowest UV protection while the highest, PA+++ offers the highest UV protection. So be sure you know what you are getting.
Is it water-resistant?
If you are only using the sunscreen for outdoor activities at the beach or pool, your best pick should be waterproof.
The main point for sunscreen is to keep you protected for as long as possible without it being wiped off.
Having waterproof protection assures you that you are still protected even during swimming. You won't also have to reapply after activities that make you sweat or anything that involves being submerged in water.
Consider Your Skin Type
Let's say you already have the sunscreen that is both high in protection and is waterproof, the question then is, is it safe for your skin type?
There are a lot of sunscreen products that are gentle to use on specific skin types.
You wouldn't want to risk anything by buying what seemingly is the right sunscreen only to breakout a few days after.
Choose a product that is designed for your skin's needs; this decision is heavily dependent on your skin type. If your skin is drying, a moisturizing sunscreen can do you good.
If your skin is oily, choose a product that absorbs quickly without the sticky feeling to avoid the heaviness after application.
Always perform a simple patch test on your skin to ensure that your chosen product is safe to use on your skin.
The Best Korean Sunscreens to Protect Your Skin Every Day!
Etude has always been one of the top makeup brands in Korea, with its cute packaging and wonderfully scented products. Their Etude House Sunprise Mild Airy Finish Sun Milk does not disappoint!
Aside from the high SPF it provides, the product glides well on to the skin without the greasy feeling. It has a matte finish which can be used to prime the face before makeup.
When used as a primer before makeup, it does not cake the products that are on top of it. Thus, it does its name justice, giving an Airy Finish after applying it to the face.
It only takes a small amount to do its job so if it's for everyday use, a little goes a long way. As for longevity, it can last the whole day.
You can reapply the product if needed but it usually stays on the skin very well.
Its ingredients include Zinc Oxide that aids in inflammation of the skin. It also has plant extract such as Lemon Peel Oil, Sunflower Oil, and Aloe Vera that keeps the skin feel fresh and moisturized from the inside.
This is also rather good for oily skin as it doesn't clog the pores and it does not cause breakout.
Although, it does have a bit of a grainy texture. It is also slightly scented however once it is blended onto the skin, the scent doesn't linger for very long and eventually disappears.
What we didn't like about this product is that it is not waterproof so reapplication may be needed. Another one is that it might produce a white cast with skin that has a darker shade.
This product would have to be completely blended into the skin to avoid the formation of white film. We also recommend this to people who have sensitive skin as its ingredients are gentle.
---
What's the best all-around natural ingredient? That's right, it's Aloe Vera.
Not only does this sunscreen have a high SPF, but it also provides protection before and after sun exposure.
You can apply before you go out so that you can stay protected, but it is also a good agent if you are already experiencing sunburn or peeling skin.
Aloe Vera soothes and keeps the peeling to a minimal by replenishing the burnt area. This product does not give you a white cast which is a plus, and it moisturizes very well.
However, it does have a slightly sticky feel to it afterward, and it does not dry very fast. This could also be due to the Aloe Vera as it tends to be sticky after skin contact.
We also do not recommend using this as a base for makeup as well as it could create a cakey effect and might block pores. This product is best when used alone so as not to feel too heavy on the skin.
---
Another sunscreen that delivers is the A'pieu Sun Cream. This product is non-greasy and blends very well onto the skin.
The cream itself has a heavy white tint to it but can easily be absorbed. It comes with fresh fragrance, and it is waterproof.
It moisturizes well and does its job in terms of protecting you from the sun. This product does not clog pores, and it moisturizes well. This formula is light, and it spreads very well.
Also, it is water resistant, so going swimming or doing water sports won't be an issue. Like all water-resistant sunscreens, you would have to reapply the product 80 minutes after being in the water.
However, it does give a slight white cast if not blended well. This product might also make your skin oily throughout the day even though it is non-greasy, especially for those who are prone to have oily skin.
If not shaken well before use, the oil ingredient tends to separate from the cream.
The product contains natural ingredients as well, it has Aloe Vera Extract, Berry Mixtures, and Watermelon extract. It is gentle to use on the skin especially because of the natural ingredients that are listed.
However, since the product might make your skin oily, it might cause you to breakout especially if you use this as a makeup base.
This totally depends on the sensitivity towards oil as there are types of skin that do not breakout when the face gets oily.
It is best to do a simple test on your skin to see if the oil production irritates your skin. Check out our guide here to learn how to find the most effective Korean products for your skin.
---
This product has an SPF 40 and is the lowest among our top five picks for the best Korean sunscreen, but it still delivers powerful protection!
It provides you the moisture that your face needs leaving your skin smooth, hydrated, and supple. It can also aid the sebum production on your face.
It has more of a satin-finish rather than matte which can give you a dewy look effect.
This sunscreen contains mild plant extracts such as Spanish Sage Seed extract and Cotton extract that gently works to keep your skin smooth from the inside.
The product is slightly scented and absorbs quickly into the skin. It leaves a white cast on your skin but it will fade after a while, and it is gentle on sensitive skin.
What we didn't like about the product is that the fragrance can come off as a bit strong, unlike other scented sunscreens that only have a mild scent.
It is not waterproof as well, and reapplication may be needed after water activities.
The product is lightweight and can be applied under makeup. It does not burn or irritate skin as it absorbs rather quickly. It also does not clog the pores that lead to breakouts.
Despite having the lowest SPF rating on the list, it still provides protection from harmful rays while keeping your skin from drying or from becoming flaky.
---
This sunscreen has the highest protection rating and SPF on the top list. Most of this sunscreens' ingredients is plant based such as Soybean extract, Sunflower Oil, Gingko Biloba, and a lot more.
All these ingredients revitalize and replenish skin, while keeping it look young and fresh.
When applied on to the skin, it absorbs quickly and does not leave a greasy feeling to it, making it a good primer before putting on makeup.
In fact, even applying only a minimal amount onto the skin goes a long way.
In terms of longevity, its effects can last throughout the day. What we liked about this product is that it does not leave a white cast after application and it blends smoothly onto the skin.
It also does not clog pores and cause breakouts which is a plus. This product can lock in moisture on to the skin, as well prevent it from becoming dry and flaky.
The only downside to this sunscreen is that it is not waterproof, so you might need to reapply the product if you take a dip in the pool or swim in the beach.
The Bottom Line
Your skin's protection depends on the best sunscreen you use which is why we recommend Etude House Sunprise Mild Airy Finish Sun Milk.
Its long lasting effect keeps your skin moisturized and protected throughout the day.
It does not clog your pores and blends smoothly onto skin. It can be used as a primer or it can be worn separately.
This product holds very well without reapplication so you wouldn't have to worry about applying it over and over again.
It contains just the right balance to keep you and your skin moisturized, smooth, and protected whenever you are under the sun.
Remember that wearing sunscreens is critical for protecting your skin and keeping it healthy. If you want to learn the most effective skin care routine, check out our step-by-step guide here.