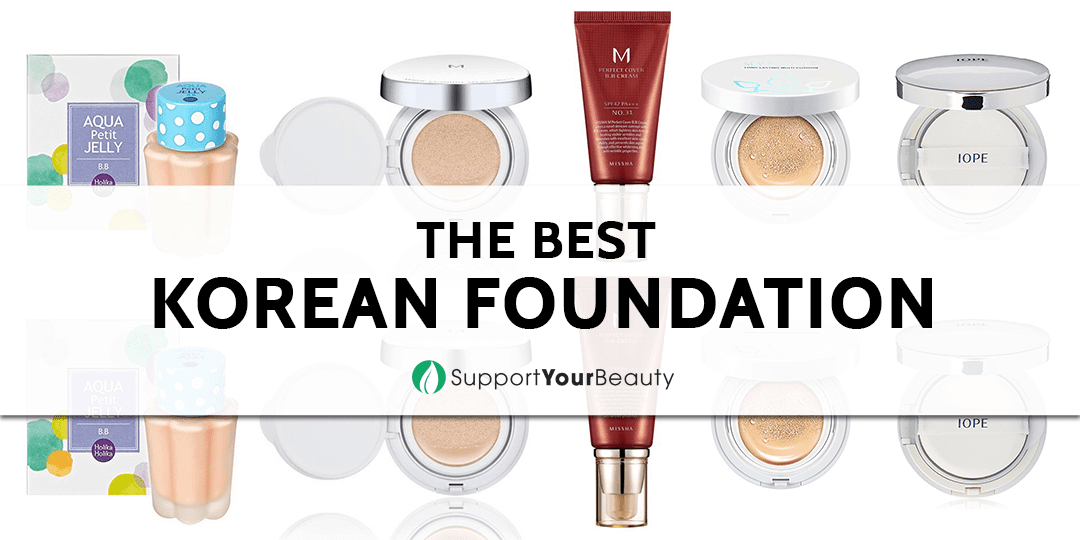 The Best Korean Foundation – 2018 Reviews & Top Picks
It's not a sin if you want to have it all! Share our excitement for the best Korean foundation. Strengthening the skin has never felt better!

The Western world has fallen for K-beauty, or Korean beauty, and now, beauty aficionados are trying to keep up with the Koreans in their search for the best beauty products, makeup techniques, and skincare regimens.
One trademark of Korean beauty is having flawless skin, and apart from an intensive, 10-step K-beauty routine, another reason why Korean women seem to glow from within is because of the skin foundation that they use.
Korean style foundation comes in many forms, but they all serve one purpose—to give skin a flawless finish that looks natural.
Here, we give you our list the best Korean secret tools that may help you achieve that beautiful glow.
At First Glance: Our Top Picks For The Best Korean Foundation
OUR TOP #1 PICK - Our number one pick for the best Korean foundation is Holika Holika Aqua Petit Jelly BB Cream. This foundation comes in a unique packaging, and it leaves skin with a pretty, matte finish.
OUR TOP #2 PICK - The second spot on our list goes to Missha M Magic Cushion. This lightweight base gives a dewy finish and protects skin from harmful UV rays.
OUR TOP #3 PICK - The number three spot goes to another Missha product, Missha M Perfect Cover BB Cream. This creamy foundation and skin care product in one gives excellent coverage that lasts all day.
OUR TOP #4 PICK - The next foundation on our list is Myconos Magic BB CC Moist Air Cushion Compact Korean Cover Foundation. It moisturizes dry skin and delivers sheer coverage, making you look like you're lit from within.
OUR TOP #5 PICK - Last on our list is IOPE Air Cushion Natural Glow foundation. It brightens and hydrates skin and gives a sheer and dewy finish.
Why Are Korean Cosmetics So Popular All Over The World?
If you're thinking about making the switch from your tried-and-tested foundation to a K-beauty brand, you're not alone.
In 2015, thousands of American women had discovered the allure of Korean cosmetics, and the total export value of Korean beauty products to the U.S. for that year alone was $52 million (source).
While young women have been initially drawn to Korean products' clever and cute packaging, many American ladies, as well as women from all over the world, can now say that they're loyal fans of a few Korean cosmetics, simply because they deliver great results.
Among the Korean products that have been welcomed with open arms in the West and other parts of the globe is the BB cream, which is a skincare product hybrid that serves as a makeup base while caring for skin at the same time.
Another innovative product that has fascinated women are cushion compacts—a nifty compact that houses a sponge which dispenses liquid foundation or BB cream with a push of a finger or a puff.
Many were drawn to search for the best Korean cushion compact, and the word for this amazing beauty product has been spreading from one happy user to another almost like a magical tale.
One reason why most women are making the switch to K-beauty is due to the Koreans' standard of beauty, which is reflected in their cosmetics.
While the rest of the world focuses on being fit and having a sharply-contoured face, Korean ladies prefer to have clear, glowing skin.
They generally lean towards a minimal makeup look that makes them look younger and healthier.
This standard of beauty appears to be more attainable for the majority of women around the world, and simpler to boot.
How to get dewy skin with makeup was also one of the top questions that beauty addicts have been sending off towards cosmetic experts.
And indeed, Korean dewy skin products have set up the whole makeup game to another level of naturally tender and healthy appearance.
Not everyone wants to spend 45 minutes on their daily makeup routine, and the simplicity and effectiveness of Korean cosmetics give women the tools they need to put their best face forward, without the hassle of applying a makeup case's worth of product to their face.
How to Extend the Benefits of Your Korean Beauty Product?
While most Korean cosmetics are somewhat similar to what's available in the U.S, there are some differences, particularly when it comes to foundation.
The most famous foundation is the BB cream, which stands for blemish balm. It combines the hydrating properties of a moisturizer, the sun protection of a sunscreen, and the coverage of a liquid foundation.
The BB Cushion is a hybrid of the BB cream, which is simply a cushion or a sponge saturated with BB cream and housed in a neat compact.
Meanwhile, CC cream offers light coverage while correcting sallowness or facial redness for a more even-toned complexion.
BB and CC creams are often the foundation of choice for young Korean women and men who just want a sheer wash of color and coverage for daily use.
Liquid and powder foundations are also available, but they are not as many or as popular as the cosmetics mentioned above, as Koreans are not fans of the powdery, overly matte look.
For all their skin-coddling properties and amazing coverage, the one thing that makes Korean lines of foundation far from perfect is their lack of deeper shades.
Usually, the deepest shade -- if it exists -- within a brand's product lineup would be a golden beige, which is nearly the same shade as Jennifer Lopez's complexion.
But whether you have just found the best Korean foundation for oily skin or the best Korean BB cream for dry skin, you don't have to just throw it away because it doesn't fit your skin tone precisely.
We're all smart and innovative girls out there-- just mix your favorite mismatch Korean discovery with another foundation (maybe your summer one, which is no longer suitable for the winter?).
And since Korean beauty tools are full of healthy elements, experiments can only get you closer to the professionals league!
The Best Korean Foundations For a Glowing Complexion
This water-based formula made it to the top of our list for its hydrating properties and matte finish.
It contains Aqua Mint Water, which is made up of different fruit extracts and Alaskan glacial water.
Alaskan glacial water is said to be one of the purest waters in the world, and when used as an ingredient in a cosmetic or a skincare product, it may help to deeply hydrate and soothe stressed skin.
Another exotic ingredient that this foundation has is caviar extract. It heals and prevents inflammation, and it may even help to minimize wrinkles.
The first thing that we noticed about this foundation is that it came in a flower-shaped bottle. It even has a blending sponge.

We were more than happy after testing this one out, even though it can't get the title for the best Korean foundation for dewy look. But for most of us, this wasn't a concern at all.
Upon twisting open its polka-dotted lid, we were glad to see that it came with a mini spatula to scoop up the foundation.
We scooped up a tiny blob and applied it to our faces with fingers. We found out that we had to work fast to blend it into our skin as it dries quickly.
This BB cream foundation left a soft, matte finish and it even covered our blemish marks.
It did appear a trifle light on our warm skin tone, so you may want to top it off with some face powder that's the same shade as your complexion to balance the foundation's pale cast.
---
Coming in at a close second on our list is Missha M Magic Cushion, which made the list for its long-lasting coverage and high SPF.
This amazing foundation has bamboo water, which hydrates and refreshes skin. It also has baobab tree fruit extract, which moisturizes and may also help reverse the signs of aging.
Witch hazel extract calms skin and has been used for centuries to help treat and prevent acne, redness, and oily skin.
On top of all that, this foundation contains SPF 50, which protects you from the harmful rays of the sun.
The compact comes with a sponge, and while it may be tempting to press the foundation-soaked cushion with your finger, it's better to use the sponge to pick up the fluid to avoid contaminating the product.
We applied the foundation using the sponge, and it dried down to a finish that is best described as a cross between dewy and matte.

And that's exactly why we think this product is among the best Korean foundations for combination skin.
The only thing that we didn't like about this foundation is that it has a tendency to settle into fine lines, so this may not work for aging or mature skin.
However, we give this foundation points for having four shades-- #21 (Light Beige), #23 (Natural Beige), #27 (Honey Beige), and #31 (Golden Beige).
---
There are many reasons why our number three pick on this list is a cult favorite, and why it's one of the best from the bunch for many women.
If you love the coverage of a conventional liquid foundation, and if you're looking for a product that can hide blemishes, minor discolorations, and at the same time, brighten your skin, then the Missha M Perfect Cover BB Cream may work for you.

Our first impression after trying it out sums up much like this-- best Korean foundation full coverage-- Check.
Enriched with gatuline, hyaluronic acids, and ceramide, this BB cream foundation moisturizes and may improve skin elasticity over time.
Chamomile and rosemary extracts soothe skin and are exceptional anti-inflammatory agents.
Rosemary has antiseptic properties and is known to disinfect and reduce swelling and puffiness of skin.
Meanwhile, chamomile has antifungal and antibacterial properties, and moreover, it eliminates redness and itchiness, making it suitable for people with allergies or sensitive skin.
This base has SPF 42, which is great, especially if you live in sunny regions.
The full-sized BB cream foundation comes with a pump, so it's easy to dispense the product, and it avoids waste.

In fact, we were so proud to find out a full Korean BB cream coverage and add it to this list.
We applied this with our fingers, and we noticed that it has a powdery, floral scent that's not at all unpleasant.
It gives a matte finish which turns slightly dewy midday, so you may need to apply a bit of translucent powder on top to keep things from getting greasy, particularly on the T-zone.
It comes in six shades and two sizes, and we're fans of how it hid the dark acne marks on our face.
---
Making it to the fourth spot on our list is this cushion foundation that gives skin a sheer wash of healthy color while providing enough coverage to blur dark spots and acne scars.
Myconos is a relatively new makeup brand in Korea, but it appears to be hitting all the right spots with its cushion compact.
This BB CC foundation is laced with olive oil, which provides a healthy dose of moisture to the skin. Betula alba juice, also known as birch extract, may help to purify and detoxify the skin.
Hyaluronic acid pulls and locks moisture in to keep skin hydrated, while propolis extract helps to speed up the skin's healing process and may reduce the appearance of wrinkles.
This foundation comes in a no-frills white compact, and we used the puff that came with it to soak up some of the liquid in the sponge.
We loved how it gave us a dewy finish, and if you want more coverage, you can apply more foundation to cover dark spots and acne marks.
We liked that it didn't turn oily and that it stays on quite well, even during hot days.
The one pet peeve that we have with this BB CC foundation is that it didn't have enough of the liquid inside the cushion, so it runs out fast, especially if you do several touch-ups in a day.
---
Our last pick on this list is IOPE Air Cushion Natural Glow. This cushion foundation has been a favorite of many Korean women of all ages as it offers sun protection and wrinkle care, in addition to its moisturizing and oil control properties.
It contains Siberia peptide 6 selection, which are peptide compounds extracted from six plant species that grow in extreme weather conditions in Siberia.
These six plants are Siberian saxifrage, Potentilla palustris Scopoli, golden root, Siberian fir tree, Siberian birch tree, and chaga.
These plant extracts work together to boost skin firmness and smooth skin. It also contains vitamins B5 and E to moisturize and make the skin radiant.
The cushion foundation comes in a sleek, pearlescent white compact, and it has a puff. The cushion itself has a honeycomb design which dispenses a generous amount of liquid.
It has a light and dewy finish, and we love how easy it was to blend.
This foundation may not work for you if you're looking for more coverage, but it does make skin look fresh and glowing.
The Bottom Line
For its water-based formula and its ability to give a clean and fresh finish, our top pick for the best Korean foundations is Holika Holika Aqua Petit Jelly BB Cream.
It gives a soft, matte finish that makes you look radiant and refreshed.
This foundation hydrates and soothes skin, and may even help to improve wrinkles.
It's clever packaging and creamy formula won us over, and we absolutely love how easy it is to wear every day.
If you're looking to make the switch to Korean beauty lines, all of the products on this list may give you the look of glowing skin, while improving and protecting your skin at the same time.