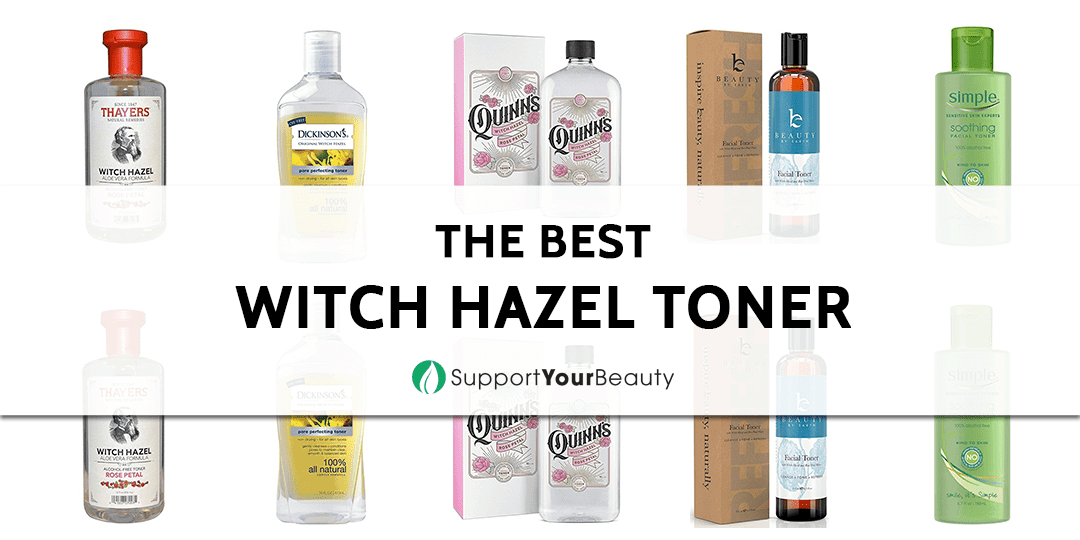 The Best Witch Hazel Toner – 2018 Reviews & Top Picks
As part of our goal of being your trusted source for all things skin related, we've gathered and reviewed the best witch hazel toner products. These products were carefully assessed by our experts based on their effectiveness in treating acne and improving other skin conditions including eczema. We believe these products can be a good addition to your beauty arsenal, especially when you're a fan of witch hazel.
People have different approaches when it comes to skincare.
Some believe that it's better to take preventative measures to avoid getting blemishes or dull skin, while others choose to take a lackadaisical approach and deal with them when the problems come up.
No matter what your approach to skincare is, it's important to choose products that work well for your skin type that contain effective ingredients to keep your skin at its best.
One of the most popular skin care ingredients is witch hazel, and this can be found in treatment gels, face washes, lotions, and toners to treat acne-prone and oily skin.
This natural ingredient has been proven to treat a host of skin problems, which is the reason why most people keep coming back to it after trying newer and trendier products.
Witch hazel is particularly effective when added to toners, as it not only refreshes the skin but imparts its healing benefits right after cleansing.
On that note, here is our list of the top 5 best witch hazel toners.​
More...
Quick Overview: The Top 5 Best Witch Hazel Toners
OUR TOP #1 PICK - Our number one pick for the best witch hazel toner is Thayer's Alcohol-Free Rose Petal Witch Hazel Toner. This contains non-distilled witch hazel, which makes it highly efficient in treating oily skin and acne. We also love that this toner is alcohol-free and made with natural ingredients.
OUR TOP #2 PICK -The next product on this roundup is made by a company that has been around since 1866. Dickinson's Original Witch Hazel Pore Perfecting Toner is a classic because it cleans and refreshes without overdrying, and it's gentle enough for even sensitive skin.
OUR TOP #3 PICK - The third on our list is Beauty by Earth Facial Toner with Witch Hazel and Rose Petal Water. It balances the skin's pH while hydrating and cleansing the skin. We love that this toner is paraben- and cruelty-free, and it's suitable for all skin types.
OUR TOP #4 PICK - Taking the fourth spot on our list is Simple Soothing Facial Toner. Witch hazel, chamomile, and Pro-Vitamin B5 work together to soften skin, tighten pores, and give you a healthier looking skin.
OUR TOP #5 PICK - Last but not the least is Quinn's Rose Water Witch Hazel Toner. We're fans of this toner because it not only cleanses oily skin, but it also locks in moisture to give you a supple complexion. It may also be used to treat sunburn.
What is Witch Hazel?
If you're not familiar with witch hazel, you may think that it's one of the ingredients that Harry Potter needs for his Potions class.
Indeed, this natural skin care ingredient has a lot of seemingly magical benefits for the skin that makes it such a popular remedy for many skin ailments and conditions.
Witch hazel is a medicinal plant which Native Americans relied on for fighting sores, swelling, and infections.​
The leaves, twigs, and bark of the plant are added to either alcohol or water to make a concentrated product called witch hazel water or witch hazel extract.
This liquid is then applied to the skin to reduce inflammation, heal wounds, and soothe inflammation. The Native Americans would also take it internally as a medicine for a cough, colds, diarrhea, vomiting, flu, and more.
The tannins in witch hazel extract can remove excess oil from the skin, and this component is also the reason why witch hazel is included in a lot of natural and over-the-counter acne treatments worldwide.
How Can Witch Hazel Toner Improve the Skin?
Though witch hazel toner has long been a favorite of people with oily skin as it can control oil, eliminate shine, and prevent acne, it can also be of help to those with non-oily skin types.
Those with psoriasis or eczema can benefit from witch hazel toners, as the ingredient can calm redness and soothe inflammation. However, it's important that the toner should not have alcohol, as it can exacerbate redness and make sensitive skin sting.
Even those with normal skin can enjoy using a witch hazel toner daily without fear of dryness. It can serve as a daily cleanser to remove makeup, everyday dirt, excess oil, and impurities from pollution without depleting the skin's moisture levels.
If you have large pores, you'll be glad to know that a witch hazel toner may help to unclog and refine enlarged pores, giving you a finer and smoother complexion.
Dry skin can also benefit from a witch hazel toner. By picking an alcohol-free formula that contains moisturizing ingredients, dry skin can be nourished and hydrated.
You may find that dullness or flakiness will be improved, resulting in a more radiant and glowing skin.
How To Use a Witch Hazel Toner
There are two ways to use witch hazel toner, and you can use it twice a day—when you wake up in the morning, and again at night as part of your nighttime beauty regimen.
First, wash your face with your favorite facial wash and lukewarm water. Rinse well and pat your skin dry.
You can splash some toner on your hand, briskly rub your hands together, then pat the toner into your skin. This is how some women do it, particularly those who follow the 10-step Korean skin care routine.
You can also do it the traditional way—get a cotton pad, place a few drops of toner on it, then swipe the pad all over your face to get rid of any residue.
Finish with a moisturizer that suits your skin type.
If your toner is alcohol-free, consider transferring the product to a tiny bottle with an atomizer so you can treat yourself to a refreshing mist anywhere you go.
Product Reviews: Our Top 5 Best Witch Hazel Toners
Our number one pick for the best witch hazel toner is Thayer's Alcohol-Free Rose Petal Witch Hazel Toner because of the multiple benefits that come from its natural ingredients.
Apart from non-distilled witch hazel extract, this toner also contains rose petal water which helps to maintain the skin's natural pH balance.
It also has anti-inflammatory properties that can soothe irritated skin.
Moreover, rose petal water may help to improve acne and other skin conditions such as dermatitis and eczema.
This product also contains organic Aloe Vera juice which naturally moisturizes and soothes skin. It may also help to heal skin problems such as psoriasis and acne.
We love that this toner is alcohol-free because alcohol can be very drying on the skin.
Though those with oily skin may think that this is a good thing, it's not—oily skin that is treated with products containing alcohol will overcompensate by producing more oil, resulting in a greasy complexion that's prone to pimples.
We're fans of this toner because it smells amazing, and it made our skin clean without stripping it of its moisture.
The cluster of acne that we had on our forehead also seemed to be improved after one week of using this toner.
Up next is a product that has been beloved in the U.S. for more than a hundred years.
Dickinson's Original Witch Hazel Pore Perfecting Toner has a cult following for several reasons, but we like it because it cleans out pores and makes skin look clear and refreshed.
This toner contains only two ingredients—14% natural grain alcohol, and the rest is witch hazel extract.
The witch hazel in this toner may help to tone pores, remove and balance excess oil, and may even help to reduce swelling.
Some women even keep this toner in the fridge as a refreshing pick-me-up on a hot day.
Meanwhile, the natural grain alcohol is naturally derived from Ethanol. This type of alcohol does not irritate the skin, nor does it aggravate acne.
The first thing that we noticed about this toner is that it has an earthy scent. If you prefer floral-scented products, this may not work for you, but if you can get past the smell, this shouldn't be a problem.
We love that it made our skin feel squeaky clean, and it made our normal to oily skin stay shine-free longer.
Taking the third spot on our roundup is a natural toner that can be used several times a day.
Beauty By Earth Facial Toner with Witch Hazel and Rose Petal Water is a treat for all skin types as it hydrates and cleans skin. It also soothes razor burn, irritation, and redness, so this may work for sensitive skin.
Apart from organic witch hazel extract, this product also contains organic aloe leaf juice that moisturizes the skin. Glycerin acts as a humectant to draw water into the skin and lock it in for lasting hydration throughout the day.
Rose Petal Water revitalizes dry, mature, and dull complexions. It also soothes sensitive skin.
We love that this toner comes in a spray, so it's easy to spray a fine mist of this product onto our faces if we need a hit of moisture anytime we need it.
We're also fans of this witch hazel toner because it works as a makeup remover. It took off the mascara residue from under our eyes, saving us from that dreaded "raccoon look."
The next toner on this roundup is 100% alcohol-free, and it helps refresh the skin without drying it.
Simple Soothing Facial toner contains witch hazel, along with chamomile, Allantoin, and Pro-Vitamin B5.
Chamomile extract helps to calm, moisturize, and tone the skin, making it suitable for dry and sensitive skin.
Meanwhile, Allantoin comes from the root of the of the comfrey plant and can stimulate the growth of healthy tissue and promote cell renewal. It helps to make your skin feel soft, smooth, and supple.
Meanwhile, Allantoin comes from the root of the of the comfrey plant and can stimulate the growth of healthy tissue and promote cell renewal. It helps to make your skin feel soft, smooth, and supple.
Pro-Vitamin B5 functions as a humectant that attracts and retains moisture. It may also relieve itchiness and pain and reduce redness.
We poured a small amount of toner on our hands and patted it all over our face to see if it will sting, and to our relief, we didn't feel a stinging sensation, proving that this product is truly alcohol-free.
It gave our normal to oily skin a clean and healthy look, and our faces felt moisturized with this toner.
It also worked for our colleague's sensitive skin, as she reported that this toner didn't cause any redness or irritation.
The last product on our roundup contains an organic blend of ingredients that may help treat minor skin irritations and acne, and it can even soothe cuts, bites, stings, and grazes.
It has also been used to treat more severe skin ailments such as canker sores, psoriasis, eczema, and others.
Quinn's Rose Water Witch Hazel Toner contains witch hazel, rose water, and aloe vera—a fantastic trio of ingredients that when combined, can address certain skin problems and may also work for a variety of skin types.
The aloe juice in this toner is extracted from certified organic filet of aloe vera, and this is often used as a home remedy to treat wounds, burns, and dry and flaky skin.
Rose water may also help moisturize dry skin. At the same time, it also offers antiseptic and astringent properties to treat acne-prone skin.
We love this toner's light rose scent which smelled very natural, and it left our skin feeling hydrated. However, it also imparted a somewhat sticky feel, which we did not like at all.
Our skin also turned greasy within an hour, so this toner may be better for dry skin.
The Bottom Line
For its ability to clean and refresh skin without stripping it of moisture, our pick for the best witch hazel toner is Thayer's Alcohol-Free Rose Petal Witch Hazel Toner.
It soothes and heals irritated skin. Moreover, it may even help to improve acne.
We love that it kept our faces oil-free, but it didn't leave our skin feeling dry or taut. Plus, the rose water in this toner made it smell amazing.
This witch hazel toner, as well as the other products on this list, may help give your clear, healthy, and fresher-looking skin.​