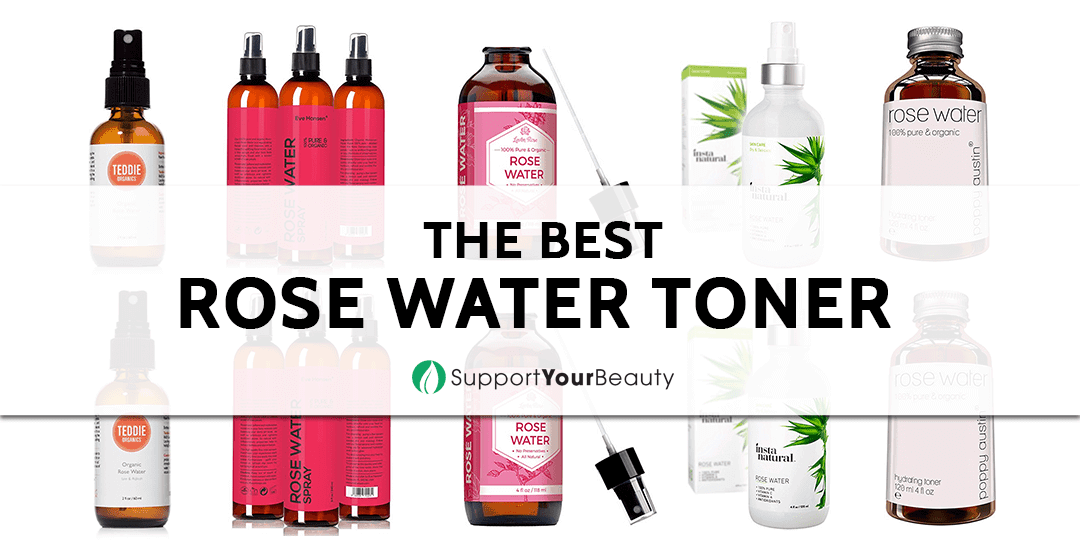 The Best Rose Water Toner – 2018 Reviews & Top Picks
In line with our goal of being your beauty expert, we're rounding up the best rose water toner products on the market. The toners in this list were carefully picked based on their effectiveness in helping you achieve healthy-looking skin. We believe these products deserve a permanent place in your beauty arsenal.
We have come into an age where technological advancements have resulted in progress in health, and every cell, every protein, and every process of the body is no longer a great mystery of the human anatomy.
Despite our modern lifestyle, we should never forget to look back to what nature has to offer. In fact, organic food is not only a trend but a way of life right now.
Organic products and ingredients are not only used in the kitchen; as a matter of fact, organic ingredients are also a favorite in skincare and makeup products.
One ingredient that has proven to be very popular is the rose. Known for its fragrant scent, products infused with roses are plentiful on the market.
To help you choose, we've reviewed and ranked our top 5 picks for the best rose water toners.
Let's take a look!
More...
Quick Overview: Our Top Picks for the Best Rose Water Toners
OUR TOP #1 PICK - For our top pick for the best rose water toner, we have Teddie Organics Rose Water Facial Toner. This toner is made from 100% Rosa Damascena and it is paraben-free.
OUR TOP #2 PICK - The second pick for our best rose water toner is Eve Hansen Organic Rose Water Spray. This product comes in big spray bottles that will help you maximize the precious rose water.
OUR TOP #3 PICK - Third on our list is Leven Rose 100% Pure & Organic Rose Water Toner. This rose water toner may also be applied to the entire body and even to the hair if you'd like to.
OUR TOP #4 PICK - Number four on the list is InstaNatural Rose Water Facial Toner. This toner may be used as a makeup remover and as a hair treatment as it helps revive damaged hair and gives your hair the body and volume it needs.
OUR TOP #5 PICK - Last but not least is our fifth choice, the Pure Rose Water Facial Toner by Poppy Austin. This facial toner is made from 100% Moroccan Rose and is distilled with pure mountain stream water.
What can a toner do for your skin?
If a toner sounds quite old-school, you are right. Toners have been around for decades, and truth be told they lost the favor of most users when newer skin care products came into the market.
But now when nostalgia sells best, the toner is making a comeback.
So, what is a toner?
Toners have the consistency of vinegar, but unlike vinegar, they are mostly water-based and are infused with active ingredients that may help address certain skin issues.
Dermatologists consider them as the second step of the cleansing process. It is mostly because the toner may help cleanse through excessive oil and remove dead skin cells that may be causing your face to look crepey or dark.
Since toners help remove the excess oil, there is a lesser chance of you experiencing a fresh wave of breakouts as there won't be unwanted sebum that will clog your pores.
Toners may also help as makeup removers. They ensure you get every last bit of makeup off that your typical cleanser might miss.
Today, there is a toner for your specific skin type, as different formulations treat certain skin problems or conditions.
What is rose water and what can it do for your skin?
Rose water is just what its name implies; rose infused in water.
Rose petals undergo steam distillation, and afterwards, we are left with the liquid that is most common now as an ingredient in almost every skin care product available.
Even the Egyptian queen, Cleopatra, included rose water in her skincare regimen which proves how effective and popular this ingredient is.
First of all, rosewater is an anti-inflammatory substance, and it can help treat your rosacea or acne.
It is also antibacterial, and it may even be used as a natural mouthwash.
Aside from beauty products, rose water can be made into tea or even incorporated into your food.
Product Reviews: Our Top 5 Best Rose Water Toners
---
Our number one pick for the best rose water toner is a product made from rose damascene or the Damask rose, a type of "old rose" most known for its fragrance, which stays long but is not overpowering.
This facial toner aims for complete skincare and may help you reduce excess oil, hydrate your skin, rejuvenate skin, and treat acne breakouts.
Rose water is mostly mild, and people with dry skin or oily skin, for example, may use rose water without fear of excessive dryness, breaking out, or sensations such as burning or itching.
This toner can help slough off excessive sebum without drying your skin. This is like hitting two birds with one stone because if the skin produces less oil, then you may also improve existing blemishes and avoid future breakouts.
Aside from treating your acne, this rose water toner also helps your skin fight off the visible signs of aging.
Rose water has antioxidants in it and if the word antioxidant sounds familiar, it's because it is a prominent ingredient especially in anti-aging skincare.
The antioxidants in this rose water toner tighten sagging skin, smooth out fine lines, and give you that younger-looking glow.
With the antioxidants, this toner also encourages your skin cells to rejuvenate and regenerate.
Overall, we love that this toner comes with an atomizer; as organic rose water is precious, spraying it instead of soaking it up with a cotton pad proved effective in making this toner last longer.
We also loved the natural rose scent as it stayed long but was not overpowering. We smelled like we lived in a rose garden for the better part of the day.
---
Coming in at number two for our best rose water toner is another organic product that certainly took into consideration our desire to maximize precious rose water - it came with a spray type lid as well!
This toner comes from 100% Moroccan rose water.​
The Moroccan rose is a relative of Rosa Damascena and is mostly known for its fragrance and large buds.
This toner's main purpose is to moisturize your skin, balance your skin's pH level, and improve visibly large pores as well as some redness or skin irritation.
Your skin's pH is balanced at 5.5, which is considered just a tad acidic. If your pH balance is higher than 5.5, your skin might get extremely dry and flaky. If it is below 5.5, your skin becomes taut and shiny.
Either way, an unbalanced pH in the skin will mean one thing: breakouts.
This toner's main star, rose water, helps balance out your pH as it is one of the most balancing skin-friendly ingredients.
As it is already balanced, using rose water toner is for everyone no matter the type of skin.
Aside from helping to balance the skin's pH levels, this toner also helps improve enlarged pores.
Rose water is both antibacterial and antiseptic, and it helps kill bacteria clogging your pores. It also sloughs off the excess oil so that your pores won't clog in the future, thus, preventing acne breakouts.
The rose water in this toner contains vitamins D and E, antioxidants which help fight free radical cells that cause the skin to sag, wrinkle, and lose its glow, resulting in younger-looking skin.
Lastly, this toner also helps soothe irritated skin as rose water has anti-inflammatory properties that help control the redness and swelling.
---
Third on our list is another 100% organic rose water that comes from Moroccan roses mostly known for their fragrance.
Now first, what we liked the most about this product is that we can choose to apply it in different ways -- through a fine mist with an atomizer or via a dropper.
This rose water toner calms, tones, and balances the pH level of not just the skin on your face, but your entire body as well. We also loved how it can also be applied to the hair. We were able to use the product from head to toe.
As rose water is known for its anti-inflammatory properties, this toner will help calm swelling and redness that may be caused by acne or insect bites.
The rose water in this toner naturally contains vitamins A, C, D, and E. Two of these vitamins are known antioxidants, and some of these vitamins help protect your skin from the sun's damaging UV rays, which affect the skin's elasticity.
The antioxidant in this toner helps smooth wrinkles and fine lines, as well as minimize pores and tighten sagging skin.
---
Our fourth featured toner is made from 100% damask rose, or Rosa Damascena. We love that this product does not have any colorants.
Some products with coloring agents stain clothing, and those accidental stains are sometimes the hardest to take out.
As this toner basically looked like water, we were able to apply it freely without fearing that it would ruin our clothes.
As a skincare product, rose water can soothe irritated skin as it is a natural anti-inflammatory agent. Any swelling or redness that is caused by either an infected pimple or an insect bite can be treated by the rose water.
As a makeup remover, this rose water toner helps you get all the traces of makeup off your face and may even be better at it than your cleanser.
As it removes makeup, it helps hydrate your skin and encourages your cells to rejuvenate so that you don't get dull and lifeless skin every time you remove your makeup.
Lastly, this toner can also be applied to your hair, and it results in bouncier hair and a healthy scalp to boot.
As rose water naturally contains nourishing vitamins such as A and C and is known as a natural conditioner, your dull hair will be bouncier after application. This toner also helps treat scalp inflammation and get rid of dandruff.
---
Last but not least on our top five is a rose water toner made from 100% pure, distilled and unrefined moroccan roses.
We loved how this toner is made to accommodate almost all skin types including sensitive skin, as those with this skin type can experience facial redness or a burning sensation from products quite easily.
Since this toner is very mild and made of pure rose extract, sensitive skin types may not experience any adverse reactions when using it.
We also loved how this product is another one that can be applied to the hair, especially since the vitamins in it may help us get the volume our hair needs.
This toner also absorbs excessive oil, fights visible signs of aging, and treats blackheads and acne.
Rose water is known to slough off excessive oil without causing your skin to dry out as it strives to retain the perfect pH balance of 5.5.
Once this toner absorbs excess oil, future breakouts can be prevented as there is not much sebum left to clog your pores.
Your blackheads may also be treated as rose water is a known astringent albeit a gentler one that does not irritate your skin.
This product even addresses visible signs of aging due to the antioxidants naturally found in this toner's rose water (vitamins A and C), which contribute to a more supple and younger-looking skin.
The Bottom Line
For the best rose water toner available on the market, our top pick is Teddie Organics Rose Water Facial Toner.
We loved how this toner quickly absorbed into our skin, and it did not leave a greasy or heavy feeling.
As it is mainly rose water, this toner wasn't clogging at all, and it did not have another ingredient that could trigger other skin conditions such as inflammation or rosacea.
Our top pick may also be suitable for almost all types of skin as the rose water in this toner is mild enough that it works without irritating your skin.
This rose water toner helps hydrate your skin and sloughs off excess sebum without causing dryness.
So for the best rose water toner, we highly recommend our number one pick. If you choose to try the four others on our list, we recommend them too as all of our top five picks are organic.