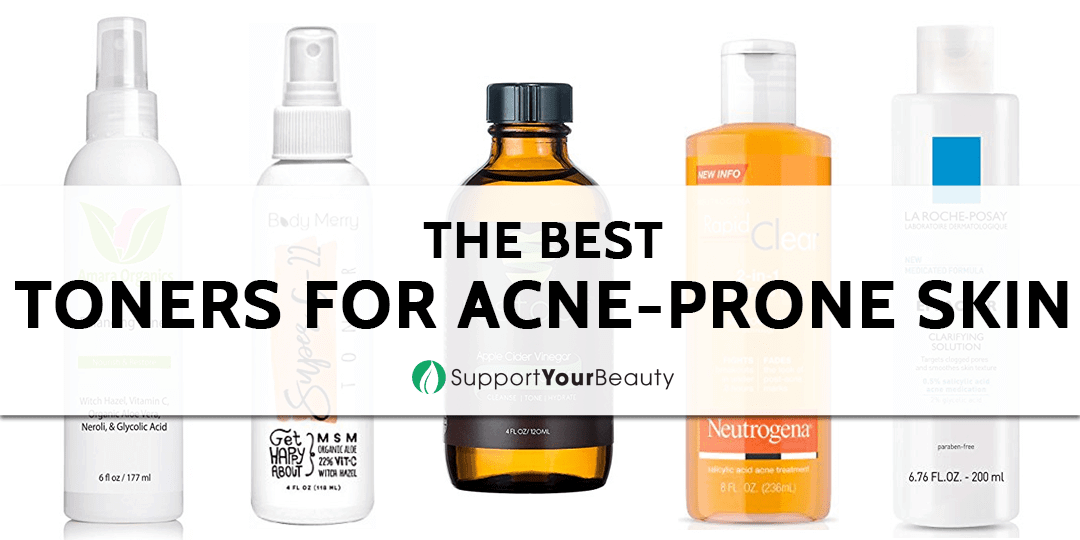 The Best Toner for Acne Prone Skin – 2018 Reviews & Top Picks
In line with our mission to support your beauty, we've come up with the best toner for acne prone skin. After hours of testing, we've found that those products worked great for our acne-prone skin and helped us keep our skin hydrated. We believe these are the best toners on the market that can support your beauty.
Ever wondered why you should include a good toner in your skin care regimen?
Toning is often the most skipped step in skincare rituals, but in reality, it is indeed one of the most effective measures in keeping the skin healthy and blemish-free.
A toner is usually used after cleansing the skin or removing makeup to restore the skin's pH balance and restore nutrients back into the skin.
It's an instant formula that supplies the skin with generous amounts of moisturizing and hydrating agents, antioxidants, and deep cleansers.
If you are suffering from acne, the more you need to use the best toners for acne prone skin.
Toners help in mitigating acne because they contain ingredients designed to clear skin impurities including acne.
Ideally, you can wear a toner alone if your acne condition isn't severe. Otherwise, you should stick to the typical routine of following cleansers with toners.
More...
Quick Overview: Our Top Picks for the Best Toners for Acne Prone Skin
OUR TOP #1 PICK - The long list of botanical oils and extracts in the Amara Organics Facial Toner might sound unfamiliar, but one thing is for sure – they do work. This toner refreshes, hydrates, and balances the skin's pH levels without stripping your skin or drying it out, so it may work well for acne-prone skin.
OUR TOP #2 PICK - If you're looking for a skincare product designed to reduce acne and premature aging, the Body Merry Super C-22 Toner is an excellent choice. It contains herbal ingredients and vitamins that work together to unclog pores, eliminate acne, reduce oil production, and defy wrinkles and fine lines.
OUR TOP #3 PICK - The Restoar Organic Apple Cider Vinegar Face Toner safely clears acne and blemishes on dry and oily (or combination) skins. Its ingredients also reduce marks, provide lasting hydration, soothe inflammation, tighten the skin, and even out skin tones.
OUR TOP #4 PICK - Worried about hyperpigmented scars left by your stubborn acne? The Neutrogena Rapid Clear 2-In-1 Fight and Fade Acne Toner might be the ideal solution. It uses advanced technology to gently exfoliate, reduce breakouts, and help fade the appearance of post-acne marks for a clearer, toned skin.
OUR TOP #5 PICK - The La Roche-Posay Effaclar Clarifying Solution Facial Toner is a very gentle exfoliating toner that penetrates deep to unclog pores, exfoliate dead skin cells, even out skin discoloration, and smoothen out the skin.
What Does Toning Do?
Toners do a lot for the skin – all of its work fall under one agenda: to keep the skin clean and healthy.
There are several types of toners formulated for different skin types, but generally, toners perform the following functions:
1. Maintain pH Balance
Our skins are naturally acidic.Dermatologists concluded that the skin is at its optimum balance at a pH of 5.5 to 6.
The skin is most beautiful and healthy when it is balanced.
Most of the time, the skin's balance is disturbed when we cleanse our faces with soaps that are alkaline in nature.
When the balance gets disrupted, the skin works overtime to restore it which leads to the production of excess oil.
The skin doesn't only get oily when it's unbalanced; it may also get too dry and more susceptible to acne, sun damage, and wrinkling.
2. Shrinks Pores and Adds Protection
Gently blotting the best toner for acne prone skin using a cotton ball or pad cleanses the remaining dirt, debris, and oils that are lodged inside the pores.
When these impurities are sucked out, the pores shrink to their original tiny size, making them unnoticeable.
When the pores close up, the skin tightens.
When this happens, contaminants and environmental pollutants can't penetrate into the skin that quickly compared to when the pores are open.
It can even protect the skin against heavy metals and chlorines present in tap water that we wash our faces with.
3. Moisturizes and Refreshes The Skin
Most toners are infused with hydrating and moisturizing agents.
A high percentage of moisturizing agents are humectants. Humectants attract water and bind it in the skin.
These agents leave the skin hydrated and feeling refreshed for long.
4. Helps Clear Acne
Acne occurs when the hair follicles anchored in the pores get clogged with dead skin cells and oil.
The combination of dead skin cells and oil becomes an ideal environment for acne-causing bacteria to thrive.
The bacteria-infected and congested pore can then create whiteheads, blackheads, and acne.
Toners uses deep cleansers that remove impurities.
Of course, toners alone can't eliminate stubborn acne. You should also maintain a healthy diet and lifestyle.
Points To Consider When Choosing The Best Toner For Acne Prone Skin
Avoid Alcohol-based Toners
Typical toners contain as much as 60% alcohol in their formulations.
Yes, a high percentage of alcohol can reduce oil production by drying out the sebum. It may be ideal for people with oily skin.But when the skin is stripped of its natural oils, the skin works hard to restore the balance that may lead to overproduction of oil.
The degreasing effect of alcohol is only short-lived because when the skin dries out, it prompts the glands to produce more oils that can make the skin shiny.
Moreover, alcohols clearly disrupt the skin barrier after ridding the skin of its natural sebum.
When the barrier is disrupted, the skin becomes vulnerable to pollutants and contaminants which can penetrate the skin without any resistance.
If your acne is caused by either dryness or stress, the more reason for you to avoid alcohol-based toners.
Opt for The Following Acne-fighting Ingredients Instead:
Witch hazel
Salicylic acid
Benzoyl peroxide
Glycolic acid
Witch hazel, a plant extract, is a natural astringent and antioxidant. It fights off bacteria that thrive within the pores that can potentially cause acne.
Moreover, witch hazel also neutralizes free radicals responsible for premature skin aging.
Likewise, salicylic acid and benzoyl peroxide unclog and cleanse the pores. A great attribute of these acids is they don't affect sebum production.
However, benzoyl peroxide seems to be more efficient since it destroys bacteria while salicylic acid cannot.
On the other hand, glycolic acid is a mild exfoliator that sweeps away dead skin cells that also play a significant role in acne formation.
With the dead skin cells gone, the complexion turns brighter and fresher.
Glycolic acid can also treat scarring, skin discoloration, wrinkles, and fine lines.
Salicylic acid, glycolic acid, and benzoyl peroxide are great anti-acne agents.
However, dermatologists warn against the combined use of these three because they can potentially dry the skin out.
It's best to choose toners that contain one or two of them.
Product Reviews: Our Top 5 Best Toners for Acne Prone Skin
First off, the 100% natural Amara Organics Facial Toner is alcohol-free, making it an excellent choice for people starting on the organic skincare trend. That's the reason why it's our top pick for the best toner for acne prone skin.
This toner refreshes, hydrates, and balances skin's pH levels without stripping your skin or drying it out, which make it suitable for acne-prone skin.
This toner contains witch hazel, Vitamin C, aloe vera, and glycolic acid.
Witch hazel and glycolic acid are two powerful acne-fighting compounds. Witch hazel kills and prevents bacteria from clogging the pores while glycolic acid sweeps away dead skin cells.
With bacteria and dead skin cells removed from the pores and epidermis, bacteria won't have a medium to thrive and cause acne and other unwanted breakouts.
Aloe vera simultaneously seeps deep into the skin to hydrate and moisturize it. It restores the moisture lost from cleansing and soothes inflammations.
We're in love with this toner because it doesn't only help reduce acne, but it also neutralizes free radicals that cause premature aging of the skin.
The antioxidant properties of Vitamin C and its role in collagen synthesis make it vital for skin's health.
Vitamin C shields the skin from free radicals, and stimulates the synthesis of collagen which is essential for keeping the skin firm and elastic.
Studies even revealed that it could treat UV-induced photodamage which manifests itself in wrinkles, sun spots, and fine lines.
We've also discovered that this product is a powerful base layer - it preps the skin and increases the absorption of serums and moisturizers.
We've tried a lot of toners over the years, and this is by far one of the best. Some of us who had extremely sensitive and oily skin fell in love with this toner.
After the first week of trial, the oily parts of their faces weren't as oily, and the dry patches were improved. There is no tingling, tightness, redness or burning.
The acne on their cheeks was reduced, and they said that their skins felt soft and glowing.
Are you bothered by the seemingly increasing wrinkle formation on your forehead and deep saggy lines on your cheeks and chin? Fret not and opt for one of the best toners for acne prone skin – the Body Merry Super C-22 Toner.
You might want to ditch your old toner and switch to one that can calm acne and fight premature aging like this product.
It contains botanical extracts such as witch hazel that unclogs pores and eliminates acne, tamanu oil, also an acne-fighting and oil-reducing agent, and finally, 22% Vitamin C for reducing aging signs.
Tamanu oil has a broad range of benefits. It's an all in one ingredient – it has antioxidant, antibacterial, and anti-inflammatory properties.
Above all, it has a remarkable healing power. It quickly treats wounds, acne, and inflammations and restores the skin to its natural state.
This toner also contains a high proportion of Vitamin C.
As mentioned earlier, Vitamin C plays an important role in fighting free radicals and stimulates collagen synthesis to keep wrinkles, fine lines, and sagging skin at bay.
We're delighted with this product as it does what it claims. For skin care fanatics like us, it's a gem to find toners that do wonders.
The ingredients in this toner are the perfect blend of what your skin needs to stay young, though the anti-aging effects may take some time to be visible.
This toner will help exfoliate and cleanse your skin after your favorite cleanser.
It will also soothe any inflammations including acne and sunburns. We also love the grapefruit smell of this toner-- it's very refreshing!
The Restoar Organic Apple Cider Vinegar Face Toner uses the most powerful and organic agents beneficial for skin health.
It safely clears acne and blemishes on dry and oily (or combination) skins. It also moisturizes and hydrates the skin for long.
Uniquely, this facial toner uses organic apple cider vinegar to balance pH levels, cleanse skin, and safely treat acne and blemishes while balancing pH.
The tea tree and lavender ingredients of this toner also help eliminate acne and impurities by gently exfoliating, unclogging, and tightening your pores so contaminants can't penetrate that quickly.
They can also remove oil and light makeup.Another excellent ingredient of this toner is rose water. Rose water can treat and soothe acne and inflammation, moisturize the skin, aids in healing scars and wounds, and regenerate skin tissues.
Moreover, the aroma of roses is a powerful mood enhancer. It alleviates anxiety and makes you feel relaxed.
We had someone with hormonal cystic acne try this product to see if it works on acne-prone skin.
After only eight days of using this toner, her acne had diminished quite a bit. Also, her oily skin seemed glowing, not greasy and felt so soft.
She said that it's the best and only toner that worked for her skin.
The Neutrogena Rapid Clear 2-In-1 Fight and Fade Acne Toner is specifically formulated for acne-infested skin.
It reduces breakouts and helps fade the look of post-acne marks for a clearer, toned skin.
This toner uses Microclear Technology to dissolve away oil and reduce pimple size, swelling, and redness in under 8 hours.
It also helps speed up surface skin cell exfoliation to help fade the look of post-acne marks.
Furthermore, Microclear technology boosts the delivery of salicylic acid to the source of breakouts.
Salicylic acid aids in normalizing the shedding of the skin cells inside the pores and helps prevent the clogging that, along with oil and bacteria, can produce pimples.
Glycolic acid also helps in the exfoliation process which lets salicylic acid get to the source of breakouts.
We've tried this product and found no adverse effects. Some of us have naturally oily skin and also do yoga, which makes them sweat a lot – a bad combo for pores.
As a result, they've developed hyper-pigmented scars from the acne across the face. But after a few weeks of using this product regularly, their acne spots have begun to fade.
It's not very drastic, but there is a consistent difference over time, making this an excellent acne-fighting product.
The La Roche-Posay Effaclar Clarifying Solution Facial Toner is a gentle exfoliating acne facial toner with salicylic acid and glycolic acid.
It penetrates deep to remove pore-clogging debris and smooth skin, leaving the skin feeling refreshed and even.
The active ingredient in this alcohol-free toner is salicylic and glycolic acid.
Salicylic acid is ideal for acne-prone skin. It removes dirt, unclogs pores, and gently exfoliates dead skin cells to leave skin feeling refreshed and even.
Glycolic acid helps with the exfoliation process to hasten the acne eradication. Not only does this acid exfoliate, but it also treats scarring, discoloration, and aging signs.
Like the other toners in our list, this toner gets the job done. It may reduce acne and gradually clear acne blemishes.
Furthermore, it can reduce the appearance of whiteheads and blackheads.
But what sets this toner apart from the rest is it's so gentle, and it makes the facial skin remarkably smooth. Upon first application, you'll immediately feel how smooth your skin's texture is.
The Bottom Line
The best toners for acne prone skin should be alcohol-free, gentle, moisturizing, and should contain non-drying ingredients that unclog and eliminate acne-causing bacteria.
Those attributes can be found in the Amara Organics Facial Toner.
This 100% natural toner is alcohol-free, making it ideal and safe for acne-prone, oily, dry, and combination skin.
It has an extensive list of herbal ingredients that refreshes, hydrates, and balances skin's pH levels without stripping your skin or drying it out.
Witch hazel, Vitamin C, aloe vera, and glycolic acid are among its active ingredients.
We're in love with this toner because it doesn't only help reduce acne, but it also keeps the skin young, elastic, and wrinkle-free through the action of Vitamin C.