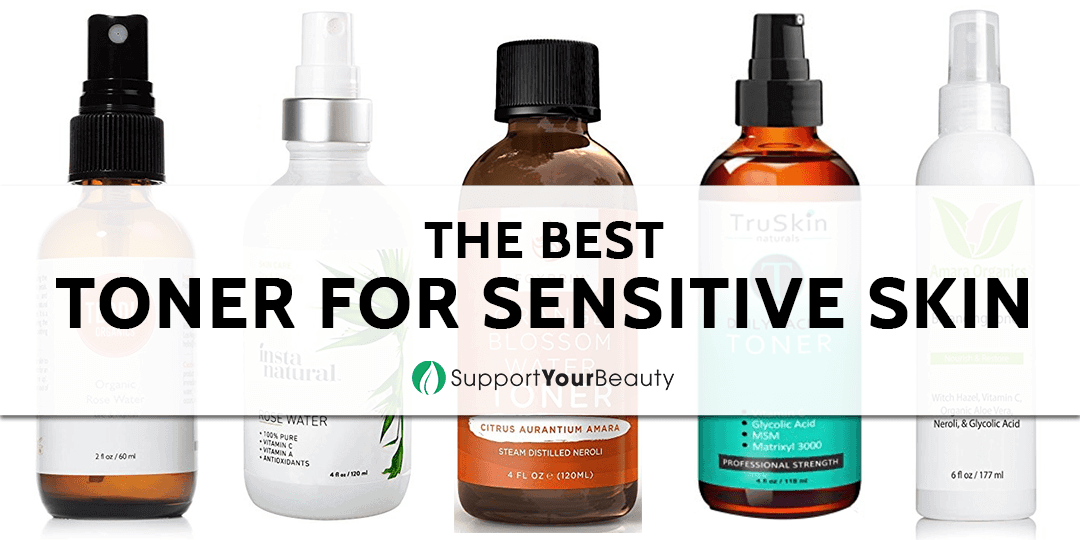 The Best Toner for Sensitive Skin – 2018 Reviews & Top Picks
In order to help you tone and cleanse your tender skin, we're rounding up the best toner for sensitive skin in this list. These products were carefully assessed based on their effectiveness in providing a gentle care while being effective to help you deal with your delicate skin condition. We believe these products can be a good addition to your beauty arsenal.
A long-running debate rages in the beauty world for decades now. Are toners required in the three-step Cleanse, Tone and Moisturize process or are they just unnecessary purchases?
To answer the critical question, Dr. Howard Murad, MD, a Los Angeles-based dermatologist, says that toning is equally crucial as cleansing the skin. It may restore the skin's natural pH balance – hurray for those on the toner side!
Still, many argue they might be overly drying to the skin. But considering how much toners have changed in recent years, you can expect a wide array of them. There are both all-natural or synthetic. Thus, you can choose which to apply to suit and benefit your skin type.
If you have dry or sensitive skin, it might be best to use an alcohol-free toner. You should avoid using strong astringents and products containing retinol, glycolic, or benzoyl peroxide.
Those ingredients may not only dry the skin but can also lead to breakouts. You may consider looking for one that is water-based and favors soothing and gentle ingredients which help lock in moisture.
Now that you know what to search for, here's our skincare experts' top 5 picks for the best toners for sensitive skin. Chances are, your dream toner 's among the bunch.
More...
Quick Overview: Our Top Picks for the Best Toner for Sensitive Skin
OUR TOP #1 PICK - Gentle than gentler toners are what you should use for sensitive skin. A good product should lack harsh chemicals and favor soothing ones that impart a lot of benefits for the skin like the Teddie Organics Rose Water Facial Toner. This is our top pick for the best toner for sensitive skin.
OUR TOP #2 PICK - Featuring a potent combination of rose water, vitamins, and antioxidants, the InstaNatural Rose Water Facial Toner is our second choice. Its properties can benefit sensitive skin in more ways than one. We loved its ability to restore pH balance. This can make it efficient enough for troubled skin.
OUR TOP #3 PICK - Rarely will you come across a multifunctional product like the Foxbrim Orange Blossom Water Face Toner. This astringent-toner may unclog pores while soothing flare-ups and breakouts. It is so potent that it can also be used as a treatment for bites and rashes.
OUR TOP #4 PICK - A myriad of plant extracts and acids constitute the robust formulation of the TruSkin Naturals Daily Facial Super Toner. It got to our third position as it contains some other synthetic ingredients as well. But all together, they can work to delay skin aging and beautify the complexion.
OUR TOP #5 PICK - Amara Organics Facial Toner is on our fifth position. It shares similar ingredients as the Truskin Naturals but with the addition of neroli extract. We like that it aims to diminish aging signs and balance skin pH levels without stripping our skin of oils.
How Do You Know if You Have Sensitive Skin?
"Sensitive skin" is a word that confuses many all too often. Some people claim that they have this skin type when in reality, they don't.
Sensitive skin doesn't need medical diagnosis rather, a common sense. However, it's worth noting that sensitive skin is different from the allergic skin.
Sensitive skin gets easily irritated by ingredients in topical products. An allergic skin occurs when the immune system shields the body from particular ingredients in the product, causing intense itching, bumps, and burning sensation.
With sensitive skin, the irritation cannot be attributed to a particular ingredient, but to the amount of product you're using.
For instance, if you have normal skin and cleanse it daily with a harsh exfoliant, your skin's sensitivity can increase, but that doesn't mean you're allergic to the product.
To know whether you have sensitive skin, here's a checklist you can refer to:
Do you develop red patches and severe itchiness after using normal daily products like soaps, moisturizers, and shampoos?
Does the warm weather make your skin unusually oilier and acne-prone? Conversely, does the cold season dry your skin up and cause a feeling of tightness and irritation?
Do you feel traumatized when trying new products because you've had bad experiences in the past?
Is your skin easily irritated by fragrant products and harsh ingredients?
Have you had reactions to prescription medications such as creams/lotions/gels etc.?
If you've answered yes to several of these questions, chances are you probably have sensitive skin.
Identifying whether or not you truly have skin sensitivity allows you to choose products that can perfect your skincare regimen.
The best toners for sensitive skin, together with suitable cleansers and moisturizers, can let you achieve the glow you've always dreamt of.
How to Take Care of Sensitive Skin
Choosing skincare products suited for sensitive skin may be challenging, but reducing the irritation and other problems related to heightened skin sensitivity is way easier. Here are some tips:
First and foremost, choose sensitive skin-specific products.
Use products containing fewer chemicals to lessen any adverse reaction.
Organic skincare products are more preferred; although herbal extracts and other ingredients may still cause sensitivity.
Red and irritated patches and rashes should be shielded from the sun which can aggravate the condition further. Always keep the affected area covered until the irritation subsides. For instance, wear a wide-brimmed hat if your face is heavily affected.
Never attempt to do self-diagnosis and prescription when your sensitive skin acts up. Avoid using drugstore cream remedies or antibiotic treatments until you've consulted your physician.
If you can't tolerate the pain or irritation, take drugstore anti-histamine medications.
Product Reviews: Our Top 5 Best Toner for Sensitive Skin
Nestled in the top spot of our little list of the best toners for sensitive skin is the Teddie Organics Rose Water Facial Toner. This gentler than gentle toner can embody the perfect recipe for a less irritated skin.
The sole ingredient of this wonder toner is 100% pure organic Rose Otto Flower Water (Rosa Damascena). We like it so much because it lacks alcohol, parabens, fragrances, witch hazel, and other nasties. These are amongst the main reasons for hideous breakouts.
And since we consider it really important to avoid them, we appreciate the formulation of this product. Rose water may provide instant hydration, rejuvenate tired skin and keep it looking young. It may also lift excess oil and soothe inflammations.
Much has been said about this terrific toner, so we had to test it out. We're amazed at how it soothes rosacea-prone and ultra-sensitive skin instantly.
This soothing toner can help horrible flares to subside, allowing you to wear your foundation without using color-correcting makeup under. It was a pleasant surprise to find out that it can contribute to reducing acne.
The best part is, you can also add a few drops of this toner to your shampoo. It can even help provide hydration for your scalp.
Rose water is one of our favorite ingredients for skincare products tailored for sensitive skin. Hence, coming in second on the list of the best toners for sensitive skin is InstaNatural's Rose Water Facial Toner.
The Moroccan rose water, the primary ingredient of this product, is a multifunctional substance featuring anti-inflammatory, hydrating and revitalizing properties.
Its ability to restore the skin's pH balance can make it an effective for troubled skin.
You can also use this product as a makeup remover. It goes on like water on the skin, and it can help remove even your stubborn gel liner.
It is coupled with naturally occurring antioxidants from the Vitamin C content.
Furthermore, with the assistance of Vitamin A, your skin can be encouraged to produce new healthier cells. This is possible because of the retinol, retinal and retinoic acids which are so important for the proper growth and production of cells.
Vitamins A and C are essential nutrients needed by the body. Topical application of Vitamin A can protect the skin against UV and clear up acne. It can even out the skin and give it a glow.
On the other hand, Vitamin C is a superstar ingredient intended to make the skin look firmer and younger.
We enjoyed the benefits of rosewater toners. The super fine mist can prep the skin so other products can seep in better.
Moreover, we loved how it made our complexions smoother, softer, and looking tighter when closed up. If you have any red patches on the skin, you may notice clearing up.
For anyone who doesn't want to join the rose water bandwagon, the Foxbrim Orange Blossom Water Face Toner can make a good alternative.
Orange blossom extract, a scented floral water of the Mediterranean, can provide us with an invigorating smell and numerous benefits.
Orange blossom extract is an inherent astringent with anti-microbial properties. It may tidy up after cleansers and ensure the pores remain unclogged and bacteria-free.
This toner can be a good choice for people with sensitive and acne-prone skin looking for natural options. We appreciated its astringent and anti-inflammatory abilities. We definitely loved how it can leave the skin feeling refreshed and flawless.
The delicate floral distillate may promote healing and restore vitality and suppleness. It may also assist to minimize pores, balance skin pH, and smoothen the skin out.
We had no regrets trying this toner out. We used it before applying our night serums, and the results were just amazing.
We really liked the multifunctionality of this product. We were very happy to add it to our face steam routine. A few drops in the boiling water can work just fine to provide you with another level of deep penetration of the active ingredient.
In fact, we became so fond of the aroma that we dispersed some in our room.
This all-natural toner is packed with a powerful combination of active plant extracts, amino acids, Vitamin C, MSM, and glycolic acid. They can work hand in hand to stop skin aging and beautify the complexion.
Refreshing and purifying ingredients such as organic aloe and witch hazel may eliminate dirt residues left by soaps and face washes while. Meanwhile, they have the ability to lock in moisture to nourish the skin from within.
On the other hand, we have the anti-aging trio comprised of Glycolic Acid, Vitamin C, and MSM (methylsulfonylmethane).
It can drive active molecules deep into the layers to increase skin elasticity, build new cells, and discard metabolic wastes. This process can transform the exposed surface into a healthier, younger-looking complexion.
In addition to this toner's powerful anti-aging properties, we've also experienced a silky smooth appearance with tighter pores and lesser blackheads/whiteheads.
We are also always happy to find out that we can use a product for an extended period of time. Practical features of a good toner are not to be underestimated.
Bear in mind that the smell is peculiar and not everyone would be satisfied with it.
Also, don't expect to get some visible results right away. It may take time, so if you are looking for a product that works immediately, this one might not fit your needs.
You can get a prepped, balanced skin with the Amara Organics Facial Toner. It has the ability to refresh, hydrate, and balances pH levels without stripping your skin of oils. This particular toner shares similar ingredients with our 4th placer, TruSkin Natural's Super Toner.
Assuming that you already have an idea of how effective this toner can be since it uses the same formulation as the former, you might ask what makes the difference.
Well, this organic toner contains herbal neroli. The intoxicating botanical oil extracted from thousands of citrus flowers can provide a myriad of skin benefits.
Neroli is known for being very gentle and non-irritating, and that's why we recommend it for those with sensitive skin. Some of its properties include bringing life into the dull skin by cleansing and minimizing the appearance of pores. It may also be of help to balance oil production.
When we started using this product several wonderful things happened. The oily parts of our faces weren't as shiny as before, and the dry spots have significantly diminished.
Spritzing it twice a day can make your skin soft and glowing. We didn't feel tingling, tightness, redness or burning. Just don't spray too much or your skin can get dry.
The Bottom Line
Sensitive skin is hard to please when everything you apply can make it react negatively. Hence, you should be careful in selecting your products. You should avoid those containing alcohol and harsh chemicals.
Our skincare experts' top pick for the best serum for sensitive skin is the Teddie Organics Rose Water Facial Toner.
This very gentle toner embodies a brilliant recipe for less irritated skin. It contains solely rose water, a miraculous skincare ingredient. Rosa Damascena is known to bloom only in specific regions and is a rare and highly estimated compound.
Some of its benefits include providing hydration, restoring pH balance, lifting excess sebum, and soothing irritations. Rose water alone can pretty much take care of your delicate skin. After all, the fewer the ingredients on the label, the better for troubled skin.
We do, however, like all the toners on our list. We have tried to comply them in a way that would give you better information for their particular pros and cons. Thus, you will be able to choose the one that suits your individual needs.