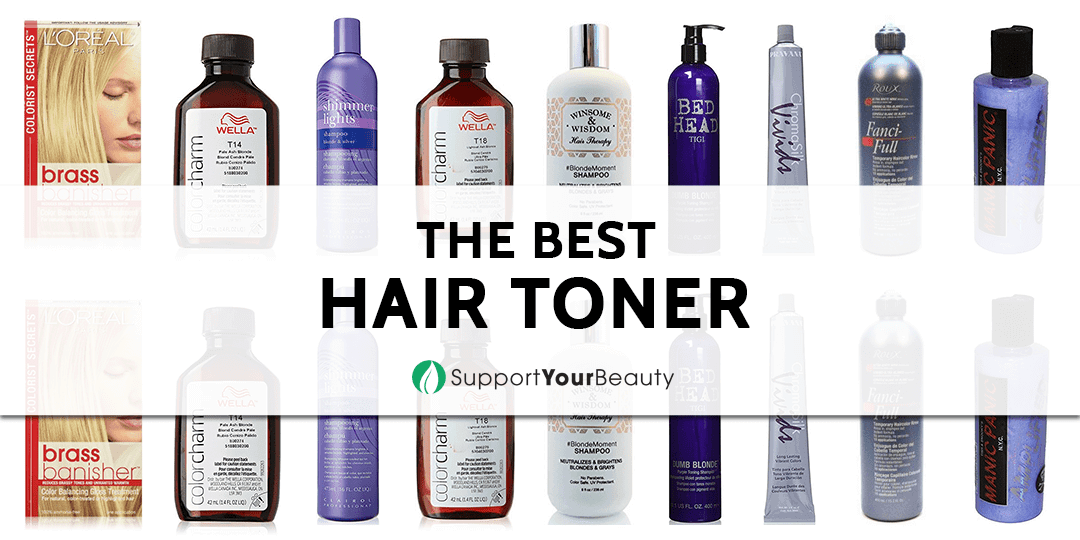 The Best Hair Toner – 2018 Reviews & Top Picks
Do you know how to minimize the damages from dying? Can you boost your color? Eye-opening expert advice on how to utilize the best hair toner.

Most women know that getting their hair colored at the salon can cost a lot, and the prices skyrocket depending on which salon you go to and the stylist that does your hair.
Some celebrities may not give a second thought to shelling out money - sometimes, roughly the equivalent of a month's worth of groceries—to keep their hair color looking fresh, but for the rest of us, we'd rather find other ways to look good without spending a fortune.
This is why we opt to do DIY hair color treatments. Apart from being more affordable, a home dye job can be easily maintained with just a box or two of hair color and some time.
However, anyone who has ever experimented with hair color at home knows that it's fraught with disaster and that the creamy blonde hair that you covet on the box may turn out more like Garfield the Cat on you.
This is why it's important to know how to use a toner, as the right product may correct a bad dye job and give you the hair color that you want.
On that note, here's a rundown of our top 9 best hair toners.
More...
Quick Overview: Our Top Picks for the Best Hair Toners
For this roundup of the best hair toners, we've decided to pick three different products for three hair colors—orange, blonde, and white.
​For orange hair, our top pick is L'Oreal Paris Colorist Secrets Brass Banisher Color Balancing Gloss Treatment. This ammonia-free toner reduces the orange and yellow tones of your hair in just five minutes.
​The next best hair toner for orange hair is Wella Color Charm Permanent Liquid Hair Toner in T14 Pale Ash Blonde. This toner penetrates the hair to give you healthy, vibrant color without brassiness.
​Third on our list is a shampoo that tones down brassiness and may even give you very light-colored hair without the orange or yellow tones. For these reasons, we're a fan of Clairol Professional Shimmer Lights Shampoo in blonde & silver.
We also selected the best hair toners for blonde hair.
​Taking the top spot on the best toner for blonde hair is Wella Color Charm Toner in Lightest Ash Blonde. It neutralizes warmth without damaging hair, and it also leaves your tresses soft.
​The next spot on this roundup belongs to Winsome & Wisdom #BlondeMoment Shampoo. This purple shampoo neutralizes and brightens blonde hair, and it's also paraben-free and cruelty-free.
​The third spot goes to another shampoo—TIGI Bed Head Dumb Blonde Purple Toning Shampoo. Not only does it remove brassiness, but it also gently cleanses your hair.
Now, on to the best hair toners for white hair.
​The number one spot goes to Pravana ChromaSilk Vivids in Silver. This hair toner enhances gray and white hair to make it look more vibrant. This product is also paraben-free and has no phthalates.
​The next product on our list is Roux Fanci-Full Temporary Color Rinse in White Minx. It lightens gray hair and enhances the color of white hair without leaving any hint of brassiness.
​The last hair toner on our roundup is Manic Panic AMPLIFIED Hair Color Cream Virgin Snow White Toner. This vegan product may leave you with lighter hair without a tinge of yellow.
What Is A Hair Toner?
If you've always colored your hair at home—or if you have an overly enthusiastic hairstylist—chances are you've had a few hits and misses with your hair color.
Sure, you can always have it recolored, but doing that can be damaging to your tresses and can lead to hair breakage.
You can wait for your hair to grow out, but it can be a pain to walk around with orange hair for a few months.
This is why it's a good idea to consider using a hair toner, as it may improve a bad dye job in just a few minutes.
If you've never used a hair toner before, you're probably wondering what it is and what it can do to improve your hair color.
A hair toner is a product that neutralizes the brassy yellow and orange tones on bleached or colored hair.
It can make hair with warm tones look more neutral or platinum colored, and some hair toners can even completely whiten your hair.
How white? Think Daenerys' (Emilia Clarke) hair in "Game of Thrones" or Meryl Streep's coif in "The Devil Wears Prada."
Most hair toners are violet or blue-tinted formulas, and they usually come in the form of an ammonia-based toner, a purple shampoo, and a purple or blue hair dye.
If you're worried that it might turn your tresses Smurf blue, have no fear: there's a reason why hair toners come in these vivid hues.
Professional hair stylists consult a hair color wheel to correct brassy hair or to manipulate hair color.
To neutralize unwanted tones on hair, stylists simply look at the hair color wheel to see the shade that is opposite to what you have on your hair.
Whatever color is on the opposite side will be used to neutralize your messed up hair color.
For example, if your colored hair looks orange, it's going to take a blue toned toner to neutralize it. Hair that is too yellow may be fixed with a violet-hued hair toner.
When used correctly, a hair toner may give you ash blonde, platinum blonde, or white hair.
What Type of Hair Toner Should You Use?
As mentioned earlier, the three types of hair toner are ammonia-based, shampoo, and cream or liquid dye.
You should only use an ammonia-based toner if your hair is already blonde. If it's freshly bleached, it's a good idea to wait a few days before using the hair toner to minimize damage.
If you want a gentle hair toner, choose a shampoo toner. You can use it immediately after bleaching your hair, and you can use it several times as recommended.
Only use purple hair dye if you're confident with your hair coloring skills. You can use it after bleaching, and you need to mix it with a bit of conditioner before applying it to your hair.
Things To Remember If You Decide To Use A Hair Toner
Unlike hair color, a hair toner does not deposit a permanent wash of color, so you may need to use it again to keep unwanted yellow or orange tones at bay.
Brassiness can return in as little as two weeks, and if that happens, you can use the toner to neutralize excess warmth.
Make sure to give your hair the tender loving care that it needs. Wash with a shampoo for color treated hair, and don't skimp on the conditioner.
If you don't want to use any more chemicals on your hair, you can condition it with some warmed olive oil or coconut oil, or even some mashed avocado.
You can also whip up an egg white and yogurt mixture to nourish your hair (check this article out if you're looking for more tips for your hair).
Product Reviews: Our Top Picks for the Best Hair Toners
---
The Best Hair Toner For Orange Hair
There are a lot of reasons why this product earned the top spot on our list of the best hair toners, but we're going to start with two: one, it has no ammonia, and two, it works in as little as five minutes.
Ammonia is often found in hair coloring products, and it opens up the hair cuticle so that the color formula can penetrate the hair shaft and attain the desired shade.
As useful as this ingredient may be in hair dye, it may also result in dry, brittle, and unhealthy hair.
This is why we're so happy that L'Oreal Paris Colorist Secrets Brass Banisher doesn't have ammonia.
What it does have is water, cetearyl alcohol, and hydrogen peroxide.
The cetearyl alcohol in the Anti-Brass Gloss helps to moisturize and make your hair more manageable.
Meanwhile, the hydrogen peroxide in the Developer Crème bleaches and brightens the hair.
We decided to use this after a recent dye job left our hair with an unsightly orange tinge, and we were glad that this toner could be easily mixed and applied.
All we had to do was to squeeze the contents of the Anti-Brass Gloss tube into the Developer Crème bottle before shaking it thoroughly.
We squeezed the contents of the entire bottle onto our hair, making sure that each strand was saturated with the hair toner.
After five minutes, we rinsed it off, and we were very pleased to see that our formerly brassy hair had a more neutral and ashy tone.
Because it doesn't have any ammonia in it, this hair primer can be used right after bleaching to counteract yellow or orange tones, though it would be a good idea to wait a few days to avoid unloading too many chemicals onto your hair.
---
The next product on our list of the best hair toners is Wella Color Charm Permanent Liquid Hair Toner in T14 or Pale Ash Blonde.
Wella toners have been getting raves online for their ability to transform brassy hair to delicate shades of blonde such as beige and platinum.
We chose T14 Pale Ash Blonde because it turns orange hair to a bright platinum blonde in just minutes.
Apart from water, this hair toner contains oleic acid, a type of fatty acid that is derived from natural oils such as olive oil, coconut oil, and sunflower oil.
Oleic acid boosts hair growth and also moisturizes the scalp and repairs damaged follicles.
It also contains ascorbic acid, or vitamin C, which keeps hair strong and healthy.
We wanted to see if this hair toner would turn our golden blonde hair to a platinum blonde, and surprisingly enough, it came close to matching the exact color that we always wanted.
Unfortunately, this hair toner contains ammonium hydroxide, which can potentially damage hair, so it may be a good idea to use this toner sparingly.
---
Our last pick for the best hair toner for orange hair is Clairol Professional Shimmer Lights Shampoo in blonde and silver.
We love how easy it is to use this product—you use it as a shampoo and leave it on for a few minutes before rinsing. There's no need to use gloves or a brush with this toner.
It can be used at least once a week to keep brassiness at bay.
Apart from water, it contains sodium laureth sulfate and sodium lauryl sulfate, which are both cleansers and can be commonly found in most shampoos.
It also has violet colorants, which give this toner a bright purple hue.
We used this in the shower, and we thought that it was going to smell like chemicals, but fortunately, it had a clean, floral scent that we really liked.
Our hair was beginning to get this brassy shade just three days after bleaching it, so we chose to use this toner shampoo to see if it would make a difference in the way our hair looks.
We have long and thick hair, so we used almost a third of the bottle to coat our entire hair with the toner. We decided to let it sit for about 30 minutes before rinsing it off.
While it did give our hair a cooler, more neutral tone, there were still a few strands here and there that had a slight yellow tinge.
It may take two more uses of this hair toner to get all the brassiness out of your hair completely.
---
The Best Hair Toner for Blonde Hair
First on this list of the best hair toner for blonde hair is another Wella Color Charm product, this time in T18, or Lightest Ash Blonde.
Just like our Wella pick mentioned above, this hair toner contains oleic acid that boosts hair growth, and ascorbic acid or vitamin C which helps to strengthen hair and protect it from breakage.
If you're thinking about giving your blonde hair a boost, this product may help make your hair color brighter without any trace of brassiness.
We decided to use this toner because we were unhappy with our hair color which was done at the salon, and though it was pretty, the yellow tinge made our skin look sallow.
We washed our hair and dried it before applying this toner. We discovered that the longer the toner sits on our hair, the more purple it becomes.
We rinsed off after 30 minutes, and after drying our hair thoroughly, we were happy that our hair color was closer to being a light platinum blonde than a honey blonde.
---
Our next pick for the best hair toner for blonde hair is a toner shampoo that not only cancels the hair's yellow tones but also is completely paraben-free and cruelty-free.
Winsome & Wisdom #BlondeMoment Shampoo neutralizes blonde and gray hair.
It also contains a UV protectant, titanium dioxide, to shield your tresses from the harmful rays of the sun.
This toner shampoo also contains guar hydroxypropyltrimonium chloride, which adds volume and conditions hair without weighing it down. It may also help to smooth and defrizz hair.
We used this product to alter the color of our hair, which we dyed a caramel blonde about a week ago. We used a generous amount on our wet hair and left it on for about 20 minutes before rinsing.
We loved how it got rid of our hair's brassy color, and it gave our blonde hair a silvery tint that was more suited to our complexion than our previous hair color.
---
The last spot on this list for the best hair toner for blonde hair belongs to TIGI Dumb Blonde Purple Toning Shampoo.
This product fights brassiness while making hair clean and soft.
It contains purple toning pigment, which neutralizes brassy tones to give you lighter blonde hair.
This product also has polyquaternium 10 which helps prevent and control flyaways, static, and frizz.
Moreover, this hair toner contains amodimethicone, which may add shine to brittle and dull hair.
This toner shampoo has a rich violet color, and we love that it has a pleasant scent just like regular shampoo.
We left it on for 10 minutes, and after rinsing, we were surprised to see that it did cancel out the yellow tones in our dirty blonde hair.
The only thing that we didn't like is that it left a faint purple tinge on our scalp, but it was gone after we shampooed the next day.
---
The Best Hair Toner For White Hair
If you're looking to go full-on Khaleesi with your next hair color, then you may want to check out this product, which is our first pick for the best hair toner for silver hair.
Apart from being paraben-free, Pravana ChromaSilk Vivids in Silver contains no phthalates and is cruelty-free.
This hair toner contains silk amino acids, which act as a color carrier to help the color penetrate into the hair's cortex.
It also has keratin amino acids, which help to strengthen the hair and help the color to stick to the hair shaft.
We wanted to see if this would make our very light blonde hair almost silvery blonde, and this toner made it happen for us.
This may also work to make gray hair more vibrant, and we love how soft our hair felt after using this hair toner.
---
The next product on this list is Roux Fanci-full Rinse in Ultra White Minx, and while it brightens white hair, it may also enhance gray hair.
This may work for mature people who want to embrace their white hair, as it can neutralize any tinge of yellow from the hair.
However, this product only temporarily alters color, and it can be washed away the next time you shampoo your hair, so it's a good way to road test a lighter hair color without the commitment.
We love that this hair toner doesn't contain any peroxide or ammonia to color the hair.
What it does have is water, violet coloring, and hexylene glycol. As discussed earlier, violet coloring cancels out yellow tones in the hair.
Meanwhile, hexylene glycol is a solvent that is used to thin out heavy skin care or hair products to create a thinner, more spreadable consistency.
We used this hair toner after having our hair bleached at the salon. Fearing hair damage, we asked our stylist not to process our hair too long because too much of the bleaching chemicals might cause it to break off.
Naturally, our hair had yellow tones after bleaching, so we used this rinse after shampooing our hair.
After we had saturated each strand with the toner, we used a hairdryer to dry our hair, and we were pleased with how light our hair looked with no brassiness whatsoever. It also made our hair feel silky soft.
---
Last on our list of the best hair toner for white hair is Manic Panic AMPLIFIED Hair Color Cream Virgin Snow White Toner.
Manic Panic is known for producing rich, funky colors for those who want their hair color to be something other than brown, black, red, or blonde.
This toner is specially made for bleached hair, so if you're thinking about using this to change your natural blonde hair, you may find that it might not work as well as you hoped.
We love that this semi-permanent hair toner contains vegan ingredients, such as water and synthetic beeswax, which contains ingredients derived from coal and petroleum.
This is often added to cosmetics and hair care products to make them creamier, and therefore, easier to apply.
It also has chamomile extract which conditions the scalp and strengthens the hair follicles.
We used this hair toner on our freshly colored hair, and while it did lighten our tresses, we still saw a few yellow tinges here and there.
The Bottom Line
We've bleached and colored our hair so many times, but when it comes to getting the neutral, ashy color that we want, we turn to the best hair toners to make our hair look great.
For orange hair, our top pick is L'Oreal Paris Colorist Secrets Brass Banisher. True to its name, it gets rid of brassiness, and it does the job in just five minutes.
To keep our blonde hair free of yellow tones, our best hair toner is Wella Color Charm Hair Toner in T18 Lightest Ash Blonde. Your hair may get closer to that much-coveted platinum tone with this product.
Lastly, our best hair toner for white hair is Pravana Chromasilk Vivids in Silver. It turns hair a beautiful silver blonde, and it may also work well for mature women who want to enhance their gray hair.
These three hair toners, as well as the other products on this list, may help you get lighter hair without a hint of brassiness.