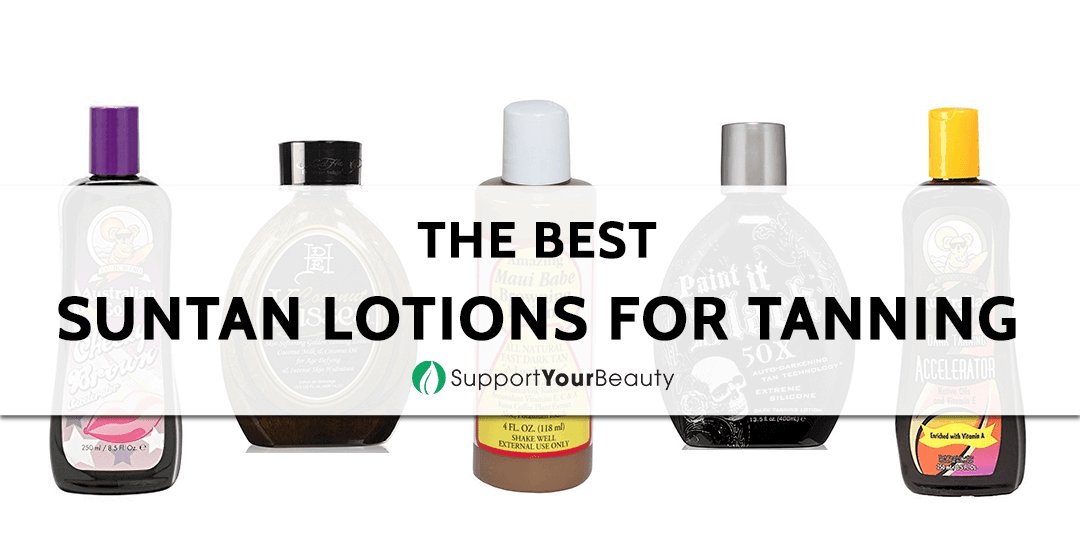 The Best Suntan Lotions for Tanning – 2018 Reviews & Top Picks
In order to help you attain a dazzling sun-kissed skin, we've reviewed 5 of the best suntan lotions for tanning. We've tested these products and found that they work great for delivering quick and splendid results while addressing a variety of skin issues. We believe these products can be a good addition to your beauty collection.
The sun-kissed skin effect seems to be never out-of-date.
There is something about it that makes us look and feel gorgeous. The secret behind this lovable suntan lies in the eye of the beholder.
Years ago, the bronzed skin was a sign of poverty rather than one of prosperity. Times have changed a lot compared to these periods.
Since we have already confessed the deep craze we share about tanned complexion, we invite you to take a look at our list of the top five products for achieving this vision.
More...
Quick Overview: Our Top Picks for the Best Suntan Lotions for Tanning
OUR TOP #1 PICK - Number one on our list is the Millenium Tanning New Paint It Black Auto-darkening Lotion . We love that it can help to firm the skin while providing moisturization to the core. The potent mixture of ingredients can serve to supply us with visible and lasting results.
OUR TOP #2 PICK - The Maui Babe Browning Lotion is our second choice. We like that it boasts of antioxidants to help us fight free radical damage. We also considered a great plus that this product could be suitable for even the sensitive skin types.
OUR TOP #3 PICK - The third position on our list goes to the Ed Hardy Coconut Kisses Golden Tanning Lotion. We find this product a good option for those of you who do not want to imply a bronzer. Moreover, the lotion can address a very delicate women's issue, and this is the stubborn cellulite.
OUR TOP #4 PICK - The Australian Gold Cheeky Brown Tanning Accelerator is fourth on our list. What we liked most about this lotion is that it contains only organic bronzers that did not seem to stain our clothes as their effect is very natural. The combination of Vitamins A and E with Olive oil and aloe vera gel can contribute to a supple and soothed skin appearance.
OUR TOP #5 PICK - And the last product that made it to our list is the Australian Gold Dark Tanning Accelerator. We highly appreciated the formulation of this lotion, as it didn't turn us into some unpleasant shade of orange. It can trap the moisture into the skin to enhance the sun-kissed effect without looking artificial.
How to Choose a Suntan Lotion for Tanning?
There are already so many products on the market we can choose from. We know this can be both hard and tricky.
But since we follow our mission in providing you with the latest and straight-to-the-core information about all the various options available, you don't need to feel lost or insecure.
If you have already set your mind to start the search for a lotion that can deliver fast and beautiful results, we'd better get to know the main purpose of these products better.
Advantages of Body Lotions
Lotions are amongst the most widely spread products in the beauty industry.
Their formulations can vary, so there are suitable options for each and every one of us out there, whatever the desired effect.
First of all, lotions can address any skin issue we can imagine.
Whether you want to fight blemishes, treat acne, diminish the signs of aging or improve the texture of your skin, there most certainly is a suitable product out there for you.
With the advanced technologies and the raised consciousness about ingredients, we can even prefer to apply a lotion of synthetic or natural origin, according to our personal preferences.
It is also up to us to choose when and how to apply a body lotion.
These products can be suitable for both before and after taking a shower, when we get up in the morning or before we go to sleep.
We can even carry them around in our bags and moisturize our skin whenever we feel like it. The epidermis requires frequent and diligent care.
Lotions are our timeless friends that support the natural beauty and health of the biggest organ in our entire body.
Efficiency of Body Lotions
We recognize a tendency for using a body lotion, which is mostly described as sticking to the same product once we find it efficient.
This is a wrong decision because the active ingredients can become less potent in addressing a certain issue with time.
Imagine it much like a diet. Even if we follow all the best rules for achieving a perfect food regimen, our bodies will gradually get used to it, and all the possible benefits can turn into a failure in practice.
Advice for Finding the Best Suntan Lotions for Tanning
If you succeed in finding a suntan lotion that works great for you, we highly recommend you to value this treasure and strive to have one in your drawer.
It is all up to you and your alertness on the topic to be able to avoid sunburns, rashes, allergic reactions or other unpleasant conditions.
Our advice for you is, to begin with a controlled amount of time exposure and using a proper SPF of at least 30 for the first days of your touch with sunlight.
Then, you can add the suntan lotions for tanning into your programme and get all the benefits they can provide without the concerns of the health risks.
We have managed to comply a selection of the top five best suntan lotions for tanning.
We have considered their ability to provide us with a deep, natural and vibrant color while assisting our skin to remain nourished and attractive.
Product Reviews: Our Top Five Picks for the Best Suntan Lotions for Tanning
We have chosen Millenium Tanning New Paint Black Auto-Darkening Lotion to head our list. It contains more than just one active ingredient to help us get tanned.
We have Tyrosine, Dihydroxyacetone, Dark Walnut Leaf extract, Sunflower seed oil, Carrot seed oil, Arginine, and Caffeine to boost the tanning abilities of the skin.
Let's take for example the photosynthesis in plants. Tyrosine has a similar action with people and the production of melanin.
Then we find Dihydroxyacetone which is a carbohydrate of all natural origin. Its browning effect is considered as non-toxic.

Arginine is what triggers the positive action of this lotion. This exact amino acid is required by our blood vessels for the synthesis of nitric oxide.
As to nitric oxide, it has the ability to enhance the blood flow.
If our blood is slow, then nutrients and important cells would not be able to reach the areas that need them the most.
The alcohols that this lotion contains are in the list of the good ones. They can intensify the activity of the other ingredients included in the formulation.
Second on our list of the best suntan lotions for tanning is the Maui Babe Browning Lotion.
Though it does contain mineral oil, this is a milder type. The molecular size of mineral oil is simply too big to enter the pore lining.
And this is exactly where clogging happens. So instead of causing us future problems, this oil serves to cover the surface of the skin with a thin layer.
However, if you have oily skin, this may not be the best ingredient to work in your favor. It might feel greasy and turn your face to look shiny.
The Vitamins A, C, and E combine in a very interesting manner.
They can help the skin look both brighter through the exfoliating properties of Vitamin C, while being hydrated and stimulated to develop tissues that keep it healthy and firm.
We do like the Potassium Iodide in the formulation of this product. The thyroid hormone requires Iodine in order to regulate the rate of oxidation in every cell of your body.
The third product on our list is Ed Hardy Coconut Kisses Golden Tanning Lotion. We liked that it has no bronzing agents.
Coconut oil is a powerful moisturizer and anti-septic, loaded with good fats and important nutrients.
Together with Coconut milk, we can indulge in a whole cocktail of essentials. Whether you decide to apply it topically or to consume it, the skin elasticity can be improved.
But what's more, both the blood vessels and skin flexibility can be increased. Thus, wrinkles and dark spots can be diminished.
Cocoa butter is such a great compound in many suncare products. This is mainly due to its melting point. It can get quickly absorbed by the skin as if it is drenching the thirst for nutrients.
Thus, it can provide us with pampering and rejuvenation. It can create a particular golden nuance that can show off on darker skin.
What caught our attention is a patented ingredient, called Melactiva. It comes from combining Maltodextrin and Mucuna Pruriens Seed extract.
Through the stimulation of melanin synthesis, the tan can be much more lasting and intense.
The fourth product on our list of the best suntan lotions for tanning is Australian Gold Cheeky Brown Tanning Accelerator.
There is no added mineral oil, so the lotion can be suitable for oily skin without making it appear greasy or shiny.
The Vitamin A and E serve to provide the skin with thorough moisturization. Three acids in Vitamin A, namely Retinol, Retinoic, and Retinal, can impact cell growth and production.
This is especially important when we are faced with the sunrays, and our skin needs to be supported in order to remain healthy and firm.
Sunflower oil and Olive oil can deliver us essential fatty acids to hydrate deeply and attract sunlight to penetrate faster.
Henna in this compound is a surprisingly potent and unusual ingredient. The interesting features of henna include its cooling abilities that can suck the heat out of the skin.
Wheat sprout extract included in the formulation contains a concentration of nutrients like Iron, phytochemicals, Vitamin E, Potassium, Bioflavonoids, and protein.
The last product on our list might not be the winner of the compilation, but it is not less potent. We noticed Sunflower seed oil which is an ingredient that can be found on many labels.
First, Sunflower seed oil can trap the moisture into the skin and thus hydrate it for a considerably extended period of time.
Secondly, its rich Vitamin E content can help protect the elastin and collagen to reduce fine lines. Thirdly, its antibacterial and anti-inflammatory activity can aid our overall appearance.
Furthermore, this oil can serve to protect us against acne breakouts. With Dimethicone and Glycerin to complete the moisturizing profile of this lotion, we can enjoy a skin so soft to the touch.
However, we do also think that this lotion might be better for maintaining a tan we already have, rather than counting on it to create one.
It is simply more effective at moisturizing than accelerating.
The Bottom Line
After hours of researching and testing, we all agreed on choosing Millenium Tanning New Paint It Black Auto-darkening Lotion for the best suntan lotion for tanning.
We evaluated the products accordingly to their ability to provide us with effective, lasting and beautiful-looking results.
We believe that this lotion combines the most potent features to head our list. The combination of plant extracts and oils contribute to the smoothing and nourishing of the skin.
It is designed to bring us a radiant glow, which is so intense that can barely be achieved only with sunbathing.
All of the lotions that made it to our compilation can be of assistance to supply the skin with deep moisturizing and help the tan appear bright and flawless.