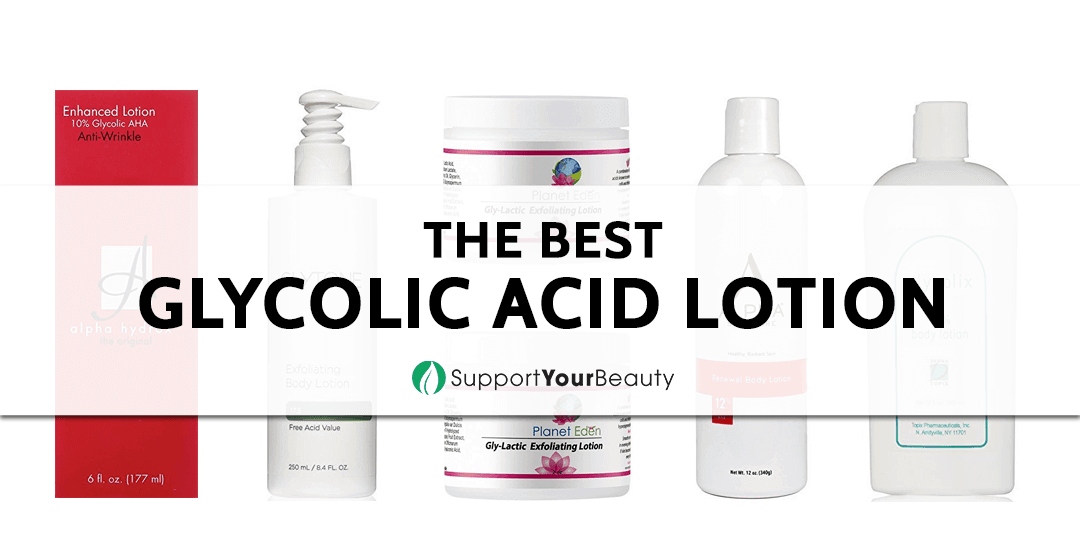 The Best Glycolic Acid Lotion – 2018 Reviews & Top Picks
To continue with our goal of supporting your beauty, we're rounding up the best glycolic acid lotion in this list. These products were carefully assessed based on their effectiveness in both hydrating your skin and making your skin glow. We believe these products can be a good addition to your beauty arsenal.
You're not alone if you think you're the only one who doesn't know about glycolic acid lotions.
We've just recently discovered this particular lotion, but we've known for quite long that glycolic acid is a common ingredient in skincare items.
Gone are the days when glycolic acid is only used by dermatologists in chemical peeling procedures because nowadays, we can get a hold of it in creams and lotions.
Having minute particles, glycolic acid is able to penetrate the skin deeply and quickly, making it the most effective for rejuvenating skin cells and treating dull, aging, and acne-prone skin.
The best glycolic acid lotions impart a number of benefits in beautifying the face and body.
Bear in mind that it should also be used in combination with gentle cleansers or moisturizers in order to avoid any irritation or side effects especially for sensitive skin.
More...
Quick Overview: Our Top Picks for the Best Glycolic Acid Lotions
OUR TOP #1 PICK - The Alpha Hydrox AHA Enhanced Lotion is the ultimate skin transformer, that's why it's our top choice for the best glycolic acid lotion. It contains gentle ingredients that exfoliate, cleanse, moisturize, brighten, and make the overall complexion appear youthful. It has a meager concentration of glycolic acid that is safe enough for daily use. Correcting bodily skin imperfections is as substantial as taking care of the face.
OUR TOP #2 PICK - The Glytone Exfoliating Body Lotion is specially formulated to retexturize, moisturize, and correct imperfections. It's an excellent treatment for keratosis pilaris too.
OUR TOP #3 PICK -The Alpha Skin Care Renewal Body Lotion doesn't just exfoliate, but it also feeds the skin with ultra-hydrating substances to make sure it stays moisturized throughout the peeling process. With a heavily moisturized skin, the onset of wrinkling is delayed because the skin becomes firmer and tighter.
OUR TOP #4 PICK - Flawless skin doesn't just happen; one needs to undergo enough exfoliation and cleansing with products such as the Planet Eden Gly-Lactic Exfoliating Lotion to reveal a clearer and brighter skin. This lotion uses a combination of acids, botanical oils, and butter to alleviate and improve skin imperfections.
OUR TOP #5 PICK - Are you suffering from acne, keratosis pilaris, and hyperpigmentation? You might want to try the Glycolix 15% Body Lotion, an exfoliating product that conditions the skin at the same time. It is gentle enough for sensitive skin, and it greatly reduces skin inflammations.
Correcting Misconceptions About Glycolic Acid
Perhaps you're thinking, "It's an acid, right? Will it burn my skin or do smoothing harsh?".
The truth is, no, it won't. There's no burn risk associated with this ingredient. Glycolic acid peels are actually the mildest of all beauty peels.
Despite what you may have heard about glycolic acid and AHAs in general, they do not cause dryness or irritation. It is often the formulation of glycolic acid products that becomes the cause of discomfort.
Furthermore, glycolic acid treatments do not cause skin thinning -- in fact, it's quite the opposite.
This acid can increase epidermal thickness, hyaluronic acid production, and collagen expression. As a result, the skin becomes firmer, more moisturized, and youthful-looking.
What Is Glycolic Acid?
Glycolic acid belongs to a family of compounds known as alpha hydroxy acids or AHAs. Among its members are citric acid, malic acid, lactic acid, and tartaric acid.
Glycolic acid is by far the most popular and commonly-used AHA because it has the smallest particles, yielding the most dramatic results.
It is a gentle exfoliator that peels the skin by dissolving the cement or glue between skin cells, causing them to fall off and allowing newer, healthier cells to emerge.
Notably, the peels are so small that they are invisible to the naked eye. Thus, this acid is sometimes dubbed as a peeling product that doesn't peel the skin.
Benefits Of Using Glycolic Acid
1. Gently exfoliates the skin
Glycolic acid's primary function is to slough off the top layer of dead cells from the skin.
As a result, the fresh skin is exposed, making the skin appear brighter, smoother, and even-toned.
2. Reduces inflammation and breakouts
Glycolic Acid-based products dissolve dead skin cells and unclog the pores of excess oils and dirt.
Dead skin cells coupled with oils and dirt become a favorable environment for acne-causing bacteria to thrive.
The particles of glycolic acid can also dissolve bacteria and other impurities such as blackheads and whiteheads in contact that may cause inflammation and breakouts, making it ideal for addressing regular acne breakouts and frequent skin inflammation.
3. Combats the signs of aging
In addition to being a cleanser, exfoliator, acne and breakout stopper, the topical application of glycolic acid has been shown to be an effective anti-aging agent.
It can reverse sun damage (such as sunspots and mottled pigmentation), hasten cell turnover, increase skin thickness, stimulate collagen and elastin production, and hydrate the skin.
It works by weakening the bond between lipids located on the upper layer of the epidermis which holds dead skin cells together.
The acid then dissolves dead skin cells, revealing the underlying healthy skin.
4. Lightens scars and blemishes
Glycolic acid gently peels the outer skin layer marked with acne blemishes and scars. It also hastens cell turnover which brings in new skin cells to replace dead ones.
With constant use of the best glycolic acid lotions, the skin will experience a faster rate of diminishing scars. Over time, the skin will have an improved complexion from head to toe.
Product Reviews: Our Top 5 Best Glycolic Acid Lotions
---
They say that the Alpha Hydrox AHA Enhanced Lotion is a skin transformer and a facial life saver, making it our top pick for the best glycolic acid lotions.
Its active ingredient is 10% Glycolic acid. 10% is relatively high enough for skincare products -- of course, any glycolic acid product is only as strong as its concentration in the product.
You might think that 10% is too strong and can be harsh to the skin. To compare, a glycolic acid peel done by dermatologists uses 30-70% glycolic acid.
This lotion is formulated with a weaker concentration because it's meant to be gentle enough for daily use, providing a gradual improvement in the skin.
Glycolic acid is prized for its ability to penetrate the skin with its smaller molecular size. This allows for deep exfoliation and pore cleansing.
These attributes are also the reason why this lotion has become so popular for people wanting to exfoliate their skins and reduce their acne.
Moreover, it contains rich moisturizers such as Vitamin E and petrolatum to boost moisture renewal and retention.
Vitamin E also comes in handy in teaming up with glycolic acid to reverse premature skin aging, improve elasticity and skin tone, and refine the skin's texture.
"Satisfied" is an understatement for this product. We're amazed by the results after almost three weeks of using this lotion.
First, our scars, blemishes, and acne have considerably diminished, though it causes a slight tingling sensation at first. But it fades away after; completely normal for AHA-based products.
Second, it's not greasy at all, and we noticed how it made our skins tighter and firmer, so the wrinkles and fine lines look like they're barely there.
Lastly, this lotion does help with hyperpigmentation and evens out skin tone.
---
Bodily skin is just as susceptible to damages and aging as the face.
The Glytone Exfoliating Body Lotion, one of the best glycolic acid lotions, is specially formulated to moisturize and correct bodily skin imperfections.
It contains a whopping 17.5% glycolic acid, one of the most concentrated we've seen.
Since it has a more concentrated amount of the acid, it exerts stronger and more drastic effects on the skin.
This lotion aims to retexturize the skin. It visibly improves rough skin and evens out uneven skin for renewed smoothness, revealing a more vibrant-looking and younger skin.
What we loved most about this product is it doesn't only improve the look and condition of the skin, but it also works as a soothing treatment for people suffering from keratosis pilaris.
The powerful formulation, when used daily, removes dead skin cells that cause bumps on the backs of arms and thighs of an individual with keratosis pilaris.
This terrific lotion also contains Vitamin E and antioxidants to defend the skin against free radical damage and help keep skin healthy.
To test out this lotion's effectiveness, we had someone with red acne-like bumps on his buttocks and thighs, similar to keratosis pilaris, try it out.
On his first few applications, his skin itched like crazy. But after that, the itching/tingling went away. He used it for three weeks and noticed that his skin turned out soft and smooth with a significant reduction of the annoying bumps.
Moreover, he discovered that this lotion is excellent for soothing razor bumps and ingrown hairs.
Before using this lotion, his only hope of resolving his ingrown hair problem is laser removal, but after using this lotion, he reported that his ingrown hairs have diminished by at least 90%
---
Feed your skin with intense hydration and rejuvenating ingredients of the Alpha Skin Care Renewal Body Lotion. This product delivers head-to-toe, anti-aging treatment.
Sweeping away dead skin cells, this lotion containing 12% glycolic acid helps to reveal healthy, new skin for an all-over youthful appearance.
It also evens out skin tone and promotes a soft, supple complexion.
With consistent application, this lotion can reduce signs of aging on your neck, chest, hands, and all other areas of concern.​
As glycolic acid works to renew the skin, dimethicone thoroughly infuses the complexion with hydration, locking in sufficient moisture to slow down the onset of wrinkling.
Furthermore, this lotion contains glycerin, a humectant.It helps pull in moisture from the surrounding environment, locking it inside the cells to provide long-lasting hydration.
Similar to the previous lotion, this product can also help with keratosis pilaris. Also, we loved how this lotion is thick, creamy, and absorbs quickly with no noticeable scent.
Upon weeks of using it, we noticed a big improvement in the appearance our skins.
The chest, arms, backs of hands, legs, and everywhere we applied it looked and felt smoother, less dry, firmer and tighter.
---
The Planet Eden Gly-Lactic Exfoliating Lotion combines 10% glycolic and 10% lactic acid, a powerful formulation for increasing cell turnover and speeding the exfoliation process.
Flawless skin doesn't just happen; one needs to undergo enough exfoliation to reveal a clearer and brighter skin.
Coupled with lactic acid, a gentler and less irritating AHA than glycolic acid to exfoliate, hydrate, lighten dark areas, and reduce acne, this lotion can sure be of help to anyone who wishes to achieve flawlessly beautiful skin.
This product is packed with hyaluronic acid, a robust moisturizing ingredient in skincare products that instantly plumps the skin with dewy moisture.
Additionally, this lotion contains aloe vera, jojoba oil, and shea butter to replenish lipids and provide excellent moisturization.
What we dearly loved about this lotion is its wheat protein ingredient which offers pore conditioning and refinement you achieve a "porcelain" look.
We can say that this product definitely worked as described and has a strong exfoliating effect. Within a week, our faces were already flaking, and several age spots were falling off.
Our skins were absolutely transformed for the better, but sadly, we haven't noticed any porcelain effect.
---
The exfoliating powers of the Glycolix 15% Body Lotion addresses problems such as acne, keratosis pilaris, pigmentation, and sensitivity.
Formulated with ultra-pure 15% glycolic acid and aloe vera to somehow neutralize the strong effect imparted by the acid, this lotion conditions and moisturizes the skin while the acid works to slough away dead skin cells for a brighter and healthier skin tone.
It also uses salicylic acid, a potent cleanser and peeling agent, to unclog and cleanse pores, delivering an acne therapy for a more flawless complexion.
Salicylic acid has also been proven to have the same anti-inflammatory properties as aspirin, making it excellent for calming acne inflammations and sunburns.
This lotion has no odor at all, felt rich, and glides smoothly without leaving a greasy residue. This lotion is fairly thick, so it's best to apply it after you shower when the skin is slightly damp.
We loved how it has kept our arms and décolleté area completely bump-free and smooth. It's a strong stuff though -- you wouldn't want to apply it on freshly shaved legs or any abrasions.
Furthermore, this lotion can potentially reduce your body acne, blemishes, hyperpigmentation, and acne scars.
The Bottom Line
Our top choice for the best glycolic acid lotion is none other than Alpha Hydrox AHA Enhanced Lotion.
We chose it because it has the lowest concentration of glycolic acid among the list.
It's formulated with a weaker concentration because it's meant to be gentle enough for daily use, providing a gradual improvement in the skin unlike others with a higher concentration which causes intense flaking and visible shedding.
Also, it uses rich moisturizers such as Vitamin E and petrolatum to boost moisture renewal and retention, providing protection as the skin sheds.
Overall, we're satisfied, and we highly recommend this lotion because it protects, exfoliates, tones, moisturizes, and reduces acne and breakouts – the perfect recipe for youthful-looking skin.