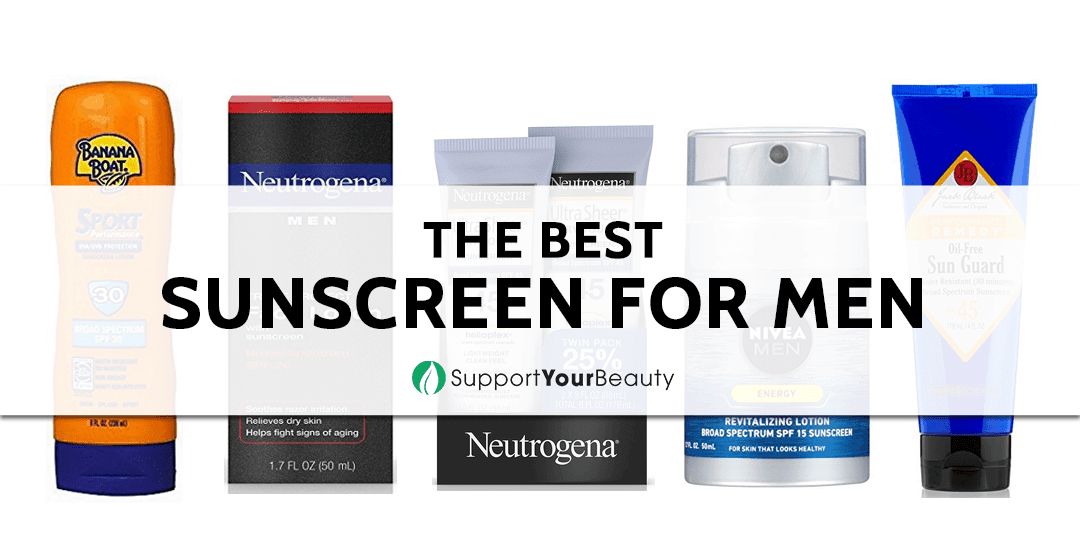 The Best Sunscreen For Men – 2018 Reviews & Top Picks
In order to help you enjoy the appealing sun without having to compromise your skin's health, we've compiled 5 of the best sunscreen for men. We've carefully picked these products based on their ability to provide you with protection against the damaging rays while assisting you to keep the signs of aging away. We believe these products can help you in achieving an even tan by simultaneously contributing to a nourished skin appearance.
Everyone is required to wear sunscreen. However, most of the sunscreen lotions available in the market have a strong, effeminate scent.
This is because of the coconut butter found in most lotions.
For decades, male were restricted to use sunscreens with a coconut scent to avoid those irritating UVA/UBA rays.
Today, however, with the latest technology and products, there are many alternatives made for men.
Strong-perfumed sunscreens are a thing of the past.
The latest sunscreen lotions you can find in the market are created specifically for men, some of which can even help you acquire your perfect tan.
Most of these sunscreens have features like sweat resistant and anti-aging, to help you look your best.
So even if you go out in the sun for some outdoor activities, you still look and feel great.
And now that your skin is protected sans coconut scent, here are some of the best sunscreen for men that we recommend you use.
More...
Quick Overview: Our Top Picks for Best Sunscreen For Men
OUR TOP #1 PICK - Neutrogena Ultra Sheer Dry-Touch Sunscreen is our top choice in this list of best sunscreen for men. The main active ingredient is the patented Helioplex technology using avobenzone and oxybenzone to protect against UV rays. Therefore your sunscreen application will be effective for a longer period of time, compared to other products.
OUR TOP #2 PICK - Banana Boat Sports Performance Lotion Sunscreen contains ingredients and uses the unique ActiveProtect Technology that gives a heavy-duty broad spectrum protection. Its one of a kind ActiveProtect Technology will shield your skin from UVA/UVB against the sun's most intense heat.
OUR TOP #3 PICK - If you are looking for a sunscreen that is vitamin-enriched, oil-free, and leaves a smooth skin, then you might be looking for Jack Black Sun Guard Sunscreen. Considered as the most effective free radical agent and antioxidant, Vitamin C is another ingredient found in this sunscreen.
OUR TOP #4 PICK - Neutrogena Men Triple Protect Sunscreen provides the best sunscreen that is specially formulated for a man's skin. It offers multiple advanced skincare benefits that make this fourth choice stand out.
OUR TOP #5 PICK - Fast-absorbing, lightly-scented, as well as the moisturizing, is what Nivea Men Energy Sunscreen Lotion Broad Spectrum is all about. The broad spectrum SPF 15 found in this sunscreen will protect your skin from harmful UVB and UVA sun rays.
Advantages of Using Sunscreens for Men
Sunscreen is important and essential to both men and women for very basic reasons.
Compared to women's skin, male skin tends to be tougher and thicker in nature.
However, this does not mean that they no longer need sunscreen to shield them from the harmful UV rays.
With that in mind, applying sunscreen is a must.Here are some helpful advantages of wearing sunscreen every day.
First, sunscreen acts as a shield from the UV rays and inhibits skin to premature aging.
By the use of sunscreen, you will be away from the risk of disease like skin cancer.
Second, the use of sunscreen for men helps prevents sunburns, tanning and much more.
And the last benefit of using sunscreen, is it helps lower face blotchiness. You will have a healthy skin all the time by wearing sunscreen.
What to Know About Sunscreens
Be aware of these three key things when it comes to choosing a sunscreen.
Also, what you should consider when looking at the labels.
1. Broad spectrum
This means that the sunscreen shields skin from the harmful UVA rays that reaches the deepest layer of the skin that cause skin cancer and skin aging.
While UVB rays reach only the top layer of the skin that cause burns.
Broad spectrum will give you the maximum protection you ever want.
2. SPF 30
This abbreviation means "Sunburn Protection Factor." Does it mean that the higher the SPF, the more protection?
Not exactly, because it is said that sunscreen with SPF 30 blocks 97% of UVB rays.
This is according to dermatologist MD Abdulaziz Madani of Tufts Medical Center.
He added that the higher SPF blocks a higher percentage of UVB rays, but no sunscreen has the ability to block 100% of UVB rays.
More on that, using a sunscreen that has an SPF higher than 30 does not necessarily mean that it will last longer.
It is a misconception that the higher SPF will allow you to spend more time outdoors, even without reapplication of sunscreen.
Whatever it is SPF 30, SPF 50, SPF 100 and so on, you have to wear it at the same time, the same amount and re-apply it at the same duration of time.
3. Water-Resistant
Even if you are not really swimming, the sun's UV rays will still cause your body to sweat, thus making it difficult for sunscreens to stay put.
The water-resistant sunscreens will effectively protect your skin, even when you are wet from swimming or sweat.
Be aware that completely waterproof sunscreen does not exist. Therefore you must reapply sunscreen when your skin gets doused.
It is significantly important to choose the right sunscreen for your skin type that works for regular use.
Choose a sunscreen that is easy to apply, fragrance-free, comfortable on the skin, and will not irritate your eyes and skin.
Which Type of Sunscreens to Use?
You might have probably read or heard about the safety ingredients of sunscreen.
To clear up some of this confusion, the AAD divided down ingredients into two categories.
1. Chemical sunscreen
This category of sunscreen ingredients includes active ingredients like the avobenzone, oxybenzone, octocrylene, octinoxate, homosalate, and octosalate.
2. Mineral or Physical sunscreens
This type of sunscreen ingredients includes active compounds such as titanium dioxide and zinc oxide, which can be a bit confusing because these are chemicals too.
A simple way to identify the difference between the two is that chemical sunscreens contain a lot of organic compounds that absorb UV energy, then transform it to non-damaging energy.
While the mineral sunscreen contains more inorganic compounds that will reflect UV rays off to the skin.
So, which one is better for you?
The answer depends on who you ask. ​Either way, both categories of sunscreen ingredients will protect you from the harsh sun.
Product Reviews: Our Top 5 Best Sunscreens For Men
This sunscreen's active compound for fighting the sun's skin damage is their patented Helioplex technology.
This technology has a wide range of formulation that is intended for UVB and UVA protection.
It makes use of oxybenzone and avobenzone, both of which are added for the protection of men's skin. This makes Neutrogena Ultra Sheer Dry-Touch compatible for the male skin.
The Helioplex combines the two introduced chemicals, but in a uniquely successful way. Therefore your sunscreen application will be effective for a longer period of time, compared to other products.
This kind of sunscreen is intended for men's skin. To those who are prone to acne, fungi, or have sensitive skin, this sunscreen will not cause a breakout or irritate your temperamental skin.
I went for a vacation with this sunscreen, walking long hours, surfing and swimming and sweat like crazy.
After a full day of testing, this sunscreen held up, and I did not get sunburnt.
If there is one thing I don't like about this product, it would be the smell because it's kind of strong for me, but overall this was the best sunscreen product I ever had.
It is said, that men are more prone to skin cancer compared to women as they get older. Therefore, you need the help and protection of sunscreen lotion.
Created especially for men, this sunscreen lotion has the odor-neutralizing feature, plus a manly scent that will give you confidence when you need it.
This Banana Boat Sunscreen intended for Men Triple Defense is waterproof and ideal for everyday use.
This sunscreen product contains ingredients like vitamin E and aloe vera that deeply moisturizes your skin while keeping it safe from the harmful UVA/UVB rays.
If you need an effective sunscreen for those trips to the beach or pool during the summer season, then bring this along and see for yourself.
This Jack Black Sun Guard Sunscreen is a water-resistant and suitable for minimum exposure to the sun.
The sunscreen lotion is enriched with vitamins that will make your skin so smooth and oil-free, away from greasy residue.
The Sun Guard sunscreen lotion is sweat and water-resistant. It will give you a tough protection against wide range of harmful sun rays while you are out.
Known to be the UVB and UVA absorbers are Octisalate, Zinc Oxide and Octinoxate are some of the ingredients found in this sunscreen.
These ingredients protect your skin from harmful, aging ultraviolet rays.
Considered as the most effective free radical agent and antioxidant, Vitamin C is another ingredient found in this sunscreen.
The Soothing Organic Calendula Flower will calm your skin because of its anti-inflammatory power.
To maximize its sun-protecting potential, you have to apply it 30 minutes before you get exposed to the sun.
This Sun Guard sunscreen lotion creates barriers to protect your skin and stay long, even when you are extremely sweating from outdoor activities.
Neutrogena Men Triple Protect is a range of skincare products from the brand that is formulated especially for the man's skin.
This product has a light texture lotion that provides advanced skin care benefits to help protect men's skin.
This lotion can also be used as an aftershave lotion that it just so happens, contains SPF 20.
This sunscreen boasts benefits such as effective moisturizing properties, zero after-shave irritation, and dry skin relief.
It may also be used as a moisturizer that will protect your head from hair loss.
The Triple Protect sunscreen lotion has a creamy texture, with no grease or oil.
It also has a masculine scent that will give you that refreshing feel all day.
SPF 20 gives enough sun protection for day to day use, especially if you apply it right before going outside.
I have used this product, and it helped me with razor burn and wasn't as greasy as I was expecting.
Most of us head out the door as quickly as possible when we get up in the morning.
For those who find it a drag to apply sunscreen, this one is for your busy nature.
I loved how this sunscreen kept my skin hydrated and fresh because of its smooth texture.
Riding a motorcycle daily is a part of my routine, so a powerful and hydrating sunscreen like this is necessary.
Especially during the winter season, the moisturizing effect of this sunscreen comes in handy.
What will you get with a sunscreen that has Energy Lotion Q10? You will get a fast-absorbing, moisturizing, and lightly-scented formula.
It replenishes Coenzyme Q10 which helps your skin maintains its elasticity and vitality.
The broad spectrum SPF 15 found in this sunscreen will protect your skin from harmful UVB and UVA sun rays.
Another thing I like about this sunscreen, is it does leave a light layer of grease right after applying to the skin.
Other than that, I had no other concern with this sunscreen.
The Bottom Line
There maybe a lot of sunscreens out in the market, but we had to narrow it down to the top 5 best sunscreens for men.
Neutrogena Ultra Sheer Dry-Touch Sunscreen is my top choice when it comes to the best sunscreen for men.
What makes this product a clear winner is its active ingredient known as the patented Helioplex technology.
The SPF 50 indicates that no matter the heat and how much time you spend under the sun, you'll end up having nice and smooth skin that is protected from the UV rays.
This will also protect you from skin breakouts.
I think this sunscreen is suitable for all kind of skin types, but we highly recommend this product for those with oily skin. Two thumbs up for this product.