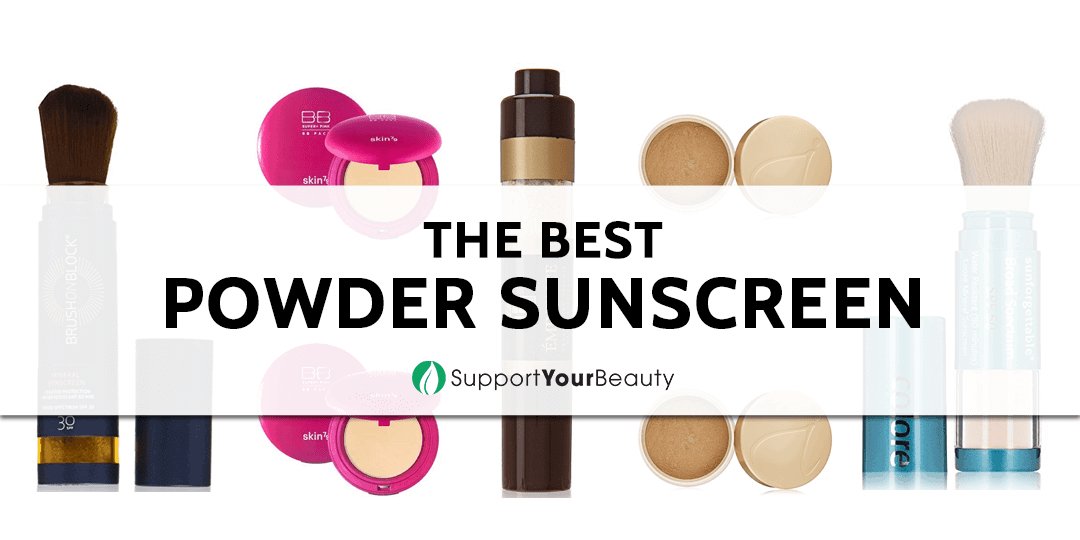 The Best Powder Sunscreen – 2018 Reviews & Top Picks
In line with our goal to be your top source for all things beauty related, we've compiled this list of the best powder sunscreen. These products made our list because of their effectiveness in shielding your skin from harmful ultraviolet rays in lightweight, powder form. We believe these products will be your skin's new best friends.
Whatever the weather or season, it is necessary to use sunscreen. Sunscreens help prevent premature aging, as well as lower the risk of getting skin cancer.
However, choosing the right formula of sunscreen lotion could be very challenging.
Most people say that sunscreen lotions make their skin sticky, and even leave a ghostly white sheen. Both of which are problems that will make you feel uneasy about using this vital skincare product.
To assist you in finding your soulmate sunscreen, we present our top 5 best sunscreen powder.
Powder sunscreens or dry sunscreens are another great option to consider when choosing a sun protection product to bring along in your purse or luggage.
More...
Quick Overview: Our Top Picks for Best Powder Sunscreen
OUR TOP #1 PICK - Colorescience Sunforgettable Sunscreen Fair SPF 50 is full of vitamins, minerals, and amino acids that will help maintain the health of your skin. This sunscreen also contains red algae extract which is a powerful antioxidant.
OUR TOP #2 PICK - Housed in a reusable powder cartridge, Brush On Block Mineral Sunscreen Powder SPF 30 provides full spectrum protection from UVB, IRA, and UVA rays.
OUR TOP #3 PICK - Jane Iredale Base Loose Mineral Powder SPF20 contains titanium dioxide and zinc oxide which are mineral sunscreen ingredients. These natural ingredients are ideal for those with sensitive skin.
OUR TOP #4 PICK - The micronized zinc oxide present in Eminence Sun Defense Minerals provides SPF30 for sun protection. This handy, dry sunscreen also prevents sun damage and the premature signs of aging.
OUR TOP #5 PICK - The Skin79 Sun Protect SPF30 Powder Sunscreen offers natural-looking skin tones, along with sun protection from UV rays. It is tough on sweat and sebum, and keeps your skin fresh and free from oil.
Benefits of Powder Sunscreen
1. It is a convenient makeup product
The powder sunscreen goes with your makeup. This feels and looks the same as a loose face powder.
It is accessible in tinted and translucent versions. It also mattifies and protects your skin from the ultraviolet rays.
These dry sunscreens can also be used not only on your face, but also on your hands, chest, legs, etc.
2. Sunscreen powders are available in SPF50 and SPF25.
Because of zinc oxide and titanium dioxide, which are also present in some lotion sunscreens, powder-based sunscreens also have powerful sun protection factors or SPF.
Therefore when you choose the right sunscreen, it is important that it contains active ingredients like titanium dioxide and/or zinc oxide.
These active ingredients are key elements that will protect your skin against the damaging heat of the sun while providing moisture.
Zinc oxide and titanium dioxide also help keep the skin healthy with its soothing and age defying components.
3. Powder sunscreens will give you an extra layer of sun protection.
Although powder sunscreens are highly effective in providing excellent protection from the harsh UV rays, it is still advisable for you to apply your usual lotion sunscreen.
Despite that, it is possible to use dry sunscreens as part-time substitutes to lotion sunscreens.
4. It is easy to carry and re-apply.
Because every tube comes with a built-in, self-dispensing brush, it is ridiculously easy to use powder sunscreens and they will not destroy your makeup.
Also, because they are portable, you can easily bring them anywhere. Plus, they contain hypoallergenic mineral filters.
Although, as mentioned, without a layer of lotion sunscreen underneath, it may not be as effective.
We suggest that you carry sunscreen lotion in your purse at all time, because you never know when you'll be needing it.
5. Powder sunscreens are often mineral sunscreens
If you are for a sunscreen that does not leave sticky and greasy feeling that a sunscreen lotion sometimes does, the alternative for it is the powder-based physical sunscreen.
Powder-based sunscreens are often mineral-based. So it functions as a protector and doesn't break easily, unlike a chemical-based sunscreen.
The best part about this powder is you are left with no mess when you use it.
Also, no greasy or oily residue left on your hands.
So, how do you use it? You can use it just like your regular makeup.
Simply sweep the brush to your face and it will leave a tinted or translucent layer of powder.
6. Powder sunscreens are also suitable for sensitive skin.
Sensitive skin is often triggered by harsh chemicals that are found in most sunscreen lotions.
Since powder or dry sunscreens are often mineral-based, the ingredients and formula are gentle enough not to irritate sensitive skin.
If you have sensitive, acne-prone skin, search for powder sunscreens that are hypoallergenic and will not clog your pores.
Product Reviews: Our Top 5 Best Powder Sunscreen
---
Colorescience Sunforgettable Brush-on Sunscreen with SPF 50 provides sheer coverage which makes it work on any skin tone.
It will also protect you against the harmful rays of the sun because of its SPF50.
The convenient packaging also makes it easy to avoid making a mess in your purse or bag.
I wear my powder base sunscreen under my make up, and it is just easy to apply using the self-dispensing brush.
The Colorescience Sunforgettable Sunscreen Medium SPF50 contains Titanium Dioxide and Zinc Oxide. Both ingredients provide natural protection from the sun.
Another ingredient is Iron Oxide, which works as a colorant that provides a natural looking shade matching your skin tone.
Lastly, Red Algae is rich in fatty acids, polysaccharides, and carotenoids which makes Red Algae a powerful antioxidant. Antioxidants protect you from free radicals that may damage your skin.
---
Brush On Block Mineral Sunscreen Powder SPF 30 contains well-milled minerals, zinc oxide and titanium dioxide.
These active ingredients mixed together will enrich, soothe, and replenish your skin.
It also has a self-dispensing brush and comes in a handy packaging that you can toss inside your purse or bag to easily get everyday sun protection.
The product is refillable and TSA-friendly.
Buff generously over your neck, hands, scalp, and arms for full coverage using the artificial hair brush. With just a few shakes, this powder is ready to apply.
This mineral powder sunscreen contains antioxidants that helps moisturize the skin and protect it from free radicals.
This product is free from PABA, parabens, and phthalates.
We tried this product and the shade is more suitable for light skin tones. What I like about this product is that it won't sting your eye.
Also, a friend of mine used this and said it is effective for him because he has thinning hair and scalp.
---
Jane Iredale Base Loose Mineral Powder has SPF 20 broad spectrum UV ray protection.
With this sunscreen, you may just get to spend a lot more time under the sun since it is water and sweat-resistant Since it is water resistant, you can go for an exercise or swim and this sunscreen will last up to 40 minutes.
This kind of sunscreen powder is very easy to apply and is much like your ordinary powder. Just buff it evenly onto your neck, face, and scalp.
Compared to other powder sunscreens, I love how it leaves no sticky feeling after application. It also works for sensitive skin and does not cause irritation.
With this sunscreen, a little amount is just enough for you to get a good coverage and a healthy glow.
The lightweight material makes it ideal and comfortable for everyday use, unlike other powder sunscreens that are cakey and heavy on the skin.
Although this product mentioned that it can help clear blemishes and fine lines, we were a little skeptical. But after much testing, we found that it considerably reduced the signs of aging we could see on our faces.
---
The well-milled powder of this Eminence Sun Defense Powder Sunscreen has two main functions.
First, it's an effective protector against the harmful UV rays. Second, it instantaneously absorbs the excess oils for a smooth and matte finish.
The Vitamin A and Vitamin E present in this mineral sunscreen prevent free radical damage and premature aging.
Other ingredients includes fruits extracts like apple, peach, and blueberry. They are responsible for nourishing the skin and giving it a healthy, natural glow.
This organic mineral powder is lightweight, hypoallergenic, water-resistant, and has enough SPF or Sun Protection Factor to protect you from the sun.
But since SPF30 is just enough for everyday use and not for heavy sun exposure, it would be advisable for you to use a sunscreen lotion with a higher SPF underneath the powder sunscreen.
When we tested it out, we were impressed with how it didn't dry out our skin. The powder was also finer than the rest, but it didn't clog our pores and it still provided enough buildable coverage.
---
Skin79 Sun Protect Powder Sunscreen offers natural-looking shades along with effective sun protection from UV rays.
This sunscreen powder has natural ingredients like camomile extract that relaxes the skin. It also contains lavender extract, which may lighten your skin.
Additionally, it has green tea extract. This particular ingredient helps moisturize the skin. Lastly, it has purslane extract, an effective sunburn treatment.
What I like about this product is that it helps reduce excess oil over a period of time. We also like the cover inside the compact because it separates the puff and the powder.
This convenient packaging makes it easy to use and also, more importantly, hygienic.
When it comes to coverage, this powder sunscreen provided enough coverage. It also smoothened our skin.
One downside is that we had to be careful while layering the powder, when overdone, it could look cakey and powdery. If you don't need heavy coverage, this powder may not be ideal for you.
The Bottom Line
Colorescience Sunforgettable Sunscreen Medium SPF50 is the best choice because it provide broad spectrum protection even the most sensitive skin.
It has a self-dispensing brush that is perfect for shoulders, décolletage, legs, or any part of the body.
It is water-resistant and lightweight. The formula is also free from dyes, talc, fragrance, and other common irritants.
This product also features an active blend of, minerals, vitamins, red seaweed extract, and amino acids. When combined, these boost skin complexion, aside from giving you ample protection from the sun.
The sheer coverage is also ideal for a natural-looking finish. It also provides a light tint that matches most skin tones.