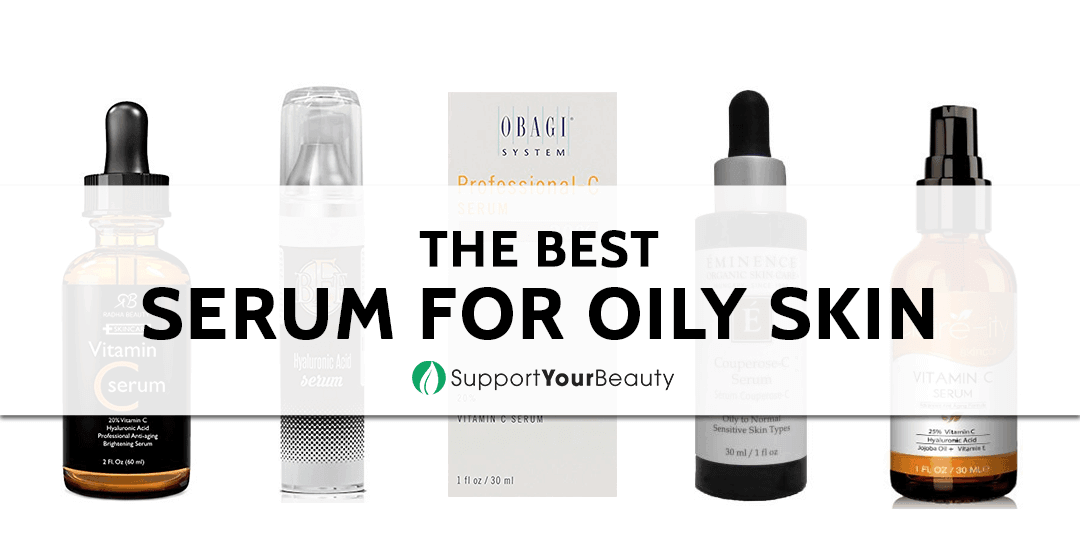 The Best Serum for Oily Skin – 2018 Reviews & Top Picks
In order to help you cope with the excessive shine on the face, we've rounded up 5 of the best serums for oily skin. We've carefully picked these products based on their ability to treat the greasy areas while addressing a variety of skin issues. We believe these products can help you in balancing and controlling sebum production so you can achieve a flawless complexion.
Our nights end with a religious beauty routine of cleansing, moisturizing, and toning. But most of us miss the elixir of beauty – face serums.
These products are formulated to target specific skin problems, deliver intense hydration, and help us maintain an overall balance in the skin.
The best serums for oily skin do not tend to leave a greasy residue behind nor cause blocking of the pores. They easily blend and absorb into the skin, giving it a lightweight, barely-there finish.
More...
A Quick Overview: Our Top Picks for the Best Vitamin C Serums for the Face
OUR TOP #1 PICK - The Radha Beauty Vitamin C Serum for Face is our top pick for the best serum for oily skin. What impressed us is that the formulation of this product boasts of natural extracts. Together with concentrated amounts of Vitamin C and Hyaluronic Acid, we were delighted to experience a diminishing of the issues, related to oily skin.
OUR TOP #2 PICK - The second product that caught our attention is the Claire-ity Skincare 25% Vitamin C Serum with Hyaluronic Acid and Vitamin E. We were glad to notice reduced dark spots, as well as softened skin after using this product. The inclusion of Rosemary Leaf Extract, Sage Leaf Extract, and Witch Hazel Extract can make it suitable for preventing acne breakouts and clearing blemishes.
OUR TOP #3 PICK - Our third suggestion is the Obagi Professional-C Serum. We appreciate that it can benefit oily skin and aims to diminish the signs of aging. What's more, it can help to brighten the complexion and load it up with lots of moisture.
OUR TOP #4 PICK - The Beauty Facial Extreme's Hyaluronic Acid Serum is our fourth choice. It is formulated with robust acids and extracts that can help to hydrate dermal layers deeply . We noticed that our skin was revitalized and toned. We also enjoyed the plumping out of wrinkles, targeted on long-term results.
OUR TOP #5 PICK - If you find difficulty related to rosacea-prone skin, you might appreciate the Eminence Couperose-C Serum. With a blend of nourishing ingredients, this product is designed to assist in reducing inflamed areas. We were delighted by the natural and organic compounds that can make it suitable for all skin types.
Advantages of Face Serums
For many, the use of serums in skin care seems superfluous and just an unnecessary indulgence at first.
However, despite their lightweight formulation, they boast of powerful compounds that can add an extra oomph to the skin.
But if you're already strictly keeping yours clean and hydrated all the time, can incorporating a serum in your routine make much of a difference?
According to dermatologists and cosmetic surgeons, serums can deliver a concentrated level of nutrients that can penetrate better than many moisturizers.
Their small particles comprised of active ingredients pierce the epidermis quickly. Thus, they can deliver massive doses of antioxidants, moisturizers, vitamins, and minerals.
Most importantly, these can seep into the skin better than creams and moisturizers that merely sit on the top.
Additionally, serums serve as great vehicles for delivering water-soluble substances such as Vitamin C beyond the surface of the skin.
The body cannot store these water-soluble vitamins, hence they must be replaced daily.
Active Ingredients in Serums for Oily Skin
Free radicals from the environmental pollutants and the sun are responsible for the unsightly formation of wrinkles and fine lines.
Powerful antioxidants such as Vitamins C and E can contribute to achieving a youthful appearance. Of course, they are not the only source of these vital elements.
Furthermore, Pomegranate Extract or other herbal extracts can fend off free radicals to keep the skin firm and elastic.
• Hydrators, Moisturizers, and Humectants
Simply put, those three groups of substances can seep beneath the skin's surface. Thus, they can deliver lasting moisture, eliminate dryness and keep the suppleness and smoothness.
These include but are not limited to ceramides, hyaluronic acid, aloe vera, and amino acids. You can check for their content and choose the one that best addresses your needs.
We recommend you to skip serums containing petrolatum, mineral oil, and petroleum as they can be suffocating to oily pores.
Even though their effect can be visible in the short run, their overuse can lead to problems in the long-term.
Glycolic Acid is a powerful cleansing agent that can be suitable for oily skin. There are also other options, which are considered a bit more harsh, such as Salicylic Acid and Witch Hazel.
Apart from unclogging the pores of contaminants, glycolic acid can also curb excessive oil production which can lead to breakouts.
Perhaps you're already familiar with ingredients like Vitamin C, collagen, and hyaluronic acid in your anti-aging cream. But have you heard of Retinol?
Retinol, a Vitamin A derivative, is a potent ingredient that targets problems like wrinkling and hyperpigmentation.
It is considered especially beneficial for oily skin since it tends to be drying and may not be the best match for other skin types.
The effect it possesses is quite robust, and people are advised to proceed cautiously and gradually with its appliance.
As stated by Dr. Gross, "Anything that builds collagen and firms up skin, will help keep pores tighter so that they emit and create less oil,."
Retinol, which tightens the pores, can, therefore, reduce any shine that may form while working deep down to replenish aging skin.
Product Reviews: Our Top Five Choices of the Best Serums for Oily Skin
---
The product that heads our list is the Radha Beauty Vitamin C Serum for Face. Vitamin C, a skincare powerhouse, is an active ingredient in its formulation.
Its abundance can effectively contribute to collagen production. As a result, the skin can become firm and elastic.
Pure hyaluronic acid can help by delivering hydration to keep the skin plump.
What's more, it can assist to eliminate acne scars, age spots, as well as wrinkles and fine lines, especially around the eyes.
Meanwhile, Vitamin E targets free radicals and assists in the healing of scars.
Its anti-inflammatory properties can aid to rejuvenate dull skin and shrink pores for a flawless appearance.
The synergistic work of Vitamins E and C can contribute to intensifying the antioxidant effect. We enjoyed that the consistency is non-sticky and fast-absorbing.
It made our skin soft and smooth. However, its powerful effect can impart dryness or peeling of the skin. Our advice is to follow it up with a suitable moisturizer.
---
Our second top pick for this category is the Claire-ity Skincare 25% Vitamin C Serum with Hyaluronic Acid and Vitamin E.
We noticed that it could help to refine uneven skin texture and imperfections. We also appreciated how it could clear up and unclog the pores.
The powerful combination of Hyaluronic and Ascorbic Acid can provide potent anti-aging benefits.
This particular acid can aid to depigment the skin and eliminate impurities such as acne. What's more, we were impressed with its efficacy in curing sun-damaged skin.
The Green Tea Extract can aid in the fight against free radicals, while the soothing Aloe Vera can calm the skin and reduce irritation.
The inclusion of Rosemary Leaf Extract is rich in phytonutrients and essential acids. It can help to heal, rejuvenate and purify the skin.
It can also stimulate biological activity and speed up cell reproduction.
On the other hand, the Horsetail Extract is well-known for its antibacterial, antimicrobial and anti-inflammatory properties. It can benefit acne-prone skin and lessen the chances of irritation.
---
Securing the third spot for the best serum for oily skin is the Obagi Professional-C Serum.
L-ascorbic acid, a form of Vitamin C, is known to neutralize free radicals through the different skin layers. Thereby, it can prevent damage at the cellular level.
After religiously using this serum, we enjoyed how it absorbed fast. It also has a fairly nice smell, which isn't overpowering.
We noticed that our skins brightened a bit and the tone was evened out.
According to our research, hydroquinone can slow down melanin production, thus eliminating dark spots and hyperpigmentation.
Even though we did not experience drying or irritation, you have to be extra careful when it comes to the powerful hydroquinone.
On the other hand, Propylene glycol, Sodium hyaluronate, and Sorbitol can keep your skin soft and hydrated for long.
A fair warning to all: your skin might feel weird and tight after serum application so don't freak out – it's just Zinc Chloride.
That is a known substance used to firm the skin. It can stretch out wrinkles and fine lines, and reduce the chances of infection.
---
Formulated with rapid hydrating ingredients, the Beauty Facial Extreme's Hyaluronic Acid Serum has spotted our fourth position.
As skin fanatics know well, hyaluronic acid is a terrific moisturizer. Hyaluronic acid and glycerin are both recipes for a youthful appearance.
As we age, the ability of the skin to hold moisture drops, exposing signs of aging.
Hyaluronic acid's unique ability to hold moisture heightens collagen production, thereby increasing the skin's elasticity.
Another unique ingredient that you won't frequently see in skincare products is soybean extract.
What's more, it can influence the hyaluronic acid levels in the body. Usually, it is found in high rates in young skin.
It serves to fight the aging signs such as sagging and lack of hydration. With regards to the suitability of this serum for oily skin, we enjoyed a shine-free complexion.
We liked how this product absorbed easily, leaving the skin moisturized and fresh without looking glossy for long hours.
We also appreciated the fact that people with acne-prone and sensitive skins can also benefit from this serum.
---
Eminence Couperose-C Cream is the fifth product that made it to our list.
One of our favorite compounds is the Rosehip Extract. It can replenish and seal in moisture to provide comfort and promote a soft, supple skin texture.
Meanwhile, it also serves to supply Vitamin C to the skin.
On the other hand, Lavender and Peppermint can aid in the treatment of capillaries, and prevent further bacterial attacks. They can help to calm both the skin and the spirit.
The unique Biocomplex formula is composed of antioxidants, vitamins, Coenzyme Q10, and Alpha Lipoic Acid.
These ingredients have the power to nourish the skin. Furthermore, they can assist to fight free radicals with their antioxidant properties.
They are aimed at reducing the appearance of wrinkles and improving the overall appearance of the skin.
We highly recommend this serum for anyone who suffers from rosacea. Even though people say there is no "cure" for rosacea, we believe this can help to soothe the symptoms.
We experienced less inflammation and redness, fewer bumps and flushing, and a minimizing of broken capillaries on the cheeks.
The Bottom Line
We are here to help you with our understanding of the ingredients that can be beneficial for controlling the excess sebum.
Our top pick for the best face serum for oily skin is the Radha Beauty Vitamin C Serum for Face.
It became our favorite product because it utilizes Vitamin C, Hyaluronic Acid and plant extracts that can help to improve the skin condition.
After using this serum, we noticed that our skin has become plump and supple.
We also find that our overall appearance was youthful and bright. Nevertheless, we believe that all of the serums that made it to our list can be a suitable match for targeting various issues.
Whichever you decide to use, we hope that you will also share your experience with us.
Together we can be of help for the informed choice of many other people on their way to a flawless complexion.