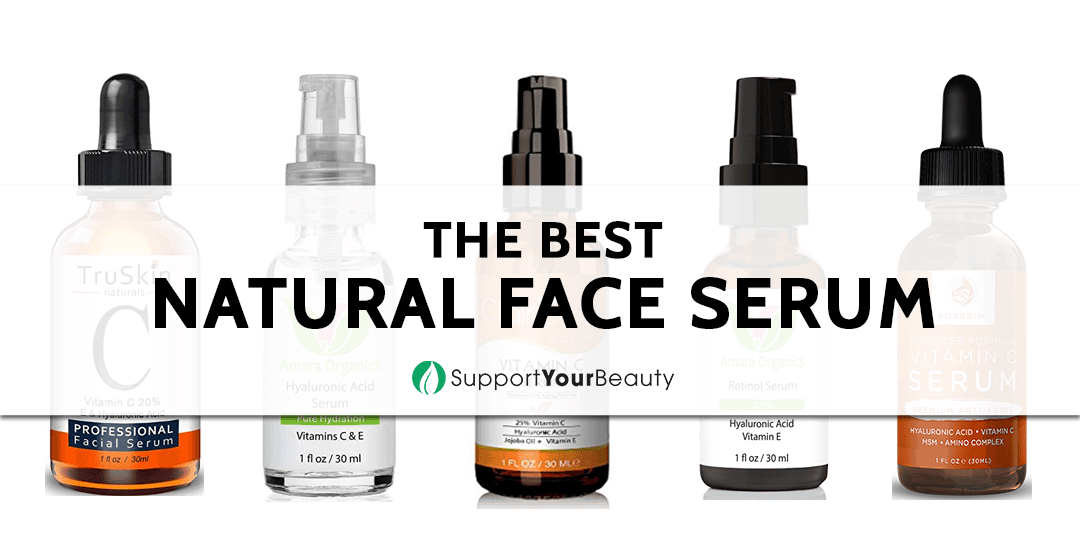 The Best Natural Face Serum – 2018 Reviews & Top Picks
In our commitment to helping you achieve a flawless complexion, we're rounding up the best natural face serum in this list. These products made our list because of their effectiveness in delivering a fusion of healthy and organic nutrients. We believe these products will be your skin's new best friends.
Perhaps you've seen serum products in one of your monthly skincare splurges, and you're always intrigued of what it does for the skin.
Indeed, you'll be intimidated by facial serums because they are newcomers to the Western world; they're mostly an Asian thing, and most of them aren't easy to come by.
But when you actually grasp its numerous skin-beautifying benefits, you'll quickly be compelled to try it.
The best natural face serums provide a multitude of benefits -- it is an integrated blend of almost all skincare products.
These face supplements can smooth out the skin, prevent wrinkle formation, erase blemishes, supply the skin with lasting hydration and so on.
More...
Quick Overview: Our Top Picks for the Best Natural Face Serums
OUR TOP #1 PICK - Our pick for the best natural face serum, TruSKin Naturals Vitamin C Serum, uses all-natural and potent anti-aging, hydrating, and cleansing ingredients which get rid of impurities. At the same time, they are also supplying sufficient moisture and fighting free radicals to make the skin firm, supple, and youthful-looking.
OUR TOP #2 PICK - Say goodbye to dry and flaky skin with the ultra-hydrating moisture treatment of the Amara Organics Hyaluronic Acid Serum. It diminishes aging signs and instantly hydrates the skin, leaving it feeling vibrant and beautiful.
OUR TOP #3 PICK - Never let wrinkles and fine lines dim your positive nature. Combat them with Claire-ity Skincare Vitamin C Serum, a serum that contains a high proportion of Vitamin C. It reverses the effect of photodamage, and it also infuses the skin with nutrients, keeping the skin barrier resilient to contaminants.
OUR TOP #4 PICK - The Foxbrim Vitamin C Serum can restore the skin's pH balance, moisturize, and make the skin look young. It also infuses the skin with amino acids to hasten cell renewal and other processes that contribute to the skin's health. Vitamin C is a popular anti-aging ingredient but retinol, a lesser known one, is equally potent too.
OUR TOP #5 PICK - The Amara Organics Retinol Serum unclogs pores, boosts collagen to reduce fine lines, and speeds up cell turnover. This evens out any discoloration and smoothens the skin.
What Are Face Serums And Why Do I Need It?
Serums, like toner and moisturizers, are best applied to the skin after cleansing.
The best natural serums are designed to give your complexion a radiant, healthy glow without any unusual or artificial ingredients. These wonderful products care for your skin the way nature intended.
Serums are more lightweight and made up of smaller particles compared to moisturizers. Furthermore, they contain a higher proportion of active ingredients than most skincare product.
With their mentioned attributes, the best natural face serums can penetrate quicker and deeper into the skin layers and deliver more active ingredients to improve skin imperfections.
This makes serums an excellent tool to target particular issues such as wrinkles, fine lines, and blemishes, to name a few.
Some people confuse serums for moisturizers and face oils.
To clear the confusion, serums contain high amounts of moisturizing ingredients, but that doesn't make them moisturizers in the traditional sense.
And no, serums are far different from face oils. Serums are water-based – they're lighter compared to oils thus they get absorbed quicker.
Serums are meant to deliver benefits to the inner layer of the skin, and they go under the cream.
Common Ingredients of Organic Face Serums
As any child would have guessed already, natural face serums are made from all natural ingredients. Some of the common ingredients manufacturers use in natural serums are listed below.
1. Plant stem cells
Surprise, surprise! We bet you didn't know plant stem cells are common serum constituents.
These stem cells contain up to 1,000 times more antioxidants than other botanical extracts.
Plant stem cells potentially increase cell renewal and collagen synthesis, according to clinical studies.
Since they stimulate collagen synthesis which is vital for delaying aging signs, your skin will experience a shocking reduction in the number of wrinkles and fine lines with the prolonged use of natural face serums.
2. Collagen and Vitamin C
Collagen is a frequent sighting in the list of ingredients of moisturizers, toners, and face creams. It can be sourced out from animal proteins, egg whites, plants, and fishes.
Collagen is vital for the skin because it holds a lot of tension without breaking, making it responsible for the skin's elasticity.
In a nutshell, collagen makes the skin resilient to damages, contaminants, and physical stresses.
In like manner, Vitamin C, sourced from citrus fruits, plays a role in collagen synthesis and protection of the skin from free radicals.
Vitamin C is typically found at high levels in both the dermis and epidermis, however, its level declines as we age.
3. Hyaluronic acid and ceramide
Hyaluronic acid and ceramide are two of the most potent moisturizing ingredients in the skincare world. Hyaluronic acid can be extracted from seaweeds, soy products, animal cartilage, and other plant products.
Topically, hyaluronic acid holds up dense amounts of moisture into the skin to keep it hydrated, smoother, and softer.
Ceramide replenishes natural lipids lost from the skin. It also holds skin cells together, creating a hydrated barrier that plumps the skin and retains moisture.
Simply put, the skin cells are the bricks while ceramide acts as a mortar.
4. Vitamins and essential fatty acids
These two ingredients are incredibly beneficial for the skin's health and wellness.
For instance, Vitamin A repairs skin tissues and livens up dull skin; whereas Vitamin C helps with collagen production to suppress aging symptoms.
Furthermore, Vitamin E moisturizes the skin and lightens scars and hyperpigmentation. Vitamin K also performs the same role as Vitamin E in lightening dark circles and sun spots.
On the other hand, essential fatty acids such as Omega-3 and Omega-6 are skincare powerhouses.
They fight photoaging, diminish inflammation, reduce acne, and build healthy cell membranes.
Product Reviews: Our Top 5 Best Natural Face Serums
---
Who needs artificial and harsh chemicals when you can achieve amazing results with the resources provided by Mother Nature?
The TruSKin Naturals Vitamin C Serum uses all-natural ingredients that deliver what it claims, making it our top pick for the best natural face serum.
Having Vitamin C as its primary ingredient, this product is designed to restore moisture, collagen, and vital skin nutrients lost through photodamage and the aging process.
To restore moisture, this serum utilizes the moisturizing benefits of aloe vera and botanical hyaluronic acid for an intense, therapeutic hydration.
This serum does not only make your skin appear younger and hydrated, but it also cleanses the skin and gets rid of impurities with through witch hazel.
Witch hazel is an active ingredient in a majority of organic cleansers for a good reason.
This substance has powerful astringent properties that can clear up acne, inflammation, excess oils, and deep-seated dirt that your regular cleanser can't reach.
Since this serum's made from highest quality natural and organic ingredients, it's gentle enough for all skin types, including very sensitive skins.
Everybody's been raving about this serum in the market so naturally, we're thrilled to try it to see if it's worth the hype.
We applied it after bath for a couple of weeks, and we're quite impressed with the results. First off, it absorbs quickly and makes the skin very soft, which we loved.
Our faces were definitely smoother (like our skin when we're in our 20's), and our sun spots have significantly faded.
Additionally, our dark under eyes wasn't so dark and baggy than before, and the lines around our foreheads and mouths are diminishing.
The best part is you can wear it under makeup as it doesn't leave an oily residue and it gives a nice, smooth glow.
---
Treat yourself with the Amara Organics Hyaluronic Acid Serum, one of the best natural face serum, which instantly hydrates skin and leaves you feeling vibrant and beautiful.
Say goodbye to dry, flaky skin with the intense moisture-locking effect of hyaluronic acid. This hydrating substance locks in moisture, giving skin a soft, dewy glow.
Hyaluronic acid is best known as a moisturizing ingredient, but very few people know of its anti-aging properties. It rescues the skin from the visible loss of firmness, pliability, and plumpness.
The acid revitalizes the skin's outer layers, so they become plump, softer, smoother, and hydrated, instantly improving the appearance of fine lines and wrinkles.
We love how they also included Vitamins C and E in this serum's formulation to further boost its anti-aging claim.
While Vitamin C boosts collagen production to maintain the skin's elasticity, Vitamin E shields the skin from harmful free radicals emitted by the sun's UV rays and environmental pollution.
With the pollutants neutralized and a robust collagen production, the wrinkles and fine lines scattered on the face will diminish in no time.
For the three weeks we used this product, we enjoyed it dearly, especially some of us who had sensitive skins.
This serum is non-sticky, light, and fast absorbing. The best part is, we've received many compliments since we started using this product.
Our friends would say "your skin looks really good" and another said it's glowing.
Apart from this serum makes the skin look radiant, it felt very moisturizing, and it reduced, to some extent, the appearance of fine lines too.
---
Yes, another Vitamin C serum yet again. But this time, you'll be surprised to know that this serum contains 25% Vitamin C – it's the highest concentration of Vitamin C we've come across in a skincare product.
Since this serum's loaded with Vitamin C, expect to be a decade younger by using this wonder serum – of course, we're kidding.
No miracle cream can erase your wrinkles and fine lines completely.
Vitamin C has been shown to be a very effective treatment at reversing the effects of time and environmental damage to the skin.
Aside from Vitamin C, this serum also infuses the skin with Vitamin E and hyaluronic acid.
By now, you're probably quite familiar with their benefits.
Hyaluronic acid restores skin moisture while Vitamin E, a potent antioxidant, protects the skin from certain harmful substances and maintains the skin's resiliency.
We loved how refreshing this serum is. It had a gel-like consistency which is far different from other serums which are watery, making it more manageable to apply.
What makes it even more unique is it dispenses the serum in a pump instead of a dropper which is fairly easy to use. With just a few drops, you'll instantly feel a smoother texture and softer skin.
Another thing worth mentioning is that this serum brightened our complexions after a month's use. We noticed how it evened out our skin tones and lighten sun spots – definitely the work of Vitamin C.
---
The Foxbrim Vitamin C serum is crafted with all skin types in mind.
It contains the only ingredients you need to address all the visible signs of aging -- from unsightly wrinkles and fine lines to dark sunspots and discoloration.
Indeed, this bottle is filled with many skincare solutions. This serum infuses the skin with highly concentrated amounts of Vitamin C and pure vegan hyaluronic acid.
Moreover, it uses aloe vera and hyaluronic acid to provide sufficient inputs of moisture into the skin.
Uniquely, this serum contains amino complex. Amino acids are more than just muscle builders; they do give wonderful benefits to the skin as well.
Amino acids promote collagen production, increase hydration and moisture absorption, promote a healthy pH balance, and reduce aging.
Creatine, an amino acid, ensures the skin is hydrated by surrounding skin cells with water. On the other hand, glutamine shifts the skin's pH towards alkaline, ensuring that it is protected.
When the skin's pH balance is restored, the barrier against external pollutants is strengthened, and excess oil production is curbed.
We must admit that this is a decent serum.
It had positive effects on our skins -- wrinkles are less noticeable and seem to be developing more slowly, not to mention how smooth our skins became.
---
Retinol is simply Vitamin A derivatives that unclog pores, boost collagen to reduce fine lines, and speed up cell turnover to even out discoloration and smoothen the skin—sometimes in as little as four weeks.
As a matter of fact, retinoid creams were first prescribed for acne treatment because it can drastically reduce acne-infested skin.
This retinol serum works on a molecular level to repair skin and stimulate collagen synthesis, resulting in firmer, smoother, and younger-looking skin.
As a treatment for acne, retinol effectively unclogs pores to clear up oil and grime and minimize the pores to prevent acne-causing bacteria from thriving.
When the pores are closed, the occurrence of whiteheads, blackheads, and other breakouts will be reduced at the same time.
Furthermore, this serum is packed with hyaluronic acid, organic jojoba oil, and Vitamin E.
Jojoba oil is a terrific all-in-one ingredient. It moisturizes, controls oily skin, and promotes skin health. It also helps retinol with reducing wrinkles and fine lines.
Some of the things we liked about this product are: it degreases oily skin, improves skin tone, reduces skin redness, and reduces acne.
The Bottom Line
Why opt for synthetic and harsh chemicals when you can achieve the same results by using natural serums?
Our top pick for the best natural face serum is the TruSKin Naturals Vitamin C Serum because it's an all-around serum; not just the anti-aging type.
This serum uses two potent moisturizing ingredients that seal in moisture in the skin cells, as well as a cleansing agent that is proven to remove impurities even in the deeper layers of the skin.
And last but not the least, it contains a powerful anti-aging substance that fights photodamage and environmental contaminants by strengthening the skin barrier and stimulating collagen production.