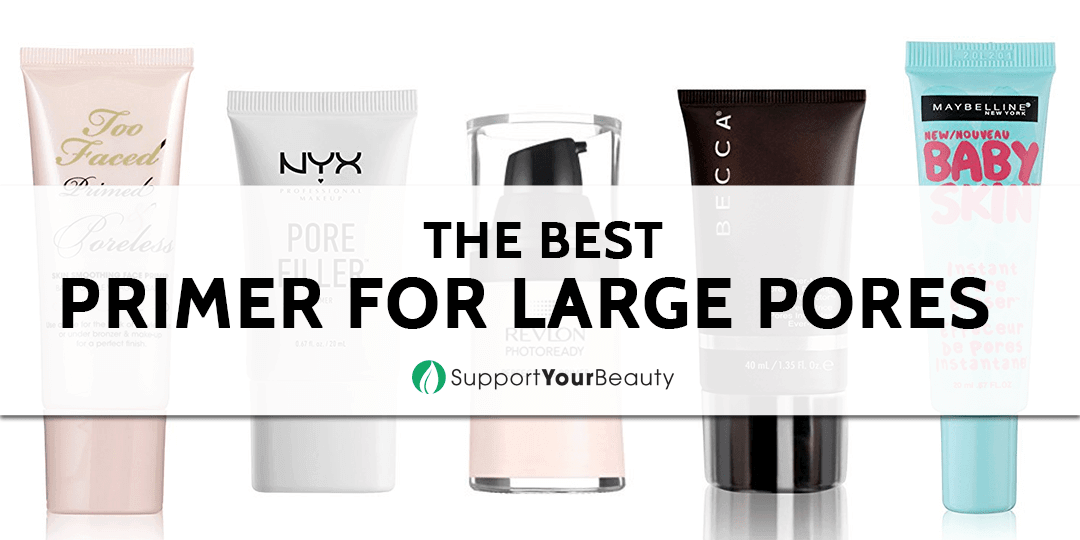 The Best Primer For Large Pores – 2018 Reviews & Top Picks
To be your number one source for all things skin related, we give you our take on the best primer for large pores. We reviewed the products available on the market extensively and ranked the top 5 based on their benefits. We believe these are products that every woman should have in her beauty arsenal.
Makeup is not just aesthetics. For most women, putting on makeup is like putting on armor before charging into battle.
Women find makeup empowering as it gives a confidence boost, no matter what the situation may be.
So, of course, it's a disaster if you didn't blend your foundation well or when your makeup didn't manage to make it through the night.
Another disaster for us is when large pores, instead of our face, becomes the highlight of our look.
In fact, most women would agree that large pores are a bother and will do anything just to cover these pores.
Luckily for us, there is a product that can help keep your makeup intact while covering up those unwanted big pores on your face.
And that's where we come in! We give you our top five picks for the best primers for large pores. Let's take a look!
More...
At First Glance: Our Top Picks for the Best Primer for Large Pores
OUR TOP #1 PICK - For the best pore minimizing primer, our top pick is Too Faced Cosmetics Primed and Poreless. This primer may be used alone for the perfect "no makeup" look or under foundation, bronzer, or powder.
OUR TOP #2 PICK - The runner-up for the best makeup primer for large pores is Maybelline New York Baby Skin Instant Pore Eraser Primer. As the name implies, this primer is a quick treatment for large and visible pores.
OUR TOP #3 PICK - The third is Revlon Photoready Perfecting Primer. This is the best drugstore primer for large pores and we love that it also helps mattify shiny skin brought about by excessive oil.
OUR TOP #4 PICK - Coming in at number four is BECCA Ever Matte Poreless Priming Perfector. This primer leaves a matte finish and may still help control excessive oil, especially during humid days.
OUR TOP #5 PICK - Last but not least is NYX Cosmetics Pore Filler. This pore filling primer includes vitamin E in its formula and helps address the visible signs of aging such as fine lines.
What Can A Primer Do For You?
In case you are wondering where on Earth have you heard of the word primer before, we'll help you out and tell you it's most probably primer paint that's on your mind.
Primer paint works as the first coat before you add the multiple coats of paint to get that beautiful and even finish on your wall.
It smooths out bumps, fills in tiny cracks, and keeps everything even so that the top paint goes on smoothly.
The makeup version of the primer does all of that too. Also, it serves as the "adhesive" that helps your makeup to stay on longer and results in it being even more vibrant.
A primer is both foundation and moisturizer in a sense that it evens out bumps and helps keep makeup on longer. It may even be what you need if you're opting to try the "no makeup" look as you can wear it alone.
Primers come in three different formulas, cream, gel, and powder. But nevertheless, whatever the formula, you will only need a little primer - a pea size amount will do (source).
Why Do I Have Large Pores?
In case you're wondering why you have those little holes in your faces and whether or not they do something at all, we will reassure you that they do have a purpose.
Pores house the hair follicles in your skin. The tiny hairs in your skin act as filters. Dirt sticks to the hair, and the hair prevents that dirt from clogging your pores.
Aside from being your hair follicle, your pore is home to sebaceous glands, and the pores are the gateway of the sebum. Basically, the pores are doors, the medium between your skin and the surface.
Some people are not bothered about the size of their pores, but in a study conducted by a skincare brand, most women feel they are beautiful with smaller pores (74% of 500 respondents) and that confidence is in smaller pores (71%).
This supported the findings that the top products that women buy are pore minimizers.
Now, why have your pores become enlarged and visible in the first place?
First, we can attribute that to genetics. Your gene pool dictates everything in you and when we say everything that includes the tiniest details - your pores for instance.
Second, you might suffer from acne (not a surprise because almost all of us have gone through this problem) and the clogging of your pores might be one of the reason why they're huge. Your pores house excess oil and dirt and expand in the process (source).
Lastly, aging and sun damage might also play a part for your enlarged pores. The lack of collagen causes your once firm skin to sag, and your tight pores become larger as it gives up to gravity.
So what can a primer do for large pores?
The temporary benefit of using a primer is that it helps cover up and fill in the pores in your face, rendering them almost invisible.
The long-term benefit of using pore filler primers is that ingredients included in its formula help minimize your pores making them less noticeable.
The Best Primers for Large Pores and Acne Scars
Our number one pick for the best face primer for large pores is a primer that combines retinol and vitamin E to provide coverage and can be worn alone or with makeup.
The Primed and Poreless primer's main goals are to instantaneously blur your pores, soften lines caused by aging or free radical damage (or most likely a combination of both).
It also helps even out your complexion in preparation for the no-makeup look or a full face of makeup.
This primer contains cyclopentasiloxane, a kind of silicon that is a mainstay ingredient in pore reducing primers, BB creams, and CC creams.
Cyclopentasiloxane helps moisturize and condition your skin. As it is also a solvent, it helps in the transport of nutrients from the surface of your skin to your skin cells.
This helps in the quick absorption of the primer so that you have more than enough time to put on makeup.
This primer also has retinol in it, a kind of vitamin A that helps fight wrinkles, smooth out fine lines, and tighten skin.
We love the retinol in this primer, not only because this primer helps you instantaneously hide the big pores and fine lines, but rather it offers a long-term benefit for your skin.
With the tocopheryl acetate, or vitamin E, the retinol helps tighten loose skin and minimize the size of large pores so that even without makeup your pores aren't that visible.
---
The second on our list of the best primer for large pores and wrinkles uses dimethicone, or the smoothing silicone, as its main ingredient.
This primer helps you a lot, especially if you are on the go and just want to look more polished without spending a lot of time doing your makeup.
The dimethicone in this primer is a silicone-based polymer which mostly acts as silicone oil.
This ingredient helps in the smooth application of this primer as it helps your skin absorb the product quickly.
Aside from helping the primer glide over the skin, dimethicone also fills in the gaps of your large pores, smooth fine lines and wrinkles, and makes your skin look flawless.
It also helps protect your skin, and this protection helps keep the moisture in, so that skin is hydrated, supple, and younger-looking.
We liked how this primer didn't have a lingering scent. As fragrances may either irritate sensitive skin, exacerbate excessive oil, or may not suit personal preferences at all, this primer's lack of scent was a good point.
However, this product may not work well for you if you have oily skin. In this case, you may want to find a drugstore water-based primer.
---
The next primer on our list is the only one that is selfie-friendly, and photo-friendly in general.
This is the best primer to cover pores as it comes with photochromatic pigments in its formulation that help reflect the light away from the face so that noticeable pores are minimized.
This primer contains dimethicone, silicone, and tocopherol, or vitamin E, which not only works as a primer but also for any visible signs of aging that your skin may have.
Dimethicone and silicone work best together in filling in the gaps, smoothing out the fine lines, and making your skin even for either another layer of makeup or for that "no makeup" makeup.
Dimethicone even helps keep your skin moisturized as it serves as protection for your skin as well.
Silicone, on the other hand, helps to make your makeup stay in place as this element acts as an adhesive.
The tocopherol, or vitamin E, in this primer serves as the antioxidant that our skin needs.
We love how this primer gave our skin a glow and how our selfies looked perfect. However, we refrained from taking extreme closeups as it didn't blur some of our enlarged pores.
---
The next primer may be worn alone or under makeup and can even be applied throughout the day if you need a touch-up.
This primer has enantia chlorantha bark extract, which helps your large pores and oily skin.
This extract is from the African enantia chlorantha tree and for skincare purposes, this ingredient is used for oily skin types and as an anti-inflammatory ingredient.
The bark extract helps control hyperactive sebaceous glands and reduce shine. It even improves the state of your pores.
You may recall that the pores contain sebaceous glands and the more active the gland is, the more oil or sebum is produced, which can clog your pores and cause you to breakout.
So with the bark extract, you get smaller pores because your sebaceous glands are not going into overdrive, resulting in clear and barely noticeable pores.
The bark extract is great as it helps treat existing acne and calm down irritated and inflamed skin.
Aside from that bark extract, we adored the smooth matte finish that this product gave our skin.
Even for excessively oily skin, this primer made it through and still managed to reduce the shine.
---
The last but definitely not the least is a primer that uses the combined power of silicone and dimethicone, balanced with vitamin E, specially made to target the large pores that seem to attract all the attention.
Dimethicone and silicone are more similar than different as dimethicone is the oil version of silicone.
Dimethicone in this primer helps to fill in large pores, smooth out fine lines, and gives your face a more flawless look so that you are left with smoother and younger-looking skin.
Silicone also helps in filling in the gaps left by large pores or fine lines as it eases itself into the tiny cracks of the skin and stays there.
As silicone is super adhesive, this ensures that your primer does its primary job of keeping your makeup on longer no matter the temperature.
The vitamin E in this primer encourages your cells to rejuvenate and to produce collagen, which is the protein that makes your skin firmer.
Thanks to these anti-aging ingredients, this product may work well for mature skin as well.
Not only does it give you a beautiful matte finish, but since it's fragrance-free, there are no off-putting scents that may be too much to take, especially for those with sensitivities to fragrances.
The Bottom Line
For the best primer to hide pores, our top choice is Too Faced Cosmetics Primed and Poreless.
This pore primer instantaneously addresses the gaps and rough bumps and uneven skin tone. It also preps your face to wear the best makeup for the day.
This primer also offers long-term benefits for your skin as it helps to tighten the skin and reduce the size of the pores.
We also loved how a little goes a long way in these pore primers - a small amount is all you need to keep your makeup locked in place.
For the best pore eraser primer, we definitely recommend our top pick and the other products on this list to give you a flawless look.