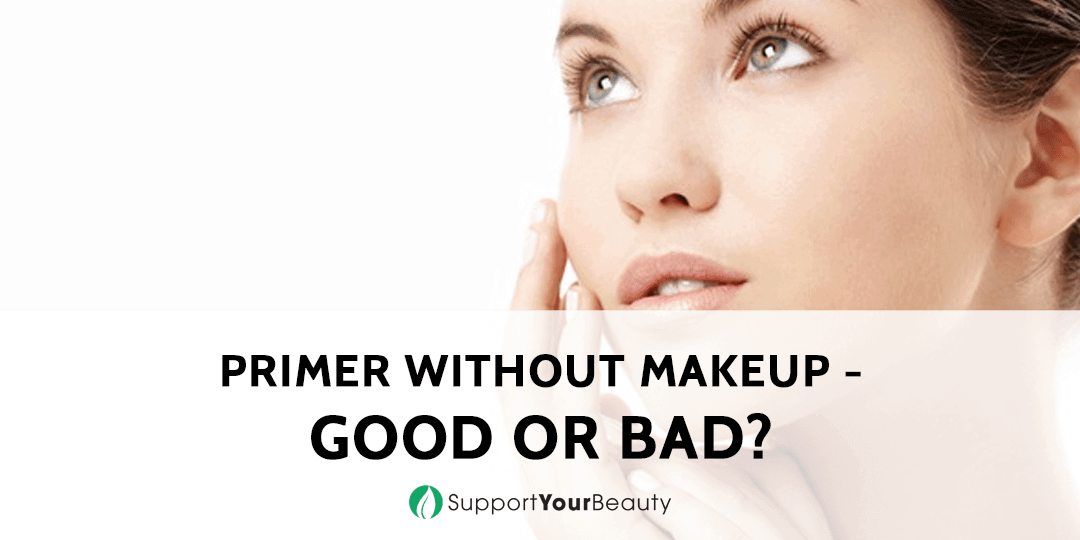 Primer Without Makeup – Good or Bad?
These days, most women consider prepping up their skin before putting makeup on. Dabbing a face primer enables for a smooth application of other cosmetics such as a foundation, blush-on, and eyeshadow.
Many have started enjoying the benefits of primers as a solution to several shortcomings. For one, it prolongs the ability of makeup to sit on your face all day.
It conceals imperfections such as large pores, fine lines, and age spots. It can also correct redness and other skin issues.
Because of the general benefits it brings, many are wondering if a primer is enough to be worn just by itself. Is it good to apply primer alone? Is it a bad idea?
Applying primer without the intention of putting any foundation or powder does have a good side. This article will discuss what a primer can do if worn alone.
More...
1. It can mattify oiliness.
If you don't want to look all made up but want to control the shine on your face, putting a primer on without any other cosmetics will do the trick. This is especially beneficial if you have a simple event to attend to, like a business meeting or social meet ups.
The heaviness of a foundation sometimes results to grease and an uncomfortable feeling. Also, you don't have to pat your face with a shine-control film every now and then.
There is a primer out there designed suitably for oily skin. Choose the ones that are lightweight and silicone-based to let it easily glide on your face.
2. It can yield to a flawless natural look.
Everyone desires to have that smooth and refined-looking face and without a trace of makeup.
If you want to achieve a fresh-looking face, putting a primer on alone can help in this purpose.
Sometimes it is good to let the skin breathe once in awhile. The application of so many layers of cream and makeup clog the pores.
By putting on a primer alone, it will help you look natural without hurting your pores. Primers serve as a sheet that swathes your face and make it look like it is a new skin.
This benefit is also applicable when your work requires you to be photo-ready for the whole day. You need not flood your skin with tons of makeup. A natural, young, fresh look will do.
3. It can create certain amazing effects.
There are primers which give great results even without the application of makeup. They fulfill other purposes to enhance the skin.
If your face looks tired and you want to put some vibrance to it, primer is one solution. By applying a primer that can create a radiant effect, you can make your face appear a bit energized.
There are tinted primers that when you dab onto your face a little bit brings a pinkish glow. You don't have to put on a blush on makeup onto your cheeks.
There are primers with yellow tint to provide warmth to your look and conceal obvious veins. If you are suffering from any blotches, you can blur these red areas by using a primer and leave it as it is.
Just make sure it is hypoallergenic so it does not cause any irritation. You can hide dry patches or even out small bumps.
With the correct shade, you can even balance hyperpigmentation.
4. It can inhibit quick skin aging process.
Depending on your choice of a primer, there are those that are already equipped with aging protection ingredients. You will benefit from primers rich with antioxidants, hyaluronic acid and Vitamins C, E, A.
Furthermore, there are a handful of primers that have an SPF element. When your day is spent outdoors, wearing SPF laden primers can somehow assure you of protection.
5. It caters to all the different skin types.
Name it and these primers can accommodate all types of skin. In a sea of products, you will be able to find one that suits your needs.
There are primers apt for sensitive skin. You just have to ensure that they are free of scent, Parabens and alcohol.
Argan, Jojoba Oil and Apricot could also be found in primers which befits those with dry skin. The primers loaded with these ingredients can help you produce a dewy and youthful look.
Those with acne-prone skin can seek assurance from primers that are non-comedogenic and oil-absorbent.
With all these amazing benefits, you can be assured that a primer is a tool that you can rely on. The skin has needs and people have personal purposes that can be satisfied with the use of a primer.
You just have to know what your skin can take and the ingredients you want to gain value from. You also have to be consistent in your beauty routine.
Is putting on a primer without makeup a good choice? They are fantastic when they serve the needs you require.