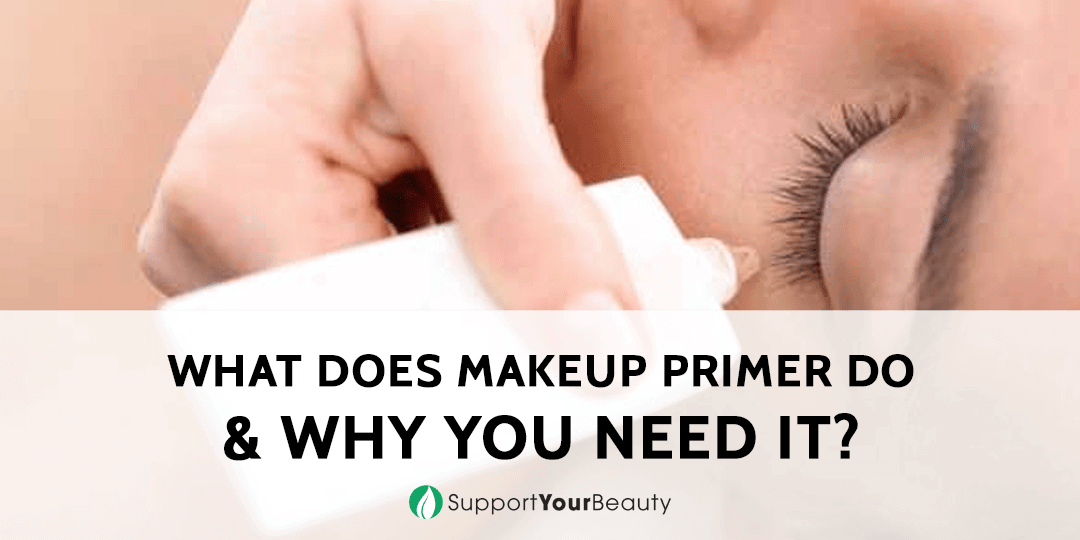 What Does Makeup Primer Do & Why You Need It?
In the past recent years, innovation in cosmetics has taken place. More and more makeup items are being formulated and studied on to meet the growing needs of customers.
One of those inventive products is the makeup primer. Manufacturers have conceptualized a primer for eyes, face, lash and even for lips.
Primers for the face are designed to extend the wearability of the foundation, blush-on and powder on the face. Eyeshadow primers, basically, prevent the eyeshadow from crunching up on the eyelids.
Primarily, a lash primer is applied to achieve a set of seemingly fuller lashes. Lip primers restrain lipstick feathering.
There seems to be several items to be put on the face and steps to be followed. This leaves many people wondering if they do need these products to enhance their beauty practices.
Here is a detailed description of these primers and the reasons they have become essential in one's makeup routine.
More...
1. Lip Primers yield to plumper lips and a stunning lip plait.
With plenty of tasks to be done on a daily basis, there is a tendency to overlook sustenance of lipstick. There is no time to keep on dabbing lipstick every now and then.
People need an item to keep the first application last longer enough within the day. Lip primers can save your day..
As the first step, a lip primer is applied on bare lips. It can go well with lip liners, gloss and lipstick.
If you are not good in shaping and applying lipstick on your lips, a primer will ease your worries. Primers can help you glide in the lipstick smoothly on your lips.
Moreover, if you hate lipstick slivering off on the sides of your lips, lip primers can stop you from peeling the flakes off yourself.
Remember that lips, naturally, do not have glands that produce oils. As such, the lips are inclined to get dry and look lifeless.
Using a lip primer is a great way to care of your lips and sculpt them accordingly.
2. Eye primers make eye make-up application a convenient process.
As they say eyes help humans communicate what they truly feel inside. Investing in the appearance of your eyes will help you stand out in a social gathering or in a business interaction.
Skin on eyes is sensitive and it is not easy to put on make-up around the area. It requires a steady hand.
Primers are used on this area to accomplish expressive and exquisite eye look. Eyeshadow tends to furrow and make the eyelids look less wrinkly.
The best thing about eye primers is that they can be used solo or to support an eyeshadow application. The primer itself can already do wonders to the eye look.
Use primers to boost the shade of your eyeshadow. Use it, too, if you want to maximize the staying power of your eyeshadow.
3. Face primers help yield to a flawless appearance.
When the face looks spotlessly good, it can help boost the self-confidence of a person. For women, a flawlessly made-up look enhances femininity.
Face primers prepares the skin on the face for makeup application. Remember that the more primed the skin is, the better the other cosmetics will appear on the face.
Patches of dry skin can be concealed as well as even out your skin tone. Furthermore, face primers can aid in reducing the visibility of large pores and fine lines.
If you are heading out for an outdoor activity, you don't want your makeup to melt off as that can be major failure. Face primers can help prevent that from happening.
4. Lash primers give an attractive look.
Do you want to achieve eyelashes that are to die for? Eye lashes bring out the beauty of your eyes.
If you are not naturally endowed with long and rich eyelashes, you need not feel bad. Lash primers can be of great benefits to you.
Before you stroke your lashes with a mascara, use lash primers first. Lash primers will make the mascara stick to the lashes for a longer time.
If you are planning to attend a party, you don't have to keep on curling your lashes or putting on the mascara.
These are just some of the primers that could complement your makeup and intensify your look whatever your goal is.
When women leave the house for any purpose, they all desire a fresher and radiant appearance. A dainty and well put-together look embodies careful choice of makeup and a diligent habit of makeup routine.
A clean and beautifully made up face attracts attention and inspires others to care for themselves in the same manner, too.
Primers serve as a great support to your other cosmetics. Because of what they can do, you can save time, energy and money.
With all these reasons and functionality, it is beneficial to include primers in your makeup kit.