1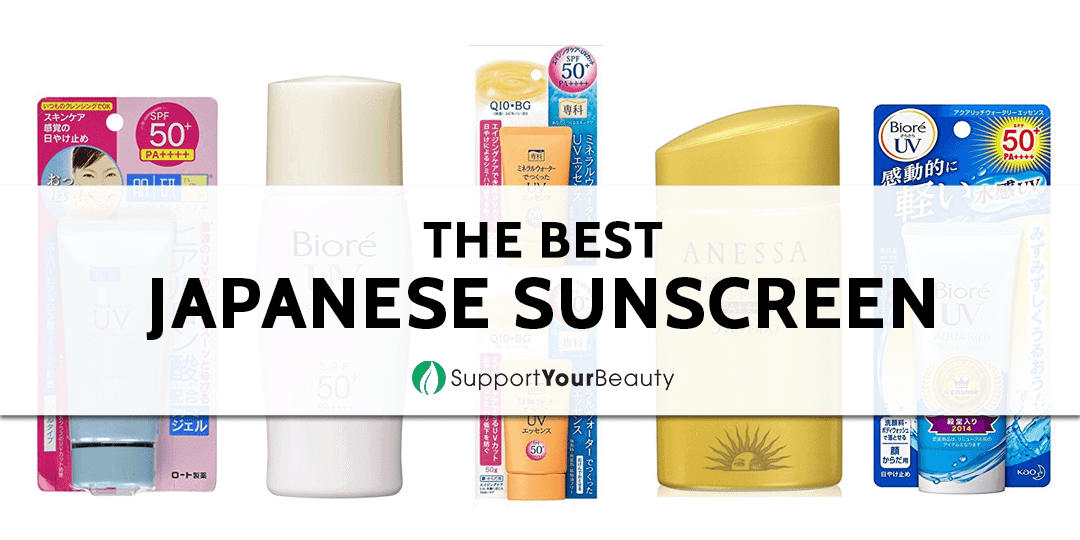 The Best Japanese Sunscreen – 2019 Reviews & Top Picks
In line with our mission to support your beauty, we're rounding up the best Japanese sunscreen in this list. These products were carefully assessed based on their effectiveness in protecting you from the harsh rays of the sun. We believe these products can be a good addition to your beauty arsenal.
The best way to protect your skin against harmful UV rays is to inspect the strength of your sunscreen and its compatibility with all skin types.
In choosing the right sunscreen for your skin type, see to it that it won't lead to any acne or dryness.
If you tried a specific sunscreen in the past and got sunburnt, then you should choose a sunscreen with a higher SPF.
Although sometimes, the reason why your sunscreen is not effective is due to the way you apply the sunscreen onto your skin.
Read on, and we will guide you in finding the best Japanese sunscreen for you.
More...
Quick Overview: Our Top Picks for Best Japanese Sunscreen
OUR TOP #1 PICK - Biore SaraSara Watery Essence UV Aqua Rich contains ingredients like sodium hyaluronate for hydration and amino acid. It also has vitamin rich royal jelly extract which firms the skin and gives it a healthy glow. Another ingredient is citrus extract, an antioxidant that helps brighten the skin. This product is lightweight and easily absorbs into the skin.
OUR TOP #2 PICK - The formula of Shiseido Anessa Perfect UV Sunscreen greatly improves when combined with water because of the technology found in their mineral-rich Aqua Booster.
OUR TOP #3 PICK - The third on my list is Shiseido Senka Aging Care UV Sunscreen. This sunscreen contains ingredients like PA++++ UVA which protects your skin against sun damage. It also includes Coenzyme Q10 and hyaluronic acid, which keeps your skin moisturized and hydrated.
OUR TOP #4 PICK - If you want a sunscreen lotion that has a very light, watery, and milky texture, then you might be looking for Hada Labo UV Creamy Gel.
OUR TOP #5 PICK - Biore UV Perfect Face Milk Sunscreen SPF 50 has a smooth and silky texture that hydrates the skin. The milk formula does not irritate sensitive skin and has no strong fragrance or alcohol.
How to Choose the Best Japanese Sunscreen
During summer, most people buy sunscreen products from the drugstore for either their personal use or their family's.
Will all the products available in the market today, it could be a little daunting to choose from them all. However, choosing the best sunscreen that will give you the best sun protection does not have to be so difficult.
All you need to do is carefully read the label for the ingredient content of the product, together with the SPF.
Chemical avobenzone is the first chemical UVA filter that was introduced in the 1990s. The maximum concentration approved by the FDA of avobenzone is 3%.
Unfortunately, avobenzone is not photostable which limits its use. It degrades in sunlight, which means it requires the help of a photostabilizer.
Some of the most common ingredients that help stabilize avobenzone are Octocrylene and Oxybenzone.
Ecamsule is a stable kind of UV filter that protects your skin from UVA.
This is frequently combined with the drometrizole trisiloxane, the steady UVB/UVA broad spectrum filter.
Some of the products which are sold in Canada contain Ecamsule. When this is combined with avobenzone, the result is a higher degree of protection from UV rays.
Bemotrizinol and Bisoctrizole are the two stable filters that will shelter your skin from the damaging heat of the sun. The chemical combination of these two is often used to give an inclusive protection.
Together with zinc oxide, bis-triazole is basically one-of-a-kind because it covers the complete UV spectrum.
Zinc Oxide is another naturally-occurring UV filter that has been used for more than two centuries to protect human skin from the harsh rays of the sun.
Zinc oxide is gentle and stable, which makes it suitable for anyone with sensitive skin.
Titanium dioxide is usually combined with zinc oxide, as this is another physical filter. These ingredients are natural to ensure safety; they provide no hazardous effects when applied topically.
On its original form, the zinc oxide creates a white cast on the surface of the skin. You may know this as the stark white formula that is found in sunblocks that lifeguards use on their noses.
The "micronized" kind of formulation has been used since 2008, nano-sized zinc oxide leaves no white residue. The downside to zinc oxide is that it has a less efficient UV filter. Simply put, zinc oxide is not ultra-effective as a solo ingredient.
But when combined with other UV-protecting ingredients, it will reach its full potential of sun protection.In the end, you should only choose the best sunscreen.
When your sunscreen is oily and heavy, apply it generously to achieve the right protection.
Because UV filters are thawed in oil, products with higher SPF tend to be heavier compared to the products with lower SPF values.
If you are looking for a sunscreen that you can consistently rely on, you should look for a broad spectrum sunscreen that has at least SPF30 and one of the mentioned ingredients above.
Use around one-half teaspoon of sunscreen for your face and neck. For the rest of your body, use two table spoons. Apply another layer every 2 hours, especially if you are constantly under water or sweating.
Lastly, you have to keep in mind that while sunscreen is an effective protection from the sun, you still have to use hats and sunglasses. You should also take other protective steps, like wearing long sleeves and seeking shade when the sun is too high.
While the short-term effects of sunscreen will not be that visible on your skin within weeks or months, but it will be noticeable after years of using sunscreen.
Product Reviews: Our Top 5 Best Japanese Sunscreen
---
It is common for Japanese skincare brands to branch out into sunscreens.
However, how could anyone not trust a company that produces great products, such as anti-aging creams and moisturizers to make the best sunscreen?
One of your choices should include Biore SaraSara Rich Watery Essence UV Aqua.
This product contains Octinoxate, Uvinul T150, and Tinosorb S, which provide an oil-free feeling and help the skin absorb the product smoothly after applying.
This sunscreen is lightweight and hydrating. It can also reduce the risk of skin cancer and has anti-aging properties.
It has SPF 50+ that protects from UVA and UVB. When properly used, you can stay out in the sun without getting sunburned.
Other ingredients in this product include chemical UV filters, moisturizers, and solvents that provide an elegant finish and leaves no white casts.
Unfortunately, we don't like that this product includes alcohol which may be a problem for those with extremely sensitive or dry skin.
---
Shiseido Anessa Perfect UV Sunscreen is also among this top list of best Japanese sunscreen.
Because of its unique formula that transforms and improves when in contact with water, there is no need to re-apply this sunscreen when you go out for a swim.
If you want to go out for swimming in a pool or beach but do not want to get a tan, broad spectrum SPF50 Wetforce is there to help you against the harmful UV rays.
After trying many Japanese sunscreens, we chose this because it effectively protects the skin against sun damage through its high SPF50 formula that contains milk.
It also has another unique feature which makes this sunscreen stand out, "Light Stamina" technology. This patented technology makes their formula last longer.
When you apply this sunscreen and come in contact with water or sweat profusely, the WetForce Technology activates. The layer of sunscreen spreads more evenly to provide better sun protection.
---
Senka Aging Sunscreen is another product from Shiseido. It provides anti-aging properties that were sourced from Mount Fuji's mineral water.
This Shiseido Senka sunscreen features recently developed "agar gel," a water-based formula that feels light on the skin when applied.
This product includes PA++++ UVA that protects your skin against sun damage, loss of firmness, and development of dark spots.
It also contains ingredients like Coenzyme Q10 and Hyaluronic Acid, both of which keep the skin hydrated and moisturized.
After applying on the face, we fell in love with the smooth formula that was not at all greasy. The gentle ingredients also do not aggravate dry skin.
It is best to use this sunscreen during the winter season to keep skin smooth and refreshed.
One thing we like about this sunscreen is that it could double as a makeup primer or base. Also, its gentle formula works on sensitive skin.
Unfortunately, this product is not water-resistant which leaves you vulnerable if you go for a swim, run, etc.
---
Hada Labo UV Gel provides effective hydration and broad spectrum protection against UV rays. It has a milky, watery, and very light texture that helps boosts skin's elasticity.
It is also easy to apply, absorbs fast, and doesn't leave any white marks. In other words, you can apply as much as an approximate amount of half teaspoon.
Hada Labo UV creamy gel has ingredients like Hyaluronic Acid that helps moisturize and hydrate the skin. Hyaluronic Acid also helps protect the skin from sun exposure and environmental stress.
It dries up within seconds, and it doesn't feel greasy or heavy at all. This sunscreen is unscented which is ideal for those who have a sensitive nose.
Because it is easy to use and lightweight, this sunscreen is ideal for everyday use. You can even use this one as a makeup primer.
We've been trying this product, and so far, we loved how it kept us looking fresh because it's sebum and sweat resistant.
---
This is the final product in our list of the best Japanese sunscreen.
What makes this sunscreen our fifth choice is its lightweight, breathable, and milky formula that is not at all greasy.
Apart from being an effective sunscreen, it is also a good moisturizer. Since it has no alcohol and fragrance, it is ideal for those with sensitive skin and nose.
As mentioned, Biore UV Perfect Face Milk Sunscreen SPF 50 lotion could also be used during colder days or when your skin is most dry.
It contains an ultra-fine correction powder to get rid of dryness and cover pores. The ultra light and non-sticky milk formula may brighten your complexion.
This sunscreen lotion is not just a water and sweat-proof sunscreen, but it can also be used a substitute primer or base for your makeup.
With PA++++ and SPF50+, this Japanese sunscreen provides maximum protection against UV rays, which causes skin aging and darkening.
This product also contains a sebum-absorbing powder that controls shine and oil.
The Bottom Line
Among these top 5 best Japanese sunscreens, the winner is Biore SaraSara UV Aqua Rich Watery Essence.
When you begin to rub this sunscreen onto your skin, you'll notice that little beads of water separate. These tiny beads hydrate and smoothen your skin.
Biore SaraSara UV Aqua Rich Watery Essence provides maximum protection with its SPF50 PA++++. After days of testing, it helped us against the harsh, fluctuating heat.
Since one of the biggest problems we encounter with sunscreens is their lack of moisturizing benefits, we had to ensure this one didn't dry out our skin.
At the end of our extensive testing, our skin was plump and moisturized; despite our initial fear that we would end up toast, because the lightweight formula felt as if we were wearing nothing.