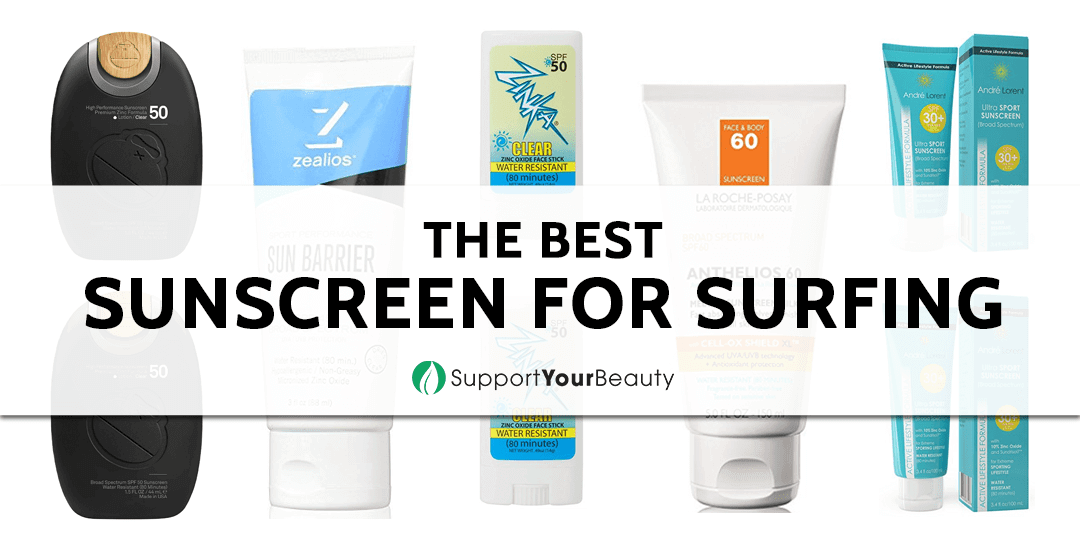 The Best Sunscreen For Surfing – 2018 Reviews & Top Picks
In our commitment to support your beauty, we're providing you the best sunscreen for surfing in this list. These products were carefully researched based on their effectiveness in sun protection, which is highly necessary (if not the most important thing) when you go surfing. We believe these products can be a good addition to your beauty routine.
The damaging heat of the sun could also have a huge effect even if you are under water.
Also, whatever the weather and season, it could still be dangerous if you don't wear sunscreen for UV protection.
One of the most effective ways to protect your skin from damaging UV rays is to use the right sunscreen.
Wearing protective clothing, such as wetsuits, shoes, rashguards, etc. may help protect you from the sun, but there are many areas of your body that may still be exposed.
To help you find the best quality water-resistant sunscreen that will help you maintain your healthy skin while surfing, we have listed here the top 5 best sunscreen for surfing.
More...
A Quick Overview: Our Top Picks for Best Sunscreen for Surfing
OUR TOP #1 PICK - La Roche-Posay Anthelios Body and Face Sunscreen SPF 60 has advanced UV filtering with photo-stabilized sunscreen protection. This gives you broad, longer-lasting protection against the UV rays. This product has powerful antioxidants from Senna Alata, a tropical leaf extract that defends the skin cells from environmental aggressors. This helps prevent premature aging.
OUR TOP #2 PICK - Zealios Sun Barrier SPF 45 contains 8% Zinc Oxide which provides broad spectrum protection against the harmful UV rays. One key benefit to this sunscreen is its water resistance when sweating and used for physical activities.
OUR TOP #3 PICK - Andre Lorent Ultra Sports Sunscreen also has Zinc Oxide that acts as a protective barrier that blocks UV rays. Sundrisol7 is the secret ingredient of this product, which acts as an anti-aging component.
OUR TOP #4 PICK - Sun Bum Mineral Based Moisturizing Sunscreen Lotion SPF30 is water-resistant for up to 80 minutes. This gluten-free, 100% vegan formula is not only perfect for surfers, but also for swimmers and adventure-seekers.
OUR TOP #5 PICK - Zinka Clear Zinc Oxide Sunscreen Stick SPF50 has 5% Zinc Oxide to provide quality protection against the harmful UV rays. This SPF face stick has a water-resistant formula that is easy to apply and is not oily.
Some quick tips on sunscreen for surfers
1. High SPF
The minimum of SPF15 is suggested for everybody. But the same minimum amount may not apply to surfers because they spend more time under the sun. Therefore, you should look for a product with an SPF of 30, 45, 55, or even higher.
The higher the SPF, the more UVB protection you are getting. But it is important to remember that no amount of SPF can provide 100% UVB protection. Plus, you also have to consider that you also need protection from UVA rays.
2. Non-greasy
You should choose a sunscreen which is not washable, or something that won't run into your eyes or make your skin slippery. Seek a water-resistant product with a thick formula.
3. Visibility
Lightly-colored sunscreen lotions likely contain high levels of titanium dioxide or zinc oxide. These ingredients make it easy for users to see the sunscreen, whether it's still present on your skin or washed away already.
4. Non-polluting
Stay away from chemicals and choose natural sunscreens. Natural sunscreens contain the mineral ingredients like titanium oxide or zinc oxide, that will not harm the corals and life of the sea.
5. Skincare
Aside from choosing a product that will shield you from the sun, you should also consider the skincare factor of each sunscreen. One factor to consider is the common ingredients present in sunscreen that protect yourself from harmful UV rays.
6. Sport-specific
Just to be safe, use a sunscreen specifically designed for surfers and other athletes. Usually, this product is not greasy, has a high SPF, water and sweat-resistant, and visible.
Why It Is Important to Wear Sunscreen When Surfing​
Some surfers do not wear sunscreen on a regular basis.
​But when you are under the raging heat of the sun for hours, sunscreen is one of the most important things you need.
The cool air moving above the water may deceive you into thinking your skin is not sizzling from the heat of the sun.
Water, like sand and snow, reflects UV rays and makes it bounce off to multiple directions.
Expect that all parts of your skin are affected by the ultraviolet rays, especially those gaps between your fingers, your ears, and even under your chin and nostrils.
The damage you can get from the sun does not only include the possibility of developing wrinkles, reduced skin elasticity, and drier skin, but it also increases the risk of getting skin cancer.
If you are a surfer, use at least two tablespoons of sunscreen for your whole body and let it absorb for at least thirty minutes before surfing.
If you plan on surfing for hours, be sure to reapply a layer of sunscreen every two hours since the constant contact of your skin with the water will slowly deteriorate the sunscreen.
The risk of skin cancer is very high among the population of surfers because they are heavily exposed to direct sunlight for long periods of time.
Product Reviews: Our Top 5 Best Sunscreen for Surfing
La Roche-Posay Anthelios Body and Face Sunscreen SPF 60 has a lightweight formula that can be used anywhere on your body and face.
The high SPF or Sun Protection Factor will guard you against UVA and UVB damage. This sunscreen also makes use of unique Cell-Ox technology which optimizes the ultraviolet filters present in the formula.
The formula also contains powerful antioxidants that will shield your skin against free radicals; these may irritate the skin and speed up the aging process.
The hydrating milk nourishes the skin and maintains its softness. The formula dries and absorbs quickly and does not leave a greasy finish.
This product is water-resistant, and its resistance can last up to 80 minutes, the long-lasting formula is highly convenient for surfers who want to spend a long time at the beach.
La Roche-Posay Anthelios Body and Face Sunscreen SPF 60 is paraben-free and scent-free. It is safe for all skin types and even works on sensitive skin.
Zealios is a sunscreen made specifically for athletes, especially surfers and other athletes who are always under water or sweating.
This water-resistant product is designed to protect the skin during intense physical activity, whether on land or sea. Although, the formula is gentle enough for everyday use.
Oil-free and non-comedogenic, this sunscreen will also keep you safe from grease and clogged pores while you focus on the waves and riding them out.
When we tested it out, it absorbs quickly and doesn't leave a sticky feeling. Another plus is the parabens and PABA-free formula which keeps our skin safe from harsh chemicals.
The formula contains 8% Zinc Oxide, which provides strong broad-spectrum protection from the harsh ultraviolet rays.
Another thing we liked about this hassle-free product is that it doesn't sting or run into eyes, which can be highly distracting when you are surfing.
And for animal lovers who are searching hell and high water for the ideal sunscreen, this product is cruelty-free.
Andre Lorent Ultra Sports Sunscreen is water-resistant and has SPF 30 to protect against damaging UV rays.
Despite its powerful SPF, it is still highly recommended that you re-apply another layer of sunscreen every two hours, especially if you will spend hours under the sun.
This sunscreen boasts a creamy formula that is easily absorbed into the skin.
It also contains a secret ingredient known as Sundrisol7 which acts as a vital anti-aging agent. The formula also contains Vitamin E for long-lasting moisture and Vitamin B5 for efficient tissue repair.
It is hypoallergenic and is free from harsh chemicals like parabens that will irritate your skin. It will also not sting your eyes.
When we tested it out, we found that it lasts long. It had the same protective power after hours of swimming as the moment we put it on, which is quite impressive for a multitasking sunscreen.
Although, if your skin tends to get oily, this sunscreen may not be for you.
Our fourth product, Sun Bum Mineral-Based Moisturizing Sunscreen Lotion SPF30 has the perfect combination of cruelty-free, vegan, and gluten-free.
On top of that, the formula is also gentle and lightweight enough for the whole family to use every day.
It also absorbs fast and does not leave a greasy feeling. Although if you have a particularly oily skin, this may give your face a bit of shine.
One advantage to this product is that it does not leave any residue on fabrics, you can quickly spread it onto your skin without having to avoid clothes.
This sunscreen is also water-resistant for up to 80 minutes. After which, you need to re-apply to maintain the strength of the sunscreen.
If you want to keep surfing for hours, re-application is necessary. Since this sunscreen is portable and easy to carry, it won't be too much of a burden when you carry it around the beach.
Lastly, it contains Vitamin E, an antioxidant that helps shield your skin against premature aging.
Zinka Clear Zinc Oxide Sunscreen Stick SPF 50 has 5% Zinc Oxide, more than enough to shield you from the harsh UV rays.
This sunscreen comes in the form of a stick which is hassle-free to apply all over your face and body. The formula is also not oily and water-resistant.
It has a mild coconut scent, which may be pleasant for some. But for others who are sensitive to scent, this sunscreen may not be for them.
We tested this product out, and some of us noticed that their heavily exposed tattoos still retained their color and vibrancy after the trip.
Although the packaging was quite small compared to most sunscreens, it still lasted long since the stick was packed with their unique formula.
To be honest, we were scared to test out this stick since we thought it would be like drawing chalk all over our skin. But we were surprisingly pleased that the formula was creamy, clear, and did not leave any white streaks.
The Bottom Line
We have decided that La Roche-Posay Anthelios Body and Face Sunscreen SPF 60 is the winner.
It makes use of a patented Cell-Ox technology which makes its sunscreen ingredients more potent compared to other sunscreens.
Despite that, it is still lightweight enough for everyday use and is gentle enough to be used anywhere in the body or face.
It is also paraben and fragrance-free, major benefits to those who have sensitive skin. But more than that, it is also packed with antioxidants that fight free radicals.
This water-resistant sunscreen also nourishes the skin with its hydrating milk, without leaving a greasy feeling after.
Of course, our other four picks wouldn't have made the list if they were not good enough. If you are feeling a little adventurous, you can test them all and notice the benefits yourself.