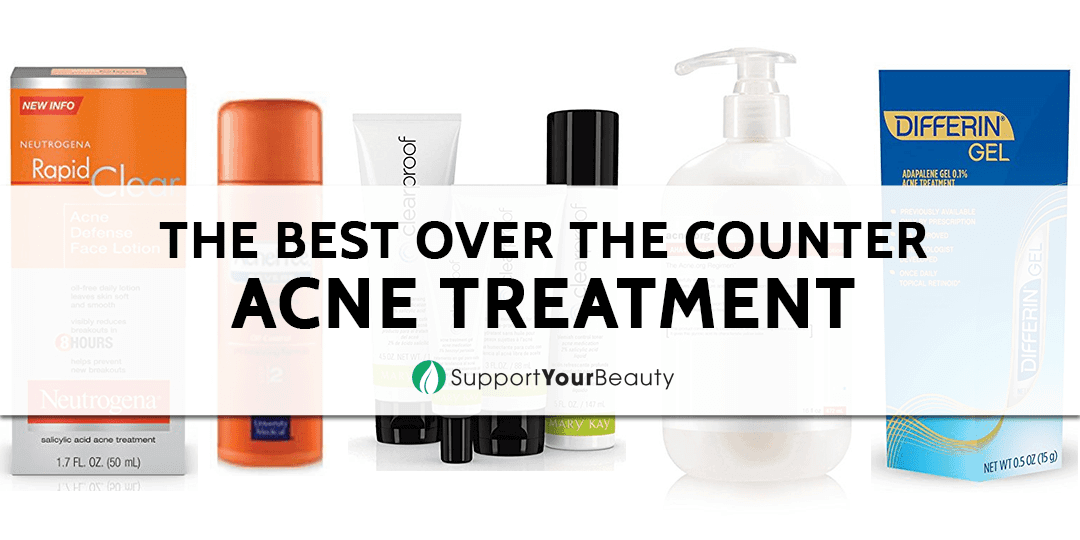 The Best Over The Counter Acne Treatment – 2018 Reviews & Top Picks
Hurry up and improve your skin instantly! Find out the little-known ways to eliminate bacteria with the best over the counter acne treatment.

You are probably blessed by the skin goddess if you didn't experience, even once in your life, a zit. For the rest of us, acne can be a real problem that doesn't go away after our teen years.
The skin is the body's largest organ as it covers you from head to toe. However, the skin being the first layer of protection doesn't mean it is invincible. There are a lot of skin conditions that you might come across whether genetically or through various factors.
Acne is the most common condition your skin might get. Often, acne is joined by either blackheads or whiteheads, or in some cases, both.
Although acne is not deadly, it can likely kill your self-confidence, especially if your acne decided it's high time to turn a shade of red.
However, you shouldn't worry about it since you have a lot of options to fight this aggravating skin problem at your disposal.
If you head over to the nearest drugstore, you'll see that there are numerous over the counter acne treatments that can help you battle acne.
Here are our top five picks for the best over the counter acne treatments.​
More...
Quick Overview: Our Choices for the Best Over the Counter Acne Treatment
For the best over the counter acne treatment, our top pick is Neutrogena Rapid Clear Acne Defense Face Lotion. It has salicylic acid in it and targets, as well as prevents, further breakouts.
In second place is Mary Kay Clear Proof Acne System Set. The set comes with cleansing gel, toner, acne treatment gel, and moisturizer.
Coming in third place is Differin Adapalene Gel. This product targets the main factors for your breakouts - clogged pores and inflammation.
Fourth place for the best over the counter acne treatment is Acne.org AHA+10% Glycolic Acid. This product contains 10% glycolic acid, and this is the highest amount of the acid that you will find in an over the counter product.
And in fifth place is AcneFree Severe Corrective Toner. This toner is step two in this regimen, but it does well enough on its own.
Why Do You Get Acne?
About 80% of the entire population experiences acne. Acne is so common that not only adolescents and adults get it, but even babies do.
The actual reason why a person gets acne is not yet known. The closest answer to the question of why we get acne is because of several factors.
First, acne can be triggered by the food you eat.
For example, sugary treats. Too much sugar in your diet can not only trigger diabetes, but it can also cause your pancreas to produce double the amount of insulin and IGF-1 to maintain balance to your blood glucose.
Too much insulin and IGF-1 can trigger androgen. Excess androgen means excess sebum, and therefore, clogged pores that cause your breakout.​
Even some of our habits can cause acne problems. Sleeping with your makeup on is never a good thing to do because the ingredients in cosmetics can clog your pores and will just aggravate your skin.
What Parts Of The Body Are Susceptible To Acne?​
Unlike popular notions, acne is not exclusive to the face.
Yes, the face is where acne commonly grows since it is the most exposed.
Also, some people tend to apply various things such as makeup and masks, and sometimes, the ingredients in these products can cause us to have acne breakouts.
Because your skin covers you from head to toe, it's possible to have acne in various parts of the body.
Apart from the face, acne is commonly found on the shoulders, the back (bacne), and even on your butt cheeks.
Product Reviews - Our Top 5 Best Over the Counter Acne Treatment Products​
---
Neutrogena Rapid Clear Acne Defense Face Lotion is our number one pick on our list of the best over the counter acne treatment.
This face lotion does three things. First, it targets and helps get rid of existing acne. Second, it helps prevent future breakouts. And lastly, it soothes the skin, preventing peeling and redness.
The main ingredient of this face lotion is salicylic acid. Salicylic acid, along with benzoyl peroxide, is known to be acne's worst enemy.
Since clogged pores can mean breakouts, the salicylic acid in this face lotion can help you with that.
The acid penetrates deep into your skin and pores and unclogs the oil and dirt - in a way this prevents future breakouts as well.
What we liked the most in this face lotion is that though it has acne-fighting ingredients, it wasn't harsh at all. It didn't leave our skin dry either.
The only thing that we didn't like about this product was that it may cause a bit of redness or burning sensation when used with other skin care products, and it may give skin a slight sheen.
---
The second of our top picks is a set of four skin care products that can only be described as a regimen.
The products in the collection include a cleansing gel, a blemish control toner, an acne treatment gel, and an oil-free moisturizer. All of these are over the counter products.
The cleanser left our skin feeling tight and clean, while the toner felt very refreshing, especially on a hot day.
The treatment gel stung a little but it faded after a few seconds, while the oil-free moisturizer hydrated our skin without any greasiness.
Through consistent use, the acne system set aims to control breakouts by treating the existing acne and protecting the skin from getting a fresh batch of zits.
The main ingredients in this set is a mixture of the deadly enemies of acne - 2% of salicylic acid and 5% benzoyl peroxide.
What we liked the most about this set is its longevity. You can maximize all of the products, and you are at least covered for the recommended 12-week period.
---
Instead of unclogging the blocked pores (that causes you to breakout), the adapalene keeps your pores from getting clogged by regulating skin cell turnovers.
Adapalene gel is also an anti-inflammatory agent and can help soothe your red and swollen zit by reducing its size and color.
We used this gel after washing our face with our regular cleanser and there was a slight burning and stinging sensation, which is a common side effect of the product.
We noticed that it could cause a bit of flaking, so we applied a non-comedogenic moisturizer to our face after dabbing on the acne treatment to prevent excessive dryness.
---
Here's another product that does not have either salicylic acid or benzoyl peroxide: instead it uses glycolic acid to fight acne.
Glycolic acid exfoliates skin, and daily exfoliation is recommended to encourage your skin to rejuvenate as you are removing dead and useless cells.
The exfoliating properties of glycolic acid will make your skin appear healthier and your complexion may look clearer and more even-toned.
Aside from glycolic acid, this product also contains licochalcone, an extract that comes from licorice root.
This ingredient can help calm irritated and red skin, so you do not have to worry about looking splotchy.
What we liked about this product was how it spread easily. It was also absorbed well and didn't leave any heavy, sticky feeling. We also loved how it can prevent a pimple from maturing.
Another bonus is that the product is non-comedogenic and scent-free.
---
With this toner, the excess oil that can eventually clog more pores or just aggravate existing acne is gently sloughed off. Getting rid of excess oil can help prevent breakouts in the future as well.
The tea tree oil in this toner can also help address swollen and red acne as the oil is a good anti-inflammatory agent.
The witch hazel in this toner can also help in reducing excess oil produced and even in reducing the size of your pores - witch hazel is a known natural astringent.
The toner feels quite refreshing, but our face looked oily minutes after application. It may also take a while before you can see any discernible change in your acne.
The Bottom Line
Our top pick for the best over the counter acne treatment is Neutrogena Rapid Clear Acne Defense Face Lotion.
Not only does it come from a reputable skincare and makeup brand, but it is also a specific treatment made for the most common skin issue of all time - acne.
Although salicylic acid may bring about some issues (mostly caused by excess dosages), this face lotion delivered enough of the acid to treat the acne without forgetting to put into consideration the skin condition afterward.
Salicylic acid was balanced by other ingredients that soothed the skin, and you don't have to worry about dryness and flakiness.
Acne is common and the treatments are plenty whether prescribed or over the counter.
Our top pick, and the remaining four are readily available in drug stores all over the United States, and the quality and their active ingredients may help to treat your acne.​