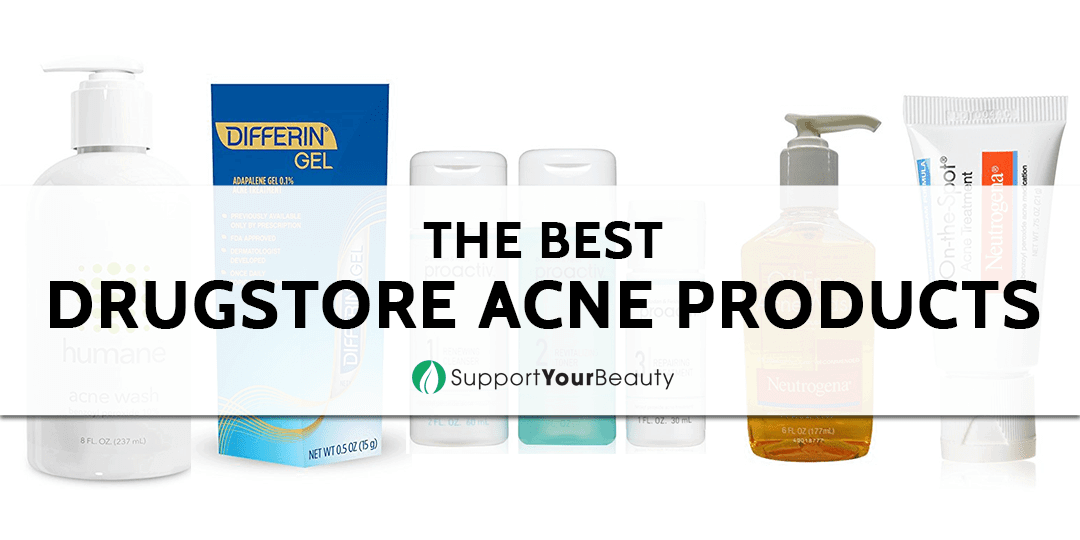 The Best Drugstore Acne Products – 2018 Reviews & Top Picks
Do you wish for a clean, fresh and acne-free skin? To be honest-- so were we! Until we found the best drugstore acne products.
If you suffer from acne, you know the pain of wanting to hide from friends and family.
Acne is the number one skin condition in America, affecting almost 50 million people a year. 65% are female, and more than half of acne sufferers are over 18.​
If you've been searching for a product to alleviate your blemishes, but haven't found the right one yet, this article may be your ticket to acne-free, clear skin.
Each offers something unique, but they all provide wonderful relief from breakouts.
After searching through products found at regular drugstores, we arrived at the top of the line, best drugstore acne products that could give you the best skin of your life.
Each one features ingredients well-known to unclog pores and clean deep.
There's a brand new product at number two and even a product featuring the number one ingredient recommended by dermatologists to blast away acne.​
More...
Quick Overview - Our Choices for the Best Drugstore Acne Products
​OUR TOP #1 PICK - Our top pick as one of the best drugstore acne products on the market today contains 10% benzoyl peroxide. This is widely considered the best ingredient for fighting acne. We were surprised to find it in a drugstore product at this level of intensity. Our number one choice for the best drugstore acne product on our list is Humane Benzoyl Peroxide 10% Acne Treatment Body & Face Wash.
OUR TOP #2 PICK - Coming in at number two is the product that named itself after what it really is, different from all the other drugstore brands. Differin Adapalene Gel 0.1% Acne Treatment brings a gel created from Adapalene, which is a retinoid. It used to only be available as a prescription, making it incredibly awesome because now you can get prescription-level acne strength from a drugstore product.
OUR TOP #3 PICK - Neutrogena Oil-Free Acne Wash, 6 Ounce. Our third favorite brand comes from Neutrogena and helps the skin rejuvenate using salicylic acid. When used morning and night, this acne cleanser helps the skin peel subtly, refreshing it and revealing clean, rejuvenated skin underneath.
OUR TOP #4 PICK - You may not find Proactiv in a general drugstore, but you can find it at malls and in Kiosks around shopping centers. Proactiv's 3 Step Acne Treatment System is also one of the most popular acne treatments on the market today. You don't have to have a prescription to purchase it, and it helps bring back your youthful glow without added dryness.
OUR TOP #5 PICK - At number five we revisit Neutrogena again, but this time for a spot treatment. We thought we would mix things up a little along with the cleansers and exfoliants. We figured some of you already have the cleansers and full treatments and just need something for those times when blemishes pop up and refuse to respond to your everyday normal skincare products. That's why we chose Neutrogena On the Spot Acne Treatment, Vanishing Formula.
Why Do I Have Acne?
If you suffer from acne, you have most likely experienced well-intended friends and family members giving you unwanted advice about what you should do to get rid of your pimples, from giving up sugar to scrubbing your face with lemon juice.
We've heard it too. Just know that there are many reasons for acne, and many different kinds of blemishes.
The number one cause of acne is hormones. This may be the reason that females make up 65% of dermatology patients. It also explains why teenagers are so apt to have pimples.
If you are over 18, female and prone to acne, it may be worth tracking your menstrual cycles and using an acne face mask just before your cycle to get a head start on the days you are likely to break out.
Another common cause of breakouts and blemishes is stress. If you are going through struggles and you are prone to breakouts, give yourself a chance to relax.
Consider time off, moments for yourself, or talking to someone who cares about you. It may even be worth it to treat yourself to extra skincare during more stressful times, like holidays, deadlines or emergencies.
The Importance of Washing Your Face and Body Twice a Day​
Acne can also flare up if you aren't washing your makeup off at night or cleaning your face well after exercise.
You may not even realize the importance of showering and cleaning up after less exertion.
Your body secretes oil during short walks and even during sedentary activity, such as office work. Be sure to freshen up and clean your body under bras and beneath clothing.
Freshening up and showering daily prevents a build-up of sweat and dirt, which prevents breakouts on the face and body.
Remember to wash your face morning and night to keep your pores from getting clogged. Use a gentle, exfoliating cleanser followed by a toner, and finish up with a moisturizer to get the best clean in your routine.
If you have oily skin and acne, be sure to use only products specifically designated for acne-prone or oily skin.
If you are using any product to prevent acne, it is essential that you are careful outside as products for acne make you sensitive to the damaging effects of the sun.
Acne doesn't have to get you down. It doesn't have to change the way you think about makeup and whether or not to go out with friends and have a good time.
Breakouts and blemishes don't have to be in your future. Take action by learning about your skin condition.
Product Reviews - Our Top 5 Best Drugstore Acne Products
---
Our favorite drugstore acne product is not only a top body and face wash known for its effective treatment of acne, but Humane is also a company that stands behind its name.
We carefully selected this product because it doesn't contain any harmful chemicals, such as parabens or fragrances, and it's made without testing on animals.
This product has benzoyl peroxide, which is great because it's the leading ingredient recommended by dermatologist for the treatment of serious acne.
Another great feature is its easy-to-use pump. Humane acne treatment also comes with a generous 8 ounces of product that can last 1 or 2 months.
This acne wash can be used for the entire body, including the face and back for a whole shower experience.
After some testing, we found that it may be a better treatment than many other pore cleaners as the proprietary BPO particles made by Humane are created to reach inside the pores.
Traditional BPO particles are normally bigger than skin's pores and just rest on top, unable to clean deep. Humane uses a system that is milled to be smaller than 10 microns, allowing it to reach inside pores and kill bacteria on contact.
In order to keep breakouts from happening, you need a wash that can prevent the acne-causing bacteria.
Bacteria is what starts blemishes in the first place. By prevent the bacteria, you can prevent the blemishes before they ever have a chance to surface.
We also found that this product contains a high level of benzoyl peroxide. So if you have sensitive or dry skin, you should use it with caution as the high level of benzoyl peroxide may cause dryness and irritation.
But if you need a good clean to treat your acne, you may use Humane along with toner and a water-based moisturizer specifically for acne-prone skin.
---
​Differin Adapalene Gel is ranked number two on our list of the best drugstore acne products thanks to its prescription strength available over the counter.
Adapalene is a retinoid, which is known to help clear and prevent acne while replenishing your skin's youthful texture and natural healthy tone.
We love that this product helps regulate cell turnover to unclog pores and reduce inflammation, while it's still gentle on your skin.
However, if you want to achieve better results, you may consider using this gel with a mild cleanser, a serum or a moisturizer that contains benzoyl peroxide.
Another reason why we like this gel is that it also help prevent acne breakouts while treating existing blackheads and whiteheads.
---
We included Neutrogena Oil-Free Acne Wash on our top list because it not only helps deal with acne problems, but it also works for most skin types.
This acne wash contains salicylic acid, which is famous for its effectiveness in clearing acne and preventing breakouts.
We also like this product because it's the only one on our list that features special skin soothers to prevent dryness and irritation.
It is not likely to cause dryness and irritation, but may help clean and soothe your oily skin when used frequently. Skin is left oil-free and residue-free.
It also works deep down into pores to prevent breakouts before blemishes appear. It rejuvenates cell production using a subtle peel that illuminates the glowing skin underneath.
Proactiv's 3 Step Acne Treatment System is our another favorite drugstore acne product as it comes with many added benefits.
This product makes our list because it provides the benefit of an exfoliating cleanser, a soothing toner, and an acne treatment repair lotion.
The main ingredient of the cleanser and the lotion is benzoyl peroxide, which is great because it can help your skin fight acne lesions and kill harmful bacteria.
The toner contains​ no alcohol and glycolic acid, which is known to help reduce fine lines and signs of aging, minimize pores, and slough off dead skin cells, thereby leaving you better looking skin.
We love that you can get the whole skincare line in one package. We have used this product and discovered a new glow and youthful appearance to our skin and particularly love the cool freshness of the calming moisturizer.
​
---
Number five on our list of the best drugstore acne products is Neutrogena OntheSpot Acne Treatment.
If you suffer with acne but already have cleansers, toners, and exfoliants, you may want to consider the benefits of a spot treatment.
Other products with higher percentages of benzoyl peroxide can cause an overproduction of moisture and oil due to excessive dryness, leaving your face red and irritated.
We love that this product offers just enough benzoyl peroxide to help your skin defeat the blemishes without leaving annoying redness, irritation or peeling.
It also contains bentonite, which is great because it's known for its capacity to heal and regenerate skin tissue, treat acne and prevent future breakouts, unclog and shrink pores, and leave your skin feeling softer.
The Bottom Line
All of the top five best drugstore acne products are effective in the treatment of acne. Humane Acne Treatment remains our top pick as it features 10% benzoyl peroxide, which is the most recommended ingredient for fighting acne.
The key thing is to note is that acne does not have to change who you are. You can take control of it by gaining knowledge about your specific type of acne and what treatment will work best for you.
We believe with the help of the right treatment, you can easily bring back that youthful, inner glow.