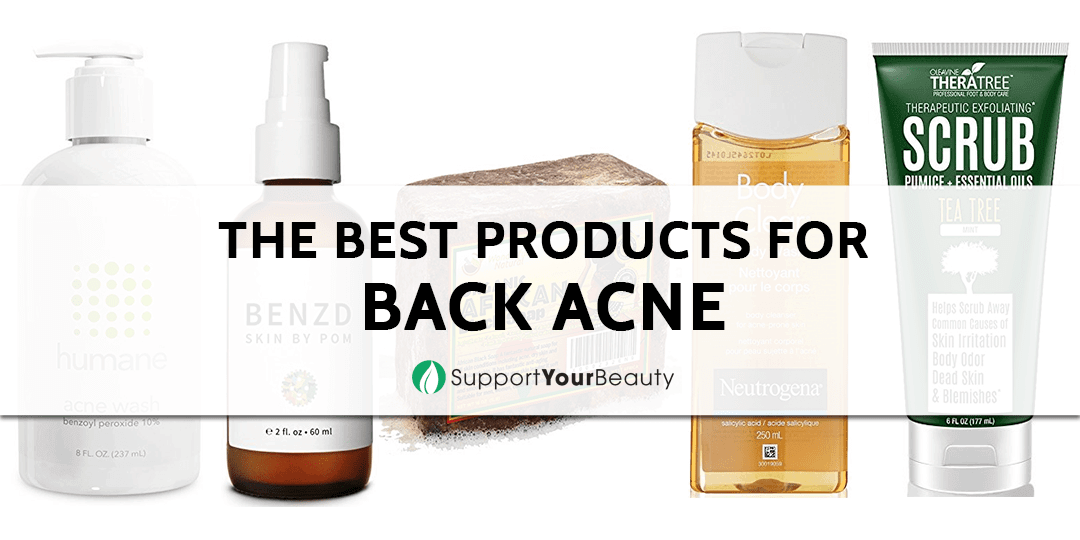 The Best Products for Back Acne – 2017 Reviews & Top Picks
---
To continue with our goal of being your best source of all things beauty related, we've come up with the best products for back acne. The products that made it to this list were carefully selected based on their effectiveness in treating and curing back acne. After hours of testing, we have found that these are the best products on the market that will help you solve your bacne problems.
---
Back acne is one of the most complicated forms of acne to combat, as it is hard to thorough cleanse the area.
Since your back is large and difficult to reach, those who need to fight back acne will need products that are tough enough to help you manage the problems.
In order to help you win your battle with irritating breakouts, we have compiled our list of the top five best products for back acne.
Now let's have a look at our top picks.​
More...
Quick Overview: Our Top Picks for the Best Products for Back Acne
Our number one choice in the race for the best products for back acne is Humane's Benzoyl Peroxide Acne Treatment Body and Face Wash. This wash made it to number one on our list due to its high level of benzoyl peroxide, as well as coconut-based cleanser it contains. Back acne is no match for this wash that quickly kills acne-causing bacteria.
Number two on our list is Benzd Acne Treatment Serum, because its combination of 4% benzoyl peroxide and tea tree oil is hard to beat. Although this serum contains alcohol, the formula is non-drying, which means that your skin will stay hydrated and healthy.
Wonderfully Natural's Organic African Black Soap is number three on this list, because it solves all kinds of skin issues of any skin type, but is all organic. This soap gently exfoliates skin, while working to heal acne.
The fourth pick on our list is Neutrogena's Body Clear Body Wash due to its latherability and dermatologist recommendation. Plus, this product is easily accessible.
The final selection of our top five list is Oleavine TheraTree Therapeutic Exfoliating Scrub. This scrub made the list because of its ability to draw dirt, oil, and toxins out of the skin. This product is also known for its exfoliating and odor-controlling properties.
Causes of Back Acne - What Did You Have It?
Back acne, often known as bacne, is typically caused by genetic or hormonal factors. While these seem hard to counter, avoiding or taking certain medications can help balance your hormones.
Many athletes also suffer from back acne, as their clothing traps bacteria and they don't always get the bacteria cleaned out before it can clog pores.
You don't want to wait to shower after a workout, as you are more likely to trap the bacteria in your pores.
Eating foods that are high in dairy or fat can also lead to acne anywhere on your body, and your back is no exception.
You may want to cut down on excess fat or dairy in your diet to help prevent acne on your back.
Using products with a lot of oil can also cause back acne, as oils are known to clog pores.​
If you need to use products like sunscreens, moisturizers or lotions on your back, make sure that the product is non-comedogenic, so they don't clog your pores.
Another main reason that people get acne on their back is that they don't wash their back properly.
You will want to ensure that you exfoliate and wash your back, especially after exercise or any activity that causes you to sweat.
There are a number of different products that you can use to wash your back to prevent and cure back acne. However, only a few of the best of these products made our list.​
How to Choose the Best Products for Back Acne
To find a good product to treat back acne, you need to understand the ingredients that can fight the acne.
While there are some different ingredients that fight acne, these are the best for nipping that acne in the bud.
Benzoyl peroxide is considered one of the most popular acne-fighting ingredients. It is effective, because not only does it kill bacteria, but it also exfoliates the skin and removes the excess oil in the skin.​
Benzoyl peroxide is used in many different products in different strengths; these strengths range from 2.5 to 10 percent. Products with 10 percent benzoyl peroxide are some of the most effective acne treatments on the market.
Salicylic acid is also used in a lot of different over the counter acne treatments. It exfoliates the skin and clears out pores, even inside hair follicles.
Salicylic acid is also an anti-inflammatory, which means that the redness and irritation that surrounds acne is also treated and bumps look smaller. Typically, acne treatments contain up to 2 percent salicylic acid.
Tea tree oil is another common acne fighting ingredient. Tea tree oil is both antibacterial and anti-inflammatory, so not only does it treat acne, but it also calms the affected area.
Tea tree oil can be very harsh, however, so people with sensitive skin may want to be cautious when trying products containing it.
Activated charcoal is another common ingredient in products that claim to fight acne. Charcoal is said to help eliminate acne, because it can absorb the dirt and oil in your skin.​
Since charcoal is inert, it won't irritate your skin or cause allergic reactions. It also reduces the size of pores, which will make it harder to get breakouts in the future.
What are the Benefits of Using Back Acne Treating Products?​
The benefits of using products that treat back acne are fairly obvious. First, getting rid of acne will make your skin healthier and better looking.
Since acne isn't something that many people are willing to tolerate, getting rid of these nasty bumps and breakouts will give you more confidence.
Now, it's time to find the right product for you. Our top five products for back acne are listed below.
Product Reviews: Our Top 5 Best Products for Back Acne​
---
Humane's Benzoyl Peroxide Acne Treatment Body and Face Wash was named number one on our list of the best products for back acne due to its 10 percent benzoyl peroxide content.
Since benzoyl peroxide is one of the best products for treating acne, this body and face wash will be one of the most likely to successfully treat all kinds of acne.
Be warned that Humane isn't ideal for you if you have sensitive skin, as the high level of benzoyl peroxide can cause skin irritations.
We have found that this formula can be used on your face, body, and back, and it contains no parabens or fragrances.
We love that this company doesn't use propylene glycol, parabens, formaldehyde or sodium lauryl sulfate. These ingredients are commonly used in skin care products.
It's made in the United States and is never tested on animals. The facility that the face wash is made in is in compliance with the FDA.​
What We Like:
Doesn't contain harmful ingredients
The bottle last a long time as you only need a little bit at a time
What We Didn't Like:
May cause breakouts if you have sensitive skin
May cause burning and irritation
---
Benzd Acne Treatment Serum by Skin by Pom is number two on our list due to its combination of benzoyl peroxide, tea tree oil, and alcohol.
This serum is formulated to treat even the most difficult cases of acne around.
Even though alcohol is typically thought of as a drying agent, this serum uses castor seed oil, which is alcohol-soluble, so it won't dry out skin.
We love this product because it contains only seven ingredients. Since the alcohol in the product works as a natural preservative, there are no artificial preservatives in Benzd Acne Treatment Serum.
The serum contains five percent benzoyl peroxide, which means that it is more gentle than the top product on our list. You may think that means that it is less effective, but the addition of tea tree oil will boost the acne fighting potential.​
What We Like:
Starts working quickly
Works on the toughest acne breakouts, including cystic acne
What We Didn't Like:
It contains alcohol
Shouldn't be used on a large area and should be treated as a spot treatment
---
Wonderfully Natural's Organic African Black Soap came in third strictly because it isn't as easy to use to as the washes or serums on this list, but we love this product for fighting back acne.
If you have any skin condition, chances are that African black soap can help you.
This cruelty-free soap is known to help treat acne, dry skin, psoriasis, eczema, and dermatitis.
We have found that this soap acts as a very gentle exfoliator, plus it is packed with full of vitamins and minerals that can help treat and nourish your skin.
All of the ingredients in this bar of soap are completely organic. Cocoa pod butter contains antioxidants and is an anti-inflammatory.
The palm kernel oil in this product is antibacterial and antifungal, while the palm oil contains Vitamin E, which is known to fight acne.
Lastly, coconut oil will help reduce the appearance of wrinkles, so this product is fit for people of all ages. Plus, if you don't see results, the company offers a 30-day money back guarantee.​
What We Like:
Helps with many different skin issues, so it is versatile
Controls oil without drying out the skin
What We Didn't Like:
Gets really soft when kept wet, which can lead to waste of product
May cause a burning sensation on the skin
---
Coming in at number four on our list of the best products for back acne is Neutrogena's Body Clear Body Wash.
We included this product on the list because it is accessible to everyone and it is easy to use.
This body wash forms an excellent lather and is easy to apply anywhere on the body that contracts acne.
We love that this body wash is dermatologist recommended and doesn't clog pores. It contains salicylic acid, which is one of the best ingredients to fight acne, but it is still gentle.
Unfortunately, this product does contain artificial fragrances, which is the main reason why it is lower on our list.
Even cystic acne is no match for this body wash. If you are suffering from severe acne, you may not be concerned that just because you can get this anywhere that it won't work.
Unfortunately, we have found that results vary vastly with this product, so it is really a trial and error to see if it will work for you.​
What We Like:
Is very gentle and doesn't cause irritation
Helps with symptoms of psoriasis
What We Didn't Like:
Contains artificial fragrances
May dry your skin
---
Rounding out our list of the top five products for back acne is Oleavine TheraTree's Therapeutic Exfoliating Scrub.
This may be the best exfoliating product on our list, as it contains micro volcanic pumice and white willow bark.
These ingredients gently remove dead skin and clear the way for the other ingredients to seep into pores.
It also contains tea tree oil, which is famous for its effectiveness in helping rid the skin of bacteria deep in the pores.
The activated charcoal in this scrub helps to bring the dirt, oils and other gunk to the surface of the skin and out of pores, which means you are getting a deep clean when you use this product.
We love that there are a number of different botanicals in this product, but the neem oil helps cleanse the skin, while also nourishing it. Neem oil is also good at moisturizing dry skin and soothing irritated or itchy skin.
One unique benefit to this product is that it can help eliminate odors caused by common skin issues, including athlete's foot.​
What We Like:
Has a light minty smell
Helps with acne on all parts of the body, and helps cure many skin conditions
What We Didn't Like:
May cause breakouts and irritation
May not work on your face
---
Latest Reviews and Comparisons of the Best Products for Back Acne
Products

Ingredients

Benefits

Support Your Beauty

 Best Choice 

Benzoyl Peroxide
Cocamidopropyl Betaine

Helps kill acne-causing bacteria
Can be used on the entire body and face

2nd Choice

Benzoyl Peroxide
Tea Tree Oil
Castor Seed Oil

Fights the toughest cases of acne
Doesn't dry out skin
Helps with cystic acne

3rd Choice

Cocoa Pod Butter
Palm Oil
Palm Kernel Oil

Gently treats acne
Helps with skin issues, such as psoriasis and eczema

4th Choice

Salicylic Acid
Cocamidopropyl Betaine

Cleanses skin without leaving behind pore-clogging residue
Helps with psoriasis

5th Choice

Tea Tree Oil
Activated Charcoal
Neem Oil

Gently exfoliates skin
Draws toxins out of the skin
The Bottom Line
Our number one pick for the best products for back acne is Humane's Benzoyl Peroxide Acne Treatment Body and Face Wash.
It contains a high amount of benzoyl peroxide, which is a significant acne-eliminating ingredient.
Since this product also contains coconut oil, it is a great choice for not drying out the skin and causing additional breakouts.
Humane's products are all made in the United States and made in a facility that is FDA compliant. None of the company's products contain parabens or artificial fragrances.
No products made by Humane are ever tested on animals, which is critical if you are looking for a cruelty-free product.
Even though this product isn't suitable for you if you have sensitive skin, we still think that this is the best product for those who are suffering with back acne.
We recommend that you try any of the products on this list to deal with back acne.​