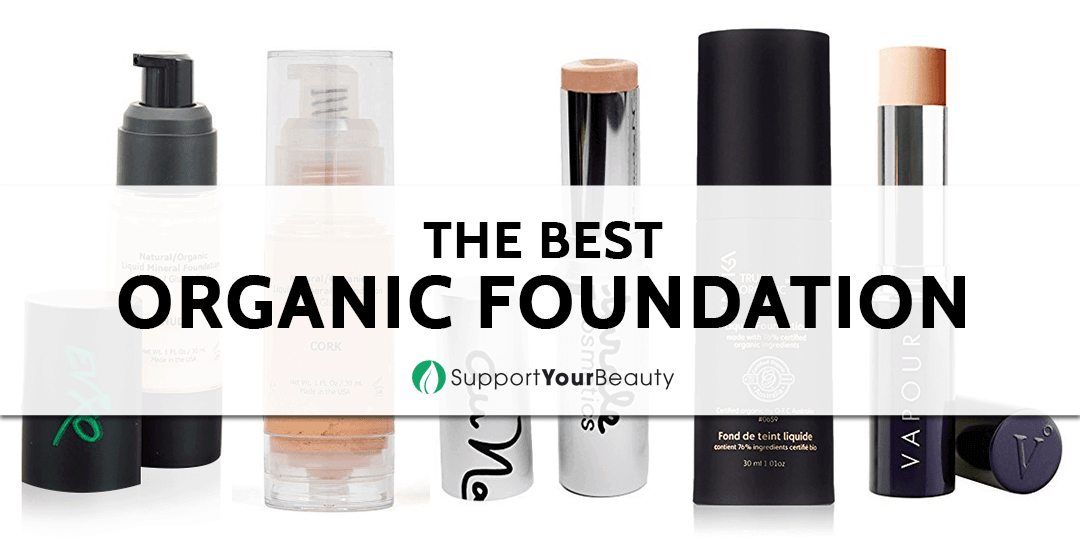 The Best Organic Foundation – 2018 Reviews & Top Picks
Is it high time to fiest on a healthy makeup routine? Get acquainted with our list of the best organic foundation products!

Foundation is one of the most commonly used beauty products on the market. What isn't common is an organic foundation.
It may be difficult to find organic foundation, but for those who don't want to put harsh chemicals on their face, it is worth the search.
Organic foundations aren't only better for your skin; they are also better for the environment.
For those who want to reduce their impact on the earth, an organic foundation is a way to go.
Our list of the top five best organic foundations should help you find the natural foundation that works for you.​
More...
Quick Overview: Our Top Picks for the Best Organic Foundations
OUR TOP #1 PICK - Our top choice for the best organic foundation is EVXO's Natural Liquid Mineral Foundation. This foundation tops our list, because not only is it organic, but it's also vegan and cruelty-free. Not only that, but it is also non-comedogenic. It has buildable coverage and can give you a light to full coverage look.
OUR TOP #2 PICK - Number two on our list is Shimarz Mineral Liquid Foundation because it provides excellent, long-lasting coverage. This foundation blurs various skin issues, without irritating sensitive skin. It will help you get younger-looking, clearer skin, as well.
OUR TOP #3 PICK - The third foundation on our list is Au Naturale Zero Gravity C2P Foundation, and we love its creamy, organic and vegan formula that provides full coverage for a wide range of skin types. The only skin type this foundation isn't suitable for is oily skin.
OUR TOP #4 PICK - INIKA Organic Liquid Foundation is number four on this list because it isn't only vegan, organic and cruelty-free, but it is also halal appropriate. Its coverage is buildable, and it is easy to blend into the skin. This foundation also contains hyaluronic acid, which helps reduce the appearance of wrinkles.
OUR TOP #5 PICK - Last on our list is Vapour Organic Beauty Atmosphere Luminous Foundation. This creme foundation provides full coverage that makes skin glow. It is suitable for people with normal, dry and sensitive skin.
Ingredients to Avoid in Foundations
One of the most frustrating things about makeup products is the number of chemicals they often contain.
Many of these ingredients aren't meant to be absorbed into our skin, but, since the skin is porous and makeup stays on the skin for an extended period, many chemicals will soak into the skin and may get into the bloodstream.
Using organic foundation is one way to avoid harmful chemicals.
You may want to know what ingredients are in average foundations, however, so you can better understand what potentially dangerous ingredients you're shielding your skin and body from.
Artificial scents are just one of the ingredients you should avoid. These can cause skin irritations, acne, and rashes.
Instead, look for products that use organic essential oils for fragrance, or better yet, use something that is unscented.
Benzoates are another ingredient that you should avoid.​
These are used as preservatives in makeup products, and they may cause issues with people living with asthma. They can also cause numbness of the mouth.
Petroleum-based products such as aluminum, petroleum, and lead are commonly used in cosmetics. These ingredients are not only potentially harmful to your skin, but they have also been linked to certain cancers.
Moreover, petroleum-based products require destruction of forests to create.
Parabens are found in almost all cosmetic products, and they are related to some health issues, including cancer and hormone disorders. They also irritate the skin.
Many other harmful ingredients are found in conventional foundations, as well as other makeup products, that you should be on the lookout for, but these are some of the worst and most common.
Benefits of Organic Foundations​
While the benefits of using organic foundation may seem obvious, we want to reiterate why you may want to make the switch over to an organic foundation.
The most obvious reason to switch to an organic foundation is that it is better for your skin's health.
Once you stop using harsh chemicals on your face, you may notice that you no longer struggle with common skin conditions such as rashes, acne, and redness, allergic reactions, and infections, as some of the chemicals used in beauty products are commonly associated with these conditions.
Some ingredients in common foundation may be linked to cancer, due to the ability of the chemicals to leach into the skin.
Alzheimer's Disease is another serious ailment that's linked to many of these ingredients. Other products may lead to allergies, congenital disabilities, and nervous system disorders.
Organic foundation is also better for the environment. Conventional foundations may use ingredients like aluminum, lead and petroleum, all of which are petroleum-based products that require mining to be created.
Organic foundations tend to contain more nutrients than conventional foundations.
Just like your skin absorbs harmful chemicals, it also soaks up all the nutrients in the products you put on it, which may result in clearer and healthier skin.
Downsides of Organic Foundations​
Organic foundations are much more challenging to find than regular foundations. Not only do you need to understand the ingredient labels, but you also need to find a store that sells them.
Rarity can often make it harder to find a product that will work for you, as there is a lot that goes into selecting a foundation, including shade options.
Organic foundations are also generally more expensive than your average foundation, and while budget-friendly options exist, they can be hard to find. Once you find a brand you like, you then need to find a shade that will work for you.​
Product Reviews: Our Top 5 Best Organic Foundations
---
Our top pick for the best organic foundation is EVXO's Natural Liquid Mineral Foundation. Apart from being organic, it's also vegan and cruelty-free.
It's highly versatile as you can get a light to full coverage, depending on the type of finish that you want to achieve.
This foundation contains nourishing and healing ingredients like aloe vera, chamomile, and vitamin E.
Aloe vera and chamomile are calming ingredients that help soothe irritated, red skin. Not only are they soothing, but they also provide your skin with vitamins and minerals that will keep your skin healthy.
We love that this foundation is also hydrating. Normal to dry skin may look and feel moisturized without being oily.
If you already have oily skin, you may not want to choose this as your next foundation, because it leaves skin with a dewy finish that may look greasy on some complexions.
However, a mattifying primer under the foundation, plus a bit of loose powder may help give you a matte finish.
This foundation only comes in six shades, which means that it matches a limited number of skin tones.
---
Shimarz Mineral Liquid Foundation made it to the number two spot on our list of the best organic foundations due to its lack of chemicals and parabens in its formula. It is organic and vegan, as well as cruelty-free.
Our favorite thing about this foundation is that it blends into the skin well, and covers the majority of imperfections that you may have on your skin.
Acne, rosacea, rashes and dark spots are softly covered in a silky wash of healthy color with this foundation. Despite its fantastic coverage, it looks very natural on the skin.
This foundation contains aloe and chamomile that calm and soothes irritated, itchy, red skin. We love that the aloe helps to fight acne, as well.
With eight different foundation shades, you will have a few different options for finding a foundation that matches your skin tone.
---
Au Naturale Zero Gravity C2P Foundation got the third spot on our list because it provides great coverage, while still working for all skin types.
This USA-made foundation contains different oils that will hydrate the skin, as well as provide the skin with nutrients.
Lavender and meadowfoam seed oil will calm, soothe and moisturize skin all day.
This foundation is both vegan and organic. We love that it is also gluten-free, paraben-free, talc-free and sulfate-free.
Because of its mostly natural ingredients, this product may be the least likely to cause skin irritations, acne or itchiness on this list.
This foundation comes in 15 different shades, so you are likely to find a shade that matches your skin tone. The shades range from very fair to very deep.
---
In fourth place, we have INIKA Organic Liquid Foundation. This product is organic, vegan, non-toxic, cruelty-free and halal safe. Plus, it won't leave skin looking oily or greasy.
INIKA's foundation provides a natural-looking coverage that will leave you with your desired coverage level, as you can build it up gradually by using more product.
With hyaluronic acid, this foundation may also help keep skin looking younger and fresher, and keep it hydrated.
Aloe vera and jojoba oil add moisture to the skin and soothe any existing irritation.
This foundation is only available in six different colors. The shades that are available are all fairly light, which means that those with fair skin will likely be able to find a close match.
---
Vapour Organic Beauty's Atmosphere Luminous Foundation is natural and organic and doesn't contain a lot of chemicals.
Even better, there aren't any nanoparticles in this foundation that could harm the environment.
This is the most environmentally friendly product on this list, as it is made only with wind power.
We love that this foundation is made to work for normal, dry and sensitive skin types and mature or aging skin. However, it may not deliver similar results for oily skin.
This product has very fine minerals in it that helps to make skin glow and look more radiant. Moreover, it contains ingredients that calm the skin and make it look smoother and softer.
Another reason we love this foundation is that it comes in a wide range of colors. With 12 different shades, you are likely to find a close match to your skin tone.
The Bottom Line
Our top choice for the best organic foundation is EVXO's Natural Liquid Mineral Foundation.
We love that it is completely vegan and organic, but will give you great coverage without looking cakey. It also doesn't leave skin feeling greasy or cakey.
If you want an organic foundation that is tested and true, we recommend any of the foundations on this list, but we liked the formula from EVXO the best because it is easy to apply and it gives your skin a healthy dose of nutrients.
It also contains soothing and hydrating ingredients that may help make your skin look and feel great.
You can also find more high-quality organic foundations from EXVO here: https://evxocosmetics.com/