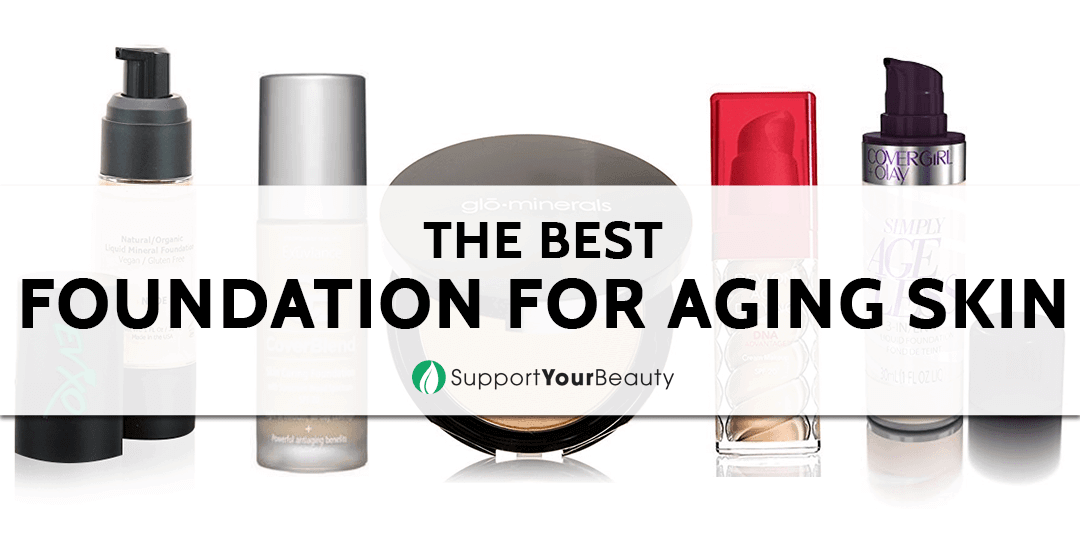 The Best Foundation For Aging Skin – 2018 Reviews & Top Picks
Want to keep the young spirit in line with your skin's looks? See how to apply, choose, and benefit from the best foundation for aging skin.

Choosing the right foundation may be tricky for those with aging skin. If you have aging skin, you will want to find a foundation product that doesn't accentuate any fine lines or wrinkles.
Trying to find a foundation that contains ingredients that reverse the hands of time and prevent them from moving forward again can be difficult.
We have compiled this list to help you find foundations that will work for those dealing with the issues surrounding aging skin. These five foundations are the best around for aging skin.​
More...
Quick Overview: Our Top Picks for the Best Foundations for Aging Skin
OUR TOP #1 PICK - The number one selection in our list of best foundations for aging skin is Glo-Minerals Glo Pressed Base. This powder foundation will protect your skin from sun damage and prevent hyperpigmentation and signs of aging skin with the help of antioxidants.
OUR TOP #2 PICK - EVXO's Natural Liquid Mineral Foundation came in second on our list, because it is vegan, organic and gluten-free. This liquid foundation allows you to build up to your desired coverage level and it comes in six different shades that contain aloe vera and vitamin E that help battle fine lines and wrinkles.
OUR TOP #3 PICK - Third on our list is CoverGirl+Olay Simply Ageless 3-in-1 Liquid Foundation. We selected this foundation due to its ability to reduce the appearance of wrinkles and even out skin tone. This foundation contains ingredients that help firm skin. Plus, it comes in a dozen different shades.
OUR TOP #4 PICK - Number four on our list is Revlon's Age Defying Foundation with DNA Advantage. This product made the list because it is enriched with anti-aging skin care ingredients.This foundation will hydrate skin and reduce the appearance of wrinkles on the skin.
OUR TOP #5 PICK - Lastly, we selected Exuviance Skin Caring Foundation, because it lasts all day and provides light to medium coverage on the skin. With SPF 20, your skin will be protected from the sun, and it contains polyhydroxy acid gluconolactone which helps diminish the look of wrinkles.
Ingredients that Fight the Signs of Aging
Aging skin isn't something that women look forward to as they grow older. However, there are ways to combat the effects of time and make skin look more youthful.
There are a few different ingredients that are particularly beneficial when it comes to anti-aging. You should look for these ingredients in your foundation if this is your skin concern.
Green tea extract is a powerful anti-aging ingredient that helps reduce sagging in the skin and prevent wrinkles from forming. It is full of polyphenols that fight free radicals that lead to aging.​
Vitamin E is an antioxidant that packs a punch against aging skin. It reverses the damage that contributes to making your skin dry and wrinkled.
Vitamin E can neutralize free radicals and rejuvenate skin. It is also effective at healing wounds, cuticles, and scars.​
B vitamins are good for your hair, skin, and nails. They can help heal and regenerate damaged cells, including skin cells. Also, vitamin C boosts production of collagen and protects skin from the harmful rays of the sun.
Peptides, chains of amino acids, tell the skin when it is time to create collagen. Collagen makes skin healthy and firm, which is why you find peptides in many different anti-aging products.
Retinols and retinoids are popular ingredients in anti-aging products. These ingredients stimulate cell and collagen production and make the process go faster.
Alpha-hydroxy acids are acids found nature that help exfoliate dead skin to make the skin look bright and smooth. They are also known to stimulate the production of elastin and collagen, both of which make skin look more youthful and soft.​
Benefits of Foundation for Aging Skin
If you are battling aging skin, you should consider using foundations that are specially formulated for aging skin for many different reasons.
The most obvious reason would be to make your skin look younger. While that is true, there are other benefits to getting a foundation that is built to fight aging.
First, foundations that are created specifically for anti-aging contain many different vitamins and nutrients that keep your skin healthy and youthful. With vitamins E, B and C, your skin may look firmer.
Second, many of the foundations for aging skins contain ingredients like retinol or peptides that help boost the production of collagen. The production of collagen will help fill in the lines and wrinkles in the skin, which leads to younger looking skin.
Many anti-aging foundations contain ingredients that help protect skin from sun damage. Guarding the skin against new sun damage will prevent new lines or wrinkles from forming on the surface of the skin, which is the other half of the battle.
Anti-aging foundations often contain a lot of oils that hydrate skin. Not only does this help the skin look younger, but it also improves the overall quality of your skin.
Product Reviews: Our Top 5 Best Foundations for Aging Skin​
---
Glo-Minerals Glo Pressed Base came in first on our list due to its ability to blur hyperpigmentation and aging. This foundation also protects against both UVA and UVB damage from the sun.
We love this foundation because the pressed powder leaves skin with a semi-matte look that appears natural. Even though it is powder, it doesn't completely dry out the skin.
With ingredients like green tea extract and different vitamins, your skin will get a healthy dose of nutrients that also work to keep skin from getting loose and saggy.
This foundation is talc-free and noncomedogenic, which means that it won't dry out skin or clog your pores.
Another reason why we're fans of this foundation is that you can choose your level of coverage. This foundation can be applied very thinly to give sheer coverage.
If you want medium coverage or full coverage, you can use different brushes and layer it as you want.
---
EVXO's Natural Liquid Mineral Foundation came second on our list of the best foundations for aging skin, due to its vegan, organic and cruelty-free formula and buildable coverage.
This foundation contains natural ingredients such as aloe vera, chamomile, thyme and vitamin E. These ingredients help make skin softer, smoother and younger-looking.
Plus, they hydrate the skin to prevent flaking while fighting off free radicals.
Thyme helps to keep skin acne-free, while chamomile prevents inflammation and soothes irritated skin.
This liquid foundation has a dewy finish and can be built up to full coverage. If you have oily skin, this may not be the right foundation for you, as you may need a foundation with a more matte finish.
EVXO's foundations come in six different shades. We love the way that this foundation looks on the skin, but it may be difficult to find a shade that matches skin closely.
---
The third product on our list is Simply Ageless 3-in-1 Liquid Foundation from CoverGirl and Olay. This product uses the best parts of each company to help women get flawless skin.
Olay's anti-aging formula combined with CoverGirl's popular makeup products make a foundation that fights the effects of aging while providing excellent coverage that doesn't settle into the wrinkles of the skin.
One reason that we love this foundation is that it is easy to blend into skin. It helps cover more than just wrinkles, too.
Age spots and discolorations on the skin are easily covered up with this liquid foundation. It is also one of the easiest on this list to apply.
We like that this foundation comes in 12 different shades that are suitable for a variety of different skin tones.
---
Number four on our list is Revlon's Age Defying Foundation with DNA Advantage. It made the list because of its powerful anti-aging benefits.
We loved that this foundation protects your skin's DNA from the signs of aging. It also moisturizes skin to leave it feeling fresh and hydrated.
The soft and creamy formula keeps skin hydrated, and it also helps prevent the formation of wrinkles and fine lines.
This foundation also protects your skin from sun damage, which can cause more issues such as sagging and wrinkles.
Unfortunately, there are only eight different shade options for this foundation. There also aren't many options for women of color.
---
Exuviance Skin Caring Foundation rounds out our list of the best foundations for aging skin, for its staying power and all-day coverage.
This foundation is laced with polyhydroxy acid gluconolactone that helps reduce the appearance of wrinkles, sagging and fine lines. It may also prevent new wrinkles from forming.
One thing that we love about this foundation is that it is water-based instead of oil-based.
If you have oily skin, this product may work for you as it's less likely to make your face oil up during the day.
It also contains antioxidants and sunscreen to provide your skin with both sun protection and nutrients to keep it healthy.
Moreover, it's non-comedogenic and is formulated for all skin types, including sensitive skin.
We like that this foundation comes in a wide range of colors with ten different options to choose from. There are very pale and dark shade options available, to suit many skin tones.
The Bottom Line
Our number one pick for the best foundation for aging skin is Glo-Minerals Glo Pressed Base. This foundation is the most lightweight product on the list and doesn't feel mask-like at all.
While many other foundations may look cakey and settle into fine lines and wrinkles, this foundation settles beautifully on the skin.
Plus, you can choose between 20 different shades and apply to your desired coverage.
If you are suffering from aging skin, we recommend any of the foundations on this list to keep your skin looking youthful, healthy and natural.
Every product on this list is a highly-rated foundation that may work for you. Give any of these products a try and see if you can find a solution to your aging skin issues.​