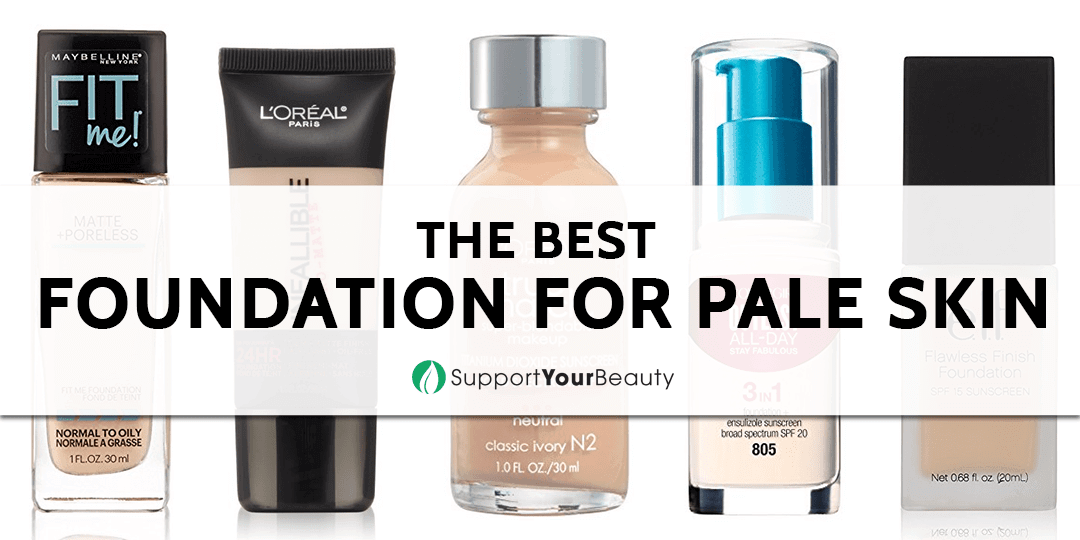 The Best Foundation For Pale Skin – 2018 Reviews & Top Picks
Do you need the help of a best friend? No time to waste on searching? Learn how to enhance your looks with the best foundation for pale skin.

Women with pale skin face a lot of challenges when it comes to caring for and making their skin look good.
Apart from having the tendency to burn easily when exposed to the sun, pale skin also presents the challenge of showing every single flaw, from blemishes to acne scars and dark circles.
Moreover, because very fair skin can almost look transparent, broken capillaries and tiny veins are also more visible.
This is the reason why pale-skinned women often turn to a foundation to cover up skin imperfections, but it can be difficult to find the right shade that won't wash out fair skin or give it an odd yellow or pink cast.
If you have very fair skin and have yet to find the right foundation to suit your complexion, we give you our list of the best foundations for pale skin.
Keep in mind that these shades were chosen to fit a wide range of fair complexions, though the brands included in this list offer other shades that may work for pale skin.​
More...
Quick Overview: Our Top Picks for The Best Foundation for Pale Skin
How to Find The Best Foundation For Pale Skin
Choosing the right foundation takes more than picking a shade that you think may look good on your skin.
Whether you frequent department stores, drug stores, or beauty hubs such as Sephora, it takes more than making a beeline towards the lightest foundation available to get the correct match.
The first thing that you have to do is to determine your actual skin tone. To do this, you need to consider the undertones of your skin.​
There are three types of undertone, which may apply to a fair, medium, or dark skin. These are cool, warm, and neutral undertones.
Having a cool undertone means that your skin has a pink, red, or blue undertone. People with very pale skin tend to have cool undertones. Think Cate Blanchett and Amanda Seyfried.
Warm undertone means that your skin has a peach or yellow undertones. Blake Lively and Reese Witherspoon are prime examples of women with pale skin who have warm undertones.
Having neutral undertones means that your skin is somewhere in the middle of cool and warm, so if you have this type of undertone, finding the right foundation may be easier for you.​
How To Find Your Undertone
First, look at your natural hair and eye color. If you have eyes that are gray, blue, or green and have brown, blonde, or black hair, then it's likely that your skin has a cool undertone.
If you have hazel, brown or amber eyes and your hair is red, brown, black, or strawberry blonde, then your skin has a warm undertone.
You can also do a t-shirt test.
If a white T-shirt looks good on you, then you most likely have cool undertones. If an ivory T-shirt looks better on you, then you have a warm undertone. If you look good in both, you have a neutral undertone.
Another thing that you can do to find your undertone is to check out the veins on your wrist.
If they appear greenish, you have warm undertones. If they look blue or purple, then you have cool undertones.
If you have trouble deciding if your veins look blue or green, then it's likely that your skin has neutral undertones.
Finally, take out your gold and silver jewelry and try them on.
If gold looks better on you, then your skin has warm undertones. People with cool undertones will find that silver jewelry suits them better.
If you look good in both, then your skin has neutral undertones.
How to Properly Test A Foundation​
Knowing your skin tone and undertone will make it easier to look for a foundation that would be the best for your pale skin.
However, once you step into a department store or drugstore, it's easy to be overwhelmed by all the choices.
So here's what you should do: First, pick a formula.
For full coverage, select a liquid or cream foundation. For medium coverage, a BB cream or a powder foundation will do.
Next, take a look at the packaging.
Some foundation names come with W, C, or N, and that should clue you in as to whether that base is meant for skin with warm, cool, or neutral undertones.
Now's the time to test the foundation.
Don't just rub it on your hand or wrist—the skin there is very different than the skin on your face, and it's hard to tell whether the foundation is a good match based on how it looks on your hand.
Apply the foundation to your face.
If you want to test a couple of brands, opt to cover half of your face with one kind of foundation, and the other half with one from another brand to compare how different bases will look on your skin.
Observe how the foundation looks under natural light. To do this, go near a window, or just head outside.
You'll know it's the perfect fit for you if it makes your skin look more flawless, yet it still looks like skin, not a mask of makeup.
Product Reviews: Our Top 5 Picks For The Best Foundation for Pale Skin​
---
This foundation gets the number one spot on our list of the best foundations for pale skin for its matte finish, fantastic coverage, and its ability to keep oil away.
It contains typical ingredients that you'll find in a liquid base such as cyclohexasiloxane, which works as a skin conditioning agent, water, and nylon-12, which has absorbing properties, thus helping to lessen shine or oil.
This product line from Maybelline has 24 shades, with four of them suited for fair skin.
We picked Porcelain for its neutral undertone, which means it may work for many pale-skinned women.
We applied this liquid foundation with a damp Beauty Blender sponge, and it gave us a light coverage. Applying this with our fingers results in medium coverage that dries down to a matte finish.
This foundation does not come with SPF, so make sure to apply sunscreen before you use it.
---
If you're not a fan of the overly matte look, then our second pick on our list of the best foundations for pale skin may work for you as it gives skin a demi-matte finish.
This foundation contains dimethicone, which moisturizes skin and prevents minor irritations.
It also has isododecane, which gives the foundation a lightweight feel. Classic Ivory is this line's lightest shade, and it has a slight warm undertone.
Upon testing this foundation, we loved how it gave us a glowing look. It didn't cover our acne marks or scars as well as our number one pick, but it evened out our skin tone.
This foundation claims that it stays on for 24 hours. After six hours of wearing this, our face started to oil up, but it was nothing that a sheet of blotting paper couldn't fix.
---
Making it to the third spot on our list of the best foundations for pale skin is another L'Oreal product - L'Oreal Paris True Match Super Blendable Makeup in Classic Ivory.
This product range has a massive following due to its wide range of shades and oil-free finish.
Each foundation in the True Match line has a matching powder and concealer, so it's easy to find products in the same shade.
We love that this liquid base contains natural ingredients such as wheat germ and grapefruit extract, as well as vitamins A and C.
Wheat germ extract softens and conditions skin, while grapefruit extract has anti-aging benefits.
Another reason why we're such fans of this foundation is that it has SPF 17 to protect you from harsh UV rays.
Classic Ivory has the shade code N2 on it, which means that it is the second lightest shade with a neutral undertone.
We love how this gives us a medium coverage and it dries down to a semi-matte finish.
The only thing that we didn't like about this foundation is that it can get oily in a few hours, so make sure to carry blotting papers or powder.
---
Taking the fourth spot on our roundup of the best foundation for pale skin is Covergirl Outlast All-Day Stay Fabulous 3-in-1 Foundation in Ivory.
This foundation combines the smoothing and blurring effects of a primer with the coverage of a foundation and concealer, all in one bottle.​
Among all the foundations on this list, the Covergirl foundation may give you the best protection against the sun's rays, as it has SPF 20.
It contains ensulizole, which is a common sunscreen agent. It also has cyclopentasiloxane, a type of silicon known for its ability to waterproof.
This product range has 14 shades, and Ivory is its lightest. The color leans more towards the cool spectrum as it has a slight pink undertone.
We dotted this liquid foundation on our cheeks, forehead, nose, and chin and blended it with a foundation brush.
We love how this stayed on even after our dance class, and it has a beautiful, matte finish.
This may or may not cover acne marks or dark circles, so you may still need to use a concealer with this product.
---
Last on our list is e.l.f. Studio Flawless Finish Foundation in Porcelain. We love this foundation for its buildable coverage and the fact that it comes with a pump.
It contains octyl salicylate, an ingredient commonly found in sunscreens. This liquid foundation contains SPF 15 to protect your fair skin.
The foundation also has titanium dioxide which is also an effective UV filter, so even the fairest skin is shielded from the sun's rays.
Porcelain is its lightest shade, and we chose it for its warm undertone. There are only six shades in this product range, and three of them may work well for fair skin.
We pumped small amounts onto a damp makeup sponge and blended it on our face. The foundation gave our face a semi-matte finish.
We were a bit thrown by the somewhat sticky after-feel, but it went away with a light dusting of translucent powder.
It also has a somewhat strong smell that may be off-putting for those with sensitivity to fragrances.
The Bottom Line
For this roundup, we chose Maybelline New York Fit Me Matte + Poreless Foundation in Porcelain as our top pick for the best foundation for pale skin.
We love its soft, matte finish and how it keeps oil at bay.
We also like that it gives light to medium coverage, depending on the amount of foundation you use and how you apply it.
We believe that Porcelain, being a foundation with a neutral undertone, may work well for many pale-skinned women.
Though the Maybelline foundation is our clear winner, all of the foundations on this list may give your fair skin a clean and healthy glow.
We encourage you to properly test any foundation before you make your choice and to keep your undertone in mind to get the best match for your pale skin.​