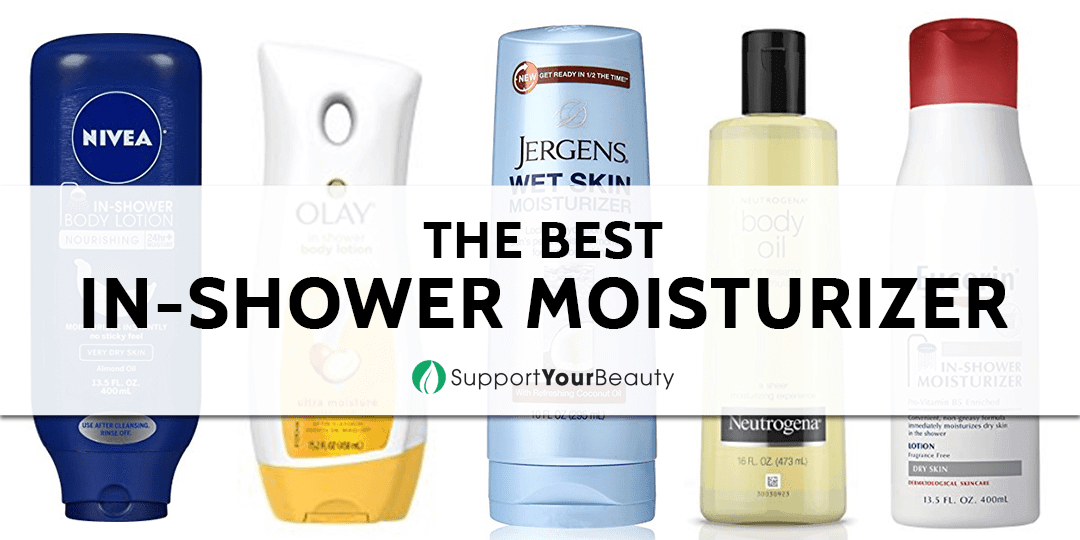 The Best In-Shower Moisturizer – 2018 Reviews & Top Picks
As part of our mission to keep you updated on the best beauty products, we've gathered and reviewed 5 of the best in-shower moisturizer products. After hours of testing, we've found that these moisturizers worked great for our skin and helped improve our skin's texture by making it softer and smoother. We believe these products will leave your skin moisturized throughout the day.
Nowadays, health and wellness seem to take a backseat to everything else that goes on in a busy person's life.
This is especially true, particularly in the case of working parents. Who has the time for a skincare regimen when you've got an 8-hour job, soccer matches to attend, and morning drop-offs each day?
However, there are lots of products out there that are designed to save you time, such as cleansers that also exfoliate the skin, moisturizers that double as sun protection, and dry shampoos for those days when you don't have time to wash your hair.
There are also skin moisturizers that you can use while you're inside the shower.
Most people skip using a body lotion because of the time it takes to apply it. But you can use in-shower moisturizers while your skin is wet, then just rinse or towel off before heading out of the bathroom.
On that note, here are the top five best in-shower moisturizers.​
More...
Quick Overview: Our Top Picks for The Best In-Shower Moisturizers
OUR TOP #1 PICK - The first product on our list of the best in-shower moisturizer is Nivea In-Shower Nourishing Body Lotion. The formula absorbs into wet skin in seconds and leaves skin feeling soft, smooth, and moisturized.
OUR TOP #2 PICK - ​The next product on our roundup works with the warmth of your shower to give you softer skin in as little as five days. Olay Moisture In-Shower Body Lotion with Shea Butter is so easy to use, and its amazing scent will make you look forward to using it on a daily basis.
OUR TOP #3 PICK - Jergens Wet Skin Moisturizer with Refreshing Coconut Oil is our third pick for this list of the best in-shower moisturizers. It works with water on wet skin to lock in hydration, helping skin to look more luminous after every shower.
OUR TOP #4 PICK - The next product isn't technically categorized as an in-shower moisturizer, but this has been a favorite product to moisturize damp skin for decades. For its light scent and ability to give skin a healthy glow in a jiffy, Neutrogena Body Oil truly deserves a spot on this list.
OUR TOP #5 PICK - Finally, Eucerin In-Shower Moisturizer Body Lotion made the cut because it doesn't leave a greasy residue on the skin, allowing you to get dressed immediately. It's great as this saves you time especially during the morning rush.
How Does an In-Shower Moisturizer Work?
Most of us are familiar with face and body lotions or creams, but very few know about in-shower moisturizers and how they work.
While some may dismiss this product as just another thing to crowd the shower shelf, an in-shower moisturizer may be beneficial to your skin, especially if you're looking for ways to hydrate your skin while shortening your grooming and skincare routine.
Typical lotions contain humectants which attract water and emollients, which seal in the moisture in the skin.
On the other hand, in-shower moisturizers are a specially formulated mixture of ingredients that are activated by water and deposit a layer of oils and emollients on the skin that is absorbed before they are rinsed or wiped off.
Why Should You Use an In-Shower Moisturizer?
For years, dermatologists, beauty experts, and our mothers have been telling us about all the benefits of using a daily moisturizer, and some of us have taken this advice to heart by using body lotion after every shower.
However, some people have yet to discover the advantages of using a good moisturizer, and if you're one of them, then it's high time that you use a product that can make your skin feel soft and smooth.
An in-shower moisturizer can do that, and so much more. Just like traditional body lotions and creams, this product may help to make your skin look younger, as hydrated skin is stronger skin, making it less prone to wrinkles, fine lines, and sagging.
Those with normal skin that needs daily hydration would benefit from an in-shower moisturizer, as it can give skin the right amount of moisture that one needs throughout the day.
If you have eczema, psoriasis, or extremely dry skin, you may still need a traditional cream or ointment to address these skin problems.
Moreover, this product may work well for your busy and active lifestyle as it only takes seconds to apply.
How to Use an In-Shower Moisturizer
If you're thinking about using an in-shower moisturizer but don't have any idea how to use it, don't worry—it's easier than you think.
After lathering up with your favorite body wash or soap, rinse off the suds then apply the in-shower moisturizer to your whole body.
Take care not to get it on the soles of your feet, as some in-shower moisturizers or lotions can be very slippery.
It's probably a good idea to lay down a non-skid mat on the floor of your bathroom or shower stall if you plan to use an in-shower lotion on a daily basis.
Rinse it off, then towel dry. Enjoy having moisturized skin that looks and feels great the whole day.
Product Reviews: Our Top 5 Best In-Shower Moisturizers​
---
Our top pick for the best in-shower moisturizer is Nivea In-Shower Nourishing Body Lotion because it hydrates skin without a sticky feel and it keeps skin feeling smooth and supple the whole day.
It contains Glycerin, a powerful humectant that draws water from the air and into the skin.
This ingredient also helps the skin to maintain its moisture levels resulting in longer-lasting hydration.
Meanwhile, sweet almond oil has been used for centuries as a mild moisturizer, and it can even be used by babies and very young children.
This oil is great for sensitive skin and is hypoallergenic, making it an excellent addition to this in-shower moisturizer.
Sweet almond oil also has antioxidant properties which may protect the skin against UV rays and keep skin healthy and soft.
However, this lotion doesn't contain any SPF, so it's a good idea to use a separate product that offers sun protection if you're going to be outdoors.
This in-shower lotion also contains Hydrogenated Coco-Glycerides, a conditioning agent that forms a barrier on the skin's surface to reduce water loss and soften skin.
After lathering up with our favorite body wash, we rinsed off and applied this in-shower lotion on our wet skin.
Afterward, we rinsed off, and we took care to rinse our shower floor with some hot water as well to remove residue and avoid slipping.
After toweling dry, we noticed that our skin felt softer and silky-smooth. We just didn't like that it made our shower floors more slippery and unsafe.
---
The next product on our roundup of the best in-shower moisturizer is Olay Ultra Moisture In-Shower Body Lotion with Shea Butter.
With this lotion, you may see a vast improvement in your skin's overall feel and texture in just a few days.
This product contains Petrolatum, a rich emollient that is one of the best ingredients for dry to very dry skin. It can soothe and replenish the skin to make it soft and supple.
It also has dimethicone, which acts as a skin protectant. It prevents water loss, and this ingredient does that by forming a hydrating barrier on the skin.
Dimethicone may also help to treat dry and itchy skin or minor skin irritations.
Meanwhile, Shea butter is known as one of the world's best natural skincare solutions as it can improve a number of skin conditions.
Shea butter has healing properties to treat insect bites, skin allergies, and sunburn. Moreover, it can heal minor wounds and abrasions, cracked skin, and even more serious skin ailments such as eczema and dermatitis.
We love that this in-shower moisturizer delivered to moisturize our skin, but after the five-day mark, our skin looked the same as always. We may have to keep using this product to see if it would improve the overall quality of our skin.
We're also fans of this product because of its amazing smell.
Shea butter has a scent that is best described as a cross between vanilla and chocolate, and we certainly have no objections to smelling like some of our favorite dessert ingredients.
---
The third product on our list doesn't need to be rinsed off in the shower, and it gets bonus points because we saved time by omitting that extra step.
Jergens Wet Skin Moisturizer can be applied to freshly-showered skin just before toweling off.
We love this lotion because not only did it save our shower floor from becoming a hazard zone, but it also gave our skin the moisture that we need in just a short amount of time.
This in-shower moisturizer contains Glycerin, which locks in moisture to keep skin hydrated longer. It also contains mineral oil, a lightweight oil that helps reduce water loss from the skin.
The star ingredient of this lotion is Coconut oil, which has a lot of benefits for the skin.
It's a natural antibacterial and antifungal because it's high in lauric acid, which can protect from infections that can get into open wounds.
This oil also contains Vitamin E which keeps skin smooth and protects it from premature aging and wrinkling.
We love this in-shower moisturizer's scent, which reminded us of our favorite coconut cookies.
We're also fans of how easily it absorbs into wet skin, so we can get dressed and go after our shower.
---
The next product on this list is technically not an in-shower moisturizer, but it has been a long-time favorite for its ability to moisturize wet skin.
Neutrogena Body Oil has a Light Sesame Formula that is quickly absorbed by the skin.
It's so versatile that you can use it as an in-shower moisturizer, and you can also add it to bathwater to soften your skin while you soak in the tub.
This product only contains six ingredients, and one of them is Isopropyl Myristate. This is often added to a lot of personal care products to give them a denser texture and creamier feel.
The main ingredient of this body oil is Sesame seed oil. Though it's often used as a flavor enhancer in Chinese, Korean, Japanese, and South Asian cuisine, it can do a whole lot more than giving your stir-fry an extra kick.
The linoleic acid in this oil makes it a great moisturizer, and it's rich in Vitamins E, D, and B complex to heal scars and rashes.
This oil can even prevent bacterial infections, repair damaged skin cells, slow down the signs of aging, and nourish skin.
We applied this product to our skin after our shower, and we loved how this oil left our skin smelling fresh and feeling silky smooth. It also gave our skin a slight sheen, and we looked as if we were glowing from within.
It would have been better if this product came with a pump.
Because of the way that it's packaged, you have to pour the oil into your hands, and it's easy to pour out a large amount accidentally.
You can transfer this oil into a bottle with a pump for an easier and more economical way to dispense it.
---
The last product on our roundup comes from a dermatologist recommended brand and is fragrance-free, which may make it a good fit for those with sensitivities to strong scents.
Eucerin In-Shower Body Lotion contains Panthenol, which is closely related to Vitamin B5.
It promotes wound healing, reduces itching and inflammation, moisturizes the skin, and improves the skin's texture by making it smoother and softer.
Moreover, Panthenol may help to strengthen skin, which results in fewer lines and wrinkles.
It also contains Hydrogenated Coco-Glycerides, which forms a protective barrier on the skin to shield it against moisture loss. This ingredient may also help to soften skin.
Glycerin maintains the skin's moisture and attracts water to the skin. It not only helps to make the skin moist, but it also gives skin a smoother feel.
We applied this in-shower moisturizer the same way as our first pick, and we also took care to rinse our shower floor with hot water to avoid slipping and to remove the residue.
We love how this lotion relieved our dry skin, and it also improved the ashiness on our knees and elbows.
Apart from leaving a slippery residue on your shower floor, this product may also leave a film on your skin, so make sure to rinse well before toweling off.
The Bottom Line
For its ability to quench parched skin and its fast-absorbing formula, our top pick for the best in-shower moisturizer is Nivea In-Shower Nourishing Body Lotion.
We love how it made our skin feel soft and smooth, and it also had a pleasant, fresh scent that didn't clash with our favorite colognes and perfumes.
We're also fans of how easy it was to apply this lotion. Our skin felt hydrated in a jiffy, and we didn't even have to use regular body lotion.
This product and all the in-shower moisturizers on this list may help to give you hydrated skin even before you leave your shower.
In-shower moisturizers are made with conditioning agents which are very slippery, so make sure not to apply them to the soles of your feet and to rinse your shower floors well after using to avoid accidents.​