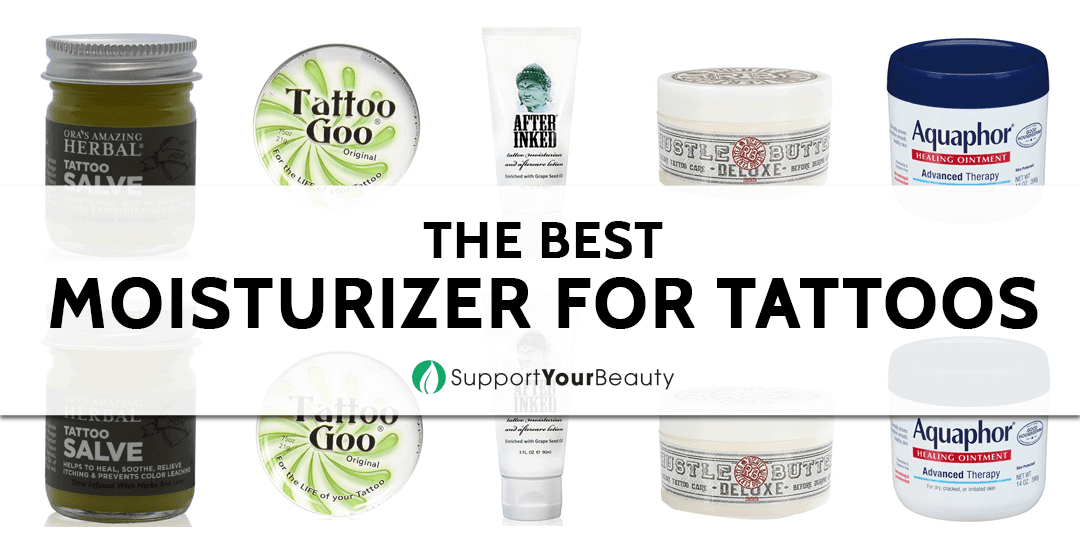 The Best Moisturizer For Tattoos – 2018 Reviews & Top Picks
In line with our mission to be your top source for all things beauty related, we've gathered and thoroughly reviewed the best moisturizer for tattoos. The moisturizers that made it to this list were carefully selected based on their ability to keep your skin itch-free, and your tattoo colors vibrant. We believe these products deserve a permanent place in your beauty collection, especially when you are a tattoo lover.
Tattoos have become part of the mainstream culture as more and more people—from moms to professionals—are choosing to get inked up for various reasons.
Some do it to pay tribute to their loved ones. It's not unusual for parents to get the names or faces of their children permanently etched on their bodies, as it's a meaningful gesture and it's like they get to have their kids with them wherever they go.
There are also those who get tattoos as a way to express their individuality and creativity, and they're not shy about displaying their ink to the world. Some even get tattoos to mark milestones, or to showcase specific tattoo artists' talents on their bodies.
Whatever the reason you choose to get a tattoo, it's there to stay for a lifetime, and you will need to take care of it, especially when it's freshly done.
Anyone who has ever had a tattoo knows that the healing process can be tough—apart from the slight pain, you also have to deal with the nagging itch, and it takes a lot of self-control not to scratch away at the ink.
As part of tattoo aftercare, you will need a unique moisturizer that will stop the itching, aid the scabs to dry and fall off faster and keep your tattoo in good condition.
On that note, here are the top five moisturizers for tattoos.
More...
Quick Overview: The Top 5 Best Moisturizers for Tattoos
OUR TOP #1 PICK - Our top pick for the best moisturizer for tattoos is Hustle Butter Deluxe. We like that this rich moisturizer can be used before, during, and after the tattoo process, making it a multi-use product.
We also love that this moisturizer is completely vegan, and it's petroleum- and paraben-free.
OUR TOP #2 PICK - Our next pick is Ora's Amazing Herbal Tattoo Salve. Apart from helping to heal and soothe the skin, it relieves itching and can even be used to treat the result of everyday mishaps, such as bruises and minor burns.
OUR TOP #3 PICK -Third on our list is Tattoo Goo The Original Aftercare Salve. Blended with natural herbs and oils, this tattoo moisturizer allows the tattoo to heal while letting the skin breathe. It can also be used to relieve chapped or wind burned skin.
OUR TOP #4 PICK - Next on our roundup is After Inked Tattoo Moisturizer and Aftercare Lotion. It's paraben-free, fragrance-free, vegan, cruelty-free, and gluten-free, and it does not contain petroleum. Moreover, it can be used on fresh or existing tattoos as a daily moisturizer.
OUR TOP #5 PICK - The last place on our list belongs to a classic all-purpose moisturizer that has been a favorite of tattoo artists and enthusiasts for years—Aquaphor Advanced Therapy Healing Ointment. Apart from relieving dry, chapped skin, this is also often used to promote faster healing of tattoos and add moisture to the area.
What To Do Before Getting a Tattoo
You've dreamed about getting your first tattoo for ages, and now that you're set on what design you want and where you want it placed, it's time to prepare your skin to get inked.
The right preparation can result in a better tattoo and faster healing, so follow this steps before stepping into the tattoo studio of your choice.
A week before getting your tattoo, start exfoliating and moisturizing the area to be tattooed.
Use a gentle scrub twice a week, and apply lotion or moisturizer to the area in the morning and at night before you go to bed.
Don't drink alcoholic beverages the night before or on the day that you're getting a tattoo.
Some people think that showing up drunk may lessen the pain or make the process go easier, but this isn't the case—both for you and your tattoo artist.
Studies have shown that alcohol consumption leads to temporary blood thinning.​
The thinner the blood, the easier it is to leak out of the puncture wounds caused by the tattooing needle. The excess blood will make it harder for your tattoo artist to tattoo where he needs to do so accurately.
There's also the fact that majority of tattoo artists will refuse to work on you if you show up drunk.
So better stay off the alcohol, and if you're concerned about the pain, you can always opt to use a numbing cream to prepare the area.
On the big day, wear comfortable clothing and shoes that you can easily slip off. Keep in mind that depending on the size of your tattoo, it may take hours before it gets finished, so you might as well be comfortable while you're there.
It's also a good idea to bring a small pillow and your tablet or phone with you for entertainment. Load it up with movies or a couple of episodes of your favorite TV series to keep you occupied during the whole process.
Lastly, don't bring children to the tattoo studio. They can be a distraction, and it's also not a good idea to have little kids running around a place where sharp objects are found.
How To Care for Your New Tattoo
If you're thinking about getting your first tattoo, it's important to know that apart from choosing the design and finding a reputable tattoo artist, it's also good to know what to do to care for your fresh ink after you leave the tattoo salon.
The way you care for your tattoo will dictate how good it looks for the rest of your life.
Not giving your tattoo the TLC that it needs could result in a tattoo that looks faded or dull, or worse, it could look splotchy, as if it lacks pigment in some places.
Trust us; this is not the look that you want.
Caring for your tattoo will also help it to heal faster, but don't expect to heal at the same pace as your friend who just got a tattoo.
While some people will have completely healed in three days, others will take as long as a week before the scabs fall off, but this is normal.
Here are the things that you should do to care for your new tattoo.
After your tattoo session, the artist will cover the area with a clean bandage, and after three hours, you can remove it. Wash the tattoo gently with lukewarm water and a mild soap. Make sure to remove all blood, ointment, or any residue. Pat with a clean paper towel, then air-dry for a few minutes.
Apply a very thin coating of tattoo moisturizer or healing ointment on your tattoo. It's important to put just a thin, barely there layer, so you'll have a slight sheen on the tattoo instead of a thick glob of product. Too much moisturizer or ointment will cause excess scabbing, or the scabs could come off prematurely. Do this for the next three to seven days every six hours.
On the third or fifth day, you'll notice that your tattoo has scabbed over and may start to peel. Keep on moisturizing the area, and don't peel off the scabs, as it's best to let them come off naturally to prevent loss of ink.
Try not to sleep on your tattoo, and don't go swimming for the next two weeks after getting inked, as soaking the tattoo can cause the scabs to come off prematurely.
It's also a good idea to protect your tattoo from sun exposure, so wear loose clothing over the area if you're heading outdoors.
Product Reviews: Our Top 5 Best Moisturizers for Tattoos
---
The number one spot on this roundup of the best moisturizers for tattoos goes to Hustle Butter Deluxe.
Apart from being a favorite of tattoo artists as an aftercare product, this can also be used to prep the skin before a tattoo, and even during the tattooing process.
We love that this moisturizer is paraben- and petroleum-free, and it's also made from natural ingredients. It contains Shea, Aloe, and Mango butters, which all come with their own benefits.
Shea butter is often used as a healing agent, which is why it's often used to treat scars, blemishes, and eczema. Mango butter has antioxidant properties that deeply moisturize the skin, while Aloe butter calms and soothes the skin.
It also contains three types of oils—Coconut, Sunflower, and Rice Bran oils.
Coconut oil is a natural antifungal and antibacterial agent, sunflower oil helps decrease inflammation in the skin, and rice bran oil has hydrating and anti-aging benefits.
We decided to use this after getting a new tattoo above the ankle, and we love its pleasant scent and moisturizing effects. It also improved the redness and swelling of the area.
It kept our tattoo itch-free and it seemed to make our tattoo heal fast. In just three days, the dainty design above our ankle started to peel, and after a few more days, the scabs fell off on their own and our tattoo colors looked vivid.
---
The next product on our list of the best moisturizers for tattoos comes from a small family business that espouses holistic healing.
Ora's Amazing Herbal Tattoo Salve contains no parabens, mineral oil, lanolin, artificial fragrances, wheat, gluten, grain, or food coloring, which may cause irritation to the skin.
What it does have is Grapeseed oil infused with Calendula, Organic Comfrey, and Organic Plantain, among nine other natural oils and plant extracts.
Grapeseed oil is a light oil that can reduce scars, while Calendula is a good moisturizer for dry skin. The latter also relieves pain and its anti-inflammatory properties help to lessen swelling.
Meanwhile, Organic Comfrey speeds up the skin's healing process, and it's also a natural pain killer. Organic Plantain, on the other hand, heals a number of skin ailments that include wounds, cuts, eczema, and diaper rash, among others.
We decided to use this moisturizer for tattoos after getting inked on the wrist, and we love how it lessened the pain in the area.
It also helped to take away the itch when our tattoo started to dry.
It has a strong, somewhat medicinal smell, but if you can get past it, then it shouldn't be a problem.
---
The next product on our list has been around since 1998 and is one of the most recognized tattoo aftercare products on the market.
Tattoo Goo The Original Aftercare Salve contains premium grade olive oil to help freshly tattooed skin to heal faster.
The wax esters and triglycerides in the olive oil work together to deeply nourish and moisturize the skin.
It also has Lavender oil, which has antimicrobial properties to lessen the chance of infection and scar tissue.
We love that this moisturizer for tattoos comes in a beeswax base, as petroleum- or lanolin-based products tend to leach color from tattoos.
We tried this salve on our week-old tattoo on our back, and we like how it kept our skin moisturized.
After a week of using this, our tattoo appeared to have a more vivid color, and the area even looked smoother than before.
The only thing that we didn't like about this moisturizer for tattoos is that the tin can be difficult to open, and the salve itself has a hard consistency.
You may have to rub it between your fingertips to get it to soften a bit so it can be easily applied to the skin.
---
The next product on our list can be used not only after tattooing, but it can also be used to lessen the skin's swelling after a laser tattoo procedure.
After Inked Tattoo Moisturizer & Aftercare Lotion is enriched with Grape Seed Oil, which is an all-natural moisturizer which can improve dry and rough skin.
It can also heal small wounds and abrasions.
The Grape Seed Oil contains vitamins A, C, and E, which are potent antioxidants and may help the skin to be smoother and more resilient.
Glycerin acts as a humectant which conditions and moisturizes the skin, while Orange oil gives this moisturizer a fresh citrus scent.
We used this tattoo moisturizer on the tattoo on our arm, and we love that it's non-greasy and it didn't feel as though it was smothering our skin.
It stung a bit on our fresh ink, but the uncomfortable feeling dissipated after a few minutes.
It also got rid of the tiny bumps on our tattoo after a few days of use, and we like how it didn't stain our clothes.
---
The last product on our list is a versatile moisturizer as not only does it work as part of your tattoo aftercare regimen, but it's also gentle enough to be used on babies' delicate skin.
We love how versatile this product is, as it can also be used as a lip balm, cuticle moisturizer, and as a body moisturizer during the cold months.
Aquaphor healing ointment is a favorite of dermatologists and tattoo artists because it relieves dry and cracked skin, and it also hastens the healing of freshly-inked skin.
It contains 41% petrolatum, which works as a skin protectant and moisturizer. It's also spiked with Panthenol, which improves hydration, reduces itching and inflammation, and promotes the healing of wounds.
Meanwhile, Glycerin is a powerful humectant that draws moisture from the air and onto your skin to keep your tattoo moisturized for hours.
We like how this tattoo moisturizer soothed our freshly-tattooed nape, and it had no scent to it, so it didn't clash with our favorite fragrance.
However, this product can be quite greasy and may leave a stain on your clothes. Moreover, the petrolatum in this moisturizer may clog pores and cause breakouts.
---
The Bottom Line
For its natural ingredients and its ability to promote the healing of freshly tattooed skin, our number one pick for the best moisturizer for tattoos is Hustle Butter Deluxe.
We're fans of this thick and creamy moisturizer because it can be used before, during, and after tattooing the skin.
Moreover, it reduces swelling and redness and relieves itching, making the skin feel more comfortable.
It may also help to hasten the healing process and keep a tattoo looking as vivid as the day it was inked on your skin.
This product, along with the other tattoo moisturizers on this list, may help you care for your tattoo and keep it looking its best for years.​